Da Texte, Töne, Bilder und Videos im Internet so leicht zugänglich sind, übersieht man schnell die Urheberrechtsgesetze und Urheberrechte. Wir alle neigen dazu, Inhalte zu verwenden und zu teilen, die nicht uns gehören, und gegen Urheberrechtsgesetze zu verstoßen. Urheberrechtsverletzungen sind unethisch und können schwerwiegende rechtliche Folgen haben. Daher ist es von entscheidender Bedeutung, Schüler über das Urheberrecht und die Folgen von Urheberrechtsverletzungen aufzuklären. Wir müssen den Schülern zeigen, wie wichtig es ist, geistiges Eigentum zu respektieren. In diesem Leitfaden untersuchen wir Beispiele für Urheberrechtsverletzungen und diskutieren Strategien, um Schülern Urheberrecht und faire Nutzung beizubringen. 
Was ist eine Urheberrechtsverletzung?
Eine Urheberrechtsverletzung liegt vor, wenn jemand urheberrechtlich geschütztes Material verwendet, ohne die Erlaubnis des Urheberrechtsinhabers einzuholen oder ohne eine gültige Rechtsverteidigung. Nur weil das Material online verfügbar ist, heißt das nicht, dass die Nutzung kostenlos ist. Auch wenn Sie Lehrer oder Schüler sind, müssen Sie die Rechte der Urheber respektieren und entsprechende Genehmigungen einholen oder Materialien verwenden, die unter eine Ausnahme fallen, wie etwa die faire Nutzung. 
Urheberrecht und Kreativität: "Das Urheberrecht wird zu einem wesentlichen Element der digitalen Kompetenz – denn mittlerweile ist jeder ein Verleger:" 
Examples of Copyright Infringement
What is an example of copyright? To better understand copyright infringement, let's explore some common examples:
Using Images Without Permission: Suppose a student includes an image found online in their presentation without obtaining permission or verifying the image's copyright status. This act constitutes copyright infringement.
Using Music in Videos Without Permission: Let's say a teacher creates a video for classroom use and includes popular music tracks without obtaining the necessary licenses or permissions. This action violates copyright laws.
Copying Texts from Books or Websites: If a student copies and pastes paragraphs or sections from a book or website without proper citation or permission, they are infringing on the copyright of the original author.
Using Videos or Clips Without Permission: Imagine a student creating a video project and including clips from movies or TV shows without obtaining the necessary permissions. This act constitutes copyright infringement.
These examples highlight the importance of teaching students about copyright laws and the potential consequences of copyright infringement.
Check out these 5 copyright rules to remember, curated by The Edu Blogger: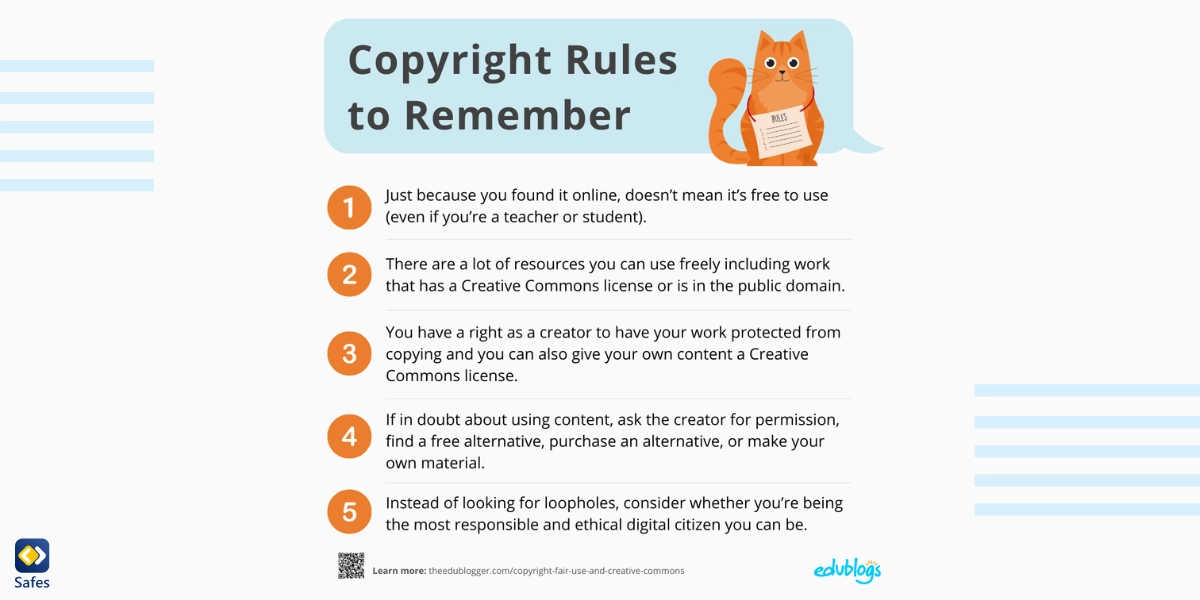 Teaching Students About Copyright
Educating students about copyright is crucial to support responsible digital citizenship. By teaching them about copyright, fair use, and respecting intellectual property, we can empower them to make informed decisions when using and creating digital content.
Here are some strategies for teaching students about copyright:
Introduce the Concept of Copyright
Introduce your students or your child to the concept of copyright. Explain that copyright laws are, in fact, beneficial to society because they support creators of original works, such as books, music, and artwork. Discuss how copyright gives creators exclusive rights to reproduce, distribute, and display their work.
Explain Fair Use
Fair use allows limited use of copyrighted material without permission for criticism, commentary, news reporting, teaching, scholarship, or research. Discuss the four factors of fair use:
The purpose and character of the use
The nature of the copyrighted work
The amount and substantiality of the portion used
The effect on the market for the original work
Explore Public Domain and Creative Commons
Introduce students to the public domain, where works are no longer protected by copyright and can be freely used. Discuss examples of works in the public domain, such as classical literature or historical documents.
Also, explain Creative Commons licenses, which allow creators to share their work with specific permissions and restrictions. There are different types of Creative Commons licenses. Encourage students to look for these signs in the table below, curated by Kathleen Morris, when searching for content to use in their projects: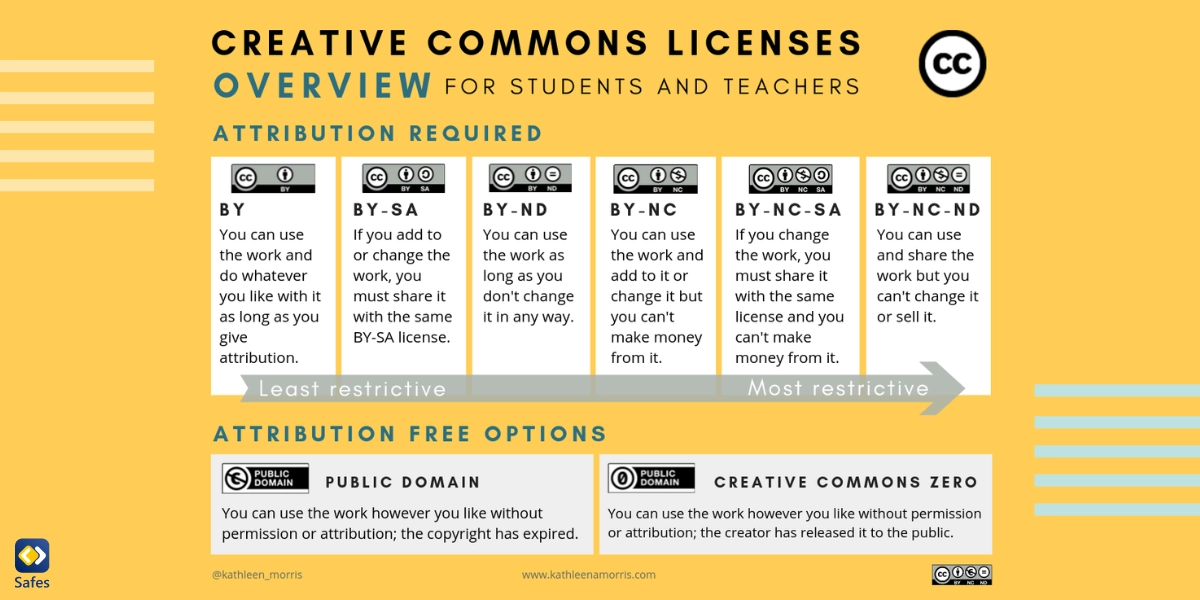 Beteiligen Sie sich an Diskussionen und Fallstudien
Ermutigen Sie die Schüler, reale Fälle von Urheberrechtsverletzungen zu analysieren und zu diskutieren. Lassen Sie sie die Handlungen der beteiligten Personen bewerten und die möglichen Konsequenzen ihrer Handlungen besprechen. Die Bewertungs- und Diskussionsstrategie wird den Schülern helfen, die Auswirkungen von Urheberrechtsverletzungen auf Urheber und die Gesellschaft besser zu verstehen. 
Erstellen Sie Projekte, die die Einhaltung des Urheberrechts fördern
Weisen Sie Projekte zu, bei denen die Schüler ihre eigenen Originalinhalte erstellen oder Materialien mit den entsprechenden Berechtigungen verwenden müssen. Dies kann das Erstellen von Originalkunstwerken, das Komponieren von Musik oder das Entwerfen von Websites unter Verwendung von Creative-Commons-lizenziertem Material umfassen. Betonen Sie die Bedeutung einer korrekten Namensnennung und Zitierung. 
Kindersicherungs-App: Safes
Eine wirksame Möglichkeit, Kinder vor unbeabsichtigten Urheberrechtsverletzungen zu schützen, ist die Verwendung von Kindersicherungs-Apps wie Safes. Mit Safes können Sie die Online-Aktivitäten Ihres Kindes überwachen und verwalten und so sicherstellen, dass es nicht unwissentlich urheberrechtlich geschütztes Material ohne Erlaubnis verwendet. Durch die Verwendung von Safes können Sie Ihr Kind lehren  mögliche Entscheidungen abzuwägen wenn es um die Nutzung digitaler Inhalte geht. 
Fazit: Beispiele für Urheberrechtsverletzungen
In der heutigen digitalen Welt ist es von entscheidender Bedeutung, Schüler über das Urheberrecht und die möglichen Folgen von Urheberrechtsverletzungen aufzuklären. Indem wir Urheberrechtsgesetze und faire Nutzung erläutern und Konzepte wie Public Domain und Creative Commons vorstellen, können wir Schüler dazu befähigen, verantwortungsbewusste digitale Bürger zu werden. Durch die Teilnahme an Diskussionen, die Analyse von Fallstudien und die Erstellung von Projekten, die die Einhaltung des Urheberrechts fördern, können wir Schüler dabei unterstützen, geistiges Eigentum zu respektieren und ethische Entscheidungen bei der Nutzung und Erstellung digitaler Inhalte zu treffen. 
Mit der Kindersicherungs-App von Safes können Sie Ihr Kind vor Urheberrechtsverletzungen schützen, indem Sie dessen Aktivitäten online überwachen und verwalten. Safes bieten Funktionen wie Inhaltsfilterung,Bildschirmzeit-Alters einschränkung, Und aktivitäts Überwachung um ein sicheres und verantwortungsvolles digitales Erlebnis für Kinder zu gewährleisten.