Receiving a phone call from your child's teacher telling you that they've done something bad at school can't be easy. It can immerse you in feelings of shame, inadequacy, or even anger. You might ask yourself: "What have I done wrong with this kid? Why is my child misbehaving at school?" and start digging into your parenting methods to find a stain. But this is not going to solve any problems. Truth is, a child's misbehavior is not necessarily due to faults in their upbringing. Simply put, you're probably not the only one to put the blame on.  
In this article, we will talk about the probable reasons for kids misbehaving at school. We will also give some tips on how to handle the situation, whether you're a parent or a teacher. 
What Counts as Misbehavior?
Misbehavior is defined as deviating from what's deemed to be moral conduct. A child misbehaves when they do something that they're not supposed to. These rules are usually established by parents, teachers, or anyone who is in charge of a child's disciplinary practices. 
Misbehavior has a wide range. It can take place at home or at school. It can happen in a child's interaction with peers or adults. It can be occasional or an ongoing pattern in a child's behavior.  
Depending on the circumstances, misbehavior can happen due to a variety of reasons. 
Reasons for Child Misbehaving in School
Misbehavior at school can have various forms. A child may cause mayhem in class and disrupt their classmates' learning. They can pick fights with other students and hurt them. They can bully or cyberbully others or be rude to their teachers. 
The type of a child's misbehavior can give us some clue about its underlying causes. For example, if a child is bullying other children, it can be because they have witnessed such behavior at home and are trying to imitate what they have seen. It can also be because they're being bullied and belittled by another family member. Therefore, they might be trying to make up for their low self-esteem by exerting power over weaker children. 
Sometimes, children misbehave to draw attention to themselves. Maybe they feel unseen and ignored at home or at school and just want to get a reaction. Or maybe they want to stand out among their peers. 
Another reason for children's misbehavior is that they want to test limits. They want to know how far they can go before somebody confronts them about their behavior and puts a stop to it. 
In some not-so-rare cases, boredom is the root cause of misbehavior. This is not reserved for adolescents. How many times have you done something stupid just because you had nothing interesting or important going on? This is even worse for children. They have to sit through long hours of classes and listen to a subject that's probably not interesting to them. What's more, with so many compelling technologies that surround us, focusing has become harder for children today. Learn about 12 Tips to Help Increase Your Child's Focus While Studying.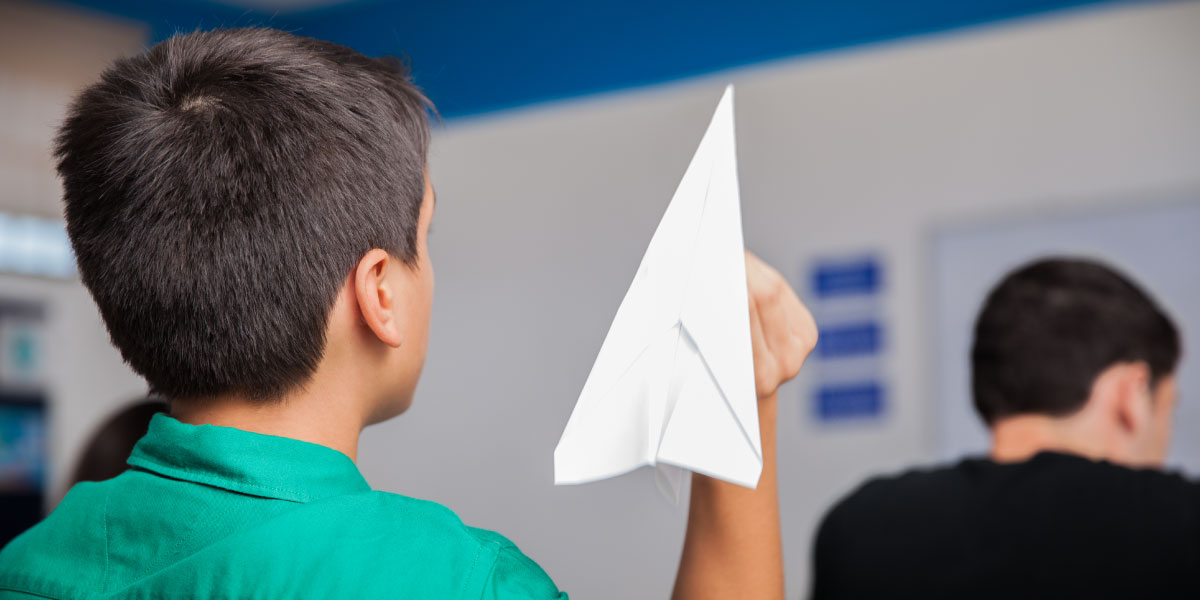 How to Deal With Child Misbehaving in School
Whatever the reason, here are some simple tips on what to do when your child is misbehaving in kindergarten or school: 
Communicate With Them
The first and most important step following a school warning is to talk to your kid. According to the Centers for Disease Control and Prevention (CDC), communicating with your kid contributes to building a positive relationship with them and will make talking about hard subjects easier for the two of you. Try to understand why they committed the act and how they felt when doing it. Read about how to get a teenager to talk about their feelings. This way you can gain some insight into your child's intentions and help them accordingly. 
Later on in the conversation, explain to them why their behavior was unacceptable and how you expect them to behave from now on.  
If you're a teacher, talking to a naughty student can have the very same benefits.
Communicate With Teachers
This section involves parents. Children can alter the truth sometimes. When they fear consequences, they change the story to avoid responsibility. This lack of truth is not always intentional. Occasionally, children's perception of reality can be biased. So, it's important that you don't accuse them of lying. Instead, you should try communicating with teachers and asking them for a detailed report on what happened. Teachers often have some important ideas about the cause of your child's behavior and can help you make a plan for teaching them manners. 
If It Comes from the Home, Fix It
If you suspect that your child's inappropriate behavior stems from something going wrong inside the family, try your best to fix it. If there's a family member that treats them badly, make it clear that they no longer can continue acting like that. If you have a chaotic household, consider going to therapy and fixing the situation. Whatever it is, do your best to make it right. 
If you're a teacher and suspect this kind of problem, notify the parents about it. 
Monitor Their Behavior
Your child's poor conduct can indicate a pattern of bad choices. By paying attention to the details of your child's day at home or at school, you can find out if you need to take any measures. However, kids are pretty secretive and finding out what they've been doing is not so easy. 
A great tool that will help you monitor kids' activities both at home and at school is parental control apps. We recommend Safes as it can be installed on all platforms, such as iOS, Android, and Windows. It will give you comprehensive reports on what your child or student has been doing on the internet. It will also help you find out whether negative influence from social media is causing them to behave poorly. 
Punish them with consequences
Every action has consequences. If you're a parent, you need to show your child consequences at home for bad behavior at school. They need to lose some privileges to learn that good things must be earned. If you're a teacher, you should implement the same approach in class. If a child's been behaving poorly, giving them detention according to what they've done can make them behave. 
Reward Positive Behavior
Rewarding positive behavior can discipline a child misbehaving at school in two ways: feeling left out and encouragement. When other kids are praised for their good behavior, the misbehaving child will feel left out and try to get back on track. On the other hand, when the child is rewarded for something good that they've done, they'll be encouraged to keep up the good work to receive more positive affirmations. 
Parents, Brace Yourselves!
We have offered some tips above on how to deal with child misbehaving in school. But in some cases, it can get quite difficult. Therefore, you'd better prepare yourself for the probable quarrels and efforts that don't seem to work. You will need patience along the way and probably some professional help. If you see that the problem persists, don't hesitate to contact a child psychologist.