A Step-by-Step Guide to Setting Up Parental Controls for Android
According to Statista, since 2012, Android has had the lion's share of the mobile operating system market. It's difficult to find someone who doesn't know an Android user personally. Your child probably uses at least one Android device and that means Android parental controls need to be enabled. Read on to learn more about how you can set up parental controls on Android phones.
How to Put Parental Controls on Play Store
The Google Play Store is where Android users can purchase and download apps. The Play Store app is installed by default on every Android operating system. The Google Play Store is one place where you can place parental restrictions on Android. If you can enable parental controls on the Google Play Store, you're effectively controlling what apps can be purchased or downloaded. Follow these steps to figure out how:
On your child's device, open the Google Play app

 

In the top right corner, select the profile icon

 

Select "Settings" > "Family" > "Parental controls"

 

Turn on "Parental controls"

 

Choose a PIN so your child doesn't change the parental controls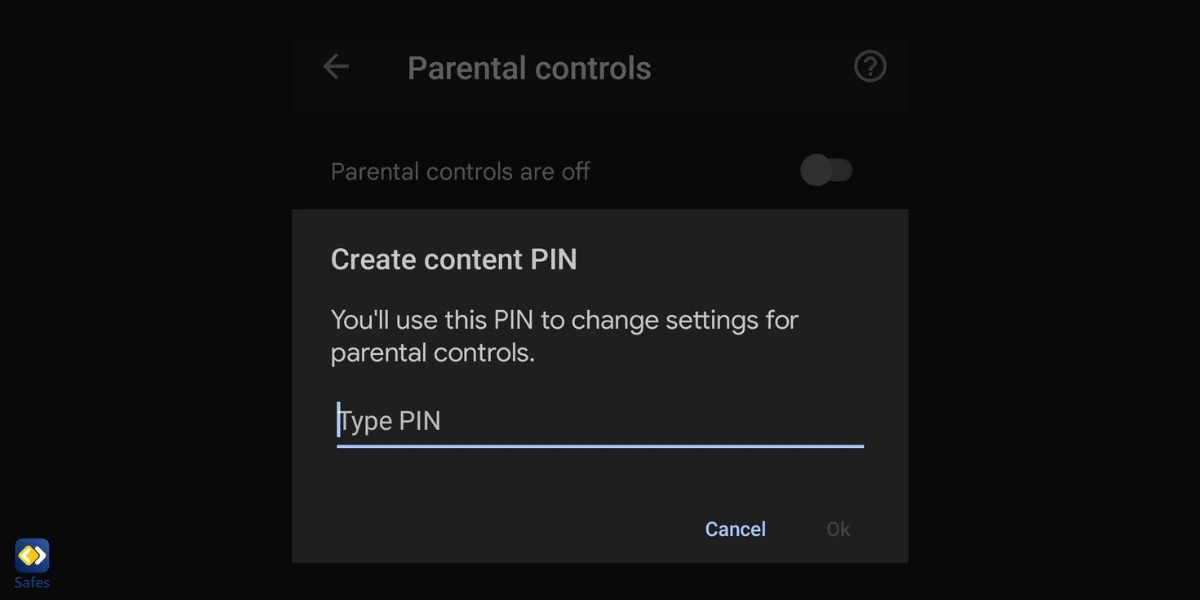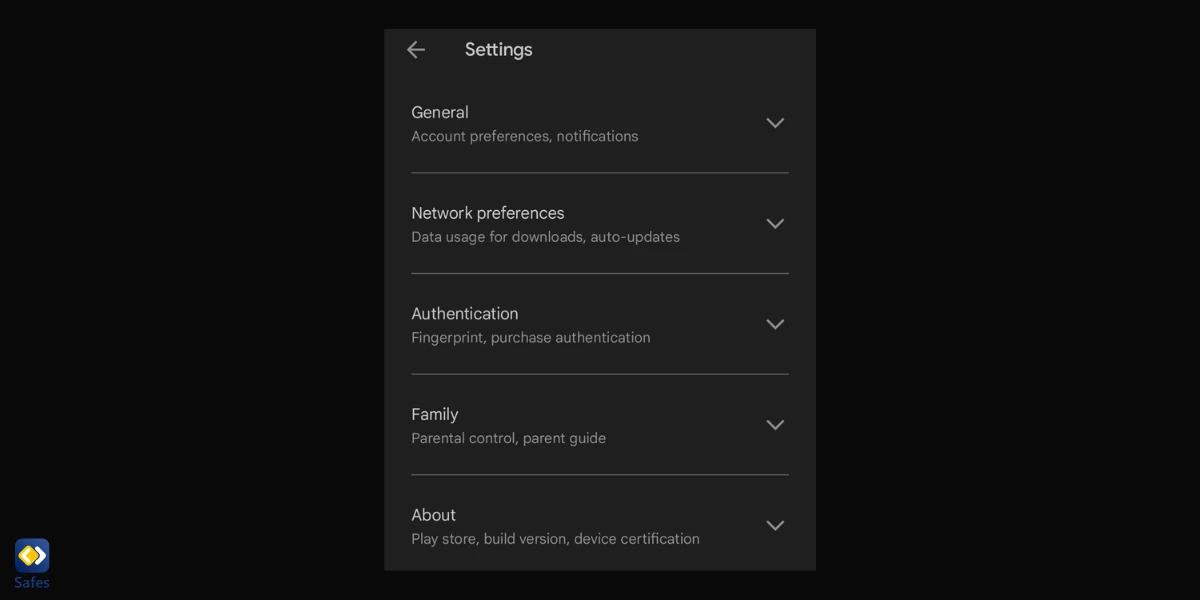 Google Play's parental controls have four different parental settings on Android. Here's how you can navigate each one. 
Parental Controls for Apps & Games 
Using the parental controls on Google Play, you can choose what apps and games your child can purchase, and download based on their content rating. Keep in mind that the apps and games that you've restricted can't be downloaded but they can be seen through search or by visiting the app's page directly. 
If your child uses the Play Game app, their searches will be directed to the Play Store where you've set the restrictions. Your restrictions don't affect the apps and games your child has already downloaded on their Android device.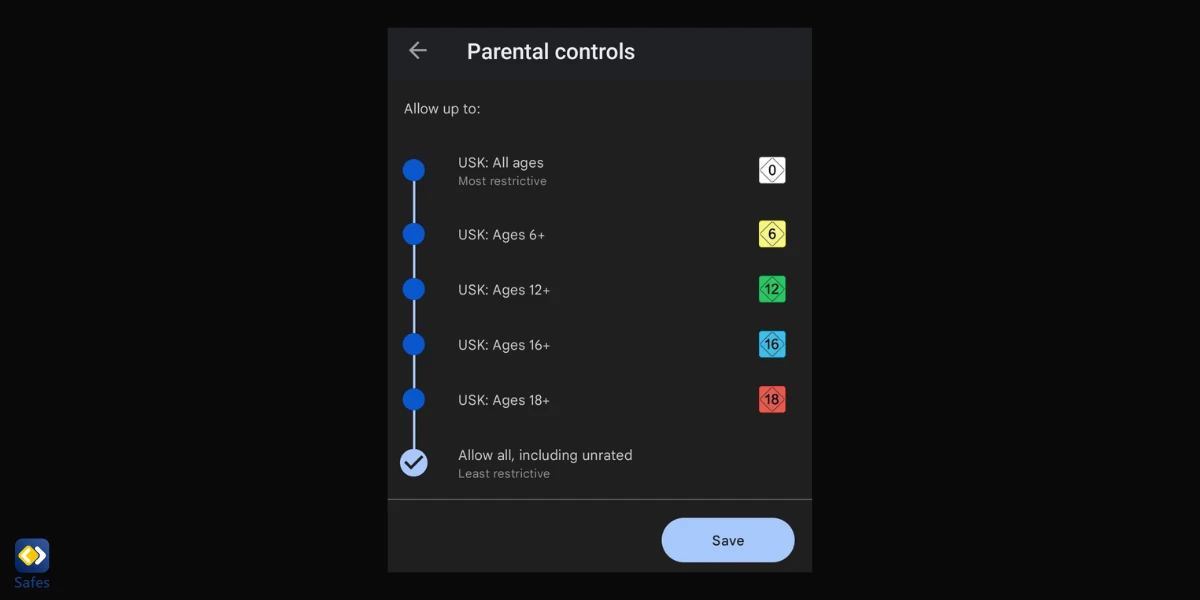 Parental Controls for Movies 
Google Play allows you to rent or purchase movies. The parental controls allow you to restrict your child's access to movies based on their age rating. Again, you can't block the movies from being shown in search results or by visiting the movie's page directly. Unlike apps, if a movie is restricted based on its age rating, your child won't be able to watch it, even if they've already rented or purchased it. The restrictions are applicable to both the Play Store app and the Google TV app. 
Parental Controls for TV 
The parental controls in the Play Store also work for watching TV shows. Just like in the case of movies, you can decide what the highest age rating your child can watch is and restrict the rest of TV shows. Though the shows can be found through search, they can't be downloaded or watched. The restriction also works for TV shows that have already been purchased and downloaded on the Play Store app and the Google TV app.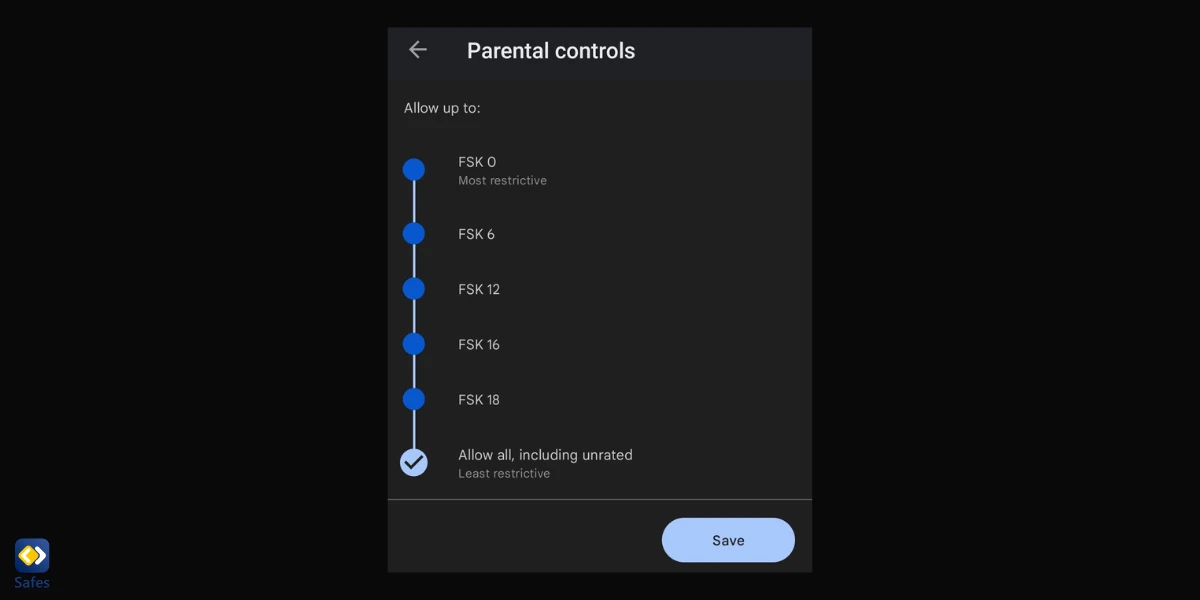 Parental Controls for Books 
The parental controls for books on Google Play Store block most sexually explicit books. But they won't be able to block all books that have sexually explicit content, and all sexually explicit books will still be found through the search function. 
How to Put Parental Controls on Android 
The Android operating system is used by multiple phone manufacturers across the world. Usually, each manufacturer provides a certain version of Android on their phone, even though the basic OS is the same. The differences between parental controls on Android cellphones are minor but in general, the parental controls on LG phones won't be any different from the parental controls on Motorola phones. 
What is Family Link? 
Almost always, you'll need to install parental controls on Android devices. No matter the phone manufacturer, when it comes to parental controls on Android, you'll be instructed to download Family Link, Google's parental control app. Though the app isn't installed by default on Android phones, all parental control settings eventually tell users to download the app. Overall, there are no default parental controls on Android, unless you use Google's own app, Google Family Link. 
Google Family Link is a parental control app developed by Google for the Android operating system. Though you can use Google Family Link on iPhones and iPads, its capabilities shine best when on an Android device. Parental controls on Sony phones, Google Pixel phones, and Xiaomi phones are examples of when the parental control settings lead you to download Family Link. 
How to Set Up Family Link 
To set up Family Link parental controls, you should first download it on the parent device. After you do, follow the on-screen instructions to connect your child's device and yours through Google's family account . Your child needs to have a Google account for this. If they don't, you can create one for them during the process. At the end of this process, you'll have activated Family Link manager app as a way to enable parental controls. 
What Can Google Family Link Do? 
After you set up parental controls on Android tablets and phones using Google Family Link, there are several features you can use to set app restriction on Android. 
Screen Time Limit 
Maybe the most common feature among parental control apps is the ability to limit a child's screen time. Using Google Family Link, you can set a limit on the time they can use their device or set a screen time limit for individual apps. 
If their screen time limit on their device is reached, the device is locked for the rest of the day. When the device is locked, your child can't unlock the device. They can't even see notifications. Though they are able to answer calls or make an emergency call. 
You can also set a daily device limit. This type of time limit works across all the devices that are connected to your child's Google account. Your child will be notified the first time that screen time limits are enabled. They will also be able to see how much time is left through the Family Link app. 
Downtime 
Downtime refers to when the device cannot be accessed by your child. This is different from reaching a screen time limit. A screen time limit tells your child how much time they can spend on their device. Downtime is more like a scheduled mode where your child knows that they can't access their phone at specific hours. For example, you can make it so that your child won't be able to use their phone from 11:00 PM until 8:00 AM in the morning. 
Always Allowed Apps 
You can specify apps that will be allowed at all times. Such apps won't be affected by screen time limits or downtimes. You can use this for apps that you think your child needs access to at all times. 
Using Safes on Android Devices 
Google Family Link is a parental control app but not a third-party app, unless you use it on iOS devices. This means that the app has the advantage of working on home-ground. Also, Google Family Link only works for children under the age of 13. But when your child's age goes over the age of 13, they can opt to have parental controls stay, or they can terminate the process. Finally, Google Family Link doesn't have many features that other third-party parental control apps have, but instead, it's free. 
But there's another option if you want to know how to set up parental controls on Android; third-party apps. Safes is a third-party parental control app available on multiple platforms including Android and iOS devices. The app has all the features available on Google Family Link and more. Some of the features available on Safes, but not available on Family Link, include: 
Using Safes, you can filter specific URLs, no matter the web browser your child uses. 
With Safes, you can block specific keywords from your child's web searches no matter what the search engine they use. 
You can instantly block your child's app at the press of a button using Safes 
On Safes, you can use the Geo-fence feature, blocking apps in specific geographical locations 
Safes — All-around Parental Control App for Android
How Safes Helps Your Child
• Protect from Harmful Content
Safes protects your child from inappropriate and harmful content to ensure their mental well-being.


• Form Healthy Digital Habits 
Safes helps prevent harmful routines — i.e., video game addiction and unhealthy sleep patterns — and form positive digital habits.


• Keep Track of When & Where 
Safes tells you where your child is and what they are doing with their device in real time.


• Pave the Way for Growth 
Safes creates a safe and distraction-free space for your child to expand their mind and broaden their horizon.


• Create Customized Safety Plans 
Your child is unique. Our flexible solution helps you create a customized digital safety plan that fits your kid's unique needs.
Fully Packed for a Safer Digital Journey 
Our parental control app for android offers everything you need to create a safe and distraction-free digital experience for your kids.


• Multi-platform Protection 
Protect your kids' online and offline presence on major platforms, not just Android. Safes also supports all iOS, macOS, and Windows devices as well.


• Detailed Activity Reports  
Learn all about your kids' digital behavior within seconds. Safes activity reports covers several bases, including screen time, app and social media usage, and blocked content requests.


• Screen Time Management 
Set a screen time limit or a smart day-to-day schedule on your kid's Android device to protect them from sleep disorders, excessive and harmful screen time, and distractions.


• Website Content Filtering  
Block out inappropriate web content like violence, hate speech, and pornography. You can do this by adding specific URLs, content categories, or keywords to the block list.


• App blocker  
Protect your kids from inappropriate, distracting, or addictive apps. You can block or limit your kid's access to any app — like video games or social media — with our parental control app for Android.


• Location Tracking  
Keep your kids away from dangerous environments by keeping track of where they are in real time.


• Geofence  
Create specific rules for specific places. Geofence lets you block irrelevant or distracting apps in various physical environments like schools. Geofence will also notify you when your kids check in or out of the perimeters.


• Battery Check 
You can know the battery level on your kid's android device at any time. Safes will also let you know when the battery level gets under 20 percent and needs a recharge.


• Science-based Profiles  
Safes simplifies your monitoring process by suggesting profiles that apply psychologist-recommended rules and limits based on your child's age.


• Uninstall Protection 
Don't worry about your kid bypassing your rules. Safes uninstall protection ensures only you can remove the app from your child's device. 
Conclusion 
Since Android is such a popular platform, it makes sense for Android parental controls to be popular as well. Though Google Play Store has its own parental controls, the Android operating systems need an app to enable parental controls. That app is Google Family Link. But Google Family Link doesn't have all the features that parents might want. That's why a third-party app like Safes can offer you all the parental control features you need to keep your child safe. 
Experience 14 days of all-inclusive digital safety for free
Make up to 10 devices safe for your kids for as low as $3.33 a month (yearly plan)
Frequently Asked Questions
Have any questions? We're here to help!