Paramount Plus is a popular streaming service with a wide selection of movies and TV shows suitable for all ages. So, it's a good choice for your household. But without parental controls in place, it can be challenging to ensure that your child watches only age-appropriate shows on this platform. But that's nothing to worry about because, in this quick guide, we'll walk you through the steps of setting up Paramount Plus parental controls and provide some tips for monitoring your child's viewing habits. 
Is your child a fan of Paramount Plus? Let's set up those parental controls and make sure your little one is watching only what's suitable for them! 
Introducing Paramount Plus
Paramount Plus offers a vast library of movies and TV shows on top of exclusive content you won't find anywhere else. From classic films to new releases, Paramount Plus has something for everyone. And with features like offline viewing and personalized recommendations, it's no wonder that families are rushing to this platform. 
However, with the convenience of streaming comes safety risks, especially when kids are watching. So, let's see what safety measure Paramount Plus offers you to keep your kid safe.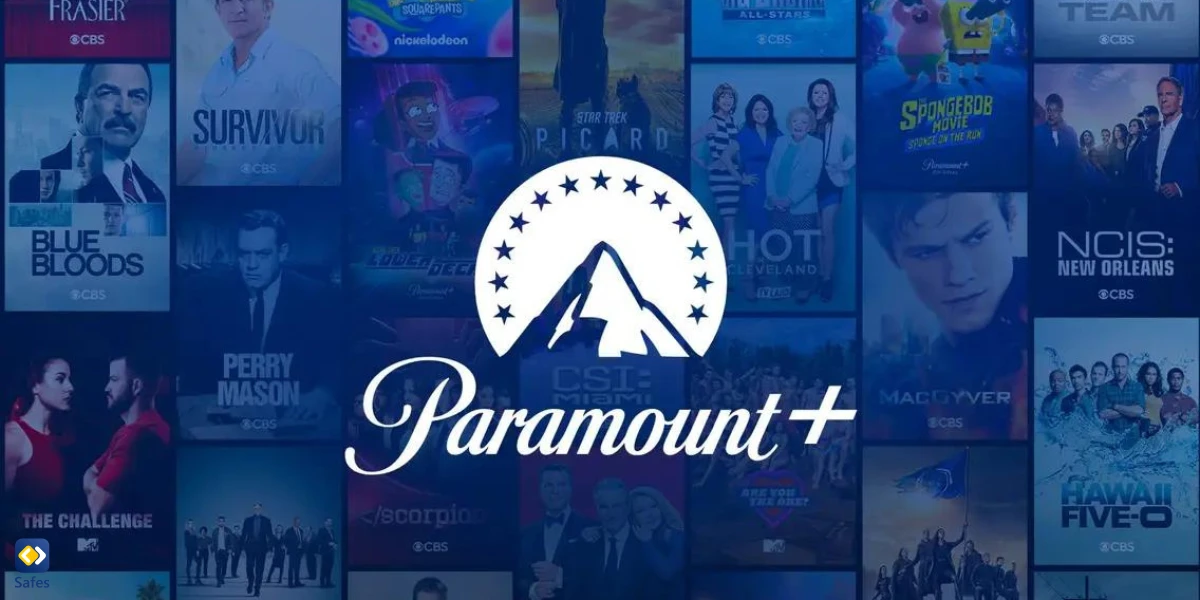 Safety Measures on Paramount Plus
Paramount Plus is a really great streaming service that offers a wide range of family-friendly content, perfect for parents who want to watch movies and TV shows with their kids. The platform has built-in safety features such as age restrictions, content ratings, and content filtering options that allow you to control what your child gets to watch. 
You can set up a Paramount Plus profile lock to ensure your child only accesses age-appropriate content. This feature requires a Paramount pin to unlock the profile, so your child won't be able to watch anything you don't want them to. 
The platform also takes additional safety measures like monitoring inappropriate content and enforcing strict policies to protect children. But how to set up these parental controls on Paramount Plus? That's what we're going to find out next. 
Parental Controls on Paramount Plus
So, you want to set up Paramount Plus parental controls? No problem, it's super easy! Here's how you can do it: 
First, log in to your Paramount Plus account and go to the "Settings" menu.

 

Click on "Parental Controls" and select "On."

 

Create a four-digit pin by clicking on "Create Pin." Make sure to choose something easy for you to remember but not too easy for your kid to guess.

 

Next, select the desired age rating for your child's profile. You can choose from "All Ages," "7+," "13+," "16+," and "18+."

 

If you want to further customize the content that your child can access, click on "Content Filtering" and select the appropriate options.

 

Finally, activate the "Profile Lock" option to ensure your child cannot change the settings without your permission.

 
Don't worry if you forget your pin. You can always reset it by clicking "Forgot Pin" and following the instructions. Don't forget to regularly review and update your parental control settings to ensure they are still appropriate for your child's age and viewing habits.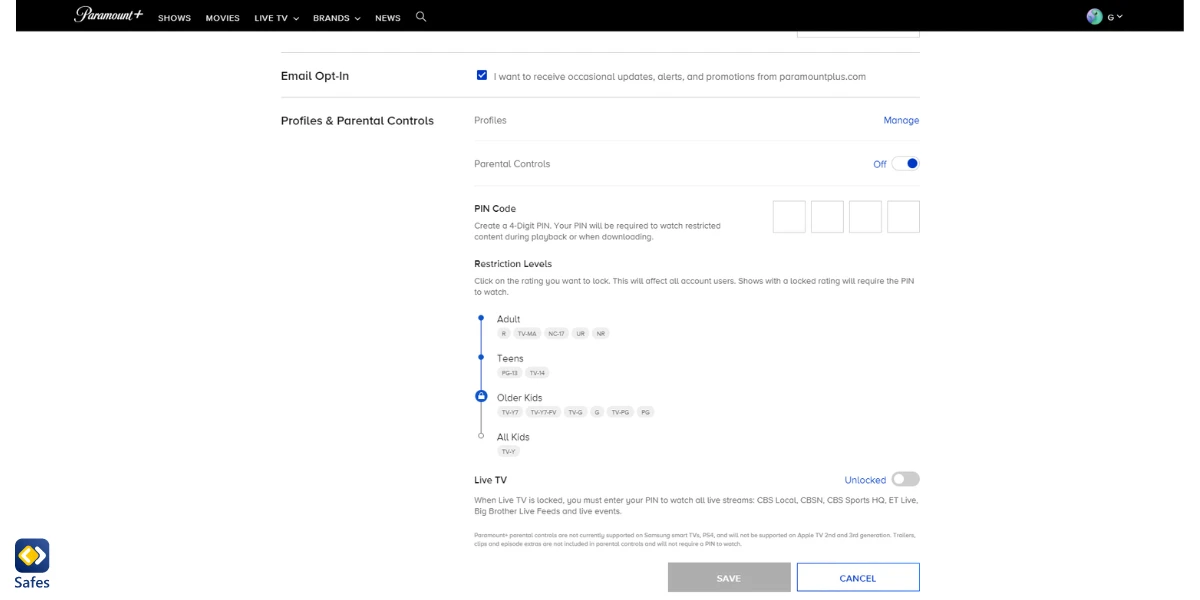 Best Practices for Safe Streaming
It's so crucial for you as a parent to take an active role in creating a safe streaming environment for your kid. As a matter of fact, Pew Research Center highlights the impact of parents' active role in the digital safeguarding of children. It's good to know that creating a safe streaming environment is a continuous process that requires active monitoring and open communication. And here are some tips to help you get started: 
Set boundaries: Establish clear rules about when and how long your child can stream and what types of content they can watch. 
Communicate openly: Encourage your kid to talk to you about anything they see or experience online that makes them uncomfortable. Let them know they can come to you with any questions or concerns. 
Set parental controls: Make use of parental control features provided by streaming platforms, such as age restrictions, content ratings, and content filtering options, to ensure your child only accesses age-appropriate content. 
Monitor screen time: Keep an eye on how much time your child spends streaming and ensure they engage in other activities, such as exercise, reading, or spending time with family and friends. Beware that too much screen time can lead to screen addiction. 
Regularly review and update controls: As your child grows and matures, their interests and maturity levels may change, so it's essential to review and update parental control settings regularly to make sure they remain effective. 
Additional Resources
Looking for more information about children's safety online? Here are some helpful links and scientific sources related to online safety and parental controls: 
To complement your Paramount Plus parental controls, you can use parental control apps like Safes. These apps allow you to monitor and control your child's online activity, including streaming services like Paramount Plus. Using them, you can rest assured that your kid is only watching age-appropriate content and is not exposed to any inappropriate material. You have a wide range of options when choosing a parental control app, but we suggest Safes. 
How Can Safes Secure Your Child's Streaming? 
Safes is a parental control app that can help you monitor and control your child's device and internet use. Using it, you can block risky streaming platforms, making your kid's online streaming experience safe. 

Available on all devices powered by Android, iOS, Windows, and Mac, Safes provides a safe and secure online environment for your child to learn and grow. With features such as website blocking, time management, and monitoring, you can easily keep track of your child's online activity and set limits to ensure they are not exposed to inappropriate content. 

Using Safes, you can have peace of mind knowing your child is safe while they are exploring the world of online streaming. Learn more about how to put parental controls on different devices using Safes with these links: 
Paramount Plus Parental Controls: Conclusion
Children's online safety is a crucial issue that calls for our attention. As we've described in this article, various resources and tools are available to you to monitor and control your child's online behavior. There are plenty of resources to help you learn about online safety and several parental control apps to complement Paramount Plus parental controls, such as Safes. By setting up Paramount Plus parental controls and using the resources and tools we introduced in this blog post, you can take an active role in your child's online life and help them stay safe and watchful. 
Related Articles: