The digital age has brought many conveniences, but it has also introduced many challenges, particularly for parents. To help parents navigate these digital waters, tech companies like Apple provide solutions like parental controls. In particular, Apple TV parental controls can be crucial in managing your child's screen time and digital content access while using Apple TV at home.
Understanding Apple TV Parental Controls
Apple TV parental controls enable you to limit and manage the content your child can access on your Apple TV. This feature is designed to restrict explicit content, limit purchasing and downloading abilities, and even manage privacy and location services. It's essential for parents who want to ensure their children are exposed to age-appropriate content.
Setting Up Apple TV Plus Parental Controls
Setting up Apple TV parental controls may seem complex, but with the proper guidance, it can be accomplished easily. Let's delve into the process to help you set up these controls effectively.
Step-by-Step Guide to Activating Restrictions on Apple TV
To activate restrictions, navigate to the 'Settings' menu on your Apple TV. From there, proceed to 'General,' then 'Restrictions.' Turn on restrictions and enter a 4-digit passcode to enable this feature.
Navigate to 'Settings' on Apple TV
Go to 'General' > 'Restrictions'
Turn on restrictions
Enter a 4-digit passcode
Once set up, the restrictions will be enabled, thus activating Apple TV's parental controls.
Passcode Setup for Added Security
The passcode plays a significant role in the parental controls' setup. It ensures that only authorized users can change the restrictions. Changing the passcode is easy – go to 'Settings' > 'General' > 'Restrictions,' then select 'Change Passcode.' Enter the current passcode, then the new one.
Content Filtering and Ratings
Apple TV parental controls allow you to filter content based on its ratings. You can restrict explicit content, movies, TV shows, and apps based on their age ratings. This feature can be found under 'Settings' > 'General' > 'Restrictions' after entering the passcode.
Managing Purchases and Downloads
One feature of Apple TV app parental controls is the ability to manage purchases and downloads. Parents can restrict their children from making unplanned purchases and downloads from the iTunes Store. This setting can be configured under the 'Restrictions' menu.
Time-Based Restrictions
While Apple TV has no built-in time limit feature, you can use other tools to manage your child's screen time. The Apple TV parental controls time limit can be managed using third-party apps, which we will discuss later on.
Privacy and Location Services
Location Services allow different apps to collect and use data on the approximate location of your Apple TV to improve their services. Privacy and Location Services can also be managed under the parental controls settings. You can restrict changes to these settings to ensure their child's privacy.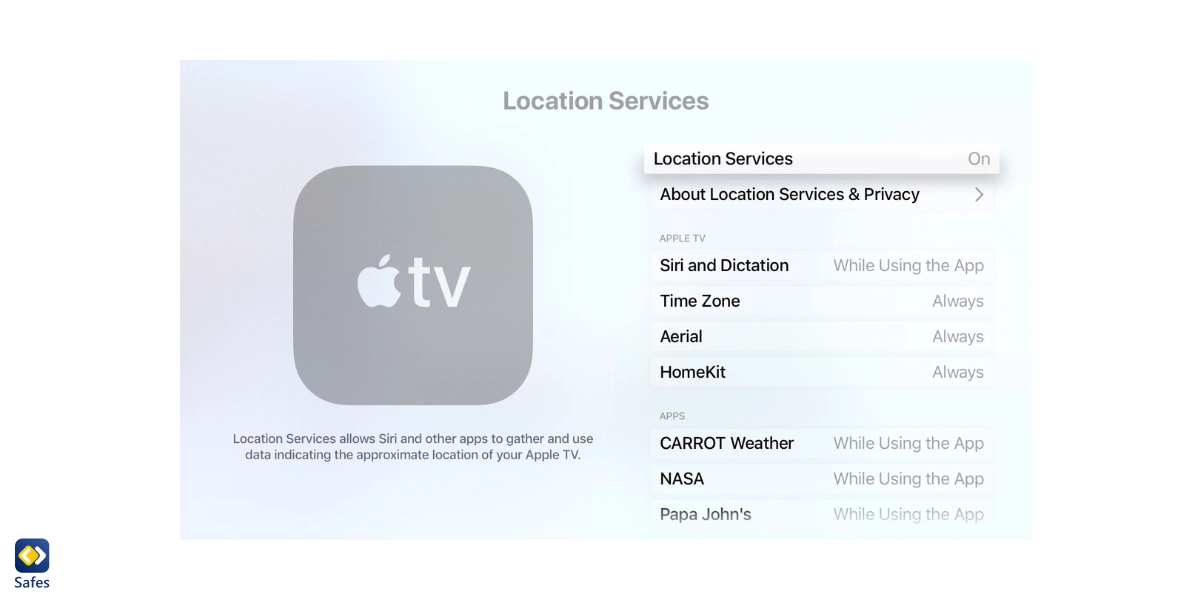 Family Sharing on Apple TV
Family Sharing on Apple TV allows up to six family members to share subscriptions to Apple TV channels, Apple TV+, Apple Music, and Apple Arcade. It also allows for shared photo albums, a shared calendar, and the ability to locate each other's missing devices.
Using this service, you can manage how each family member can access Apple services. For example, you can allow a broader range of programs for older children and adults in your family while limiting the shows available to younger children based on their age group.
Remote Management via Parental Control Apps
In addition to the built-in parental controls, you can also use third-party parental control apps like Safes. Safes is designed to monitor and manage your child's screen time and access to different apps and websites on iOS devices.
Safes enables you to set screen time limits, block or allow specific apps, and even track your child's location. It offers an added layer of control and security beyond the built-in Apple TV parental controls.

On top of iOS, Safes is compatible with Android, Windows, and Mac devices. So, based on the platform you or your child uses, you can download Safes from App Store or Google Play. Find more information on how to put parental controls on any device with Safes using the links below:
Apple TV Parental Controls: Final Words
Parental controls are a necessary tool in today's digital world. Apple TV's parental controls provide parents with a robust and comprehensive toolset to manage their children's digital activities. While it may seem complex at first, with the right guidance, any parent can navigate these controls for their child's safety.
In addition to these settings, don't forget about third-party apps like Safes that provide additional controls and peace of mind. Remember, it's not just about limiting access – it's about creating a safe digital environment for your children to explore, learn, and grow.
As Raising Children Network states, "Screen time and digital technology use can be part of a healthy lifestyle when balanced with other activities." With Apple TV parental controls and tools like Safes, achieving that balance becomes significantly easier.