The Oxford Dictionary defines Cyberbullying as "the use of electronic communication to bully a person, typically by sending messages of an intimidating or threatening nature". Both those who are cyberbullied and their families might suffer devastating consequences. Victims might feel a range of unpleasant feelings, including despair, rage, annoyance, and embarrassment. Additionally, they could feel alone and alienated and think they have no one to turn to. This is where the family's presence is key to supporting them. However, it's likely that cyberbullying also hurts the supporting families who see it happen. The families might feel anxious, helpless, and depressed. In this blog, we'll go into the consequences of cyberbullying, and the consequences on the affected family, and we're going to offer tips for preventing and addressing cyberbullying.
The Effects of Cyberbullying on Children
There are plenty of effects of cyberbullying on children, like mental health issues, academic performance and attendance, social isolation, and relationship difficulties.
Mental health issues: 68% of children exposed to cyberbullying say they have suffered from mental health issues. The effects include stress, depression, anxiety, and loss of empathy, amongst others.
Academic performance and attendance: Academic performance has been a reason to cyberbully for 25% of the bullies. This can lead children to loathe their studies and stop attending classes in the hope of preventing cyberbullying.
Social isolation and relationship difficulties: Cyberbullying can cause children to feel like they don't belong in a certain social group. This results in social isolation, the more they isolate themselves the more difficult it gets to form relationships.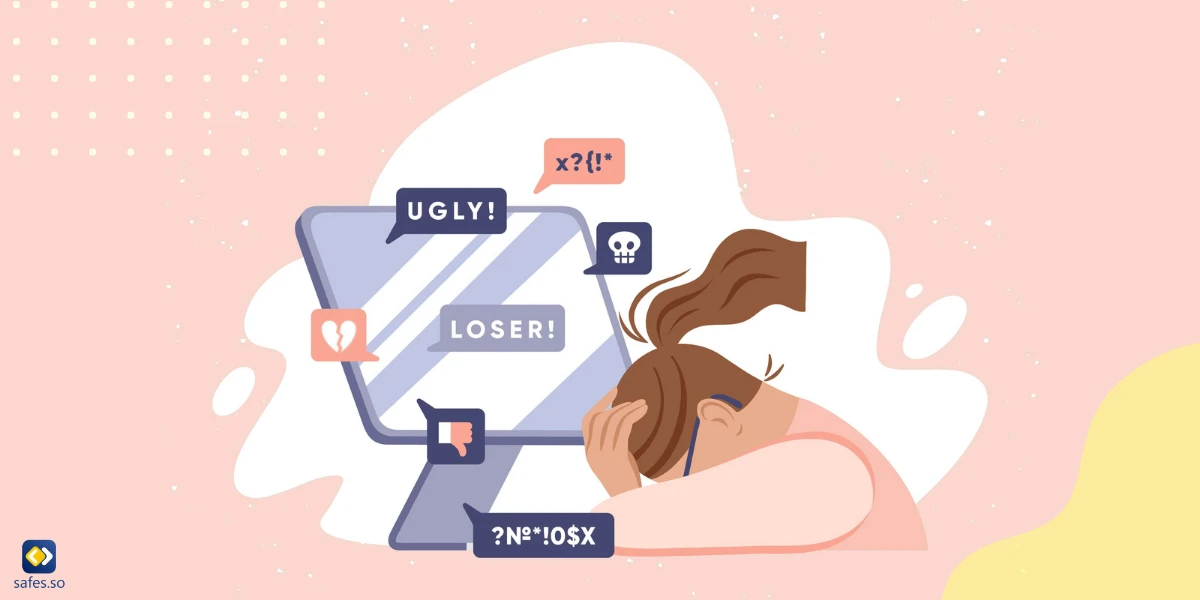 What are the Consequences of Cyberbullying on the Family
Cyberbullying can have a significant impact on families. Parents may experience increased stress and anxiety as they try to help their child cope with the situation. Strained family relationships and communication breakdowns can occur because of cyberbullying. Financial costs might be needed. Siblings and other family members may also be affected by cyberbullying.
Increased stress and anxiety for parents: Seeing your kids anxious and mentally struggling can be hard on parents. Children's stress and anxiety can rub off on their parents, which starts a cycle of people influencing one another. This eventually results in parents not being able to calm their kids down, since they are already worn out not only by the stress of their own life but also of their children's life.
Strained family relationships and communication breakdowns: It's important to work on reducing the communication gap in these situations. Relationship advice for strained relations suggests learning to be there for one another, being patient, and building memorable moments together.
Financial costs: It might be needed to get your child to therapy or counseling, obviously these services cost money. Since a child does not have any income, it remains the parent's responsibility to cover these costs.
Impact on siblings and other family members: Siblings often are influenced by one another's behavior. When one of them is upset, other siblings get easily influenced. Relationships involving one upset sibling can create conflict between siblings. Siblings involved in a harmonious relationship experience lower levels of loneliness and improved self-esteem.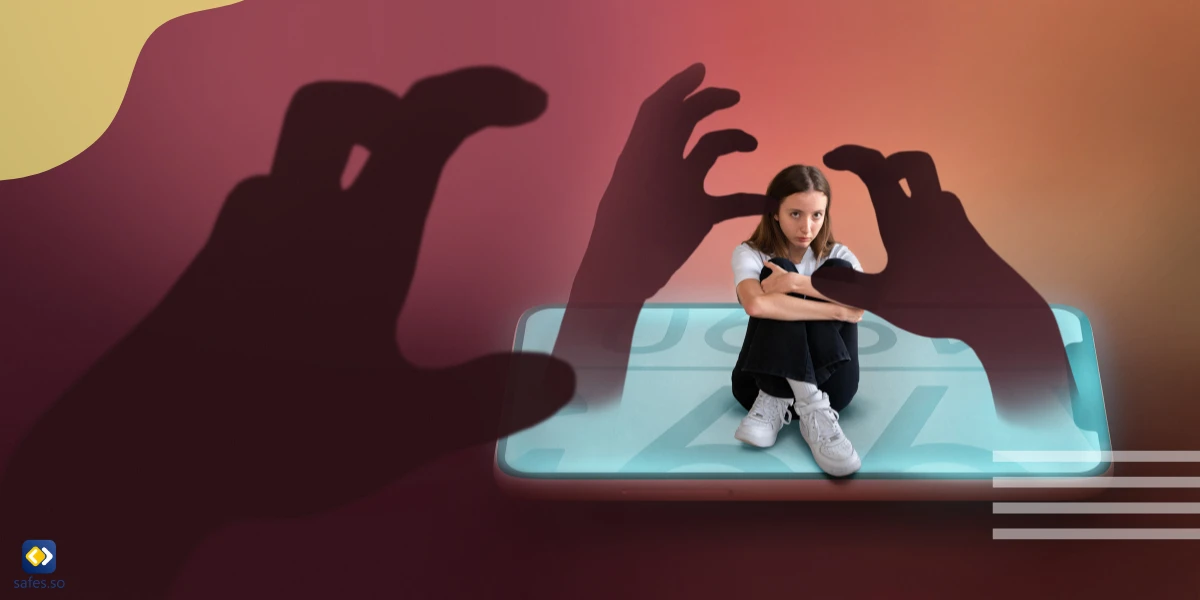 Tips for Preventing and Addressing Cyberbullying
Thankfully parents can help their children in different ways, we've got a parents' guide to help you through it. Some tips to prevent and address cyberbullying are:
Communication With Children About Internet Safety
Communication is key, it remains important to talk to your kids about internet safety for them to avoid visiting chatrooms or using messaging websites that use hurtful language. It can be difficult to talk to your kids, especially your teens, but there are guides to help you talk to your teen about anything.
Monitoring of Online Activity
One way to prevent cyberbullying is by monitoring screen time or filtering websites that allow uncensored communication, like Whisper. Parental control apps like Safes can help by setting screentime schedules, filtering inappropriate apps and websites, and even preventing certain keywords from appearing on your child's device. You can download Safes for Android and iOS devices, for more information on the setup of different features check-out the relevant resource for your device:
Encouraging Reporting of Cyberbullying Incidents
The more people report cyberbullying, the easier it gets to prevent it from happening the next time. One option is to file a police report, other than that there are plenty of governmental websites that take cyberbullying seriously. Some of these sources are:
Seeking Professional Help if Necessary
At some point, professional help might be necessary. 2022 Cyberbullying statistics show that cyberbullying victims are twice as likely to experience suicidal thoughts. As a coping strategy, self-harming behavior is also frequently used by victims. Twenty percent of respondents said they had considered suicide as a serious possibility. In these cases, you can seek the help of a counselor.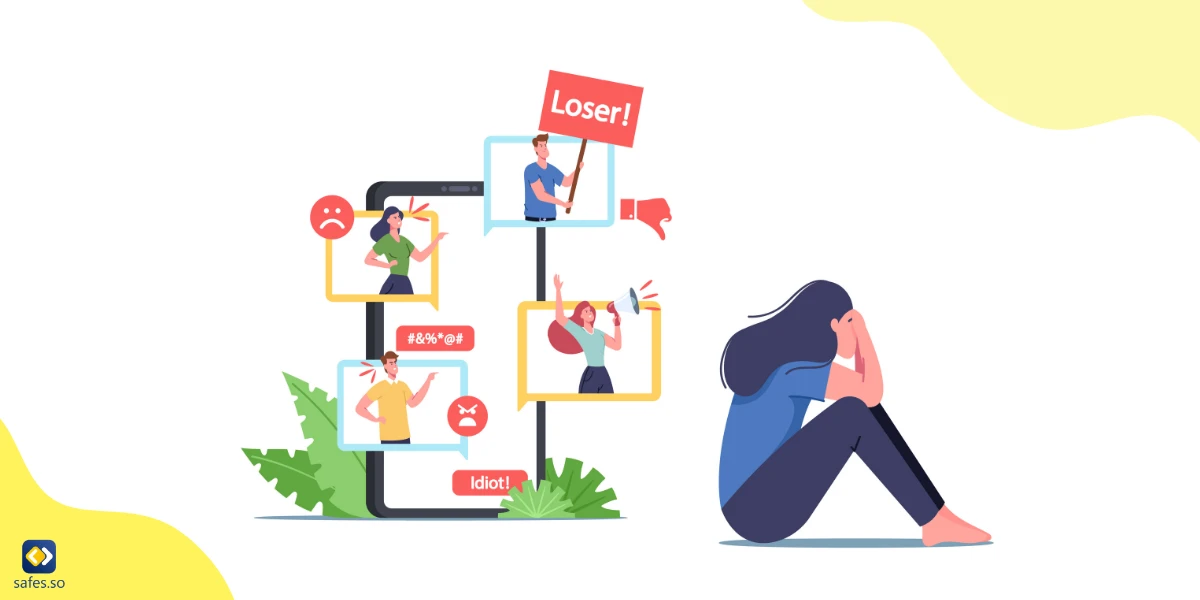 Conclusion
Cyberbullying can have a significant impact on families. It can cause emotional distress, anxiety, depression, and even suicide. It can also lead to social isolation and a lack of trust in others. It's important for parents to take proactive steps to prevent and address cyberbullying. This includes monitoring your children's online activity, talking to them about cyberbullying and its effects, and encouraging them to report any incidents. By addressing cyberbullying, we can help protect children and families from its harmful effects.