Social media are viral among children. 71% of kids start using social media before they're 14, according to Common Sense. However, most parents are doubtful if it is wise to let children use social media. Parents have repetitively asked us questions like 'how does social media affect kids?' It's necessary to know that although social media may have disadvantages, they also come with multiple benefits for children. In this article, we aim to discuss the positive and negative effects of social media on kids and how to make social media safe for kids. 
Positive Effects of Social Media on Child Development
Unlike what many parents may think, social media can have positive effects on child development. Based on The Conversation's study on teenagers, social media help children express themselves, communicate with others, and receive emotional support. Basically, what anyone sees on social media is correlated to what they enjoy and tend to see on these platforms. Therefore, by teaching children and moderating their activities on social media, we can help them benefit from social media. 
We will discuss some of the significant benefits of social media below. 
Using Social Media to Develop Creativity
Social media can be the perfect platform for kids to express their creativity. Children can share their art and literary works on most social media such as Instagram and Facebook. For example, they can share their photographs, paintings, drawings, music, and videos of their singing and dancing. They can also share their writings and literary works. They can make blogging about a topic on social media a vocation they can continue in life. You can find teenagers on Instagram who are computer experts and post videos about how to fix computers or review gadgets and apps. By doing such activities kids can learn skills which their can benefit from later in life. 
Using Social Media to Keep up with the News and Trends
Social media gather everything that you otherwise had to look for on different platforms in one place. For example, you can follow an agency that covers art events, another one that covers technology, or yet another one that covers travelling and tourism. You can receive their latest posts using a single social media account. Without social media, kids would be deprived of important issues around them. 
Using Social Media for Self-Expression
As kids grow older, they form a distinct identity from the people around them. Naturally, they wish to express their distinct self. Social media create a suitable space for children to express themselves. Children can share their favourite music, movies, and fashion and express their ideas about things. Self-expression is fundamental in children's development. 
Using Social Media for Socialising
As the name suggests, social media are designed to help people socialise. Kids on social media can communicate with friends and family. This is particularly beneficial for kids who have relatives in distant areas. If you think about when you were a child, we bet you'd remember how hard it was to say goodbye to relatives living in another city or country. Of course, chatting and commenting cannot replace face-to-face interaction. Still, they help keep relations alive that otherwise would be lost.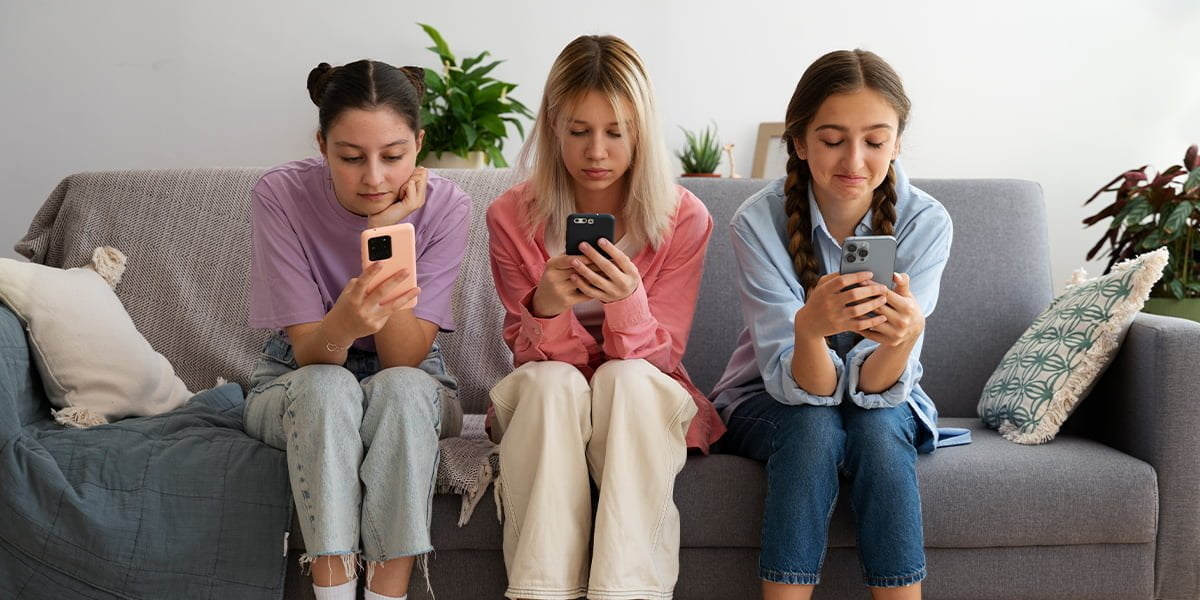 Negative Effects of Social Media on Child Development
The sweet taste of using social media can turn sour when it is misused. Most children tend to be so attracted to the colourful world of social media that they sometimes forget about time passing. Moreover, most users on most social media are adults, and therefore, not all content shared there is suitable for kids. Most importantly, children are exposed to strangers who might not approach them with good intentions. 
Find below some of the significant negative effects of social media on children. 
Safety Risks of Social Media for Kids
Social media may cause several safety risks for kids. However, most of these risks are not limited to children and concerns adults too. They include: 
Privacy Issues

 

Harassment

 

Cyberbully

 

Sexual Harassment

 

Grooming

 

Data Theft

 

Hackers

 

Phishers

 
Some of the children's contacts on social media may not be people they know very well. Therefore, they put themselves at risk by sharing personal pictures and videos or private information such as addresses and locations with people who might abuse them. 
Children are also at risk of being contacted by dangerous strangers. It's possible that these strangers target children to cyberbully, sexually harass, or groom them. 
The private chats on social media are hotbeds for hackers and phishers. It's not unlikely for children to receive messages that invite them to divulge personal information or click on links that would finally steal their data. 
Inappropriate Content on Social Media
Most social media users are adults; therefore, most content on social media is designed for them. Social media may not directly display adult content to children, but it's not difficult to access sexually explicit, violent, or propagandistic content on social media 
Also, social media are replete with ads and spam. Most adults know how to disregard them, but children are more sensitive to advertisements. 
Mental Issues for Children on Social Media
Mental effects are perhaps the most destructive aspect of social media for children. How does social media affect kids' mental health? The answer is by: 
Self-criticism

 

Receiving judgments from others

 

Stress and anxiety

 
On social media, people tend to share perfect moments of their lives. They usually post dressed-up pictures and videos of their happy moments together or in unique places. Children are prone to comparing these singular moments of other people's lives with their current situations. They may dislike themselves or their lives because they are not (in their esteem) as happy or as beautiful as others. 
When your child shares something on the internet, one way or another, they're judged by others. These judgments could be negative comments or messages or just getting only a few likes on the posts. This is, however, a matter of self-esteem. Some people are more sensitive to discrimination than others. 
Although it may sound unfamiliar to adults, children tend to be obsessed with trivial things such as the numbers of their stories and the likes of their posts. It's been reported that some children give their Snapchat usernames and passwords to keep up their chat streaks (points given to users for each day of continuing a conversation). Such an obsession can lead to stress and anxiety. 
Children's Screen Time on Social Media
Since social media are so entertaining, they have the potential to engross children. Sometimes they spend several minutes scrolling up and down posts or swiping stories. If your child has many contacts or follows many accounts, they would have enough content to watch the entire day. Not to mention that social media, such as Instagram, suggest unlimited posts from people they don't follow. 
The obsession with social media can turn into screen addiction, stopping children from their daily activities, such as studying, working out, and having real-life interactions. Screen time at night can also prevent children from falling asleep on time and, as a result, waking tired the following day.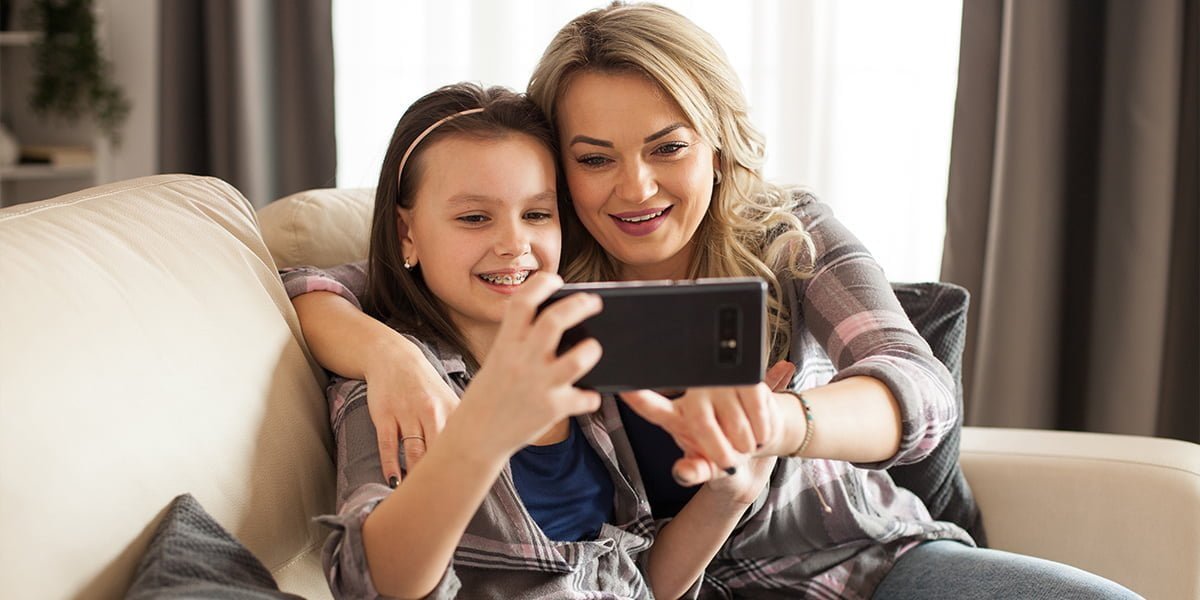 How to Control the Effects of Social Media on Children
Is social media bad for children? You probably now know social media are not indeed bad for children, but they have negative effects that must be controlled. In the following, we'll suggest a 4-step solution to make social media safe for your child. 
Educate Yourself on Social Media
To be able to help your child prepare for the negative aspects of social media, you first need to familiarise yourself with the threats and how to fight them. Therefore, if you're not a tech-savvy parent, we suggest reading some articles describing how social media work. 
We also recommend using some of the social media that your child uses. 
Talk to Your Kid about Social Media
Now that you know the risks and benefits of using social media, it's time to enlighten your child. Tell them how to use social media positively, and avoid harm. Warn them against sharing content or information that jeopardises their safety, privacy, and character. Advise them not to accept friend and message requests from strangers or open links sent by them. Ask them to report to you anytime they come across suspicious messages. 
Monitor Your Kid's Social Media Use
You can make sure your child is on the right track by monitoring their activity on social media. You don't need to intrude on their privacy by checking their phones; you can monitor them by adding them as friends on social media. 
You must also monitor your child's screen time to avoid screen addiction. Parental control suites with screen time monitoring features such as Safes can help you in this case. 
Control Your Kid's Social Media Use
OSF Healthcare suggests a maximum of 2 hours of daily casual screen time for kids older than 5. If you deem your child is putting more time than they should on social media, you need to control their screen time. Safes parental control app can help you by setting a time limit for each app or group of apps. To make the task of setting screen time more straightforward, you can make a schedule for each day of the week. 
Also, note that most social media at restricted to people above 13. Meanwhile, according to Common Sense, 28% of children start using social media before the age of 13. Since most social media have no age verification procedure, you need to take action to prevent your child from joining and using social media. In this case, again, Safes helps you. Using Safes, you can block social media apps and their web portals on your child's phones, tablets, and computers. 
If you wish to learn more about how Safes controls kids' social media use, check out the features and pricing plans pages on our website. Feel free to contact us if you need assistance. 
How Does Social Media Affect Kids? — Summary 
Social media have both good effects and bad effects on kids

 

Children can use social media positively to:

 

Develop their creativity

 

Keep up with the news and trends

 

Socialise

 

Express themselves

 

Social media can have negative effects on children by:

 

Causing safety risks

 

Displaying inappropriate content

 

Harming their mental health

 

Taking up their time

 
Parents can help children avoid social media's negative aspects and use them productively by: 
Educating themselves on social media

 

Explaining social media's risks to children and how to avoid them

 

Monitoring their social media use

 

Controlling their screen time and social media use