Do you want your kid to get inspired and learn something? Does your kid love watching movies, but you can't find many appropriate ones? Well, you have come to the right place! Tons of fun movies are educational and can inspire your child at the same time. In this blog, we've listed 11 inspirational movies for kids in four categories, based on their age ratings. 
Inspiring Family Movies
These are our picks if you are looking for inspiring family movies. These films are rated G, so they're suitable for a "General audience." G-rated movies contain no violence, offensive language, or sexual activity. 
Bing's Animal Stories (2021)
In this animation, a couple of animal friends learn to care for a dog. The friends ride in a fire engine, meet a mother cat and her newborn kittens, and learn how to turn mistakes into something beautiful. 
Recommended age: 2+ 
Inspirational Message
Help others, including animals, by being thoughtful and considerate. Helpfulness, empathy, understanding, friendliness, and kindness are values in Bing's Animal Stories that you can reinforce with your children. 
Paw Patrol: Jet to the Rescue (2020)
When Ryder and his pup friends are invited to the Princess's birthday, they are excited to meet her and give her a gift. The Duke of Flappington who claims to be a distant cousin quickly reveals his true nature by plotting with a selfish pup, Sweetie, to steal from the princess. Trying to prevent the theft, Ryder and most of the pups get imprisoned. Skye and two others are locked outside and can't contact Ryder. Meanwhile, the Duke is up to no good. But it is up to Skye, Ryder, and the rest of the pups to save the Princess before it's too late. 
Recommended age: 3+ 
Inspirational Message
Show kindness to others and believe in yourself. This movie reinforces teamwork, helpfulness, compassion, forgiveness, and positivity. 
Inspiring Movies for Kids
The movies in this category are suitable for children from five to eight years old. 
Monsters, Inc. (2001)
Mike and Sully are Monsters Incorporated's dream team. Together they scare as many children as they can to collect screams and convert them into energy for their city. A tiny problem has developed, children don't seem to be as scared anymore. This is resulting in a power shortage.  
One night, a little girl called Boo has been let into the monster world. Mike and Sully have to overcome a lot of challenges to return Boo safely to her family. Along the way, they discover that laughter is far more powerful than screams which causes them to reconsider their methods. 
Recommended age: 5+ 
Inspirational Message
It's important to be open to new ideas and change. This movie also focuses on the importance of friendship.
Here We Are: Notes for Living on Planet Earth (2020)
Finn is filled with curiosity and the joy of learning. His favorite place is the Museum of Everything. On Earth Day, Finn and his parents go to the museum and take a magical tour around planet Earth. Finn sees the diversity of people and animals and even the wonders of outer space. This causes a new appreciation for everything that's around him. 
Recommended age: 6+ 
Inspirational Message
Treat everyone with kindness and respect. We all might feel lost at times. 
Mulan (1998)
Mulan is an inspirational female role model in a simplified version of a Chinese legend. When war breaks out in China, every family must send one male member to the army. Mulan is expected to be submissive, gentle, and silent. What she does stands in contrast to that; she cuts her hair and wears her father's battle armor, and joins the army in her father's place. When Mulan's family finds out what she has done, they're terrified. Her ancestors send Mushu the small dragon to protect Mulan and bring her home safely. 
Recommended age: 7+ 
Inspirational Message
Be brave. Men's and women's roles should not be seen as limiting. 
Finding Nemo (2003)
Marlin is a paranoid clownfish who is afraid to let his son, Nemo, out of sight. When Nemo is captured by humans, Marlin is forced to dive into the unknown. On his journey, he collides with Dory, a kind-hearted fish with severe short-term memory loss. And the two go on a rescue mission across the ocean. Meanwhile, Nemo must try to flee before falling into the hands of a fish-obsessed little girl. 
Recommended age: 8+ 
Inspirational Message
When you are in need, your family will do everything they can to help you. Just keep swimming! 
Inspirational Movies for Tweens
Cambridge Dictionary defines a tween as "a child between the ages of approximately eight and twelve". Here are some inspirational movies suitable for this age group. 
Inside Out (2015)
Riley has to move when her father gets a new job in San Francisco. Riley is mainly guided by her emotions. Every emotion is depicted as an actual character: Joy, Fear, Anger, Disgust, and Sadness. They advise Riley in her daily life from the control center of her mind, the Headquarters. Riley is kept happy by Joy, while Fear keeps her safe, Disgust keeps her from physical and social suffering, and Anger ensures fairness. Sadness, on the other hand, does not believe she has a purpose and mainly remains in the background. Riley is having difficulty adjusting to her new life. Her emotions try to keep everything in control, but it isn't until Sadness realizes her purpose in Riley's life that things begin to turn around. 
Recommended age: 9+ 
Inspirational Message
Learn to respect all of your emotions. Every emotion serves a purpose. 
Harry Potter and the Philosopher's Stone (2001)
Harry Potter has lived with his aunt and uncle since he was orphaned as a baby. They have forced him to sleep in a cupboard under the stairs and tried to hide his wizarding heritage. Professor Dumbledore and Professor McGonagall are the veteran wizards who run Hogwarts, a boarding school for sorcerers. They hoped that by placing Harry with his aunt and uncle, he would be safe from the evil wizard Voldemort, who murdered his parents. 
On the eve of his 11th birthday, Harry is saved and is soon on his way to Hogwarts. Harry quickly makes friends with two other first-year students on the train to Hogwarts, Ron Weasley, and Hermione Granger. As their training at Hogwarts begins, the three friends quickly become involved in a series of terrifying adventures. 
Recommended age: 12+ 
Inspirational Message
Friendships can make a lot of life's difficulties easier to handle.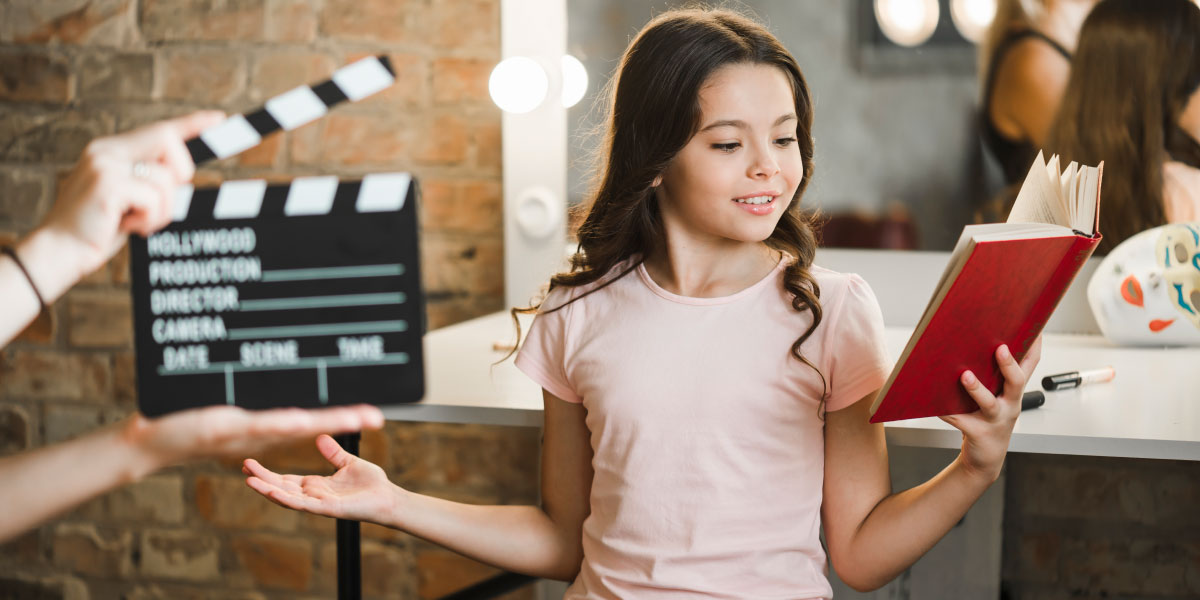 Inspirational Movies for Students
According to Cambridge Dictionary, a student is "someone who is learning at a school". In this part, we have categorized students as PG-13. Read on to find some amazing movies for children of this age. 
Legally Blonde (2001)
Elle Woods, a natural blonde and a fashionable sorority queen, is left by her boyfriend, the cutest fraternity boy on campus. Since Warner packs up for Harvard Law and reunites with his prep school sweetheart, Elle decides to follow him. Eventually, she assembles all her resources to get into Harvard, determined to win him back. While she is there, she realizes that she has to work hard for her life, her guy, and herself.  
Recommended age: 13+ 
Inspirational Message
Don't let anyone define your success. You can accomplish anything you set your mind to. 
Coach Carter (2005)
Ken Carter accepts the position of basketball coach at his old high school. Carter is shocked by his players' attitudes and their poor play performance. To change this, he sets strict rules that require players to behave respectfully, follow a dress code, and achieve good grades. This pays off since Carter's team becomes an undefeated competitor. When the team's behavior begins to stray, Carter takes action. He fights to maintain his methods, determined to show the boys that they need good values for their futures. He discovers that he has a far greater impact on them than he could have imagined. 
Recommended age: 14+ 
Inspirational Message
Education is important. It's never too late to change your life. 
A Man Called Otto (2022)
Otto Anderson is a grumpy old man. His wife, Sonya, the love of his life, died six months ago, forcing him to retire. This results in him not wanting to live any longer. Wanting to take matters into his own hands, he survived several failed suicide attempts. Meanwhile, the warm and kind new neighbors move in across the road, but Otto seems unprepared for this new purpose and joy in his life. 
Recommended age: 15+ 
Inspirational Message
Even when everything appears hopeless, we can still find new meaning in life. 
Conclusion
In a nutshell, there are tons of movies for your child that you can watch together to get inspired. If you are looking for more movies with their corresponding age ratings, you can check out this guide that is supported by the Department of Social Services of the Australian Government. It also contains ideas to discuss, and values you could reinforce with your children. 
The age ratings mentioned in this blog are not only collected from the above-mentioned guide, but also from IMDb and "is this movie suitable?". It is important to adhere to the official age ratings, and not risk the consequences of watching movies that are not suited to their age. If you are worried that your child will watch inappropriate movies, you can use parental controls on your TV. 
As you may have noticed, the age rating starts at the age of 2 years and up. I can hear you thinking: Is it safe to watch TV with my baby in the room? Don't worry we've got you covered!