Has it ever happened to you to search for something on your phone and see your social media feed filled with the same content right away? MeWe has been created in an attempt to address the issue of targeted ads. It's a social media platform just like the others, but it claims to protect your data and give you more freedom of speech. But is MeWe safe for kids? An ad-free social media platform seems like a great idea, but when it comes to children using it, it can bring about safety problems that might concern parents.
On the other hand, without the proper education on online safety, children can be exposed to many dangers online, such as cyberbullying, online predators, and inappropriate content. This blog post aims to familiarize you with the MeWe app and explain the potential risks associated with children's unsupervised usage of this app.
Understanding MeWe
What is MeWe app? MeWe is a social media platform with more than 20 million users, allowing them to share content and connect with each other. Users can react to posts, leave comments, and engage in online communities. They can also join online forums centered around common interests and subjects. What is MeWe app used for? Just like any other social media platform, MeWe is used by people to keep in touch and share their thoughts and day-to-day lives. But as a privacy-focused platform, MeWe has become significantly different from other similar apps; to the extent that it has been introduced as an alternative to Facebook.
The MeWe social media platform has placed great emphasis on user privacy. It claims not to sell personal info to third-parties for marketing purposes. The company also assures users that it will not collect data profiles to send users personalized in-app marketing messages. On the other hand, this social networking service strives to create a space where content is published freely and without any specific content moderation procedure.
Potential Risks on MeWe
MeWe's loose moderation has caused the migration of many users who felt like their content was being censored on other social media platforms, such as conspiracy theorists and conservatives. It has also turned into a great space for people who engage in activities that are unauthorized on other apps, such as buying and selling guns or animals. You can guess the rest. Is MeWe safe for kids? Considering the inappropriate content it might expose children to, probably not!
Using MeWe can also expose children to other potential risks, such as online predators and cyberbullying. Is MeWe a dating app? No, but, like any other social media platform, it doesn't mean that it won't be filled with online predators and cyberbullies, looking for an opportunity to harm the weakest, a.k.a. children.
Although MeWe is a social media platform that prioritizes data privacy, no online app is completely safe from data breaches. Without proper knowledge of how to safely navigate the online world, children can still be at risk of unauthorized access to personal information.
MeWe's Safety Measures
As an attempt to promote free speech, WeMe doesn't offer any strict content moderation procedures. However, the option to report a post or block a person has been given to users; therefore, they can report posts that violate the terms of the app, such as hate speech, sexual content, or harassment. However, despite these options, the company has admitted that they've been having trouble keeping up with content monitoring. Additionally, many MeWe reviews highlighted instances of viruses that were allegedly spread through the app.
MeWe has no built-in parental controls that parents can use to keep their children safe. A parental control app can come in handy in such a case. Safes is a parental control app that not only allows you to monitor your child's activities on MeWe, but also gives you the option to set limits for the time they spend on this app. Safes works on all operating systems, from iOS or Android to Windows, and basically any other devices you and your child may have.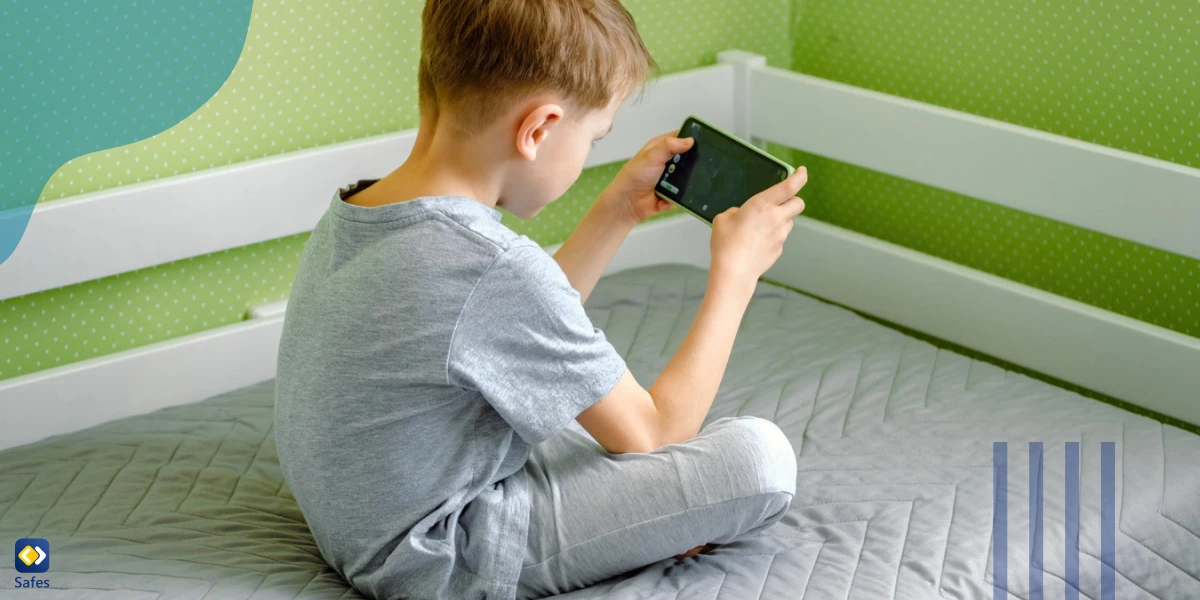 Tips for Parents
Maintaining open lines of communication with children is vital in ensuring their safety online. Parents should encourage their children to discuss their online experiences, address any concerns or issues they may have, and foster a supportive environment for seeking guidance.
Teaching children about online safety is also crucial. Parents should educate their children about the potential risks associated with social media platforms like MeWe. Topics such as privacy settings, the importance of not sharing personal information, and recognizing and reporting inappropriate behavior should be covered.
Lastly, Parents should establish clear rules and boundaries for their child's internet usage, including time limits and guidelines for engaging on social media platforms. Regularly monitoring their child's online activities and interactions can help identify potential risks and address them promptly.
Alternative Social Media Platforms for Kids
For parents seeking alternative social media platforms that are designed specifically for kids, there are several options available. Platforms like Messenger Kids and Kidzworld offer age-appropriate features and enhanced safety measures.
When considering social media platforms for children, features like strict age verification, content filtering, robust moderation, and parental control options are crucial. Additionally, platforms that prioritize privacy and offer educational resources on digital citizenship can provide a safer online environment for kids.
Conclusion
What is MeWe used for and is it safe for kids? MeWe is a social media platform that offers various features and emphasizes user privacy. Being an ad-free targeting-free social media app seems to be a great choice in terms of data security for children. However, weak content monitoring measures and an inappropriate user base make it a potential risk for children who are active on it.
There are lots of social media alternatives that children can use safely. However, if you and your child insist on using MeWe, make sure you're actively engaging with them and guiding them toward responsible online behavior. By fostering open communication, educating about online safety, and setting boundaries, you can help your children navigate social media platforms like MeWe and ensure their overall digital well-being.