Telegram is the 6th most popular messaging app with 550 million users, according to Statista. There has been a rise in Telegram's popularity since 2021, and more and more people are switching from predominant and popular messaging apps to Telegram. However, 'is Telegram safe for kids?' is a question parents repetitively ask us. While Telegram prides itself on its comprehensive security features, which make millions of adults worldwide pick it as their preferable messaging app, it poses critical safety risks to children. As a result, in this article, we will discuss Telegram's safety and health risks for kids and offer solutions to make it safe. 
How Does Telegram Risk Children's Safety & Health?
Telegram has features that most adults find practical, such as public usernames, end-to-end encryption, and disappearing messages. However, these features can put young users of Telegram at risk. On the other hand, since most Telegram users are adults, most contents shared on Telegram is aimed at adult users. Moreover, kids' screen time on Telegram is another issue that can cause health risks for children. 
In the following, we'll discuss each area where Telegram may pose risks in detail. 
Inappropriate Content
Based on Telegram's guidelines, publicly sharing pornographic is banned. However, this doesn't include private groups and chats. Moreover, Telegram is not very quick at detecting inappropriate content on public channels. 
Pornography is not the only inappropriate content kids may be exposed to on Telegram. They're always at risk of coming across posts with violent, propagandistic, and disturbing content unsuitable for kids. 
Groups
Unless you adjust Telegram's privacy settings, anyone can add your child to groups. All members can share content in groups and access other members' usernames and profile pictures. They can also send each other messages in private chats. Simply put, your child is exposed to people they might not know in person on Telegram groups. 
Public Usernames
On Telegram, each user is given a distinct username. Anyone can look up usernames in a search box provided by Telegram. There's no way to hide your username in the search results. 
Phone Number Sharing
To join Telegram, your child needs to enter a phone number. By default, anyone can see this number in your child's profile. People can also look your child up using your child's phone number. You can, however, turn off this function in the privacy settings. 
Disappearing Messages
Disappearing messages is a function that Telegram borrowed from Snapchat. Using this feature, your child can set messages to disappear after a predefined time. Disappearing messages can be a critical safety issue because you wouldn't be able to check up on the messages your child exchanges. 
Sexual predators and dealers of illegal products use disappearing messages to target children. Since you don't have proof of their messages, they can get off scot-free. 
End-to-End Encryption
End-to-end encrypted messages were designed to guarantee users' privacy on Telegram. No one except for the sender and receiver can access messages using this feature. However, this poses a problem for parents since they can neither access their children's messages. This feature also stops parental control apps from monitoring and controlling children's messages. 
Screen Time
Most children seem to have problems controlling their screen time on messaging apps. They tend to spend hours chatting with their friends. Sometimes these apps can make children stay up after bedtime resulting in sleep deprivation and fatigue. Telegram is no different. 
How to Make Telegram Safe for Kids?
The first and foremost thing you need to consider to protect children against the risks of Telegram is to discuss the risks with your child. Advising children not to reply to messages from strangers and reporting inappropriate or suspicious messages to you is the best policy. Moreover, Telegram offers privacy settings that can help you make Telegram safer for your kid. To protect your child from excessive screen time and to stop them from using Telegram if they're underaged, you can use Safes parental control app. In the following sections, we will explain all the options that you have in detail. 
Telegram Privacy Settings
You can use the privacy settings on your child's Telegram account to protect your child against unwanted interactions and inappropriate content. However, you shouldn't consider these settings as parental controls because your child can change them anytime they want. 
To access the privacy settings, open Telegram on your child's phone and tap the three parallel lines icon on the top left corner of the screen, then tap 'Settings'. Scrolls down and tap 'Privacy and Security'. Here you have the sections below.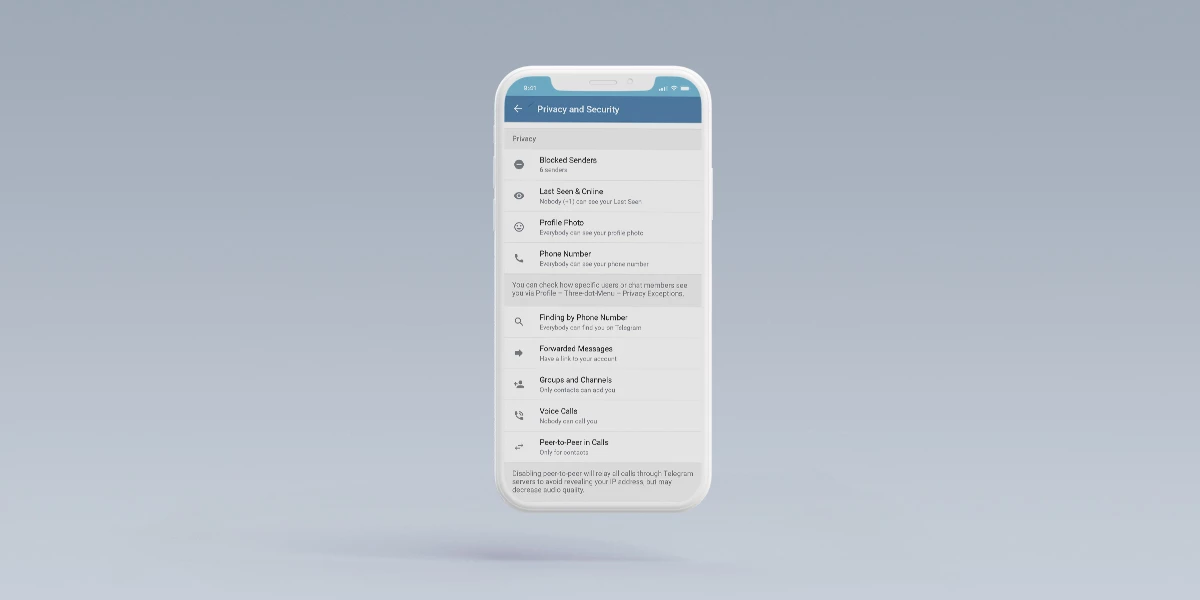 Blocked Senders
Here, you have all the accounts that your child has blocked. If you want to block more people, tap the plus icon on the top right corner of the screen and select the contacts you want to block. 
Last Seen & Online
This section lets you decide who can see your child's status update. If you select 'Everybody', everyone on Telegram will know if your child is online or when they were last online. To protect your child's privacy, we suggest selecting 'Nobody'. Also, to see your child's status (if you too use Telegram), tap 'Always Share With' and select yourself and/or your spouse. 
Profile Photo
Profile photos can tell a lot about a person. That's how a predator may understand a Telegram user is a kid. Therefore, we suggest limiting viewing it to either 'My Contacts' or 'Nobody'. If you select 'Nobody', you can then add exceptions and allow chosen people to view your child's profile picture. 
Phone Number
By default, Telegram displays users' phone numbers. However, there's no need for others to see your child's number on Telegram. So, to protect your child's safety and privacy, we suggest selecting 'Nobody' in this section. 
Find by Phone Number
This feature allows Telegram users to look your child up using their phone number. Since this is not a suitable feature for a child, we suggest selecting 'My Contacts' so that only people in your child's contact list can access your child through their phone number. 
Forward Messages
By default, when someone forwards a message you send on Telegram, your name and the link to your profile appear. This function is meant to protect copyrights. However, it poses a safety risk to your child when someone shares your child's messages with a stranger. Therefore, in this section, we suggest selecting 'Nobody' so your child's forwarded messages won't be linked to your child's profile. 
Group and Channels
In this section, you may decide who can add your child to groups and channels. We suggest selecting 'My Contacts'. If there are people whom you particularly don't want to add your child to any groups or channels, tap 'Never Allow' and select them. 
Voice Calls
In the Voice Calls section, you may choose who can call your child on Telegram. We suggest selecting 'Nobody' and then tapping 'Always Allow' to make exceptions. You may only allow family and close friends to call your child for maximum safety. 
Safes Parental Controls
Telegram is restricted to 16 years old and above according to its Terms of Service. However, Telegram doesn't verify users' age. That means younger children may easily join Telegram. Nevertheless, you can use Safes parental control suite to stop your child from using Telegram. Using Safes, you can also control how much time your teenage child spends on Telegram. 
Below, you have the three main features of Safes that can protect your child.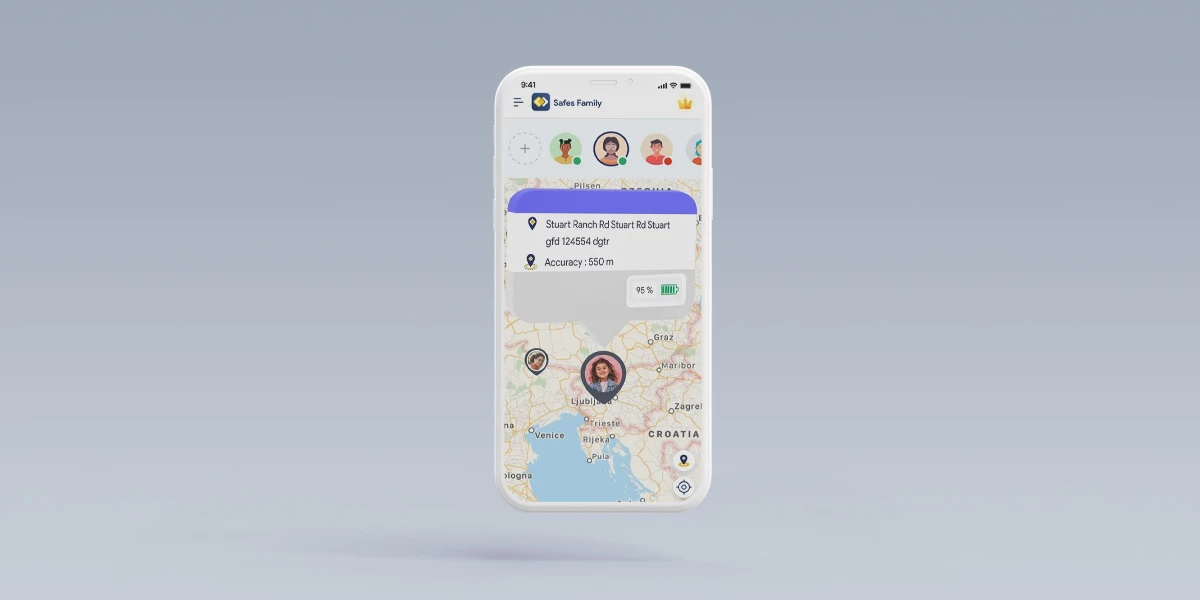 App Blocker
If your child is underage or, for the safety risks explained earlier, you don't want them to use Telegram, you can block the Telegram app on all of their phones, tablets, and computers. There would be no way for your child to open Telegram. 
Web Filter
As you may know, Telegram is also available on the web without requiring it to be installed. Using Safes's web filter, you can block Telegram's web panel. 
Screen Time Tools
With Safes, you can: 
Monitor the amount of time your child spends on Telegram

 

Receive daily, weekly, and monthly reports on your child's screen time

 

Limit the time your child can spend on Telegram

 

Make a screen time schedule for each day of the week for your child

 

Make screen time profiles for special days and events such as ceremonies and vacations

 

Pause your child's device when they're overusing Telegram

 

Set a bedtime when your child's phone would stop working except for making urgent phone calls and sending SMS messages

 
Is Telegram Safe for Kids? —Recap 
Some of the handy tools that Telegram offers may pose security risks for children. You, as a parent, can help your child avoid many of these risks by modifying their account's privacy settings. However, you can't stop your child from changing settings afterwards. If you find Telegram to be a safety and health risk for your child, you may consider blocking it or limiting your child's screen time using the Safes parental control suite. 
If you wish to learn more about Safes and its features, check the features and pricing plans pages on our website. Feel free to contact us if you have questions or need assistance.