At the heart of our daily exchanges, we lean substantially on the power of nonverbal cues to express our emotions, intentions, and reactions. From the subtle arch of an eyebrow to the sweep of a hand, these visual queues silently speak volumes, articulating messages beyond the realm of words. As an indispensable element of person-to-person communication, grasping and accurately interpreting these nonverbal signals is an essential life skill that needs to be nurtured in children from an early age.
Importance of Facial Expressions
What is non-verbal communication definition? It's any form of communication without uttering words. Facial expressions are among the most potent forms of nonverbal communication. They provide a window into a person's emotional state and intentions. Learning how to interpret and respond to these expressions is essential for children to build strong social relationships and interact effectively with others.
Why are Facial Expressions Important?
Facial expressions play a crucial role in human interactions. They convey emotions such as happiness, sadness, anger, surprise, fear, and disgust.
How do we communicate nonverbally? Observing someone's facial expressions can gauge their emotional state and adjust our behavior accordingly. The ability to "read" facial expressions facilitates empathy, understanding, and effective communication.
Regarding children, developing the ability to understand and respond to facial expressions is crucial to their social development. It helps them respond appropriately to others, understand social norms, and form meaningful relationships.
Teaching Children to Understand Facial Expressions
Teaching children about facial expressions can begin from an early age. Parents and caregivers can use everyday situations to explain and demonstrate different emotions and the associated facial expressions. By showing a happy face when the child does something good or a sad face when they do something inappropriate, you can help them associate specific facial expressions with certain emotions or actions.
Another effective way of teaching children about facial expressions is through play. Games that include mimicry or role-playing can help your child practice recognizing and interpreting facial expressions. For instance, you can play a game where one person makes a particular facial expression, and the others have to guess the emotion it represents.
Teaching Children Effective Nonverbal Communication
The art of silent speaking through nonverbal cues like body language, gestures, eye contact, and tone of voice is as essential as spoken words. They have the power to amplify or negate our spoken words, convey emotions, reflect our interest level, and shape others' perceptions of us.
You can empower your child with the proficiency of nonverbal communication, making them aware of their body and facial expressions and equipping them to decipher these cues in others. Here are some valuable activities and strategies:
Drama Time: Role-playing is a fun and engaging way to help your young one practice nonverbal communication. They can immerse themselves in situations where they use body language, gestures, and facial expressions to portray feelings or intentions.
Observation and Chit-Chat: Stir your child's curiosity by encouraging them to spot and discuss nonverbal cues they observe in different situations _be it TV shows, movies, or everyday life scenarios. This will help them grasp the significance of nonverbal communication and its impact on interactions.
Live Demonstrations: You can be the best model of effective nonverbal communication for your child. Keep eye contact when conversing, use suitable facial expressions and gestures, and be conscious of your body language.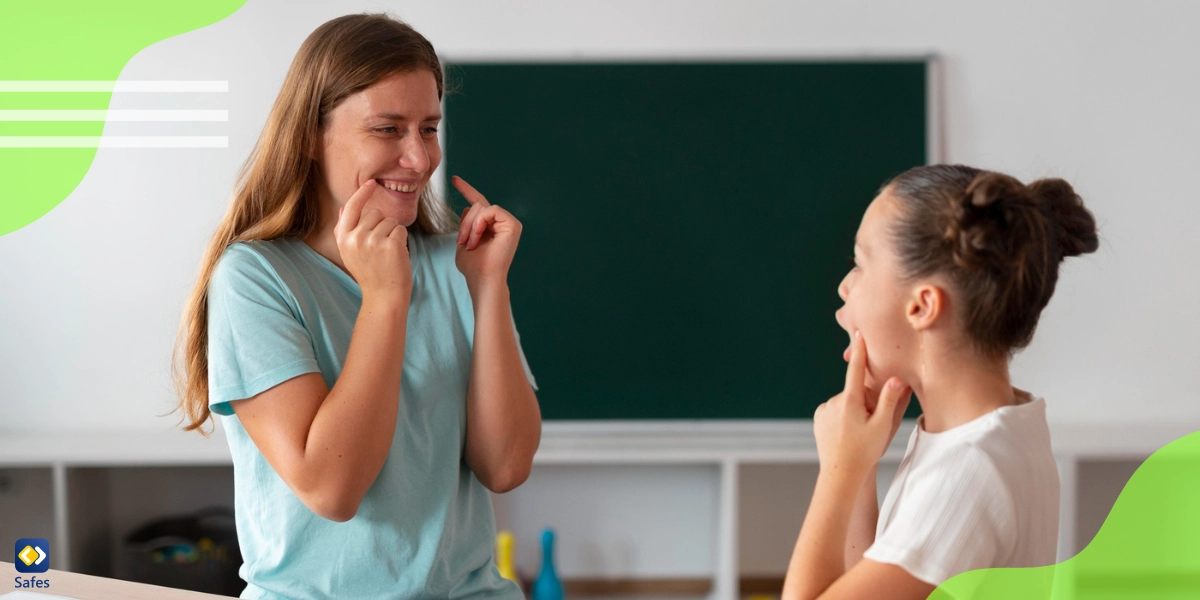 Developing Nonverbal Communication Through Play
Play is a powerful tool for children's development, and it can also be an effective means of teaching nonverbal communication skills. Through play, your child can practice and refine their ability to send and receive nonverbal cues.
Games that Enhance Nonverbal Communication
Several games can help children develop their nonverbal communication skills. For instance, games like charades, mime, or "Simon Says" require players to use or interpret body movements and facial expressions without relying on verbal instructions.
Similarly, board games, puppet shows, or building games can develop nonverbal communication skills. These activities encourage your child to recognize other players' nonverbal cues (like facial expressions or body language) to understand their intentions or strategies.
The Role of Cultural Differences in Nonverbal Communication
Nonverbal communication is not universal; it can vary significantly across different cultures. A positive gesture in one culture might be seen as offensive in another. Therefore, when teaching your child about nonverbal cues, it's essential to consider cultural differences.
Understanding Cultural Nuances in Nonverbal Communication
Cultural norms and values can influence how people use and interpret nonverbal cues. For example, maintaining eye contact in some cultures shows respect and attentiveness. In contrast, in others, it might be considered rude or intrusive. Similarly, certain gestures or body movements can have different meanings in different cultures. So, it's essential to teach children about the common forms of nonverbal communication and potential cultural variations.
The Influence of Parents as Role Models for Nonverbal Communication
You play a crucial role in teaching your child about nonverbal communication. Children often learn to interpret and use nonverbal cues by observing and imitating the adults around them.
As a parent, your nonverbal behavior can significantly influence your child's understanding and use of nonverbal cues. By practicing effective nonverbal communication yourself, you can provide a positive model for your child to follow. It could involve using appropriate facial expressions and body language, maintaining eye contact during conversations, and being mindful of your gestures and tone of voice. Also, be aware of verbal and nonverbal communication discrepancies, as children can pick up on these inconsistencies.
Guiding Children's Nonverbal Communication
In addition to modeling good nonverbal behavior, parents can guide their child's nonverbal communication in various ways. This could involve offering feedback on their nonverbal behavior, explaining the meaning of different nonverbal cues, and providing opportunities for them to practice these skills.
As nonverbal communication examples, you might point out when your child uses a particular facial expression or body movement and discuss what it might mean. Or, you could set up role-play scenarios where your child can practice using nonverbal cues to express their feelings or intentions.
The Role of Digital Tools
The use of technology can also play a role in helping your child understand and use nonverbal cues. However, it's essential to balance children's screen time with other activities promoting nonverbal communication skills.
Safes Parental Control App: A Tool for Balanced Screen Time
The Safes parental control app can be a helpful tool in promoting a healthy balance between screen time and other activities. It allows you to limit your child's time on digital devices, ensuring they also have ample time for offline activities like play and social interactions.

By limiting screen time, Safes prevents screen addiction and encourages your child to participate more in face-to-face interactions, where they can practice and develop their nonverbal communication skills.
If you're interested in trying Safes for your child's development, you can download it from our website as well as Google Play and AppStore. Use the following links to learn how to put parental controls on different platforms and devices using Safes:
Wrapping Up: The Importance of Nonverbal Cues in Child Development
Understanding and using nonverbal cues effectively is a crucial life skill your child needs to develop. You play a vital role in this process by teaching your child about different forms of nonverbal communication, providing opportunities to practice these skills, and modeling effective nonverbal behavior yourself. Also, considering cultural differences in nonverbal communication and utilizing digital tools like parental control apps can further support children's development in this area.
For further reading on this topic, check out this study on The Role of Nonverbal Communication in Effective Communication published by EduBirdie. It discusses the importance of nonverbal communication in various contexts and highlights its role in effective communication.