Online shopping has turned into the new norm after the emergence of the Covid-19 pandemic. It allows people to select items of interest from the comfort of their homes and have them delivered to their door in exchange for a small fee. Just like adults, children's engagement in such e-commerce activities has skyrocketed in recent years. But is online shopping for kids a wise thing to do? Just like any other online activity, online shopping requires proper education and parental involvement. In this blog post, we'll discuss whether it is safe to shop online and how parents can minimize dangers for their children.
The Benefits of Online Shopping for Children
To understand how to buy safe online, we must first evaluate the phenomenon of online shopping as a rising trend. Online shopping offers many advantages compared to bricks-and-mortar stores. First, it is time-efficient and commute-free. Second, it may be a good option for children who get anxious in social situations and suffer from social withdrawal. Plus, online shopping provides children – buyers in general – with a broader perspective, where they can compare prices and different products from various online shops. Also, a well-known perk of online shopping among introverts: you can browse products without having to deal with stubborn staff who follow you around and ask you if you've made a decision yet!
Online shopping has its own benefits from a parent's perspective, too. This type of online activity can help children learn how to budget their money and make good decisions. It can also teach them to be cautious about their online transactions and sharing personal info, such as their address.
Potential Risks and Challenges
Online shopping is practical in a lot of aspects, but it also has many potential risks that need parents' attention. For instance, children need to provide the online shop with personal information so that they can ship the product. This can compromise safety in case of a data breach or even if the seller is trying to pull off a fraud or online scam. Plus, being exposed to a wide range of products that are presented to children by targeted advertising can trigger compulsive buying and accidental purchases. These potential risks call for a need to properly educate children on the matter.
What Kids Need to Be Aware Of
Parents should teach their children how to identify the safest online shopping websites. For that, they should always check to see if the website's URL contains "HTTPS." This means that the connection is encrypted and secure. Furthermore, they should also look for a padlock icon in the address bar or near the website's URL, indicating that the website has a valid SSL (Secure Sockets Layer) certificate. This certificate is used to encrypt data transmitted between the website and users.
Children should be extra careful with the information they share online. Their name, address, and phone number should only be shared with websites that are well-known and 100% secure. Additionally, children need to understand that purchases should be discussed with parents beforehand, since they need to consider the budget and the appropriateness of the purchase.
Setting Up Parental Controls for Safer Online Shopping
Online shopping safety can be maximized when parents are involved in their children's digital lives. Parental control apps are the modern solution for staying informed of children's online activities. Safes, one of the best parental control apps in the market, has outstanding features that allow for complete supervision of anything that they do on the internet. For example, Safes gives you a list of websites that your child has visited and also allows you to block access to the ones that you don't want them to see. Plus, if your child is used to online shopping at certain times when they're bored, you can set screen time restrictions to prevent that from happening. Safes is compatible with all operating systems, such as Android, iOS, and Windows.
All in all, parental control apps are a good way to monitor children's digital lives, which is an integral part of modern parenting. However, the parental control settings should be age-appropriate and therefore adapted as children grow and mature. More importantly, these apps should be seen as tools to promote responsible behavior, not as a replacement for communication.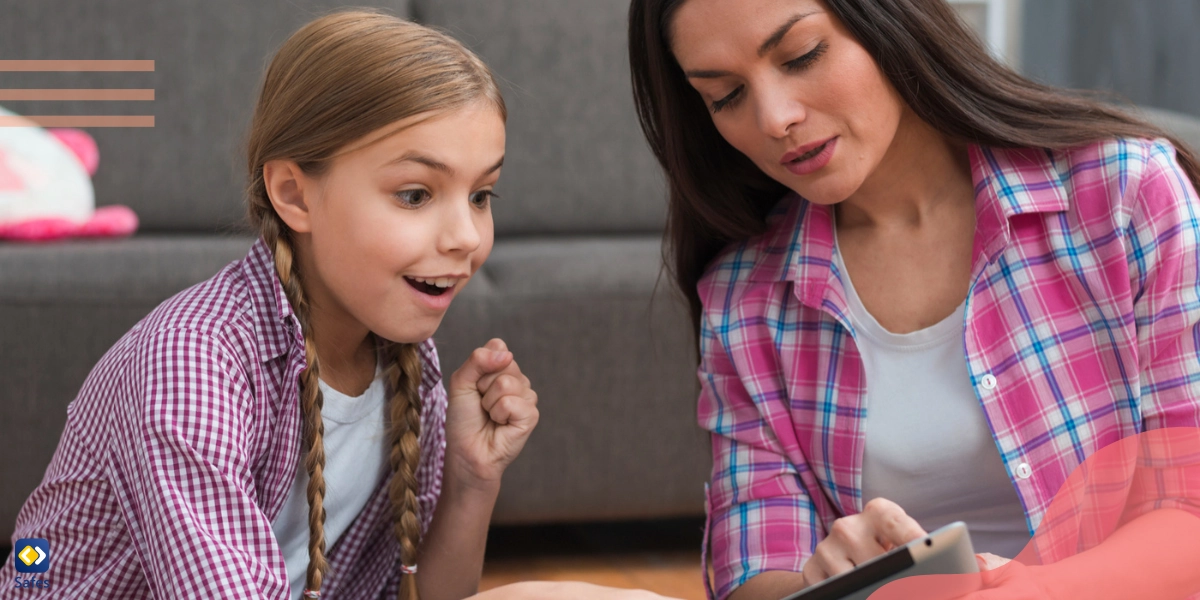 Open Communication and Education
Children's online safety in general – and their safety in online shopping specifically – consists of two fundamentals: open communication and education. The first one makes parents aware of what's going on in their children's lives. Plus, it gives children a chance to express themselves and share any worries and questions they might have. There's more to communication: studies suggest that open communication between parents and children decreases their chances of engaging in online risky behaviors.
The second pillar of online safety, education, provides children with information on what the potential online dangers are and how to stay safe. Responsible online shopping can be a good learning opportunity for children, teaching them how to be vigilant about sharing personal information and online transactions. For more info, read: Crucial Online Safety Tips Every Parent Should Know.
Conclusion
In the previous sections, we tried to provide an online shopping guide for parents, whose role is of utmost importance in this technology-driven world. A balanced approach that combines education, communication, and technology is key to creating a secure and enjoyable online shopping journey for children. Online shopping is convenient and often economical, but its dangers should not be overlooked.
Remember, in this digital era, a proactive approach to online shopping safety for children can lead to a future of responsible online behavior. Empower your child's online shopping journey with our advanced parental control app. Our user-friendly interface, comprehensive features, and compatibility with various devices will be your shopping online guide that makes safeguarding your child's online experiences a breeze.