Is your child experiencing frequent headaches or eye strain? It could be due to astigmatism, a common eye condition that affects millions of people worldwide. Astigmatism occurs when the cornea or lens of the eye has an irregular shape, which can lead to blurred or distorted vision. As a parent, it's important to understand the significance of keeping your child's eyes healthy, specifically preventing astigmatism in children. Early detection and treatment of astigmatism are crucial for a child's vision development, as uncorrected astigmatism can lead to permanent vision problems. Children with astigmatism may find it harder to read, write, or enjoy outdoor activities. In this blog, we will discuss the causes and symptoms of astigmatism, the impact of screen time on children's eye health, and how to prevent astigmatism in kids.
Understanding Astigmatism
Astigmatism is a common eye condition that affects around one-third of the population. But what exactly is astigmatism? In simple terms, astigmatism is an irregular curvature of the cornea (the front part of the eye) or lens (an inner part of the eye that helps with focus) of the eye, which causes blurred or distorted vision. It often occurs along with nearsightedness or farsightedness and can lead to astigmatism headaches, eye strain, and difficulty seeing at night.
Causes and Risk Factors of Astigmatism
You might be wondering; can you develop astigmatism? The answer is yes. While it's often present at birth, let's see how you get astigmatism. Astigmatism can develop due to injury or surgery on the eye or as a complication of an eye condition, such as keratoconus. Mild astigmatism may not cause significant vision problems and may not require treatment. However, if astigmatism is causing issues in more severe cases, people may need glasses or contact lenses.
Types of Astigmatism
There are two types of astigmatism: corneal and lenticular. Corneal astigmatism occurs when the cornea has an irregular shape, while an irregularly shaped lens causes lenticular astigmatism. In either case, the irregularity in shape causes light to focus on multiple points on the retina, instead of a single, sharp image.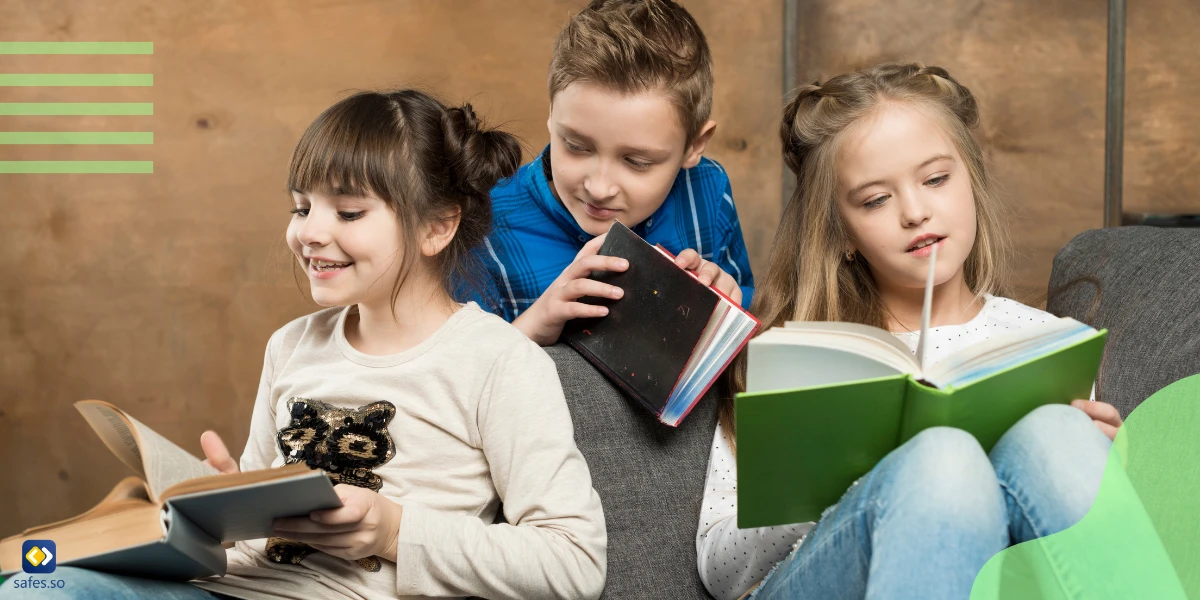 Symptoms of Astigmatism in Children
Astigmatism can affect children, and it can be challenging to diagnose since they may not be aware of their vision issues. Symptoms of astigmatism in children may include headaches, eye fatigue, squinting or closing one eye, and difficulty reading or seeing distant objects. If you notice signs of eye strain like blinking excessively, rubbing their eyes, or holding objects too close to their face, it's advised to get their eyes checked immediately.
The Impact of Screen Time on Children's Eye Health
Technology continues to play an important role in our lives, which raises concern about the impact of excessive screen time on children's health. On this note, studies show the potential link between screen time and the development of astigmatism in children.
The most common risk associated with excessive screen time is eye strain. When children spend long amounts of time staring at screens, they often forget to blink, causing their eyes to dry out. Furthermore, constant exposure to screens' bright light can impact the way that eyes focus, potentially leading to astigmatism. While it may not be possible to entirely eliminate screen time from your kids' lives, there are steps that you can take to reduce its impact on their eye health.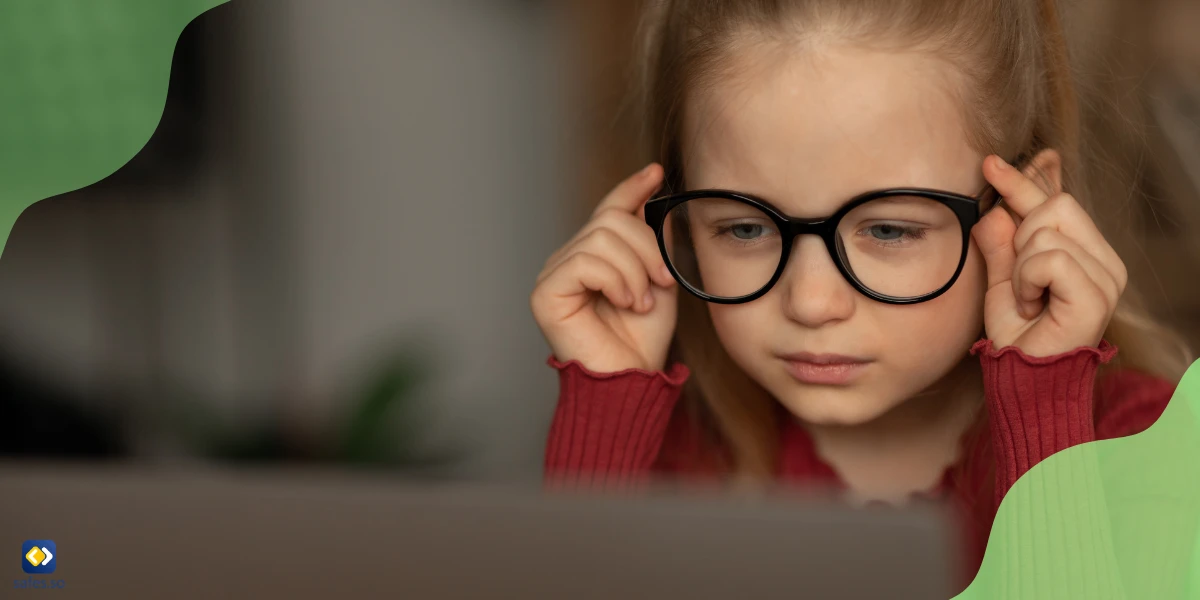 Balancing Screen Time with Other Activities
Let's look at some of the ways to protect your child's vision by balancing screen time with other activities. The most important one is to take frequent breaks. Experts recommend the 20-20-20 rule, which involves taking a 20-second break every 20 minutes to look at something 20 feet away. This allows the eyes to refocus and helps to prevent eye strain.
It's vital for children to not exceed the guidelines for screen time. To decrease screen time, parents can use a parental control app like Safes. Safes' parental control app also offers instant blocking of your child's device, schedules, and plenty of other services to manage your kids' screen time. Safes is available for Android, iOS, Windows, and macOS.
Tips to Reduce Screen Time and Promote a Healthy Lifestyle
Find alternative activities: Try offering them alternative activities such as reading, drawing, or playing an instrument. These alternatives will keep them entertained and stimulate their creativity.
Be a good role model: Children often imitate their parent's behavior. Being a good role model and reducing your screen time encourages your child to do the same.
Stick to a routine: Set up a routine for your child that includes time for diverse activities.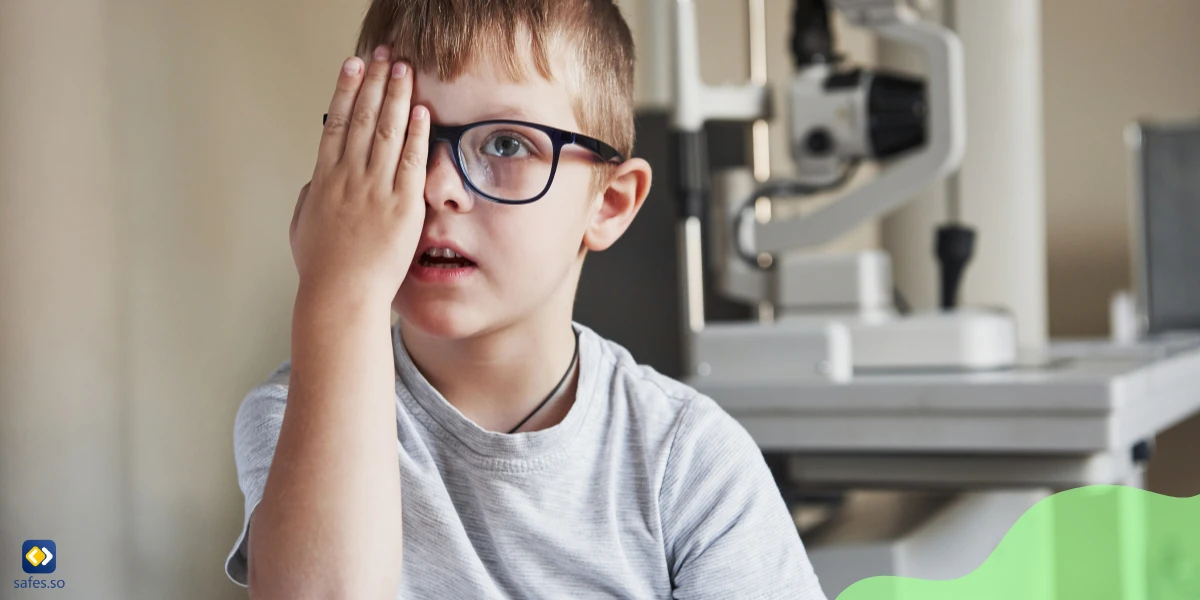 Other Preventive Strategies
There are several things parents can do to lower the risk of astigmatism, such as:
Providing a balanced diet: Proper nutrition is essential for good health. Make sure your child eats foods like carrots, spinach, oranges, and almonds to maintain eye health. Omega-3 fatty acids found in fish, nuts, and seeds may also help protect the eyes.
Having good posture: Poor posture can affect the alignment of the eyes and cause astigmatism or other vision problems. Encourage your child to sit up straight, hold books or screens at eye level, and take breaks to stretch their back and neck muscles.
Regular eye check-ups: Regular eye check-ups will help to detect any eye problems early and protect your child's vision.
Adequate sleep: Proper sleep is essential for your child's overall health and can prevent astigmatism caused by eye strain.
Proper Eye Care and Hygiene
Even if your child already has astigmatism, taking care of their eyes can help manage symptoms and prevent complications. Here are some tips for maintaining good eye hygiene and avoiding eye strain:
Washing hands frequently: Touching or rubbing the eyes with dirty hands can introduce bacteria or viruses that may cause infections or worsen astigmatism. Teach your child to wash their hands before and after touching their eyes or face, especially if they wear contact lenses.
Using protective eyewear: If your child plays sports or engages in activities that may expose their eyes to flying objects, make sure they wear appropriate eye protection, such as goggles or helmets.
Avoiding eye irritants: Certain substances like smoke, dust, or chemicals may irritate the eyes and exacerbate astigmatism symptoms. Keep your child away from smoking areas, use air purifiers at home, and ensure proper ventilation in their room.
The Importance of Regular Eye Exams
Finally, scheduling routine eye exams with a pediatric ophthalmologist or optometrist is critical for detecting and treating astigmatism early on. Children should have their first eye exam at around 6 months of age, followed by regular checkups at least every two years. During these exams, the eye doctor will assess your child's vision, check for any abnormalities or signs of astigmatism, and recommend suitable treatments if necessary. Early intervention may help prevent vision loss or other complications associated with astigmatism.
Conclusion
In conclusion, astigmatism is a common eye condition that affects many people. Understanding the causes, types, and symptoms of astigmatism can help you identify vision issues early on. Make an appointment with an eye doctor if your child is having astigmatism symptoms to have their vision checked. To sum it up, balance is crucial; reducing screen time and promoting other activities are essential for preventing astigmatism in children. By a balanced diet, regular check-ups, and proper sleep, you're helping your child keep their eyes healthy. Don't let astigmatism affect your child's daily life; take proactive steps to correct their vision.