Streaming services are all the buzz nowadays. But when you have a child in the house there's always a chance that they start watching content only appropriate for adults. This is why streaming companies are adding parental controls to their services. According to a study done by Pew Research Center, 31% of parents set up parental controls on their children's devices. In 2008, Roku TV was released in collaboration with Netflix and has been gaining popularity ever since. In this article, we will teach you how to put parental controls on Roku. 
Parental Controls on Roku
If you're wondering "Does Roku have parental controls?", you should know that it does. The Roku TV parental controls offer various settings — channel-based, rating-based, etc. — to help parents rest easy knowing their child is safe from inappropriate content. Let's take a look at your available options and, further on, how each one blocks channels on Roku TV.
Rating-based: Parents can limit TV programs based on their age rating. After setting a PIN, you can select which ratings should be limited. Learn more about TV ratings and their age appropriateness on the Motion Pictures website.
Channel-based: Parents with young kids can also block access to streaming channels. Roku channel parental control allows parents to limit the channels to only kid-friendly ones.
Parental control on live TV: Parents living in the United States and Canada can block access to over-the-air programs as well.
Setting up any of the above-mentioned settings is straightforward and can be done in a short time. As all of these Roku TV parental control settings require a PIN, you will first learn how to set a strong PIN and, further on, how to set up any of the parental controls.
How to Set a Strong PIN on Your Roku Profile
A Roku PIN can go a long way in helping you to enable parental controls on Roku. Knowing how to choose a strong PIN is not limited to your Roku TV; it also affects your daily life. Nowadays, most of our sensitive documents and bank account information are password-protected. When creating a PIN, it's important to pay attention to details. Combinations such as 1111, 1010, 2222, etc., are easily predicted, which means your child can guess them too. Below is a list of tips for keeping your PIN secure and remembering it.
Use combinations with non-repetitive numbers
Use a password manager
Change your PIN frequently
To set your Roku PIN, follow these steps:
Log in to your profile
Under PIN preferences, select Update
Enter your 4-digit PIN (you can additionally set a different PIN for subscriptions and other purchases)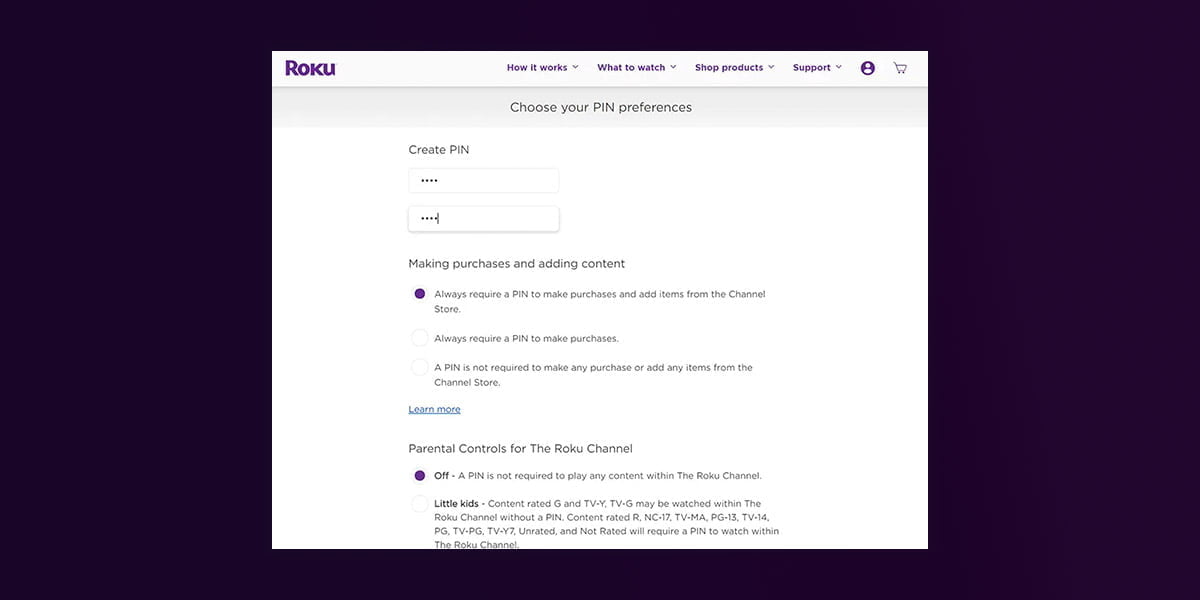 How to Set Parental Controls on Roku Based on Age-Ratings
You can also use Roku channel parental controls based on the age-rating given to each program. When you're signed into your account, you can choose one of the four different presets they have for rating-based parental controls. By selecting the preset you want, you can filter out age-inappropriate programs on the Roku channel. Depending on your child's age, you can choose one of the presets. Below is the list of presets and how each one controls your child's access.
Off: As the name suggests, this setting allows all movies and TV shows to be played. Best suited for adult audiences.
G, TV-Y, TV-G: Programs with the TV-Y rating are suitable for children up to the age of 6. TV-G rating means that the program is suitable for all ages and has no adult content. Parents with young children are the ones who will benefit the most from this setting.
PG, TV-PG: As a general rule, programs rated PG and TV-PG don't contain adult material, but parents might want to keep an eye on the program to know what kind of material their children are being exposed to.
PG-13, TV-14: The last setting is meant for children up to the age of 14 (TV-14) and 13 (PG-13). These programs usually have some sensitive/adult material that is not suited for young teens.
Remember that using a PIN to lock programs does not mean they won't show up on your home page. PINs only lock the channels or movies you have chosen in the parental control settings. If you want to apply more specific parental controls and limit certain channels, the next section will teach you how to block channels on Roku and how to lock apps on Roku TV step by step.
Blocking YouTube on Roku
Although Roku doesn't allow blocking access to apps such as YouTube, there are ways around it. If you want to know how to block apps on Roku TV effectively, you can uninstall YouTube and restrict its installation by using your PIN. To effectively block YouTube on Roku, follow the steps below:
On the Roku home screen, press the home button and select My Channels
Select YouTube
Press the Options button on your Roku remote
 Select Remove Channel
Confirm the removal of YouTube
Add a PIN for making purchases and adding channels
Do the same with other apps and channels to remove any unwanted channels.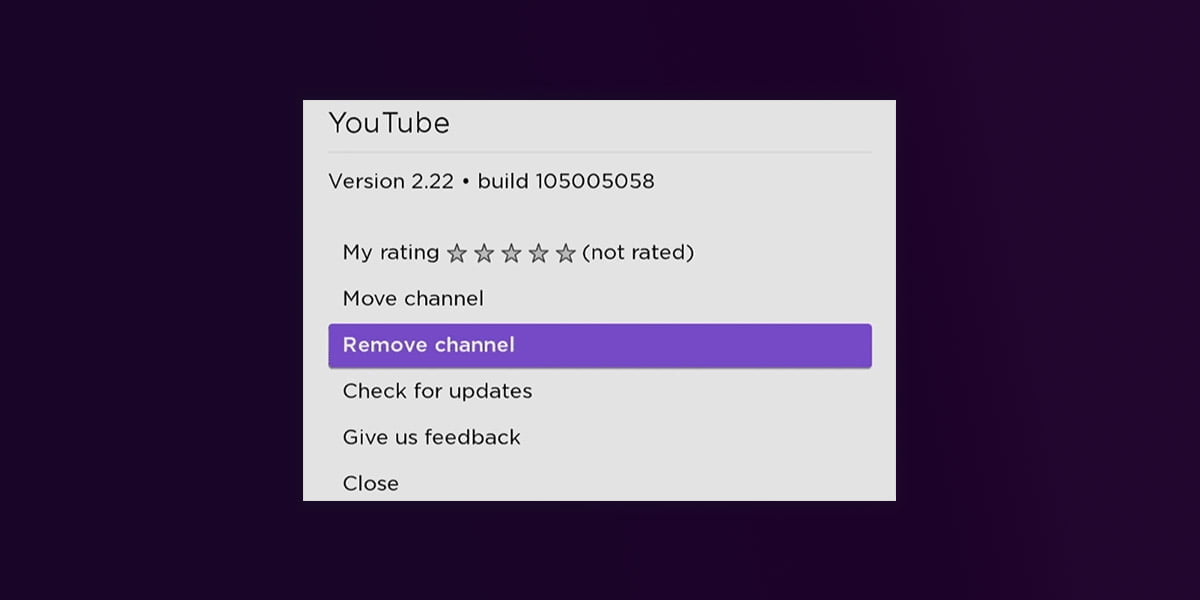 However, keep in mind that using Roku's YouTube parental controls means you will have to install YouTube every time you decide to use it. Your choices from then on are limited to only using it on your personal devices or going through the hassle of installing and uninstalling the app every day. Also, your child can still access YouTube on their phone and laptop. But blocking YouTube access on phones or laptops is much easier than on TVs. Also, you can get YouTube Kids on Roku. The app is a version of YouTube optimized to be safe for children's use.  
Setting Parental Controls for Live TV Programs
According to a study done by Ofcom, the watch time for traditional TV has declined by 90% among young viewers in recent years. However, TV still has viewers of all generations. Families whose children watch live TV rather than streaming services can limit their access via a variety of settings. First, make sure that you have an external antenna connected to your TV so that Roku can scan the channels. After the scanning is done, you must select one of six settings. The Live TV parental control settings are rating-based. This makes choosing a parental control setting easier for people outside of the US, especially in Canada.
The Canadian French and Canadian English rating settings filter the movies into different age groups using criteria approved by the CRTC. These ratings are on-screen and encoded into the broadcast signal. The TV and Movie rating settings, as previously mentioned, use the PG and TV classification methods, and help parents have an accurate knowledge of whether the program is suitable for their child or not. The sixth option is 'block all unrated programs,' and as the name suggests, it blocks all unrated programs. The sixth option is not recommended for kids and it's suggested for adults only.
You can also hide channels from view. Here's how to hide channels on Roku:
In the LiveTV guide, go to the "Channel Number and Channel Name"
Press the * button
In the Channel Options menu, select "Hide this channel" or "Manage Channels". In Roku, hide channels to keep your child safe.
Shortcomings of Roku Parental Controls
Now that you've learned how to hide channels on Roku, let's see how far Roku parental controls can go. Can you put parental controls on Roku? Yes, but Roku parental controls are far from perfect. Here are some of its shortcomings:
There is no way to have time limits on Roku. Since Roku parental controls' time limit is non-existent, you have to use other means to monitor your child's screen time.

The content filters aren't enough. There's still a chance that your child can view channels that contain inappropriate content.
How to Put Parental Controls on Other Devices
As you know, television isn't your child's only source of media. Although it's important to put parental controls on Roku, you should take into account that platforms such as YouTube are available on phones and laptops and put kids at risk of exposure to age-inappropriate content. The solution to these sorts of problems is a parental control app like Safes. Safes can:
Restrict access to any website using a web filter
Use Geofencing to set a geographic fence where you can block apps on your child's device and know when they leave.
Set screentime limit (Since Roku parental controls' time limit feature is non-existent, this can be very beneficial.)
Instantly block apps and URLs
Conclusion
Safes helps parents improve their children's mental health from an early age. Being in front of the screen for too long produces significant amounts of dopamine, which can eventually result in depression. The screen time feature in Safes makes up for the lack of Roku's time limit feature and keeps your children from being hooked to their phones. By using Safes, and Roku's built-in parental controls, you can make sure your children grow up happy and more creative.
Frequently Asked Questions
We've compiled a list of questions and answers to help provide more information on the topic we discussed. If you have any more questions, please don't hesitate to contact us. We'd be happy to help!
Can you put parental controls on Roku?
Yes. Roku does have parental controls that address the needs of different types of parents. To put parental controls on Roku, you must sign in to your Roku account, set a PIN, and choose the settings you want.
Can you block YouTube on Roku?
Not directly, but you can uninstall the program and set installation locks to prevent your child from accessing YouTube. Apart from YouTube, you can learn how to block apps on Roku TV from being installed. However, you can't lock apps on Roku after they've been installed.  Also, you can get YouTube Kids on Roku, a better child-friendly alternative to YouTube.
Can you limit screen time on Roku?
You cannot limit screen time on Roku as a means to stop children from using it after, say, an hour. If there was a way to learn how to lock apps on Roku TV then it would be great for this function but sadly, there's not. However, you can set a sleep timer so that the TV goes to sleep after 20, 30, or 60 minutes of inactivity via parental controls.