Children are spending more time online than ever before, which brings about many new challenges for parents, mainly in keeping children safe online. To help navigate this complex landscape and help parents feel comfortable, we've created an in-depth guide outlining various strategies and tools you can use to make your child's online life risk-free.
Understanding Parental Control Apps
Parental control apps serve as a digital safety net, allowing you to monitor and limit your child's online activities. They offer many features designed to ensure a safe, age-appropriate online environment. One such app leading the charge in this domain is Safes, a comprehensive platform trusted by numerous families worldwide.
The Safes Advantage
Safes stands out in the crowded parental control app market due to its robust set of features, intuitive user interface, and commitment to user privacy. The app caters to a wide range of parental concerns, from limiting screen time to blocking inappropriate content and monitoring social media activities. Safes is a tool designed for parents, helping them promote healthy digital habits in their children.
The Safes app has both free and paid plans. While the free plan answers many parents' needs, for ultimate safety, we suggest trying the paid version. Feel free to download Safes from our website or Google Play and App Store. Use the following links to learn how to set parental controls on different platforms using Safes:
Key Features for Online Safety
When choosing a parental control app, there are a handful of features you need to look for. Check to see if the app has these seven tools below: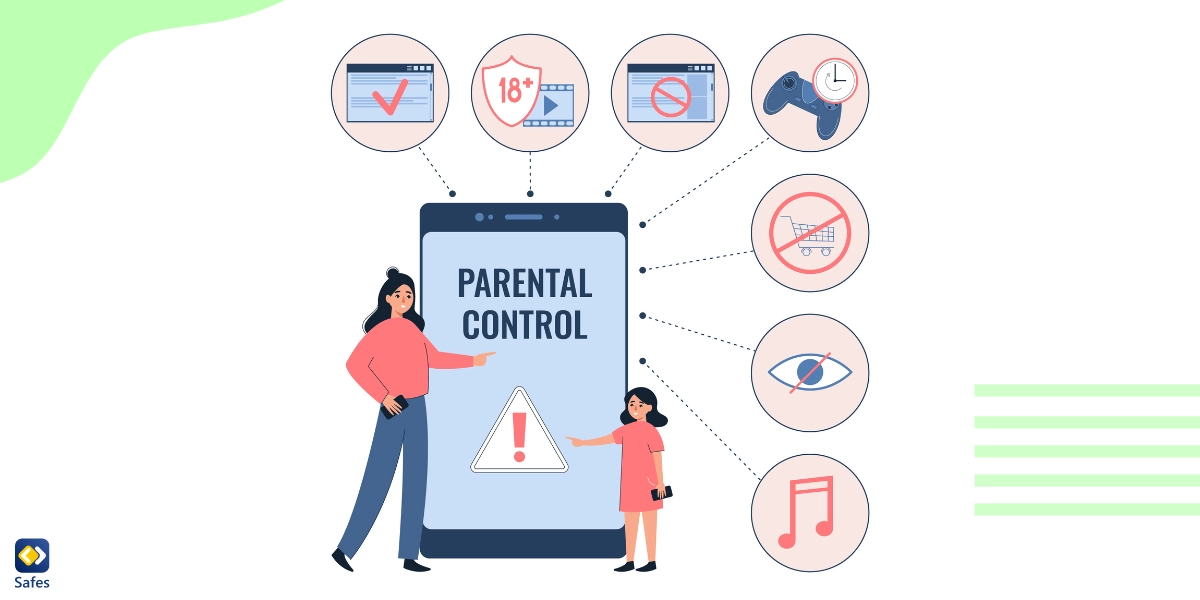 Content Filtering
This feature enables you to filter the content your child can access online, preventing exposure to inappropriate or harmful material. Safes, for instance, automatically blocks access to unsuitable websites, games, and applications based on the child's age and the established norms of the user's country.
App and Game Blocking
Overusing apps and games can harm a child's physical and mental health and academic performance. However, parental control apps can help by allowing you to block access to specific apps and games on your child's devices.
Time Management
The time management feature provides you with the tools to restrict your child's time on their devices. Screen time management can be particularly beneficial in promoting a balanced lifestyle, ensuring that children are not spending excessive time online.
Social Media Monitoring
With the rise of social media, it's become a must for you to monitor your child's activities on these platforms. Social media provides a breeding ground for online dangers, such as sharing an address, phone number, or even their date of birth with online predators. Some parental control apps like Safes offer features that enable you to keep track of your child's posts, comments, and interactions, helping to guard against cyberbullying and other potential online threats.
Location Tracking
If you're concerned about your child's physical safety, many parental control apps have location-tracking tools that can give you peace of mind. You can monitor your child's location in real-time and even be notified when your child leaves school or home, providing extra security.
Safe Search and Browsing
These features ensure that your child is only exposed to age-appropriate content during their online searches. Parental control apps like Safes provide safe search and browsing features that filter out inappropriate content from search results.
Cyberbullying Detection
Cyberbullying is today a big concern for everyone. Fortunately, parental control apps can detect signs of cyberbullying by monitoring a child's online interactions. Cyberbullying detection gives you the opportunity to intervene and take appropriate action if necessary.
Educating Children About Online Safety
While parental control apps offer a strong line of defense, it's equally important to educate children about online safety. Open communication between you and your child about the potential risks and dangers of the online world and setting rules are crucial. They should learn that sharing their phone number, address, and personal information with strangers is dangerous. Parental control apps can facilitate these discussions by providing a starting point for conversation about the child's online activities.
Resources and Tips for Open Communication
Fostering open communication with your child about their online experiences can be challenging. Here are some resources and tips to guide you in these discussions:
NetSmartz Workshop offers interactive educational materials designed to help teach children how to stay safe online.
Common Sense Media provides age-based media reviews for families, as well as advice and articles on technology, privacy, and online safety.
Encourage your child to speak up if they encounter anything online that makes them uncomfortable or unsafe.
Discuss the importance of not sharing personal information online with your child, such as their full name, address, or school name.
Talk about the concept of a "digital footprint" and how their online actions can have long-lasting effects.
Encourage respectful and positive online behavior. Remind them that the same rules of conduct apply online as in real life.
Conclusion: Keeping Children Safe Online
By combining the power of parental control apps like Safes with open and ongoing discussions about online safety, you can feel confident in your ability to protect your child in the online world. After all, keeping children safe online is a shared responsibility that requires both technological tools and education.