With internet being easily available and having the possibility to share mostly anything you want; our digital footprints have become bigger over the recent years. According to statistics, almost 60% of people on the planet are online. Every one of these people leaves a trail of information behind, even children. Since children are starting to build their online appearance earlier, it's important to be aware of the digital footprint for children. Parents can play an important role in protecting and managing their children's digital footprint. In this blog we'll answer your question "What is digital footprint?", we'll explain the definition of digital footprint.
Understanding Digital Footprints
To understand how digital footprint works, let's go over the definition of digital footprint. Every digital citizen has a unique set of traceable online activities and contributions which are saved on the internet named digital footprint or digital shadow. There are two types of digital footprint:
Active Digital Footprint: The user has willingly shared information about themselves on the internet. When you share information on social media or a comment on a forum, this is an example of an active digital footprint.
Passive Digital Footprint: Information from the user is collected without their knowledge. A well-known example of passive digital footprints are cookies.
Digital footprints are created by a collection of information that is left behind on the internet. Since this information will stay here forever, it's especially important to make children aware of their digital footprint. Whatever they share can be tracked and referred to even when they're older, which can influence their studies, career, and even make them a target for cyber-attacks.
Risks Associated with Digital Footprints
The more time you spend online, the more information gets collected and stored. With plenty of your information at the fingertips of strangers, you may face a lot of risks.
Since part of the online information is collected passively, it's difficult to have privacy over the collected data. A lack of privacy automatically also leads to a decrease in data security. Another potential risk of a big digital footprint is online harassment or cyberbullying. Some parents might share pictures of their children when they're still small, this can pop up later in their lives and lead to embarrassment but also cyberbullying. These old baby photos and unwanted saved information can also play an impact in academic and professional opportunities. Nowadays universities do an online screening before allowing students to join their accommodation. Adding to that, when applying for a new job position, the employer can do some research online. Which is why it's extra important to be careful with the information shared online.
Another scary part of saved information online is identity theft. With the highly available pictures, information, and even voices, identity theft can be easily pulled off. People can send fake built voice notes with pictures, scaring friends and family into sending money.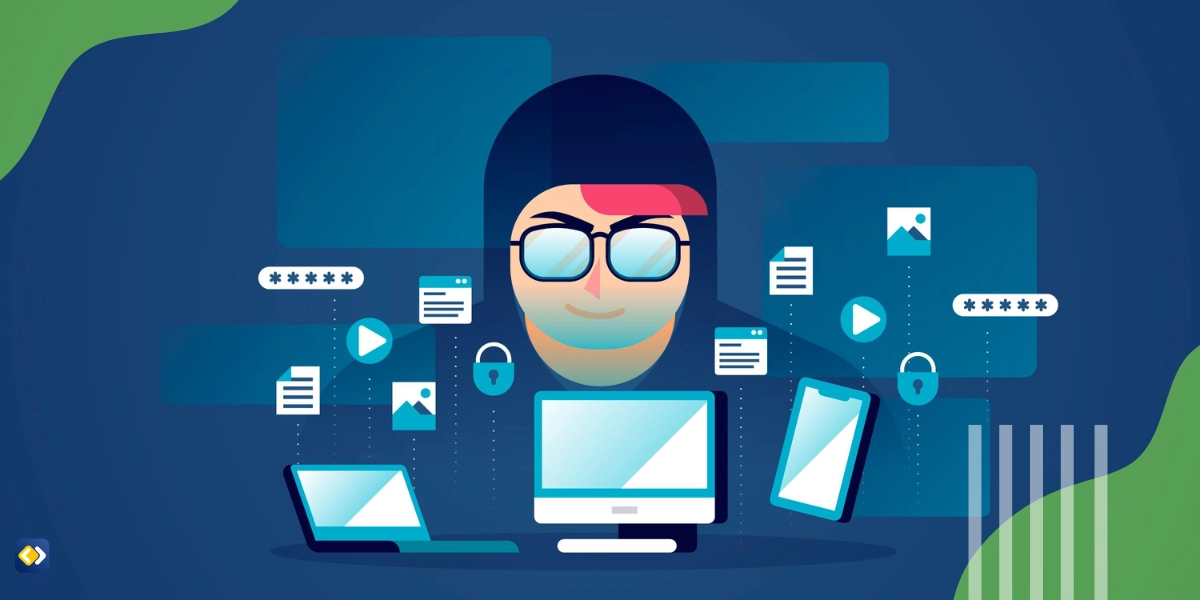 The Parent's Role in Safeguarding Their Child's Digital Footprint
Parents play an important role in keeping their children safe, especially online. There are several ways parents can support their children in learning how to stay safe. First and foremost, communication is key. Educate your children on how to be safe online and talk about the dangers of social media and oversharing online. Another way to help your children stay safe is by setting age-appropriate online boundaries. The valuable part is that you don't have to do this alone, there are plenty of parental control apps that can help you to monitor your children's online behavior. Another important thing is to be a digital role model by using the internet moderately and being aware of what you share online.
The Parental Control App: A Comprehensive Solution
Parental control apps can help with monitoring your child's online behavior. You can set up screen time limits and content filtering for your child to use the internet for appropriate durations and to make sure they don't see inappropriate content. Parental controls can also be used to monitor and manage social media activity to make sure they don't overshare private information online. Parental control apps can be used on Android and iOS. To learn more about it, you can check out these resources:
Balancing Privacy and Monitoring
Everyone has the right to their privacy and should have the ability to share or not to share certain personal information online. Research shows that parents publish information about their children online, they do it anonymously and as narrators of their children's personal stories. This dual position of parents in their children's online identities provides little safety for children as their online identities mature.
However, it's also important for children to learn to protect their own privacy. This does not mean that parents can't help in this learning process. Parents can help by educating their children about it, but also monitor their online behavior. By monitoring children's online social media activity, parents can make sure their children are safe and keep their privacy safe.
Best Practices for Protecting Digital Footprints
To protect your and your children's digital footprint, there are a couple things you can keep in account.
Create strong and unique passwords
Use two-factor authentication
Avoid oversharing personal information
Be safe shopping online
Be safe with financial transactions
Handling Digital Footprint Mistakes
Nobody's perfect and it's completely possible to make a mistake and slip up. We're here to help when that happens. The most important thing is to stay calm and try to encourage honesty and make them learn from past experiences. The first thing you can do when your child has slipped up is by deleting the picture or information they have sent or posted by accident. The sooner you delete it, the higher the chance to keep their online reputation in check.
Conclusion
To summarize, digital footprint is the collection of traceable online activities. Everything we do online gets saved in the cloud and allows everyone to access this information easily. To monitor your child's digital footprint, it's crucial to educate them on the importance of it and monitor their online content consumption and behavior to help them stay safe. You can manage the digital footprint for children by using parental controls to ensure your child's online safety.