In our ever-changing digital landscape, it's crucial that we're not just keeping up but staying ahead of the risks in the online world. Sextortion, a menacing form of cybercrime, has been noticeably impacting the younger generation. This begs the question, "How to stop sextortion?" We're here to answer that. With this guide, we're arming you with the knowledge and tools you need to not just react to but proactively prevent sextortion incidents that may involve your child. Together, we can keep our digital environment safer for the younger generation.
What Is Sextortion and Its Risks?
Sextortion is a severe form of online exploitation that primarily targets minors, although anyone can fall victim. Sextortion means extorting something valuable, such as money, sexual favors, or more explicit content, by threatening to expose the personal or sexual content of the victim. The perpetrators often hide behind the anonymity provided by the internet, making it difficult for law enforcement to track them down.
The risks associated with sextortion are high. The victims may experience emotional, psychological, and physical distress, leading to anxiety, depression, or even suicidal thoughts. It's crucial to understand how sextortion occurs to prevent it effectively. Below, you have the process of sextortion depicted by WPRI.com: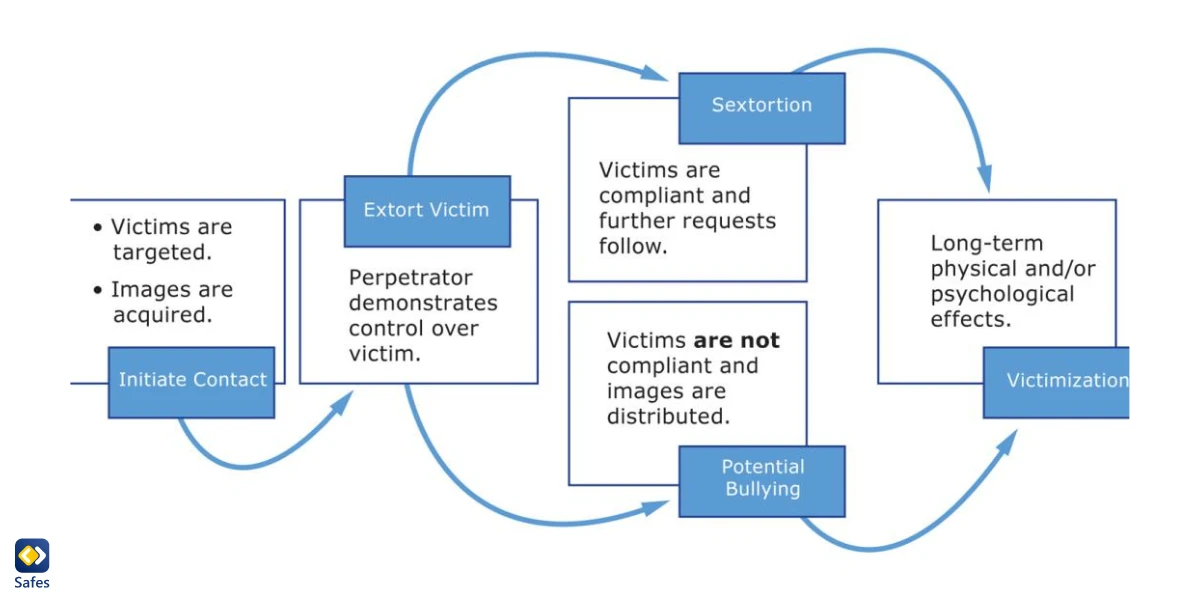 Recognizing the Signs of Sextortion
Sextortion typically begins innocently. A child might meet someone on a social media platform, a dating app, or even on a gaming platform. The relationship often starts as a regular interaction but gradually takes a dark turn toward sexual topics. The child may be coerced into sharing explicit images or videos, which are then used by the perpetrator as leverage to make demands.
Here are some of the signs of sextortion to look out for in your child:
Unusual behavior, such as excessive secrecy about online activities
Anxiety about losing access to digital devices
Unexplained gifts, money, or online credits
Emotional distress, including depression or suicidal thoughts
Educating Parents and Children
Education is crucial to how to stop sextortion. You need to be aware not only of the risks and signs of sextortion but also of the best practices to prevent it.
You should stay informed about the latest online trends, platforms, and threats. You should also understand your child's digital behavior and needs. For instance, if your child frequently uses social media platforms such as Facebook, Instagram, or Snapchat, you should be aware of how to stop sextortion on Facebook, how to stop sextortion on Instagram, and how to stop sextortion on Snapchat.
Meanwhile, you need to teach your Child about the dangers of sharing personal or explicit content online, even with people they trust. They should know that once something is shared online, it might be impossible to remove it completely. They should also be aware of the potential consequences of sextortion, including emotional distress and public exposure.
Preventing Sextortion: Parental Measures
As with every harmful hang in the world, it's best to prevent sextortion from happening in the first place. There's a lot you as a parent can do to avoid sextortion from happening to your child. Here are some of the best strategies:
Nurturing Trust and Open Communication with Child and Parent
Your child should feel comfortable sharing their online experiences with you without fear of punishment or judgment. If your child comes to you with a sextortion incident, remember that they are a victim and need your support.
You should create an atmosphere of trust and openness at home. Children are prone to putting themselves at serious risk by keeping secrets from their parents. If your child has secretive behaviors, reading this Verywell Family article can help: Talking to Your Kids About Secrets and Privacy
Installing and Utilizing Parental Control Apps to Monitor Online Activity
Parental control apps can help you monitor your child's online activities, including their social media interactions, browsing history, and installed apps, and as a result, help you prevent risky behaviors that can lead to sextortion.
Some of them also have features like filtering inappropriate content and monitoring social media apps like WhatsApp, Instagram, and others. These features help prevent situations that might lead to sextortion.
Setting Rules and Guidelines for Safe Internet Usage
You should establish rules for internet usage at home, such as limiting screen time, requiring approval for new social media accounts, and setting age-appropriate privacy settings. It's also essential to discuss sextortion scams and how to report sextortion with your child.
Encouraging Privacy Settings on Social Media Platforms
You should also teach your child to use privacy settings on their social media platforms. By setting their accounts to private, they can control who sees their posts and personal information. It's good to check their privacy settings every once in a while, making sure their privacy is not jeopardized.
Responding to Online Sextortion Incidents
If you discover your child is a victim of sextortion, you must take immediate action. Keep these tips in mind:
Don't respond to the perpetrator.
Report the incident to local law enforcement and submit a report to the CyberTipline.
Preserve all communication with the perpetrator for evidence.
Support your child emotionally and seek professional help if needed.
Empowering Children to Protect Themselves
Teach your child about how to stop sextortion by empowering them to protect themselves online. They should know how to report suspicious activities, block unwanted users, and protect their personal information.
Encourage your child not to ignore sextortion; instead, stand up against it and not be afraid to ask for help. Teach them what to do if they ever fall victim to sextortion or if they have a friend who's being sextorted.
Talking about sex shouldn't be taboo at home. Because if your child finds it embarrassing to talk about sex with you, they may try to hide incidents such as sextortion. To learn how to discuss sex with your child, read this article by The Conversation: "How parents should talk to their children about sex"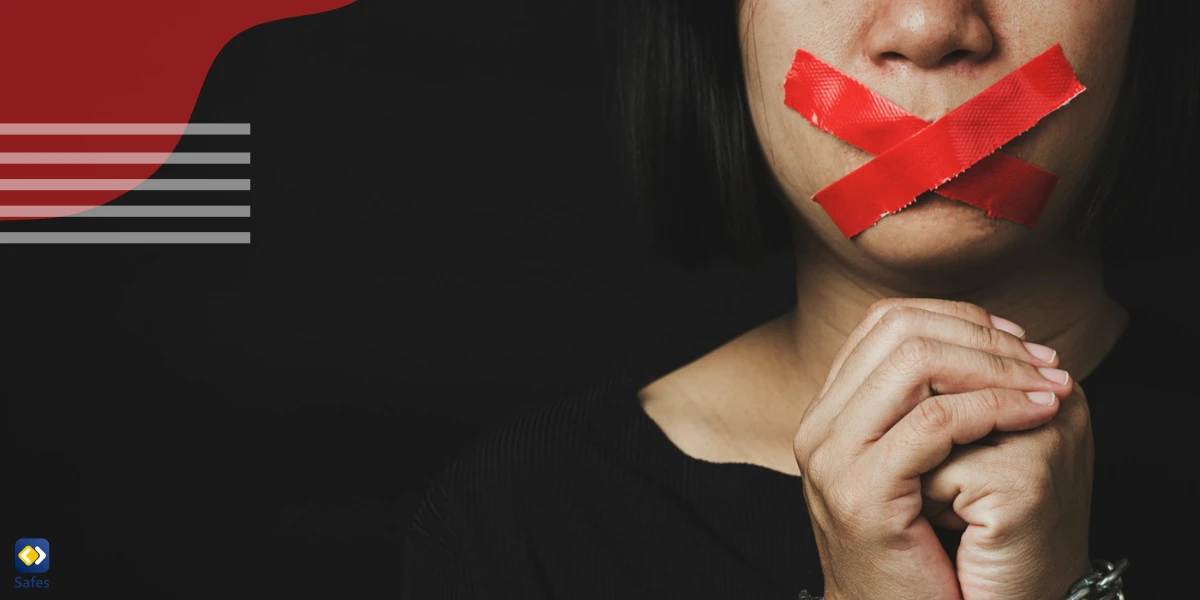 Promoting Online Safety in Schools and Communities
It's very constructive if you communicate with your community and the school your child goes to about issues such as sextortion. By incorporating digital safety into the curriculum, schools can equip students with the knowledge and skills to navigate the online world safely. Meanwhile, communities can raise awareness about sextortion and provide resources for victims and their families.
How to Stop Sextortion: Conclusion
Sextortion is a serious issue that requires our attention and action. By educating and empowering your child, establishing open communication, and implementing preventive measures, you can protect your child from sextortion and create a safer online environment for them.
For more information on protecting your child online, check out other articles on our website. Don't forget to share this guide on how to stop sextortion with other parents and caregivers to spread awareness and help protect more children.