With the widespread use of technology in education, schools must prioritize internet security to protect their students and sensitive data. This guide will discuss common security concerns and offer practical measures for internet security for schools.
Understanding the Cybersecurity Landscape for Schools
The cybersecurity landscape for schools is constantly evolving, with new threats emerging regularly. Phishing, malware, ransomware, and data breaches are some of the common security concerns schools face.
These risks can expose students' personal information, resulting in potential identity theft and legal matters. Therefore, you should proactively mitigate these risks and protect your digital infrastructure.
Protecting Personal Information: A Priority for Schools
One of the specific challenges schools face is protecting students and staff's personal information. Student records must be safeguarded to comply with data protection regulations; these include personally identifiable information (PII) such as:
Names
Addresses
Social security numbers
Failure to protect this information can have serious consequences, including legal penalties and damage to the school's reputation.
To ensure the security of personal information, you must develop and implement a cybersecurity policy. The policy should outline the procedures and protocols for handling sensitive data, including:
Storage
Access control
Data disposal
Educating staff and students about the policy and the importance of data protection is crucial for its successful implementation.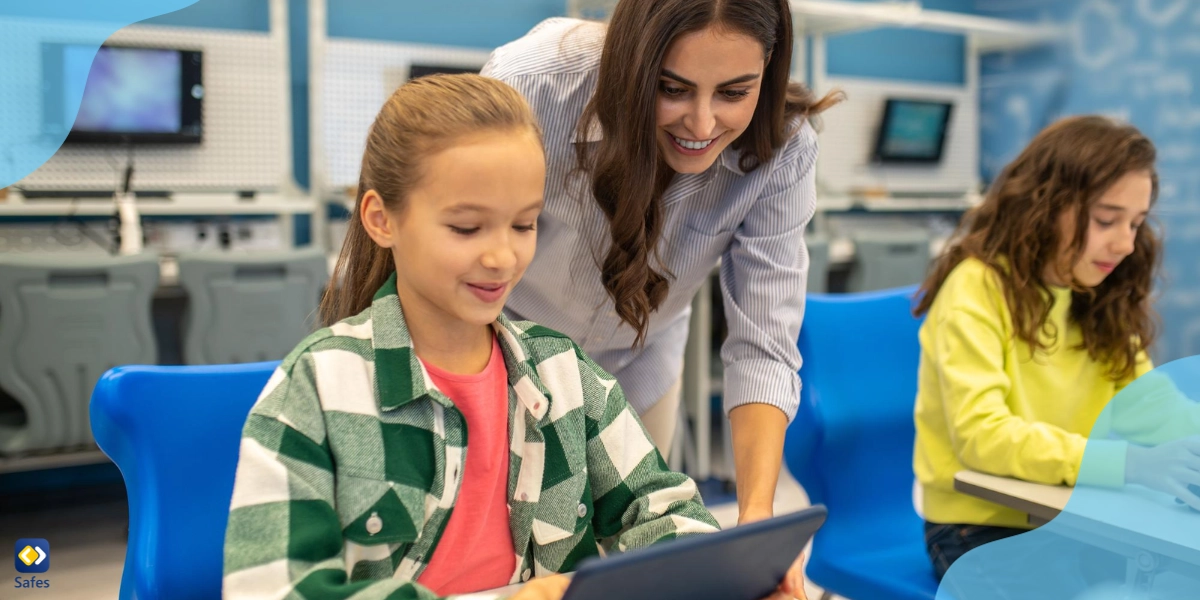 Best Practices for Securing the School's Network Infrastructure
Securing the school's network infrastructure is essential for protecting against cyber threats. Implementing robust network security measures can help:
Prevent unauthorized access
Data breaches
Other security incidents
Firewalls
Firewalls are a barrier between the school's internal and external networks, filtering incoming and outgoing traffic to prevent unauthorized access.
Encryption
It involves encoding data to protect it from unauthorized access. Implementing encryption protocols ensures that data transmitted over the network is secure and inaccessible to unauthorized individuals.
Regular Network Vulnerability Assessments
Regular network vulnerability assessments are essential for identifying potential weaknesses in the network infrastructure. These assessments involve scanning the network for vulnerabilities, such as outdated software or misconfigured security settings.
Mobile Device Management
Mobile devices present unique challenges in the school environment. You should establish Bring Your Own Device (BYOD) policies to govern using personal devices on the school's network. These policies should address security requirements, such as ensuring devices are protected with passcodes and have up-to-date operating systems and security software.
Data Backup and Encryption
Regularly backing up critical educational data ensures that it can be restored in case of data loss. Encrypting backups adds extra security and ensures the data remains protected even if the backup is compromised.
Cloud-Based Backup Solutions
Cloud-based backup solutions provide an efficient and secure way to store and protect critical educational data. These solutions offer:
Automated backups
Data redundancy
Robust security measures
These features ensure data is securely stored and easily recoverable during a disaster.
Exploring Security Solutions for Schools
Various security solutions are available to help schools protect their digital infrastructure. Antivirus software, content filtering systems, and threat intelligence tools are some of the solutions that can enhance internet security for schools. When selecting and implementing these solutions, schools should consider their specific needs, budget, and compatibility with existing systems. Regular monitoring and management of these solutions are also essential to ensure their effectiveness in mitigating cyber threats.
Introducing Safes School: Enhancing Digital Security and Safety
Safes School is an innovative app designed to empower school administrators in sustaining students' cyber security and safety. With its centralized dashboard, Safes School allows schools to manage and monitor classes, devices, and students seamlessly.
Safes School offers a variety of features, including:
Profile management
Device management
Customizable alerts
Detailed reports
And the ability to communicate with parents through in-app messaging
Safes School provides schools with the tools they need to create a secure online environment for students while ensuring their productivity and focus on academic performance.
You are welcome to sign up for using Safes School on our website.
Conclusion: Internet Security for Schools
Internet security for schools is of paramount importance today. By understanding the evolving cybersecurity landscape, prioritizing the protection of personal information, implementing best practices for network security, exploring security solutions, and utilizing innovative tools like Safes School, you can create a safe and productive digital learning environment for your students. Safeguarding students and data is a shared responsibility that requires ongoing attention and proactive measures.