The internet has become a vast landscape filled with information but also potential dangers. As a response to these concerns, various solutions, such as Kiddle, a kid-friendly search engine, have been developed. But what is Kiddle exactly and is Kiddle a reliable source? Can it, and other similar platforms, effectively protect children from inappropriate content? This article aims to answer these questions, analyze the unique features of Kiddle, and explore alternative safe search engines for kids.
Understanding the Need for Kid-friendly Search Engines
The internet, while a valuable tool for learning and communication, can be a minefield for young users. Major search engines like Google, Bing, and DuckDuckGo, despite having certain filters, often fail to effectively block inappropriate content. As a result, many parents like you face the difficult task of ensuring children's online safety.
In response, developers have created various family-friendly search engines. Among these, Kiddle stands out as a popular choice. But the question that arises is, how effective is Kiddle at providing a safe online environment for children? Let's explore.
Breaking Down Kiddle: What Is Kiddle?
Kiddle is a search engine designed specifically for young internet users. It aims to provide a safe, kid-friendly online experience by heavily filtering and vetting search results to exclude obscene, violent, mature, or otherwise inappropriate content.
Kiddle's key features include:
An image-based search result system, called Kiddle Images, which includes relevant pictures or visual content from source web pages. Kiddle Images filters out explicit and inappropriate results, showing your child only content from safe sites.
An easy-to-use interface and layout with simple fonts, primary colors, and understandable terms.
While the Kiddle search engine may appear to be a Google product or custom search engine due to its similar look and feel, it is, in fact, an independent platform and not affiliated with Google. It operates by employing a dedicated team of people who monitor and vet the content on the site. However, it is worth noting that Kiddle's filtering system is not flawless. For instance, while it blocks explicit terms, it can be bypassed by using alternate spellings or codes. Now, let's see: Is Kiddle a reliable source for children?
Unraveling the Mechanics: How Does Kiddle Work?
At first glance, Kiddle looks like any other search engine, with a search bar at the top of its homepage. However, it has a unique mechanism that makes it a safe kid search engine.
Kiddle utilizes Google's Programmable Search Engine, which allows search engine-style websites to selectively display results to users. This feature combines the power of Google's custom search algorithms with strict content control. Additionally, Kiddle incorporates Google SafeSearch, which forms the backbone of its search function.
Kiddle search engine also employs a team of editors to manually review content. The platform claims that many of the displayed results have been "recommended" by trusted sources like parents, educators, etc. The search results are ranked by their "safeness," providing an additional layer of protection.
A unique aspect of Kiddle is its emphasis on visual search results. Almost every result includes a related image from the recommended site or page. Kiddle believes that image-based searches are easier for children to navigate and understand.
Kiddle displays several types of results, all of which have been filtered for children's use, including:
Web pages
Images
"Kimages" (images sourced from a kid-friendly multimedia encyclopedia)
News sources
Videos
Kpedia (Kiddle's child-focused online encyclopedia)
To further enhance safety, Kiddle separates results into three main categories according to their kid-friendliness:
Results 1-3: These are sites and pages that are "written specifically for kids" and have been recently reviewed by Kiddle editors. They are easily accessible, readable, and navigable by children.
Results 4-7: These are sites that may not be written or intended exclusively for children. However, they have been handpicked and checked by Kiddle editors to ensure that they are suitable for children. These sites should also be easy to read and navigate.
Results 8 and beyond: These are generally considered safe but are known to be written for adults. While they can be trusted, the content might be more academic. These results are not reviewed by editors.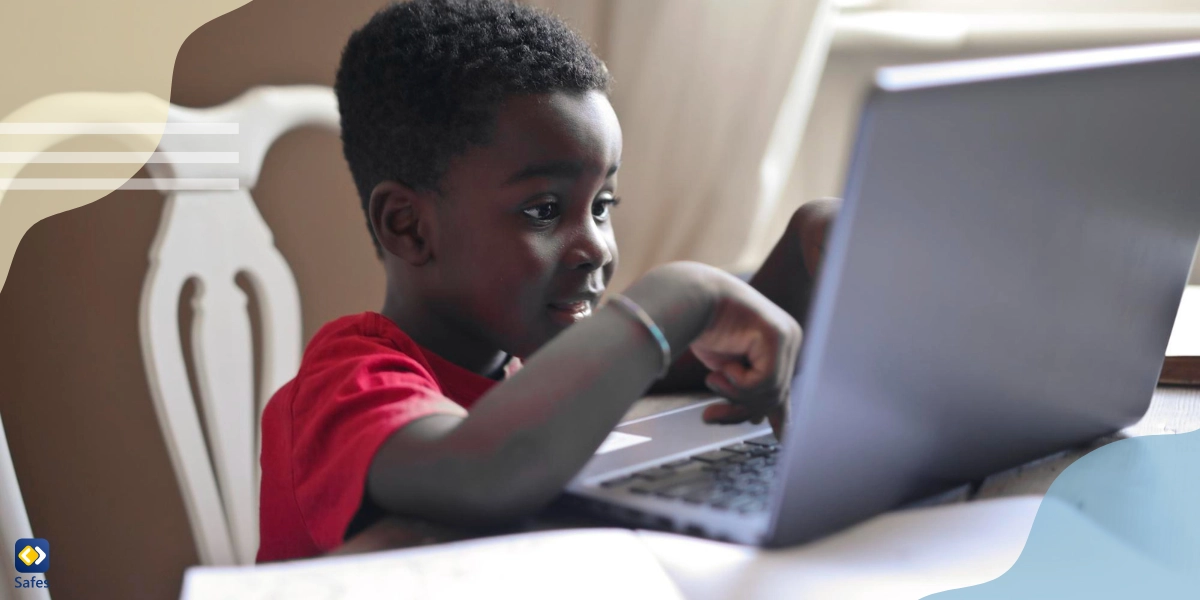 Content Control: Blocking and Reporting
Kiddle offers users the ability to report suspicious or questionable content in search results. The reported keywords or sites can be blocked from the results, or Kiddle editors can decide their placement in the results.
However, it is important to note that Kiddle's content evaluation has faced criticism in the past. For instance, the platform was rebuked for blocking terms or topics considered controversial by some, including LGBTQ+-related issues. Since then, they have selectively opened up some search results, but their guidelines may not align with every family's values.
Age Appropriateness: Who Should Use Kiddle?
While any child browsing the internet can benefit from Kiddle, older children may find the interface and results too limiting, especially when conducting complex homework assignments that require extensive research. For instance, search terms related to mature subject matters in the fields of arts, medicine, science, etc. may get blocked, although they're not explicit. Additionally, the youthful design of the platform may not appeal to teenagers.
We can roughly suggest Kiddle for children below 13 because, by the time they turn 13, they can legally use social media platforms, which allows for much liberty. However, it all depends on your child's level of maturity and the rules in your home.
Ads and Privacy Policy
Kiddle does show ads in your child's search results. This could be Kiddle's biggest disadvantage. However, one of the aspects that make Kiddle a kid-friendly search engine is that it doesn't collect your child's personal information. It shows ads based on your child's previous search attempts, but it doesn't use your child's browsing history or divulge your child's identity. However, keep in mind that although Kiddle doesn't collect information on your child's browsing, the browser your child uses may do.
How Can Safes Improve Your Child's Safety While Searching and Browsing
The safety the Kiddle browsers bring to your child is impressive. But as we explained, it's not foolproof. Meanwhile, you can guarantee your child's safety and mental and physical health while surfing the web by installing the Safes parental control app on their devices.
Using Safes, you can block various categories of explicit or inappropriate search keywords. With this feature, you no longer need to encourage your child to use specific child-friendly search engines because Safes weeds out all the bad results automatically. You can also take one step further and block inappropriate websites and apps on your child's phone, tablet, or computer.
Safes' cherry on top is that you can use it on all major platforms, including Android, iOS, Windows, and Mac. That means one app fits all. So, feel free to download Safes from our website, Google Play, or App Store.
Final Verdict: What's the Safest Search Engine for Kids
Before we wrap up this guide on family-friendly search engines, let's compare Kiddle with some of the most popular alternatives available.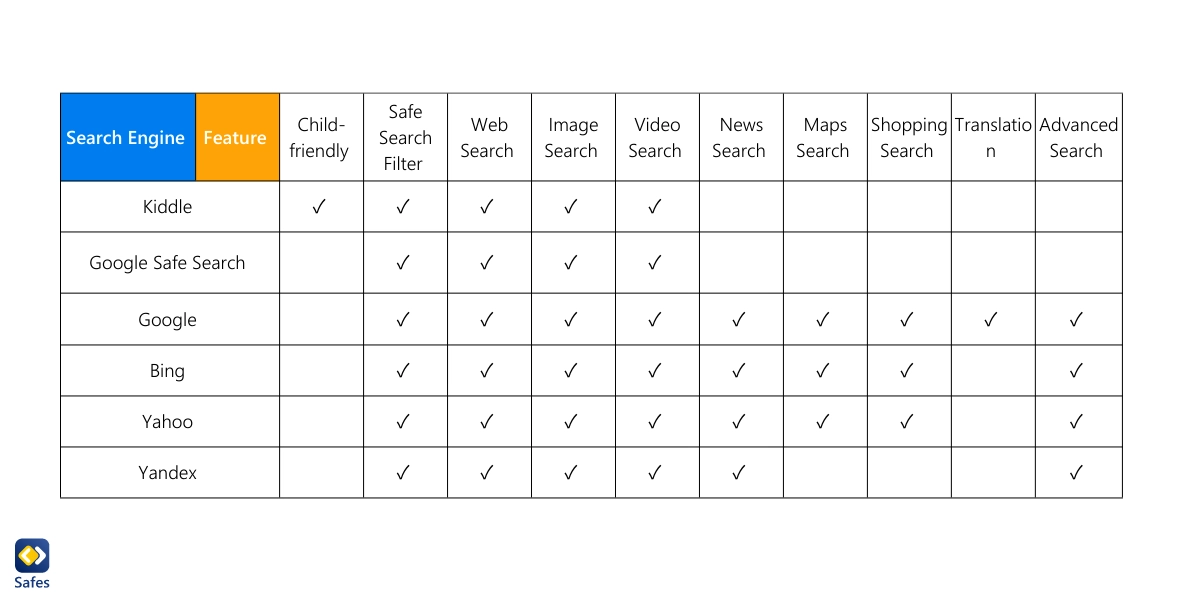 Google Safe Search is a feature of Google Search that filters explicit and inappropriate content, promoting safe search for kids. While it is generally safe, it may not be as specifically tailored for children as dedicated kid-friendly search engines. Google itself is a widely used search engine but does not provide the same level of internet safety and child-friendliness as dedicated kid-friendly search engines. It does offer some content filtering options but is not specifically designed for children.
Bing is another popular search engine but has a lower safety and child-friendliness score compared to Kiddle and Google Safe Search. It provides some content filtering features but may not be as suitable for children.
Yahoo search engine has a lower safety and child-friendliness score compared to the previous options. It may not offer the same level of content filtering and suitability for children.
Yandex search engine has the lowest safety, child-friendliness, and content filtering score among the options presented in the table. It may not be the most suitable search engine for children.
Based on what we've discussed throughout this guide, we can infer that Kiddle is the best kid-safe search engine available. Kiddle is a highly safe and child-friendly search engine with strong content filtering. It utilizes Google Safe Search and provides a kid-friendly interface. It scores high in safety, child-friendliness, and content filtering.