As an adult male who plays a lot of games, I didn't think I'd one day play a game like Gacha Life. I tried to look at the game from a parental control viewpoint and not from a gaming perspective. The idea behind Gacha Life is customizing Gacha Life characters. Everything else including the mini-games are just roads to that goal. Gacha Life has become one of the most popular games for kids recently. So it's time parents got an answer to their questions: Is Gacha Life safe for kids?
What is Gacha Life?
Gacha Life is a role-playing mobile game available on the Google Play Store and App Store, though there's also a demo PC version available as well. The game features eight anime-style characters. Your child can customize these Gacha characters, change their features, choose specific Gacha Life outfits (as specific as Gacha Club princess outfits) and accessories, and even choose what pose they make for a photo.
Each time you start the game, you have to accept the Gacha Life Terms & Conditions. If you choose to decline, the game will simply tell you that you have to agree to play the game. If you agree with the Terms & Conditions, the "Continue" button will light up.
One part of the very short Gacha Life Terms & Conditions says, "…you shall not create, edit, or upload any material from Gacha Life that is defamatory, vulgar or obscene, sexually suggestive or explicit, racially, culturally, or ethnically offensive, threatening, hateful or abusive." Keep these terms in mind because we'll get back to them later.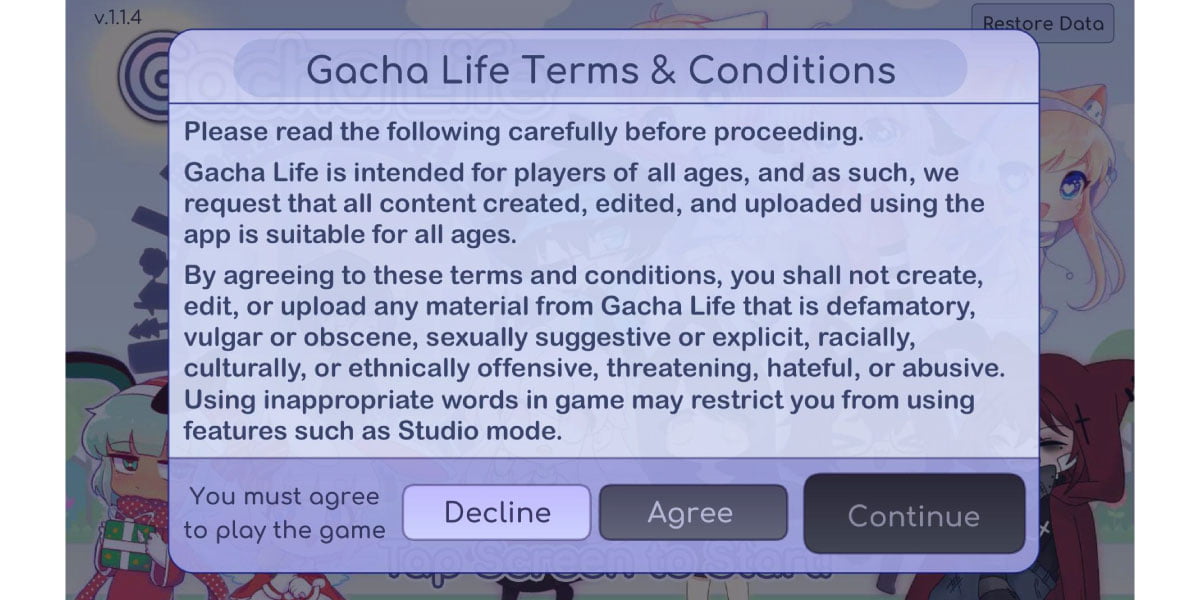 In the game, you can choose between different sections, each of which has a few activities to perform.
Gacha Life's Home Section
In the home section of Gacha Life, you can choose between the 8 different avatars you're given. Each avatar can be customized with a generous number of presets available for each body part. There are also props and accessories that your avatars can wear. Also, kids can choose to have their avatars cross-dressed.
Gacha Life's Studio Section
In the studio, you can take pictures of your avatars. Any number of avatars can be in the photo. Basically, you can create any scenes you want. The things you can do are: changing the background, adding props, having chat bubbles appear, and even changing the poses your avatars make.
Gacha Life's Gacha Section
In the game, you have a certain number of diamonds that you can use to buy things. This includes the ability to "Gacha," which means to obtain random gifts and recover stamina. By the way, stamina is also a resource in this game. In the Gacha part, you have to spend diamonds and take your chances. If you don't have enough diamonds, select the "+" sign next to your number of diamonds in the corner. Congratulations! You've arrived at the in-app purchases part of this game.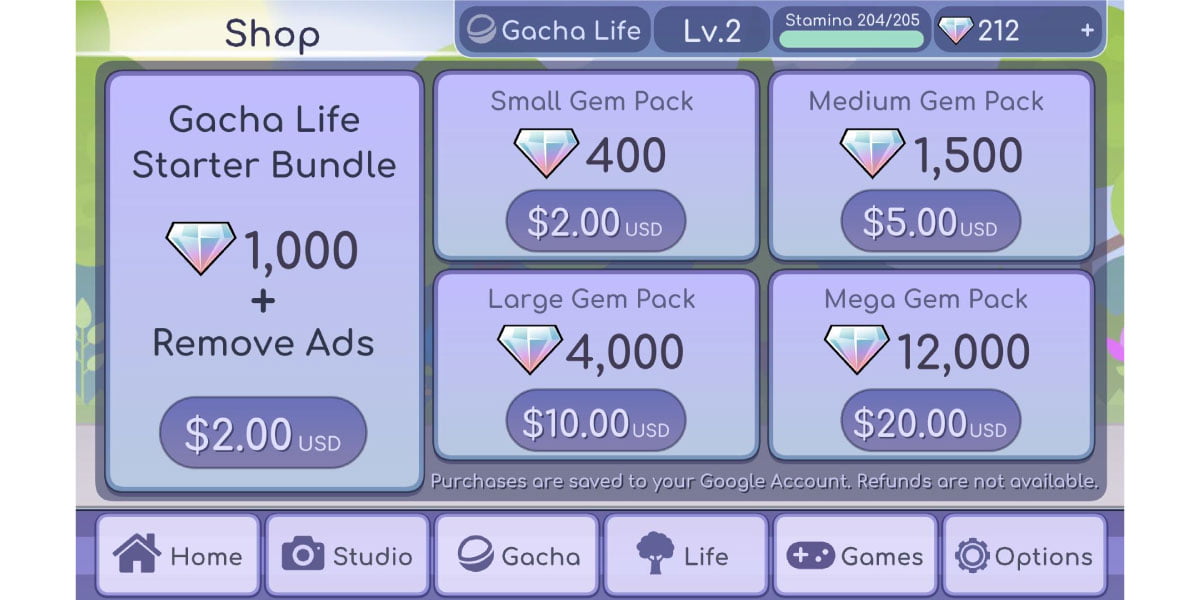 Gacha Life's Life Section
This is the story part of the game. Here, you can move with the avatar you've chosen at "Home" and talk to others. To talk to NPCs (non-playable characters), you have to spend stamina, the game's currency apart from diamonds (It appears the people behind Gacha Life are all introverts). You can develop your relationship with each of these characters until your stamina runs out. That means it's time to rest and stop mingling with the school nurse! Gacha Life used to have a chat feature that was deleted due to glitches and explicit content.
Gacha Life's Game Section
In the game section, you can choose to play one of the eight mini-games Gacha Life offers. The mini-games offer simple challenges and most of them are based on how high a record you can set. So, losing doesn't mean a lot here. I'm not embarrassed to say that I became very competitive in the math mini-game, especially since I considered myself to be good at subtracting numbers.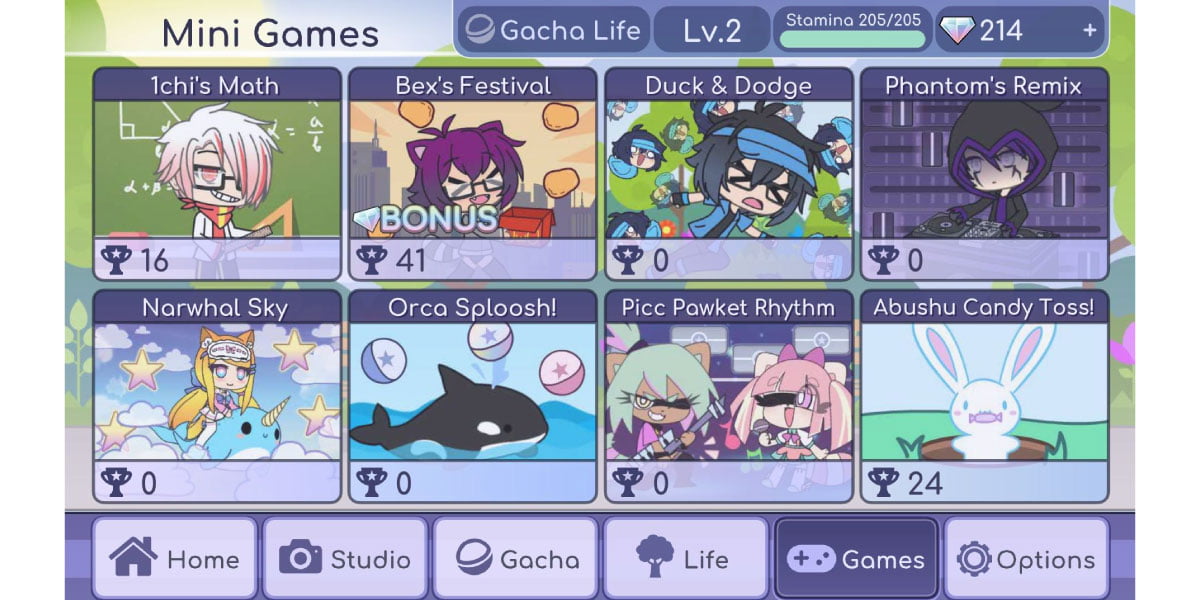 The Gacha Life Community
Still, I couldn't see what the fuss was about! But then, as I was licking my wounds after a tough mini-game involving adding and subtracting, I learned about the Gacha Life community. When a game, especially a mobile game, suddenly becomes popular, it's almost always then used by YouTubers as part of their streaming videos. Though no one can say for sure whether it's YouTubers who popularize a game or if they jump on the bandwagon after it has already gained momentum. Maybe it's both.
The community that plays Gacha Life consists of kids, with a large majority being girls. The app is rated "For Everyone" on the Play Store, and "+7" on the App Store. But is Gacha Life appropriate for a 7-year-old?
First, you should know that there are more Gacha games other than Gacha Life. Gacha Life, Gacha Club, and Gacha Heat are just some of the Gacha games released in recent years. Each has its own gimmicks to keep things fresh. Yet it still includes the idea of making your own story with your own characters. So, is Gacha Club safe for kids? In fact, are any Gacha games safe for kids?
Gacha Heat is the content generated by users of Gacha Life who upload it on social media platforms like TikTok and YouTube. If children search the internet for Gacha Life without a filter, they will be overwhelmed with pornographic versions of Gacha Life, better known as "Gacha sex". The content is inappropriate and offensive, and it goes beyond stories within Gacha Life gameplay. This may include Gacha Life porn videos, sexual violence, and other adult content. It may also feature age-inappropriate relations that normalize abusive behaviors. It's problematic because of its use of characters and art from the Gacha Life mobile video game.
Each of the Gacha games has its own age rating which you can check in the Play Store, App Store, or wherever else you download the game. However, parents do not seem to agree with the given age rating for Gacha Life. It's safe to say that you wouldn't think these games are for kids if your first impression was a YouTube video of the game. YouTubers make videos with sexual undertones, sometimes sexually explicit content using these games. All it takes is a voice-over and some editing. The Terms and Conditions I mentioned above make a lot more sense now.
Using Parental Control Apps for Gacha Life
You might blame Gacha Life for the inappropriate content of its game on the internet. But the problem is that almost every kid-friendly game will be used to make inappropriate content, whether it's for comedic purposes or used by sexual predators.
Your child can play a Gacha game without visiting the YouTube videos people make of it. So, if you're wondering how to block Gacha Life on YouTube, you simply need to use a parental control app. It's hard to stay innocent as a kid today, but applications like Safes help make things easier.
With Safes, you can set a screen time limit on their computers and mobile devices so they don't get too addicted to a Gacha game. You can also use it to block the YouTube app and its website. To check out Safes's features for yourself, feel free to download it today.