Children are becoming exposed to the internet and digital communication at a younger age in today's technologically advanced environment. In spite of the fact that the internet may be a useful tool for education and pleasure, there are hazards associated with it, therefore parents must find a safe and secure manner for their kids to explore the internet while also childproofing their computer's various . KidsEmail is an amazing tool that enables parents to provide their kids an online environment that is secure, supervised, and conducive to learning.
What is KidsEmail?
KidsEmail is an e-mail service created with kids in mind. It provides a safe and regulated environment for children to interact with friends and family while reducing their exposure to improper information and unwanted communications. With the right tools, parents can supervise their children's email accounts and make their children's emails safe.
After you visit their website, you'll easily find the registration process for parents. After your own registration, you'll be able to create an email for your kid with a name of your own choice as well as their password (you might want to make sure you choose a password that is easy for your child to remember).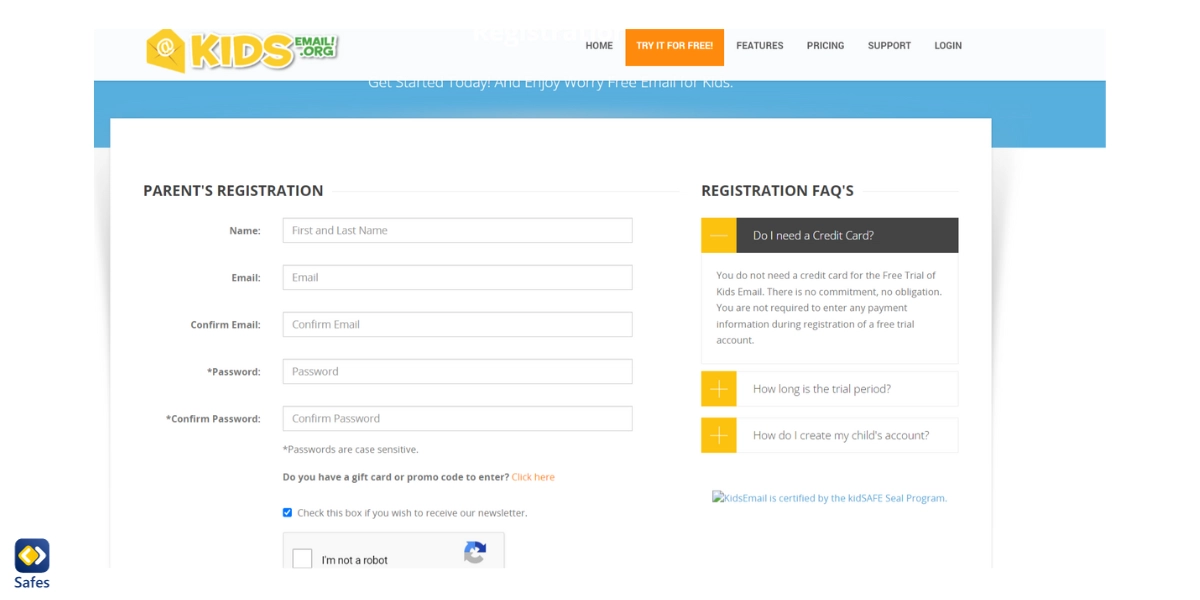 Key Features of KidsEmail
Here are five key features you get when you create an email account for kids using KidsEmail.
Parental Controls
Complete control over their child's email account is granted to parents. Parents may examine all incoming and outgoing messages, manage who can contact their child, and set up a safety filter that prevents harmful information. With the help of this tool, parents can keep an eye on their kids' online activity and shield them from any potential dangers.
Contact Management
To make sure their child can only send and receive emails from individuals they trust, parents may build an authorized contact list. This function stops cyberbullying and removes the possibility of outsiders getting in touch with their kids.
Attachment Restrictions
KidsEmail allows parents to set restrictions on what type of files can be attached to incoming and outgoing emails which is a nice touch.
Customizable Email Address
For the email address for kids, you and your children can choose from a range of fun and age-appropriate domain names, making the experience more engaging and personalized.
No Ads
Unlike many free email services, KidsEmail is ad-free, preventing children from being exposed to potentially harmful or age-inappropriate advertisements.
Benefits of KidsEmail
Using KidsEmail has a lot of benefits for parents and children alike. The four main benefits of KidsEmail are as follows:
Safe Online Learning
As education becomes more and more dependent on digital resources, KidsEmail may be a useful tool for kids to interact with teachers, finish homework, and work together on projects. Knowing that their child's internet interactions are safe gives parents peace of mind.
Stay Connected with Family and Friends
KidsEmail allows children to maintain contact with loved ones, even if they are far away. They can send messages, pictures, and updates to grandparents, cousins, and friends, promoting healthy relationships. Also, their family and friends can also send mail for kids for them to experience as well.
Encourages Responsible Technology Use
KidsEmail helps children develop responsible online habits by offering a supervised introduction to digital communication. This experience can serve as a stepping stone for when they are ready to use more traditional email services.
Peace of Mind for Parents
Parents can be confident that their child's online experience is secure, and they have the tools they need to monitor and manage their digital activities.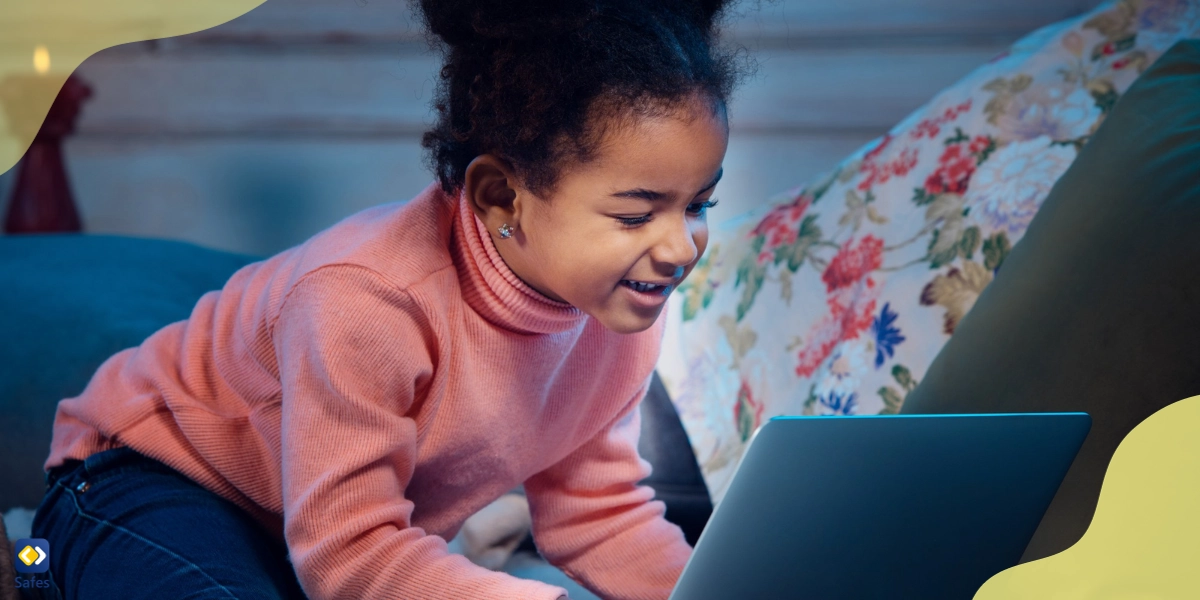 Is KidsEmail Enough?
It's crucial to recognize that implementing safe emails for kids is only one part of your child's digital experience, even while KidsEmail offers a crucial layer of protection and control for their online communication. Children may participate in a variety of different activities that call for further protection as they continue to explore the broad internet environment. Parental control applications provide an all-inclusive way to keep an eye on and manage your child's internet activity in this situation.
Safes, a parental control app available on iOS and Android, goes beyond email security, providing a range of features that can help ensure your child's safety in the digital world. It allows parents to:
Monitor Screen Time: In addition to email, children use various apps and websites. Safes enables you to track and control the time your child spends on screens, helping to maintain a healthy balance between online and offline activities.
Filter Content: Safes includes robust content filtering tools, ensuring that your child doesn't access inappropriate or harmful websites and apps. You can filter inappropriate keywords from web searches or even block entire internet domains and URLs.
Track Location: Safes offers GPS tracking, allowing you to keep tabs on your child's location and receive alerts when they arrive or leave specific places.
Set Usage Limits: You can establish daily or weekly usage limits for specific apps or websites to encourage a healthy balance between screen time and other activities using Safes.
Conclusion
For parents who wish to gradually and safely expose their kids to the digital world, KidsEmail is a priceless tool. It gives kids a platform that prioritizes online safety while still letting them have fun and interact with friends and family thanks to its extensive parental controls, personalized email addresses, and several safety measures. It's a great tool for encouraging responsible technology usage and making sure your kids have a secure online environment.