For many parents, the thought of their child having an email account is daunting. Email is a gateway to the vast world of the internet, and it's natural to worry about the potential threats that lurk within. However, with the steps and guidance we'll offer you in this blog, you can navigate through setting up a safe and secure email for kids.
Why Kids Need to Have an Email Address?
In the internet world, an email address is crucial for identifying users, children included. Children don't need emails just for communicating with friends and family but also for signing up for educational platforms, participating in online classes, and communicating with teachers and peers. As a matter of fact, when you sign up on any online platform, they most often ask for your email address. An email account also helps children learn about online communication etiquette, digital literacy, and the responsibility of managing a personal account.
Email for kids is more than a communication tool. It's a stepping stone toward digital literacy and online responsibility.
Deciding the Right Age for Kids to Have an Email Account
Parents often ask, "At what age should my child have an email account?" Most email service providers, in compliance with the Children's Online Privacy Protection Act, require users to be at least 13 years old to sign up for an email account. Having said this, the decision for an email address for kids should be based not just on age but also on the child's maturity level, online skills, and the family's specific requirements.
Choosing a Safe Email Service Provider
After you've decided your child is ready for an email account, the next step is to choose a reliable and kid-friendly email service provider. Here are the best email services for kids:
Gmail
Google's Gmail is a widely used email service that offers robust security features. With Google's Family Link, parents can set digital ground rules and guide their children as they learn, play, and explore online. However, Google Family Link doesn't enable parents to see their children's emails. Still, there is one thing you can do, and that is creating your child's Google account yourself. 
When making an account, Google asks for users' date of birth. If your child is under 13, Google asks them to give the phone to you. Here, you should enter your own Gmail. Next, you will be given a list of the things you can do with your child's account, including parental controls and choosing the data collection method. In the next step, to make sure it's really the parent who's making the account, Google shows a code on your phone. You will be shown several codes on your child's device. Select the one that you already saw on your own device. Now, your child's Google Account is linked to yours. 
Here's when it gets interesting: If you make your child's Google Account from scratch and link it to yours, you can enter their password on your device and see their emails. Even if you don't know their password, you can reset it from your own account. This feature is not possible on existing accounts that have been linked to a parent's account later. 
Outlook
Microsoft's Outlook provides features like spam filtering and two-factor authentication, making it a safe option for children. However, compared to Gmail, it has fewer safety features for children. Microsoft Family Safety is Microsoft's Family plan that provides some features for children's online safety. It allows parents to control their children's screen time and filter inappropriate content on the web. However, it only works if your child uses a Windows device and Microsoft's web browser (Microsoft Edge). 
As for email safety, you have the option to block certain email addresses or move them into spam in your child's account. But Microsoft hasn't offered a way for parents to monitor children's emails from their own account. Unlike Gmail, you won't be asked to pair an underage child's email with yours when creating an account. You will have to link it to yours later from your Microsoft Family Account. 
Zoho Mail
Zoho Mail is not as well-known as other email service providers, but it's a good option for families. Zillium, Zoho's family app suite, offers parents extensive communication and parental control features. With Zillium, you can communicate with family members, plan events, or work on projects inside an app. 
What makes Zoho stand out among other email service providers is the extent to which you can control your child's email activities. For example, parents can have all their children's emails sent to them before reaching the children. This allows them to review the content and decide whether it's safe for their child to receive that email. Plus, you can limit the number of times or the size of the emails your child can send. Zillium gives families the option to create a shared domain for their emails. You can set restrictions on external domains or email attachments. This way, your child won't be able to send or receive certain files or emails from blocked domains. 
iCloud
If your family uses Apple devices, iCloud could be a good choice. With Family Sharing, parents can set parental controls and monitor their child's activity. Family sharing allows parents to limit children's access to their iCloud email account during certain times. They can also block their access to their iCloud account entirely. However, this is not going to let you read your children's emails. 
You can also share an account with your child. This way, you can access their inbox and ensure they're not receiving any harmful emails. However, this means that you'll have to set separate parental controls on their phone and make sure they won't make any unnecessary purchases with your account.  
An additional tip: For younger children, consider using an email service specifically designed for children, like Tocomail, Zoobuh, or KidsEmail. These services offer simplified interfaces, parental controls, and extra security features. 
An additional tip: For younger children, consider using child-friendly email providers, like Tocomail, Zoobuh, or KidsEmail. These services offer simplified interfaces, parental controls, and extra security features.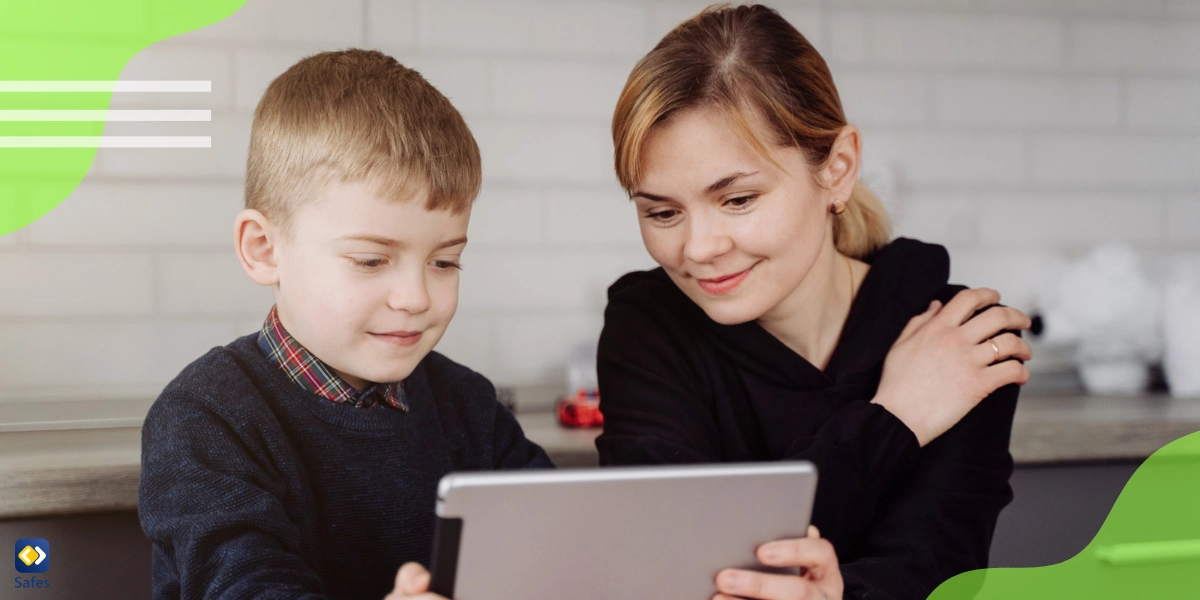 How to Create a Safe and Secure Email Account for Kids
When setting up an email account for your child, here's what you need to consider:
Username: To help keep your child's identity safe, choose an anonymous and generic username that doesn't reveal any personal information about your child. The best email for kids doesn't include full names, birth years, or location-related information.
Password: Create a strong password with a mix of letters, numbers, and symbols. Have it written down somewhere else because children are prone to forgetting complicated passwords. It's also a good practice to activate two-factor authentication for added security. With two-factor authentication, email providers send a code to your child's phone, which your child should either check or enter the code in a box.
Privacy Settings: Most email providers offer options to limit who can email your child in the privacy settings. Review these settings and adjust them to ensure maximum security.
Contacts: Teach your child to only add known and trusted contacts to their email account.
Parental Controls: Most email providers offer parental control options. Use these to restrict access to certain types of content and monitor your child's email activity.
Educating Kids About Online Safety
Creating a secure email account for your child is just the first step. It's equally important to educate your child about online safety. They should understand:
Not to share personal information online
Avoid opening email attachments from unknown senders
Report any suspicious activity to a trusted adult immediately
Related Articles:
Monitoring Your Child's Email Activity
Regularly monitor your child's email activity to ensure their safety. Keep an eye on their sent and received emails, contact list, and any changes in their account settings. You also use parental control apps like Safes to add an extra layer of security to your child's online experience.
Introducing the Safes Parental Control App
The Safes parental control app is a comprehensive solution that allows you to monitor and manage your child's online activities, including email usage. With features like real-time monitoring, content filtering, and activity reports, Safes helps protect your little one from online threats and provides you with peace of mind.
Wrapping Up Email for Kids
Setting up an email account for your child can be a positive step toward fostering digital literacy and responsibility. With the strategies we offered you in this guide and constant monitoring, you can ensure your child's safe and secure email experience. You may not be able to eliminate risks, but you can equip your child with the skills and tools to navigate the digital world safely and responsibly.