According to a study by the American Academy of Pediatrics, children's physical and mental health improves with outdoor play. With the right outdoor toys for 5-year-olds, getting them involved in outdoor activities can be easy. In this article, we'll discuss the value of outdoor play and the advantages of using outdoor toys for toddlers and preschoolers.
Choosing the Right Outdoor Toys for 5-Year-Olds
It is crucial for parents to make sure that the toys are suitable for their children's age and developmental stage. Look for toys that:
Are made of durable materials, have rounded edges, and lack any small pieces that could present a choking hazard
Have safety certifications on the packaging.
Balance entertainment and educational value.
Encourage creative play, problem-solving, physical activity, and imaginative play, such as interactive toys for kids.
You can give your 5-year-old a well-rounded play experience by selecting toys that appeal to their interests and promote various types of play.
Top Outdoor Toys for 5-Year-Olds
There are three types of toys you can let your child play with outdoors; Active play toys, imaginative play toys, and creative play toys. How many toys should a child have? You might be asking. Keep in mind that you don't need to buy every one of the toys described below. Instead, pick those that match your child's interests and your budget. Here are some examples of each type of outdoor toy.
Active Play Toys
Bikes and Scooters: In addition to being entertaining, bicycles and scooters promote coordination, balance, and physical activity. Look for models with adjustable handlebars or training wheels so that you can accommodate your child's growth.
Sports Equipment: Sports can help develop your child's sportsmanship, motor skills, and teamwork. To pique their interest in sports, think about giving them balls, rackets, or even a miniature soccer net.
Jump Ropes and Hula Hoops: Traditional toys that encourage agility, balance, and cardiovascular health include jump ropes and hula hoops. They are straightforward toys that can keep your child active and interested.
Imaginative Play Toys
Playhouses and Tents: Playhouses and tents provide a setting for role-playing, storytelling, and imaginative play. Your child's imagination can soar in a magical world they can conjure up.
Sandboxes and Water Tables: Sandboxes and water tables offer opportunities for exploration, creativity, and sensory experiences. They foster fine motor skills and scientific curiosity by letting your child dig, make sandcastles, and play with water.
Gardening Tools and Kits: Gardening equipment and kits expose kids to nature, instill responsibility, and foster an interest in the environment and plants. A sense of pride and a connection to the natural world can be instilled by allowing them to plant seeds, care for plants, and maintain a small garden.
Creative Play Toys
Art Supplies for Outdoor Art Projects: Outdoor art projects improve fine motor skills, self-expression, and creativity. For outdoor painting sessions, think about giving your child washable paints, brushes, sidewalk chalk, or even a portable easel.
Building Blocks and Construction Sets: Imaginative play, spatial awareness, and problem-solving are all improved by building blocks and construction sets. Look for playsets that let your child use their imagination to construct various structures.
Musical Instruments for Outdoor Music Play: Is your child musically intelligent? You can find out by adding musical instruments like tambourines, xylophones, or drums when playing outside. They develop an appreciation for music, rhythm, and auditory abilities. Your child should be encouraged to experiment with various sounds and compose their own melodies.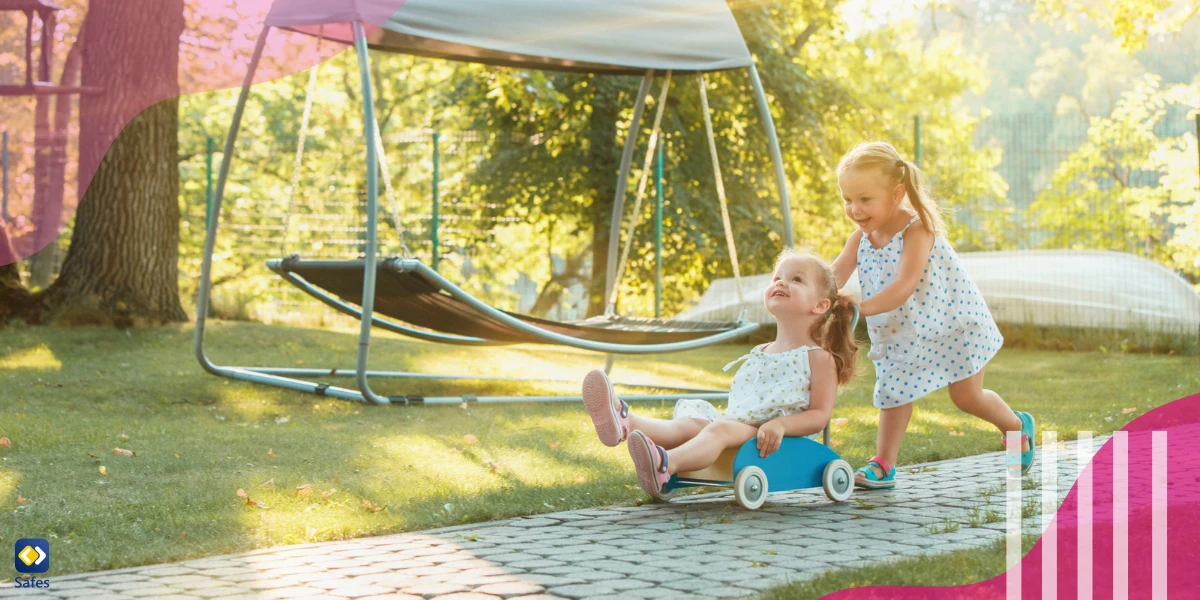 Promoting Outdoor Play and Limiting Screen Time
Outdoor play might not be every child's cup of tea, especially if they're addicted to their screens. Fortunately, there are strategies you can use to promote outdoor play and limit screen time.
Encouraging Children to Spend More Time Outdoors
It's critical to foster an atmosphere that promotes outdoor play. Set aside specific outdoor playtime, plan family outings to parks or nature trails, and give your child opportunities to discover the outdoors. Take part in family outdoor activities to inspire your child and to encourage an active and healthy lifestyle for everyone.
Setting Reasonable Screen Time Limits
While screens have become a necessary part of our lives, it is important to establish reasonable screen time limits. Establish clear guidelines for screen use and effectively communicate them to your kids. To ensure a healthy balance between screen time and other developmental activities, promote alternatives like outdoor play or playing with other toys. Some operating systems have default settings to limit screen time such as Windows parental controls.
Using Parental Control Apps to Manage Screen Time Effectively
Parental control apps can help you manage and keep an eye on your child's screen time. Using Safes, you can monitor your child's online activities, set time limits, and block or restrict access to websites or apps. You can ensure your child has a healthy digital diet and a secure online experience by using these apps responsibly. You can download Safes both on iOS and Android.
Safety Tips for Outdoor Play
Outdoor play can be fun but also dangerous if there are no rules. So, it's best to set some ground rules for your child's outdoor play. Here are a few things to keep in mind.
Creating a Safe Play Environment
Make sure the play area is secure and devoid of any dangers before letting your child play outside. Check the playground equipment frequently for any signs of wear and tear, jagged edges, or missing parts. Remove any debris, rocks, or obstacles that could lead to a trip or injury. Additionally, it's critical to offer sufficient shade and sun protection, especially on hot summer days.
Teaching Children about Outdoor Safety Rules
Teach your child the fundamental laws of outdoor safety. Teach them to be cautious around bodies of water, to avoid strange animals, and to always look both ways before crossing the street. Explain the significance of adhering to rules and regulations in public play areas and emphasize the necessity of wearing helmets when biking or scootering.
Supervision and Monitoring Considerations
While playing outside encourages independence, it's still important to watch over and watch your child at all times. Keep a close eye on them to make sure they're safe, and step in if you need to. Keep the lines of communication open and invite them to come to you with any questions or if they find themselves in an uncomfortable situation.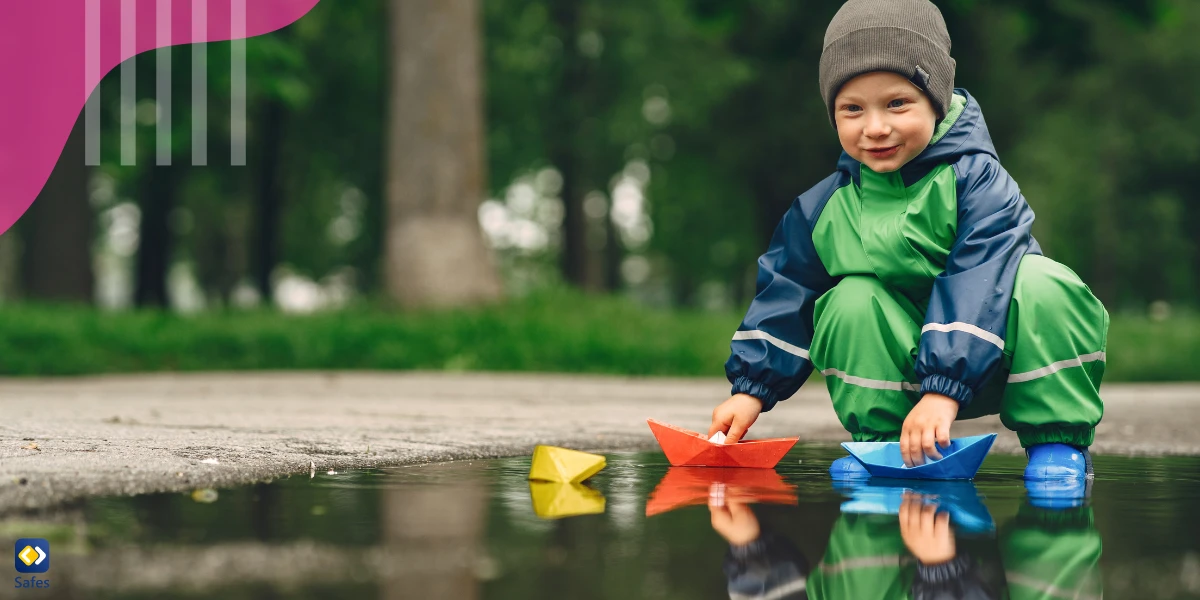 Conclusion
In conclusion, outdoor play and the use of fun outdoor toys are essential for a 5-year-old's overall development. Parents can give their kids a well-rounded and enriching play experience by carefully choosing age-appropriate toys, encouraging outdoor play, and setting reasonable screen time limits. Always put safety first by establishing secure play areas, teaching outdoor safety precautions, and offering sufficient supervision.
Parents can make sure that with these outdoor toys for 6-year-olds and younger, their children can have a memorable and enjoyable time outdoors while promoting their physical, cognitive, and social development by providing a variety of active play, imaginative play, and creative play toys. So, don't hesitate to explore the fun world of outdoor toys for your kids!