Numerous studies have been done on cyberbullying statistics. The topics of research range from how many parents believe their children are cyberbullied on the internet, to what platforms cyberbullying is more prevalent on. Statistics about cyberbullying are plentiful and each of the studies done throughout recent years lead to fascinating cyberbullying facts. In the interest of keeping this blog post informative yet short, we've picked out what we believe to be the five most alarming cyberbullying stats that parents need to know.
Over Half of Parents Believe Their Children are Being Cyberbullied
According to Comparitech's report of stats of cyberbullying, for children aged 11-19, more than 50% of parents believed that their children were bullied. In the case of children aged 6-11, 47.7% of parents believed this was the case. Interestingly, when comparing 28 countries, Comparitech found that parents in India were the most concerned (read: aware) that their children had experienced cyberbullying whereas parents in Russia and Japan were almost sure that their children hadn't experienced cyberbullying in any form.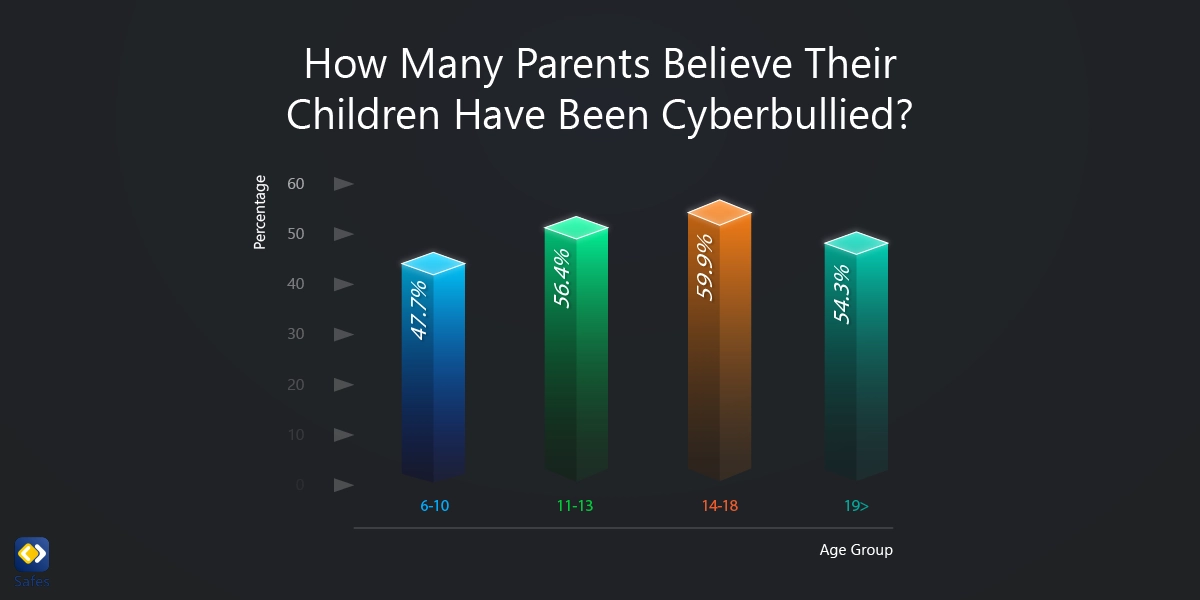 Over Half of Teenagers in the U.S. Have Witnessed or Experienced Cyberbullying
According to Pew Research Center, roughly 46% of adolescents aged 13 to 17 in the United States acknowledge having encountered cyberbullying behaviors. The report separated cyberbullying behaviors into these six forms:
Offensive name-calling
Spreading of false rumors about them
Receiving explicit images they didn't ask for
Physical threats
Constantly being asked where they are, what they're doing, or who they're with by someone other than a parent
Having explicit images of them shared without their consent
The most prevalent behavior identified in the study is the act of name-calling, as 32% of teenagers state that they have been subjected to offensive name-calling either online or on their mobile devices. A smaller proportion of respondents mention being targeted by false rumors distributed online (22%) or receiving unsolicited explicit images (17%).
Around 15% of the surveyed teenagers reveal experiencing persistent inquiries about their whereabouts, activities, or companions, typically from individuals other than their parents. Moreover, 10% of teens disclose having faced physical threats, while 7% report instances of non-consensual sharing of explicit images depicting them. Collectively, 28% of teenagers confirm encountering multiple forms of cyberbullying.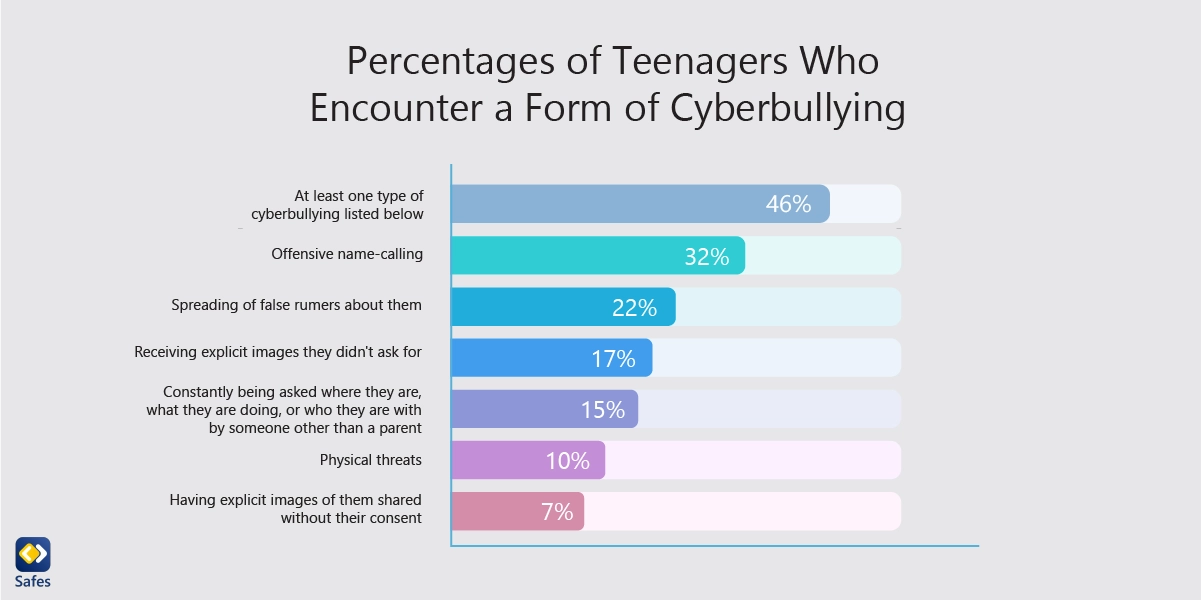 Most Cyberbullying Occurs on YouTube, Snapchat, TikTok, and Facebook
According to Security.org's cyberbullying on social media statistics, of all the social media platforms, cyberbullying is most prevalent on YouTube. Cyberbullying social media statistics tell us that while roaming YouTube, kids have a 79% chance of being cyberbullied. Other platforms where kids are most likely to be cyberbullied on are Snapchat, TikTok, and Facebook, at 69, 64, and 49 percent respectively. This of course doesn't mean that cyberbullying doesn't happen on other forums. Even Google Docs chat facilitates cyberbullying.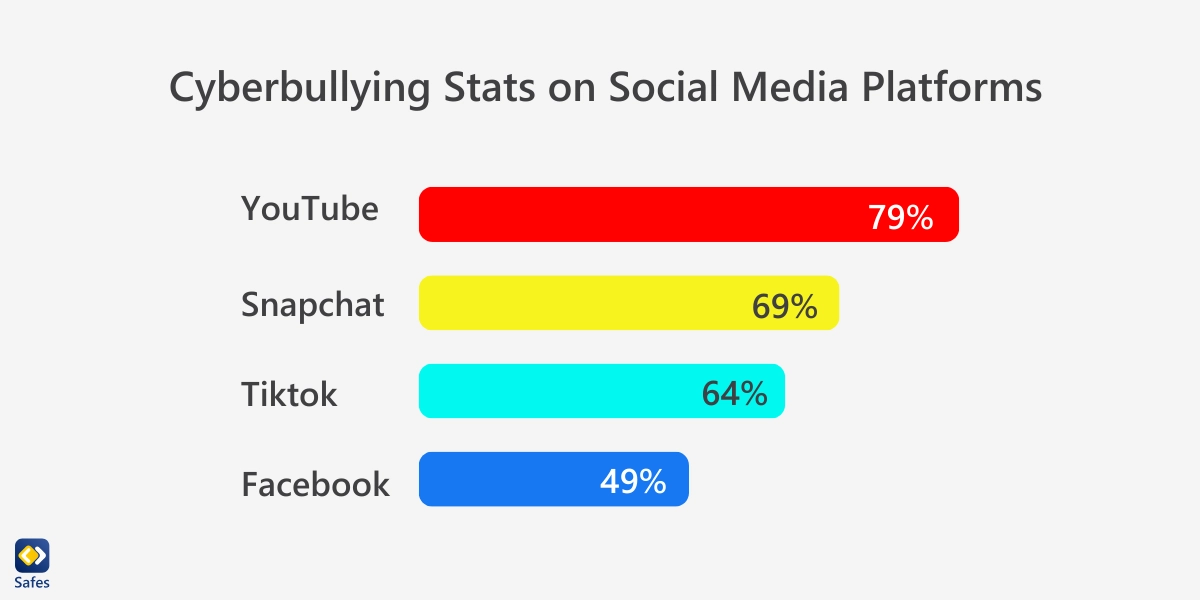 The Risk of Cyberbullying Increases With Age
Security.org also found that as children's age increases the chances of them being cyberbullied increase slightly as well. In fact, between the ages of 10 to 18, every two years, a child's chance of being cyberbullied increases by two percent.
Cyberbullying Targets Appearance More Than Gender and Race
The Pew Research Center study that we mentioned above mentions that their survey asked U.S. teenagers "if they believed their physical appearance, gender, race or ethnicity, sexual orientation or political views were a factor in them being the target of abusive behavior online."
About 10% of teens believed they were cyberbullied because of their gender, and 9% believed it was because of their race or ethnicity. Approximately 15% of teens thought that they were cyberbullied because of their appearance.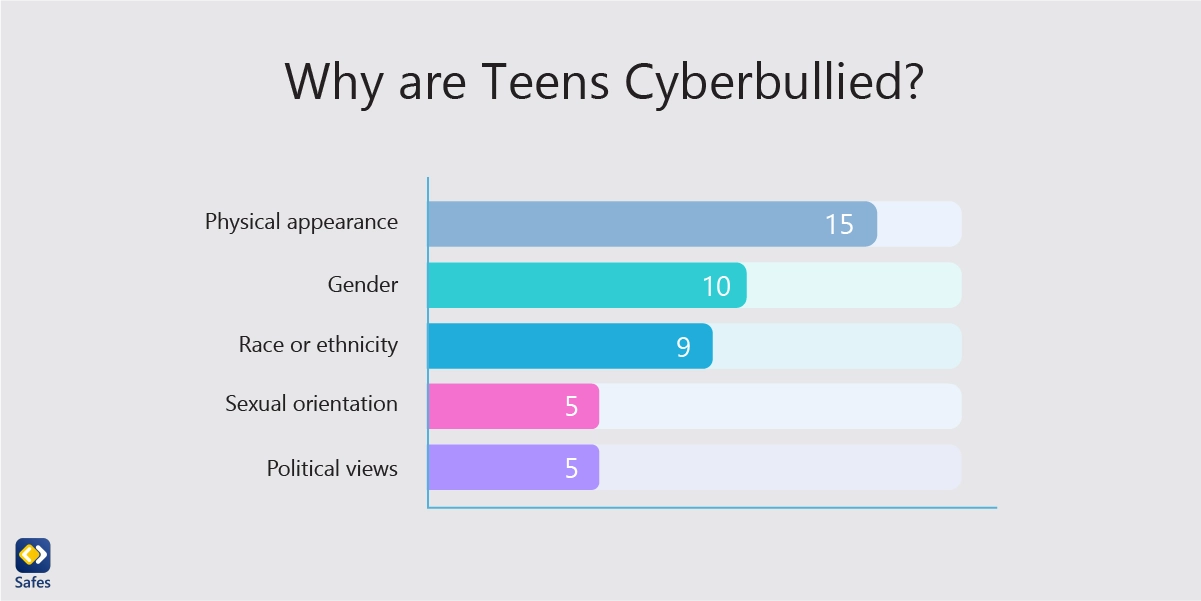 How Does Cyberbullying Hurt Children?
Many people are affected by cyberbullying. Cyberbullying can have significant and lasting negative effects on children's mental, emotional, and even physical well-being. Here are some ways in which cyberbullying's effects can hurt children:
Emotional and Psychological Impact: Cyberbullying often involves hurtful comments, threats, or rumors circulated online. These attacks can lead to feelings of shame, humiliation, anger, and sadness. Children who are victims of cyberbullying may experience decreased self-esteem and self-worth, leading to feelings of isolation and loneliness. This emotional impact is also one of the consequences of cyberbullying for the whole family.
Academic Impact: Children who are being cyberbullied may find it difficult to concentrate on their studies, leading to a decline in academic performance. The emotional toll of cyberbullying can also result in decreased motivation and interest in school.
Social Isolation: Cyberbullying can lead to social isolation, as children may feel reluctant to engage in social activities or attend school due to the fear of encountering their bullies. This isolation can further exacerbate feelings of loneliness and depression.
Cyberbullying's Permanence: Unlike traditional bullying, which might occur in person and fade over time, online content can remain accessible indefinitely. Negative comments, embarrassing photos, or hurtful messages can resurface and continue to cause distress long after the initial incident.
Escalation to Offline Bullying: Cyberbullying can sometimes escalate to traditional, in-person bullying, making the child's overall situation even more challenging.
Loss of Trust in Online Spaces: Children who are cyberbullied may become fearful of using the internet or social media platforms, which are integral to modern communication and socialization. This fear can limit their access to positive online experiences and educational resources.
How Can Parental Controls Help with Cyberbullying?
Parental controls can help with cyberbullying and other online dangers since parents still can't rely on cyberbullying laws to prevent damaging effects. Most devices have their own parental controls nowadays such as:
Parental control apps can also play a crucial role in helping to prevent and address cyberbullying by allowing parents to monitor their children's online activities and provide guidance and support. Here's how Safes, a parental control app designed to defend your child from cyberbullying, can be more beneficial than the default parental control settings on your child's device:
Content Filtering: Parental control apps often include content filtering features that allow parents to block or restrict access to websites, apps, and content that could potentially involve cyberbullying or inappropriate interactions.
Time Limits and Usage Control: By setting time limits and controlling device usage, parents can help reduce the opportunities for cyberbullying to occur. Limiting screen time can also encourage children to engage in offline activities and have a healthier balance between their online and offline lives.
Location Tracking: While not directly related to cyberbullying, location tracking can help parents ensure their child's safety by knowing their whereabouts and ensuring they are not in situations where bullying could occur.
Conclusion
Overall, many people get cyberbullied and cyberbullying is more prevalent than most parents realize. The damage that cyberbullying can do to kids shows just how much parental controls are needed in this increasingly digitized world. Parents can either use the parental controls on their children's device or third-party parental control apps to protect children from cyberbullying. If you want to try out Safes, you can download it for free on iOS and Android.