Toys are an important part of childhood, and by playing with interactive toys kids can learn a range of skills. Interactive toys not only provide entertainment but also help children develop an understanding of more complex concepts. They can also improve motor skills and socialization. To find the right toys for your child, you need to look at their age, interests, and skill level. In this article, we present 10 popular interactive toys for your kid to improve their skills. 
Appropriate Toys for Each Age
We have divided the different toys into age-categories defined by Consumer Product Safety Commission (cpsc). Their 2020 report compiled various age determination guidelines that cover different categories of toys with an explanation for each age category. 
Interactive Toys for Kids Younger than 3 Years Old
Children's interactive toys are those that both entertain and educate them. They entertain because they shine, play, vibrate, and even talk, which keeps children's attention and puts a smile on their faces for a long time. On the other hand, they offer educational and developmental value because a child's interaction with a toy leads to the acquisition of a new skill or the enhancement of an existing one. 
Playmat 4SMART
This mat has four sensory-development zones: hearing, touch, sight, and concentration. It helps to stimulate the development of your baby's senses.  
Age range: 0+  
Certification: Designed and Approved in Europe, Bronze in Mother&Baby Awards 2022, Made for Mums Toys Awards 
Step2 Flip and Doodle Desk with Stool & Easel
This desk with a stool has medium and large-sized bins for art supplies. Flip up the desk surface to reveal a magnetic dry-erase board and paper clip, ideal for standing and displaying artwork. 
Age range: 2+ 
Certification: ASTM certificate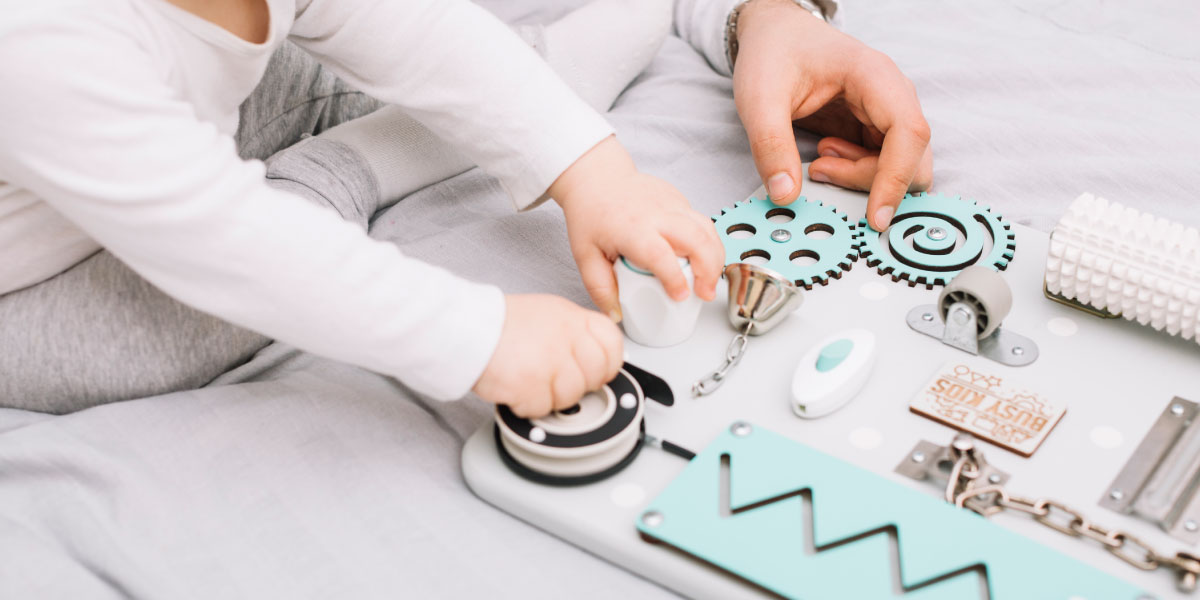 Technology Toys for 3 – 5 Years Olds
In this age range your child is more interested in playing and becomes more imaginative during play time. Your child's language develops a lot, and communicating is getting more interesting. Your child is getting more fascinated by the world and their memory is developing.  
Hape Learn with Lights Electronic Ukelele
To teach your child how to play the ukelele, you can use this electronic one with flashing lights as a playing guide. It includes an instruction sticker and a guide on how to play.  
Age range: 3+  
Certification: ASTM certificate 
VTech Tote and Go Laptop
This toy laptop is designed to make learning fun across a range of topics and levels. This interactive toy can be used for 4-year-old to 6-year-old kids. It has 20 learning activities that teach over 60 words, shapes, animals, and more. Every activity gradually increases in difficulty. 
Age range: 4+ 
Quincy Deluxe Learning Robot
Quincy the robot teaches your child to write and draw. Quincy encourages literacy, letter recognition and formation, and memory improvement. Children can copy Quincy's movements on their own drawing boards. 
Age range: 4+ 
Technology Toys for 6 – 8 Years Olds
According to the CDC, children in this age group show the development of mental skills and more independence from parents and family. They start to think more about the future and understand their place in this world.  
Amazon Fire HD 10
With this easy-to-handle tablet, kids can make video calls and watch movies. We have listed some inspirational movies for kids with their age ratings. If you want to know more about the importance of age ratings, and the consequences of watching movies not suited at your age don't hesitate to check out our other blogs. 
Age range: 6+ 
VTech KidiCom Max
KidiCom is a smartphone designed for children with pre-installed programs. There are tons of educational games, and allow you to download two free programs from VTech's Learning Lodge app store. It also allows your kid to send messages over Wi-Fi. 
Age range: 7+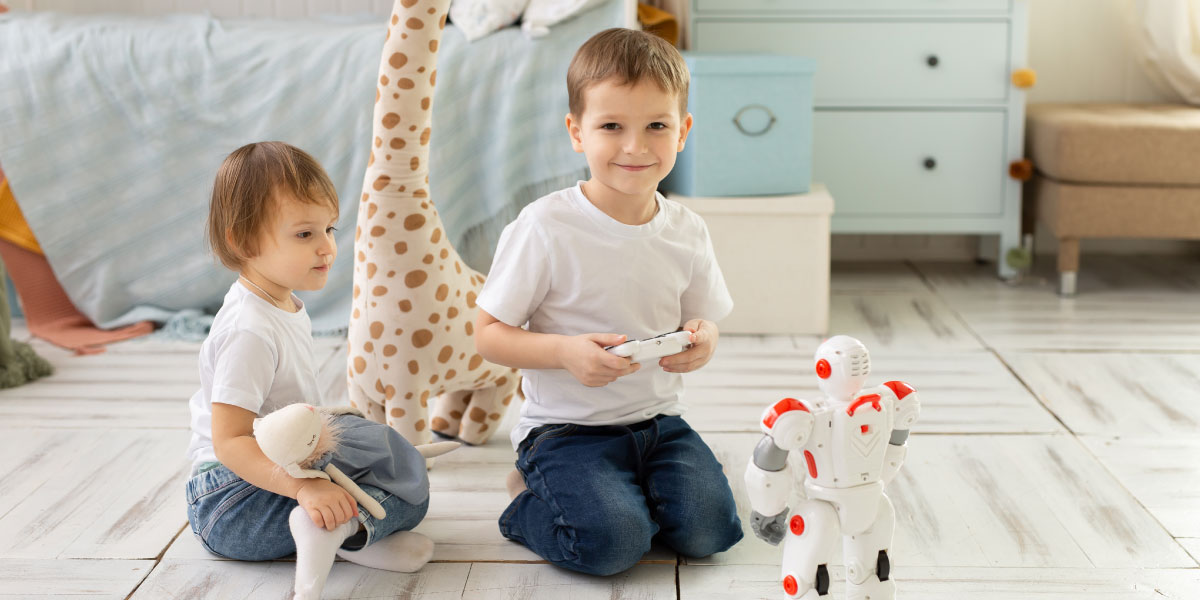 Educational Toys for 9 – 10-year-olds
According to the CDC, 9- to 10-year-olds have an increased attention span. They also become more independent and possibly experience more peer pressure. 
Ultralight Airplanes – Build & Fly
The fully detailed instruction booklet demonstrates how to build various types of planes with various wing configurations. Discover how wings provide lift and how planes stay up. You can experiment with various wing positions and angles to see how they affect flight and lift and even design your own plane. 
Age range: 9+ 
Science Academy Ultimate Chemistry Lab
With this chemistry lab, you can learn all the chemistry basics. Kids will see different science experiments in action. There are a lot of other Science Academy sets that teach kids how to make crystals, soap, or perfume. 
Age range: 9+ 
Nancy B's Science Club – MoonScope & Sky Gazer's Activity Journal
With this MoonScope, your child can see the beautiful sky at night. This telescope is a suitable educational toy for a 10-year-old boy or girl. It has a moon filter to magnify the moon to 90 times and it has a built-in glow-in-the-dark ring to make it easier to use.  
Age range: 10+ 
Conclusion
All in all, there are tons of interactive and educational toys for kids. Any of these toys are safe to use for the mentioned age range. Later on, in their teenage years, your child might start using smartphones or laptops. If you want your child to use technology without the negative effects of the internet on child development, you can use a parental control app like Safes. Safes' free app is available for Android and iOS devices and offers a lot of features including: 
Detailed activity report:

With this feature, it is possible for parents to get informed about their children's device and internet usage patterns and the content they consume.

 

Website content filter:

This filter blocks out inappropriate websites such as violence, hate speech, and pornography. Parents can also select specific content categories.

 

A screen time schedule:

Protects children from sleep disorders, excessive and harmful screen time, and distractions. 

 
With these features, you can monitor your child's online behavior and be sure of their online safety.