Children are inherently vulnerable. When their relationships are affected by fear, it can have severe consequences on their mental health and development. Recognizing the signs a child is scared of a parent is crucial for educators and school administrators. In this blog post, we will highlight the importance of recognizing these signs and what actions we can take to help.
Why Recognizing These Signs Matters
Fear-based parenting can lead to adverse outcomes, such as hampered development, mental health issues, and damaged parent-child relationships. As educators, we play a significant role in a child's life, making it our responsibility to impart knowledge and ensure their emotional and psychological well-being.
Children who are scared of their parents may display signs such as
Anxiety
Depression
Low self-esteem
Difficulties in social interactions
Recognizing these signs enables us to provide the necessary support and resources to the child, easing their fears and promoting a healthier, more positive outlook on life.
Identifying the Signs of a Child's Fear of Parents?
Children exhibiting fear towards their parents may manifest it in various ways. Some signs include:
Withdrawal: The child may become socially withdrawn, avoiding interactions with peers and adults.
Poor Academic Performance: Fear and anxiety can impact a child's ability to focus, leading to decreased academic performance.
Changes in Behavior: The child may display sudden behavioral changes, such as aggression, irritability, or excessive crying.
Physical Symptoms: Fear can also manifest physically, like headaches, stomachaches, or restlessness.
Avoiding Going Home: Students who fear their parents may hesitate or be anxious about going home often prefer to stay in school or with friends.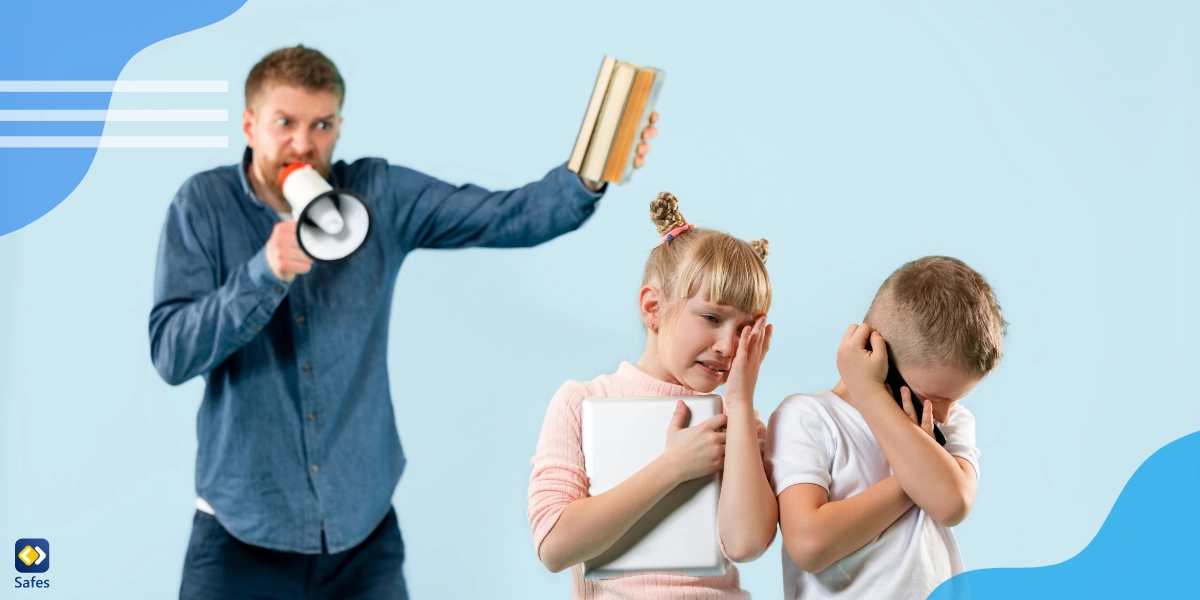 Helping a Student Who Is Scared of Their Parents
After identifying the signs, you must take immediate steps to help them. Find below some ways you can assist:
Create a Safe Environment: Make your student feel safe and comfortable in the school. Encourage them to express their feelings and fears without judgment.
Seek Professional Help: If the situation is severe, consider involving a mental health professional who can provide your student with appropriate treatment and counseling.
Involve Child Protective Services: If there's evidence of abuse or neglect, you must involve child protective services. They can ensure the child's safety and take legal action against the parents.
Offer Support and Encouragement: Regularly check in on the child and offer encouragement. Show them they are valued, respected, and cared for.
Creating a Supportive Environment
Creating a supportive environment goes beyond the four walls of a classroom. You should also provide a culture of respect, empathy, and understanding. Your school should provide a platform for open communication where students feel safe to voice their concerns and fears. Besides, considering programs that promote mental health awareness can help students understand their emotions better and seek help when needed.
Mandatory Reporting and Legal Responsibilities
We also have a legal and ethical responsibility to report suspected child abuse or neglect. All states have mandatory reporting laws that require educators to report any suspicion of child maltreatment. Therefore, familiarity with your state's reporting procedures and requirements is essential.
Early Intervention and Collaboration
Early intervention is critical in addressing fear-based parenting. Your school should collaborate with parents, community resources, and mental health professionals to provide the students who need help with the necessary support and resources.
Safe Keeping Students' Privacy
While it's important to intervene, respecting the child's privacy and confidentiality is equally essential. You only need to share information about the child's situation with people who need to know to provide help.
How Can Safes School Help You Manage Your School/Class?
Managing a school or class involves more than just traditional teaching methods in the digital age. Safes School is an innovative app designed to help school administrators manage their students effectively. With its easy-to-use interface and comprehensive features, Safes School offers tools for you to create a safer and more supportive environment for your students.
Conclusion: Signs a Child is Scared of a Parent
Recognizing the signs a child is scared of a parent is a crucial task that schools and educators must undertake. It not only helps to identify your students who may be dealing with fear-based parenting but also helps provide the support they need. You can make a significant difference in your students' life by creating a supportive environment, respecting legal responsibilities, and early intervention. With tools like the Safes School app, managing these tasks becomes more accessible, enabling educators to focus on nurturing the next generation of confident, resilient, and happy individuals.