With pornography and adult content rampant on the internet and easily accessible via phones, tablets, and computers, for some parents, the digital world is the last place they refer to for sex education resources for their kids. Technology does have some dark corners, but it also casts light on many of parents and children's queries. While parents might feel uncomfortable or baffled answering children's questions about puberty, the internet offers invaluable resources that ease kids' initiation into the adult world. Continue reading to learn about five tech resources to help kids navigate puberty. 
Why Kids Need to Learn About Puberty
Kids start having questions about the human body and sexuality at an early age. As they grow older and enter puberty, they'll have more questions about changes in their bodies. If you, as a parent, or the school don't give them comprehensive answers or don't provide them resources to find their answers, they'll have to find them on their own. 
Unfortunately, if you let kids alone in their quest to learn about puberty, you'd never know if they'll end up finding their answers in the wrong place. For example, a place kids commonly stumble upon is pornographic and adult websites. Nevertheless, as a friend once told me, "learning about sex by watching porn is like learning to drive by watching Fast & Furious!" 
First and foremost, if not educated from an early age, kids are prone to finding sex as something shocking, disgusting, or even scary. Other effects of lack of proper sex education include engaging in unsafe sex, getting sexually transmitted infections, early and unwanted pregnancy, falling victim to sexual abuse, and body shaming. 
Read the article "Effects of Watching Porn on Teenagers: Myths and Realities" on our blog, in which I've discussed the adverse effects of watching porn on teenagers. 
5 Tech Resouces to Help Kids Navigate Puberty
Some people regard the digital world as threatening their kids' health and safety. However, we at Safes believe the contrary. Some apps and websites can teach kids about sex and, as a result, help them navigate puberty safely and soundly. Using the Safes parental control app, you can block inappropriate apps and websites on your child's devices and instead inspire them to use tech resources to have positive effects in their lives. 
Without further ado, here are 5 tech sources to help kids navigate puberty handpicked for you and your child: 
Amaze & Amaze Jr.
Amaze creates educational cartoons about sex and therefore is possibly the best source for tweens and teens to learn about puberty. The videos on Amaze are about three minutes long, usually starting with a conversation between cartoon characters about a sexual topic. 
Your child can watch Amaze's videos on their website. However, they're also available on Amaze's YouTube channel. Here is one of their videos about menstruation stigma: 
While Amaze targets kids aged 8 to 13, Amaze Jr. targets kids aged 4 to 9. Amaze Jr. introduces sexual topics relevant to younger kids gently. Like Amaze, Amaze Jr.'s videos are about 3 minutes long, introduce sexual issues through discussions between cartoon characters, and are available both on the Amaze Jr. website and YouTube. All of these videos are safe for children; however, you may want to watch them first and select the ones you find appropriate for your kid. 
Here's a video from Amaze Jr. about pregnancy: 
On Amaze and Amaze Jr., there are educational videos for parents too. For example, here's a video teaching parents how to talk to kids about sex: 
Whyzz
Whyzz is a bank of questions and answers for kids 5 to 7 and 8 to 10 years old. It covers a variety of topics, sexuality included. Children can look up questions or browse categories to find answers. The answers, while being comprehensive, use simplified language so that children can understand. 
Kids are not the only audience of Whyzz. In fact, it's a website that both you and your child can use. For example, if your child asks you a question like "how are kids born?" instead of giving an off-the-shelf answer, you can refer to Whyzz for informative but kid-friendly answers. By the way, I remember I asked my mother the same question when I was a kid. She said, "through mothers' mouths!" Back then, I believed her, but now I think I deserved a better answer.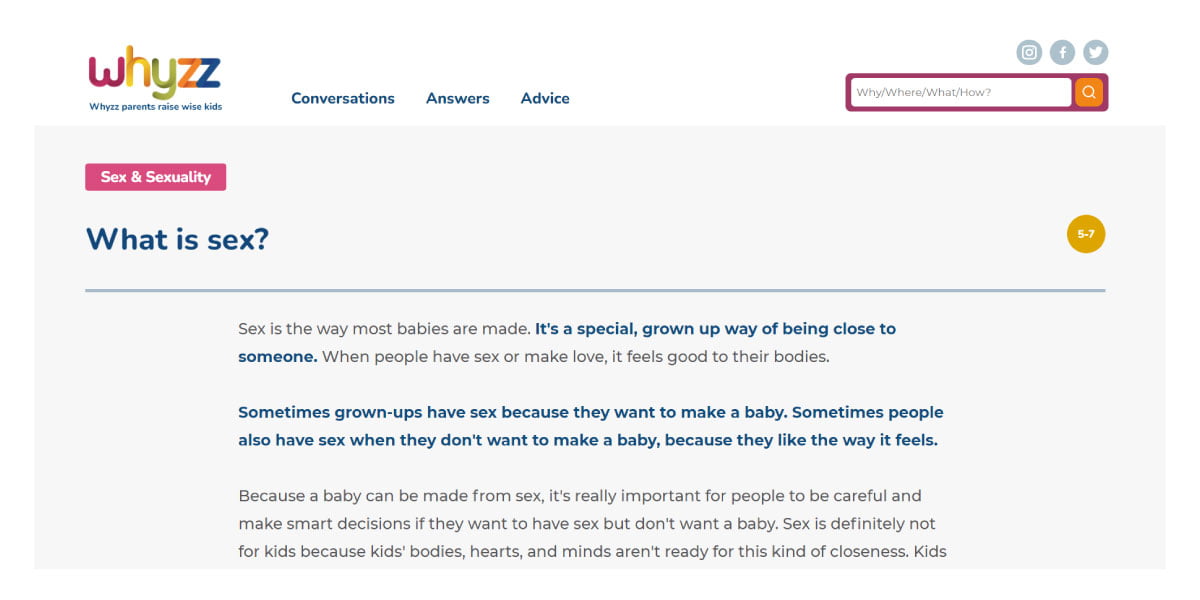 Talk Puberty App
Talk Puberty App gathers over 150 questions about puberty in five categories to help kids between 7 to 15 navigate puberty. These categories include: 
Basic Questions About Puberty

 

Questions About Most Girls

 

Questions About Most Boys

 

Other Questions Children Often Ask

 

Open-Ended Questions

 
Although children can use this app on their own, parents and teachers can also use it to start conversations about puberty with kids. 
Talk Puberty App gives well-researched and comprehensive answers to children's questions; however, it also provides resources for parents and teachers for further studies. 
Talk Puberty App is available for iOS devices.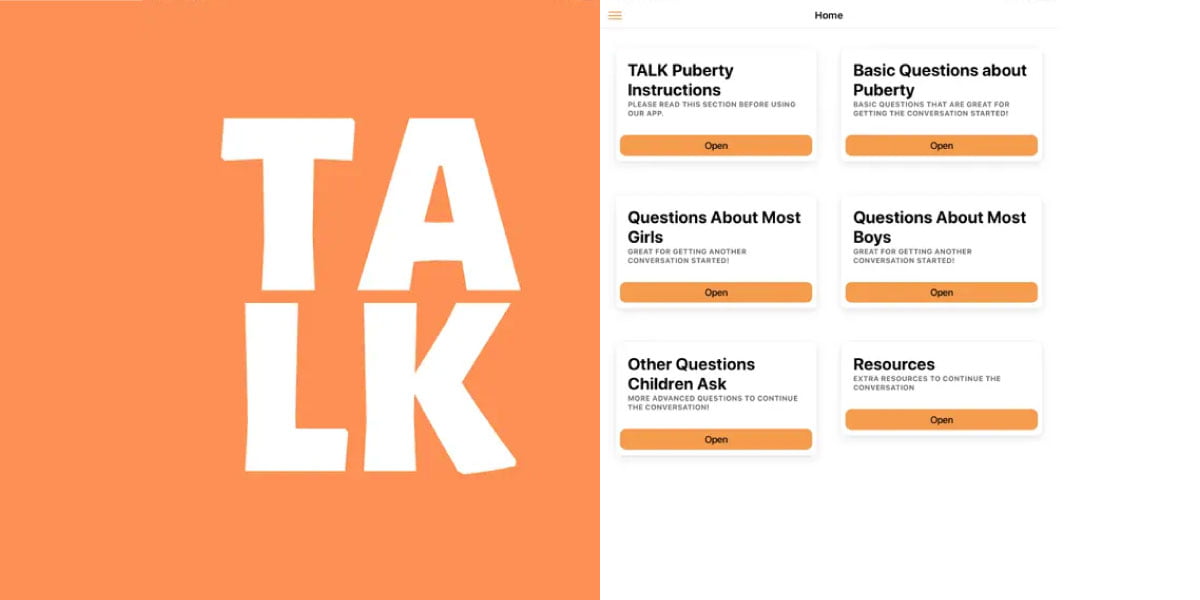 Kids-Ask
Kids-Ask is another good tech resource to help kids navigate puberty. Like Whyzz, it gathers a collection of answers to kids' questions. While Whyzz is meant to be used by both kids and parents, Kids-Ask is designed for parents who wish to answer their children's big questions. Kids-Ask only focuses on kids' questions about sexuality. 
Using Kids-Ask is very simple. On the home page, you can select "respond to a question" or "start a conversation", then select your child's age, and finally select a topic from a list. The topics include: 
Body Parts

 

Gender & Sexual Identity

 

Health & Hygiene

 

Puberty

 

Relationships

 

Protection & Birth Control

 

Pregnancy & Birth

 
You'll then get multiple related questions with answers. You can modify the answers, save them for later use, or share them.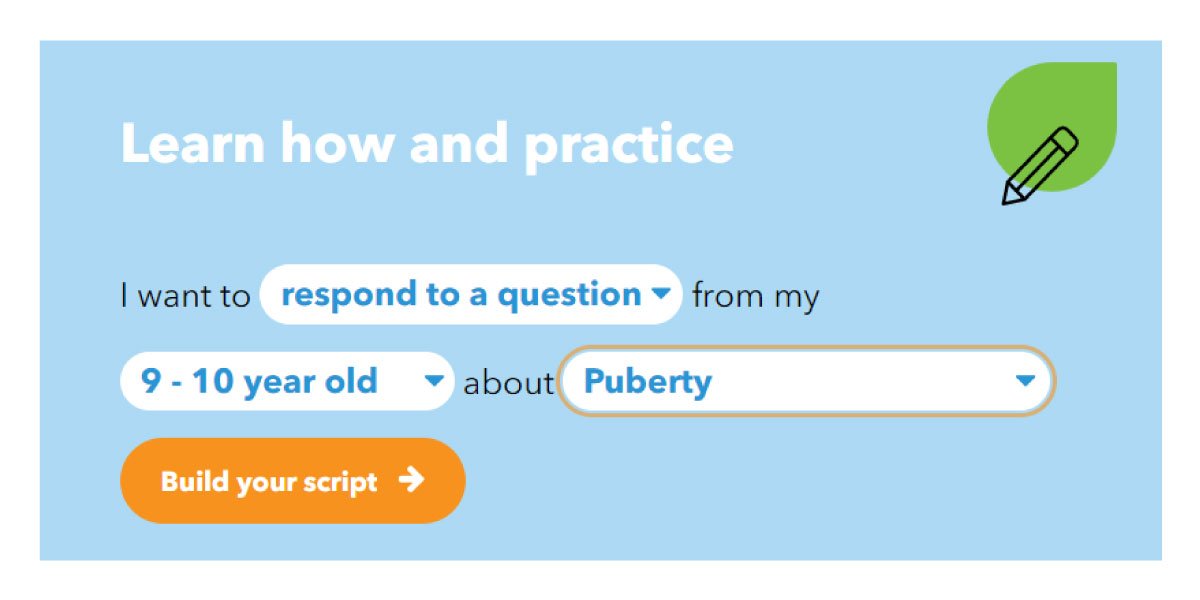 Parent Lab
Parent Lab is an app for parents to help their kids navigate puberty. It offers evidence-based tips for every aspect of parenting, sex education included. The app contains multiple texts, pictures, videos, and podcasts trying to cast a light on the rugged road of parenting in the 21st century. 
Parents have downloaded Parent Lab more than one hundred thousand times. It's available on both iOS and Android devices. Parent Lab is free but offers in-app purchases