School climate, a term frequently used in educational discussions, plays a crucial role in shaping students' educational experiences and outcomes. In this article, we delve into understanding what is school climate, its significance, and how it impacts academic achievement.
What is School Climate?
School climate refers to the overall quality and character of school life. It's a broad concept that encompasses various characteristics such as safety, relationships, teaching-learning practices, and the institutional environment, thereby affecting students' social, emotional, and academic development. A positive type of school climate, characterized by mutual respect, inclusiveness, and a sense of belonging, significantly contributes to students' well-being and academic success.
Why is School Climate Important?
School climate isn't just about creating a pleasant environment. It's a protective factor supporting positive life outcomes for young people. It's crucial for several reasons:
Safety: A positive school climate reduces risky behaviors, student suspensions, and discipline issues, promoting physical, social, and emotional safety.
Teaching/Learning: A conducive learning environment improves academic outcomes among diverse students and increases motivation to learn, leading to higher graduation rates.
Institutional Environment: A strong sense of school connectedness predicts adolescent health and academic outcomes, improving staff morale.
Interpersonal Relationships: Positive student-teacher and peer relationships reduce the probability of behavioral problems.
Online World: A safe online environment free from verbal abuse, gossip, and exclusion promotes a positive school climate.
School Climate vs. School Culture
While the terms school climate and culture are often used interchangeably, they represent different aspects of the school environment. School climate is about the "feel" of a school, while school culture relates more to the "personality" of a school, through characteristics such as shared values, perceptions, and belief patterns. School culture is important, but it's through the school climate that we can measure how an educational center is true to its motifs. For example, even when the climate may seem negative, the school's culture can dictate how students and staff feel and respond.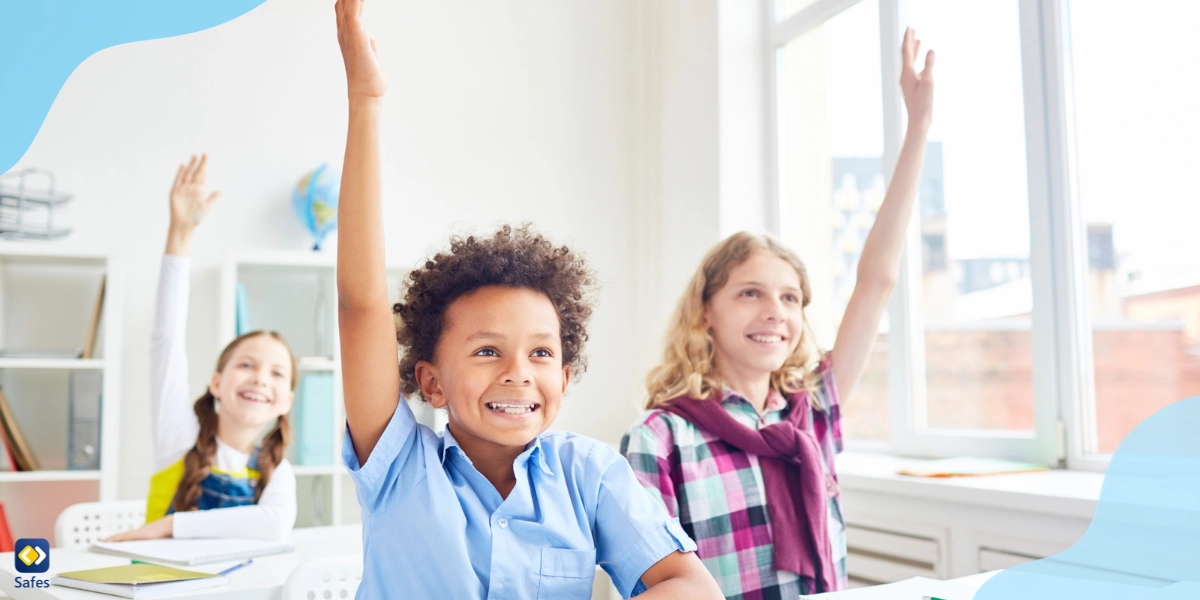 Factors Affecting School Climate
Several factors contribute to shaping the school climate:
Shared Vision and Goals: Establishing clear school norms, goals, and expectations that support social, emotional, and physical safety is key to a positive school climate.
School Safety: A physically secure, emotionally, socially, and intellectually safe school nurtures a positive learning community.
Positive Relationships: Quality relationships within the school community elevate the school's vision, academic success, and safety.
Academic Curriculum: The quality of the learning experience, including social and emotional learning, significantly affects the school climate.
Positive Reinforcement Systems: Positive reinforcement motivates students to achieve more.
Institutional Environment: The structural organization of a school, including heating, lighting, cleanliness, and availability of resources, influences the school climate.
How to Improve School Climate
Enhancing school climate requires a comprehensive approach involving all stakeholders, including administrators, teachers, students, and parents. Here are some strategies to improve school climate:
Engaging Teachers and Administrators: Teachers and administrators play a crucial role in setting the tone for a positive school climate. They need to model and nurture attitudes that emphasize the benefits and satisfaction gained from learning.
Promote Parental Involvement: Parents have a significant role in shaping and promoting a positive school climate. They can participate in school policies and practices, building healthier interpersonal relationships through trust and respect.
Creating Fun and Positive Experiences: Engaging students in fun and positive experiences can significantly improve the school climate.
Creating a Healthy Environment: Schools should strive to create a healthy physical, emotional, and social environment for student growth.
Assessing and Evaluating School Climate
Evaluating school climate is crucial for identifying areas of improvement. Methods for analyzing it include focus groups, interviews, observational methods, and surveys. The National School Climate Council suggests assessing four major factors:
Safety
Relationships
Teaching and learning
The institutional environment
The Role of Digital Tools
Today, tools like the Safes School app can significantly improve the school climate by eliminating digital distractions and harmful content, thus creating a safer online environment for students. By promoting digital safety and responsible online behavior, such tools can contribute to the overall climate of your educational center.
Try Safes School for your educational center today by contacting us.
Conclusion
Understanding what is school climate is critical for educators, parents, and policymakers alike. It's an integral component of students' academic achievement and well-being. By focusing on the various components and examples of school climate, from safety to relationships to teaching practices, schools can create an environment that enhances student development and leads to higher academic success.