The rising popularity of Autonomous Sensory Meridian Response (ASMR), a sensation of relaxation and tingling that often starts at the scalp and moves down the spine, has sparked interest and concern among parents. The question arises, "Is ASMR for kids safe or harmful?" Let's delve into understanding the world of ASMR for children.
What is ASMR?
In simple terms, ASMR is a feeling of relaxation and tingling that is triggered by specific auditory, visual, or tactile stimuli. The triggers can range from whispering, tapping, scratching, page-turning, to soft touches. A growing body of research suggests that ASMR can potentially aid in reducing anxiety, depression, and insomnia, making it a powerful tool for stress management and relaxation.
Children are often exposed to ASMR through YouTube, where entire channels and playlists are devoted to this phenomenon. As parents, it's essential to understand the potential benefits and risks associated with ASMR for kids before making a judgment.
Here is an example of ASMR produced by the Gibi ASMR channel on YouTube:
Potential Dangers of ASMR for Kids
While the calming and relaxing effects of ASMR can be beneficial, it's crucial to be aware of potential dangers. Some ASMR content creators produce explicit content on different platforms, which can be inappropriate for younger audiences. This is why it's important for parents to monitor their children's online activities and ensure they are accessing age-appropriate content.
The Issue of Sexualization in ASMR
One of the most significant concerns about kids' ASMR content is the potential for sexualization. Many ASMR videos feature people, generally women, whispering and making soft noises into a microphone, which can sometimes have a sexual undertone. As highlighted in the article 4 dangers of pornography, this could potentially lead to unhealthy views about intimacy and relationships, especially among teenagers who are in their formative years.
Obesity Danger of Food ASMR
There's also a growing trend of food ASMR, where folks consume large amounts of food while making exaggerated chewing and crunching sounds. This can potentially contribute to unhealthy eating habits and even obesity in children who might be influenced by these videos.
Providing Safe ASMR for Kids
Despite the potential dangers, there are ways to provide a safe kid and teen ASMR experience. Parents can start by introducing their children to ASMR through real-world interactions, such as whispering to them or gently touching their arms. This can help lay the foundation for a healthy understanding of ASMR and its benefits.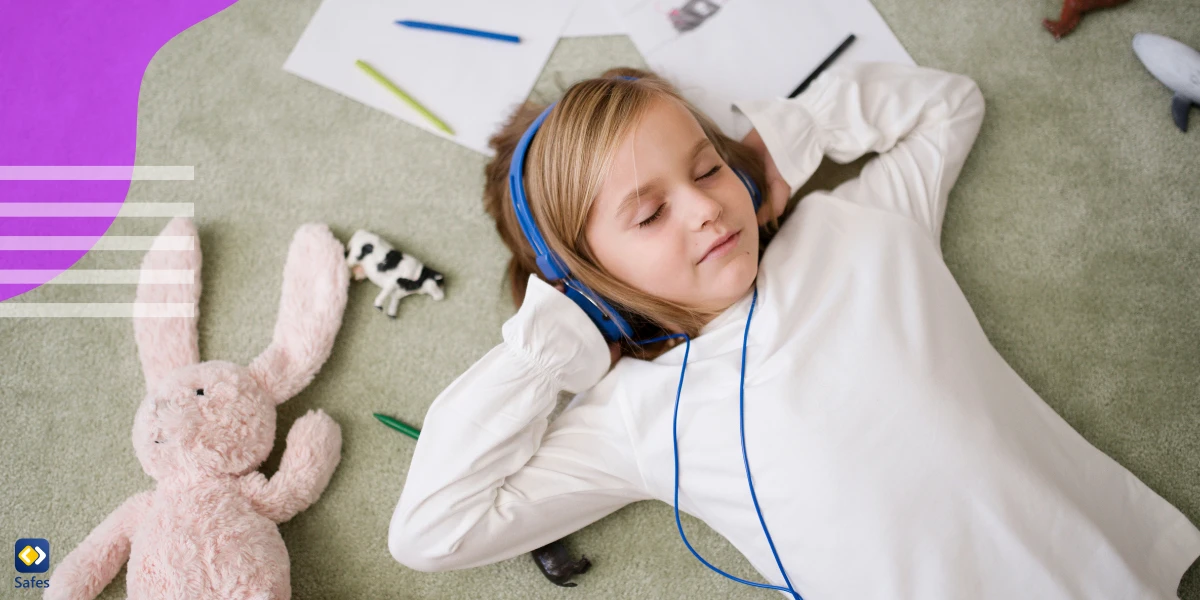 For those wishing to supplement these experiences with online content, there are family-friendly ASMR videos available. Platforms like YouTube Kids offer curated content suitable for younger audiences. Parents can also review ASMR channels beforehand to ensure the videos are suitable for their children.
Bonding Through ASMR
ASMR can also serve as a bonding opportunity for parents and children. A study published in the Journal of Autism and Developmental Disorders suggests that ASMR can help foster social connections and positive emotions. Parents can use this opportunity to engage with their children and discuss their feelings and experiences with ASMR.
How Can Safes Protect Your Child?
Safes is a parental control app with many features that can protect your child when listening to ASMR recordings or watching ASMR videos. Most likely, your child may come across ASMR videos on YouTube. With its app monitoring feature, Safes can keep you in the loop of what your child watches on YouTube. If they watch something explicit or come near inappropriate comments or interactions on YouTube, you'll be notified and have the opportunity to prevent harm to your child.

You can still protect your child if they look for ASMR on other websites. By blocking sources that share erotic ASMR, you can have peace of mind they won't come into contact with inappropriate content.
Safes works on all devices (phones, tablets, and computers) on Android, iOS, Windows, and Mac platforms. If you want to learn how to protect your child on each of these devices and platforms, follow the links below:
Feel free to download Safes on App Store and Google Play.
Conclusion: Is ASMR Inappropriate?
In conclusion, ASMR for kids can be both beneficial and potentially harmful. While it may provide relaxation and aid in reducing anxiety, it also poses risks, such as exposure to inappropriate content and the potential for misuse. Therefore, it's crucial for parents to monitor their children's use of ASMR and ensure they are accessing age-appropriate and safe content.