Autism, a complex neurodevelopmental condition, significantly shapes how individuals interact with the world. Challenges in communication, social engagement, and behavior are common among those with autism, underscoring the spectrum's diverse nature. As we explore the impact of autism on children's technology use, it's essential to understand the specific ways in which this condition influences their digital experiences and how we can ensure autism safety throughout the digital world.
How Autism Influences Children's Relationship With Technology
The impact of autism on a child's interaction with technology can vary widely depending on the child's individual strengths and challenges. Here are some general ways in which autism might influence a child's relationship with technology:
Intense Interests: Children with autism often develop intense interests in specific topics. Technology may provide a platform for them to explore and engage with these interests. For example, a child with autism might immerse themselves in learning about computers, video games, or other technological subjects.
Communication Tools: Technology can serve as a valuable communication tool for how to connect with autistic children, especially for those who experience challenges in verbal communication. Augmentative and alternative communication (AAC) devices, speech-generating devices, or communication apps on tablets can help facilitate communication for nonverbal or minimally verbal children.
Visual Learning: Many children with autism are visual learners, and technology often provides visual aids and supports. Educational apps, videos, and interactive software can be effective tools for teaching and reinforcing various skills.
Routine and Predictability: Children with autism may benefit from routines and predictability. Technology can be used to create visual schedules or timers, helping the child understand and anticipate daily activities.
Sensory Considerations: Some children with autism have sensory sensitivities, and technology can be adapted to accommodate these sensitivities. For example, adjusting screen brightness, using headphones to control sound levels, or selecting apps with calming visuals can make the technology experience more comfortable.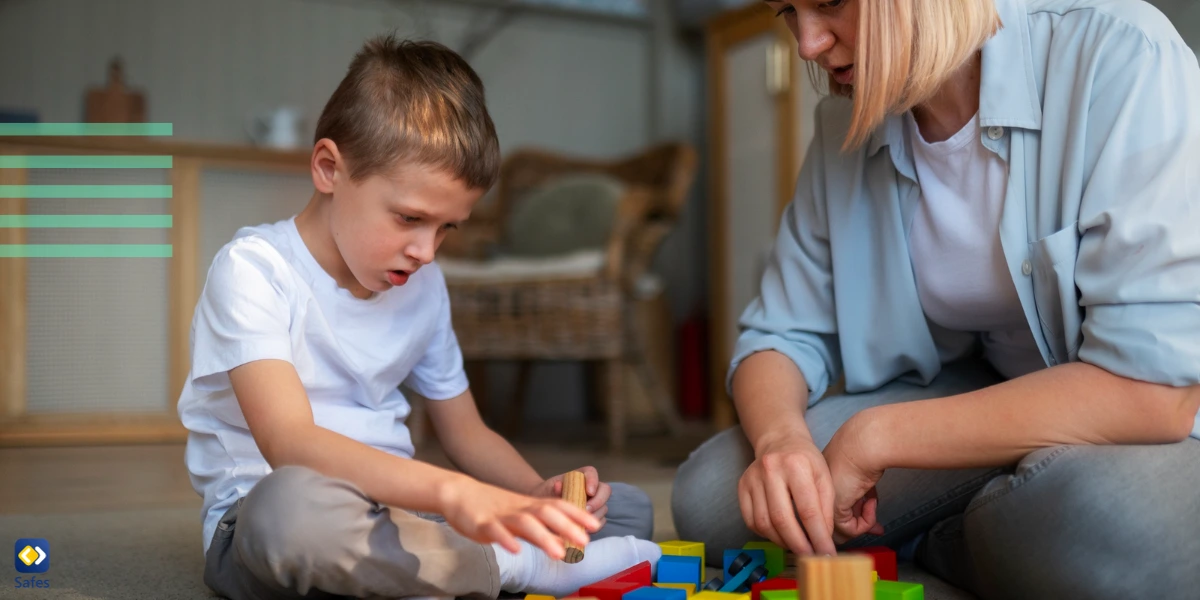 Online Risks for Autistic Children
Autistic children, like all children, may face specific online risks that can impact their well-being and safety. Some of these risks include:
Limited Understanding of Online Safety: Autistic children may have difficulty understanding and navigating the complex rules of online interactions. They might not fully grasp concepts such as privacy, sharing personal information, or recognizing potential online threats.
Social Vulnerability: Children with autism often face challenges in social interactions, and the online world presents new social dynamics. They may be more susceptible to online bullying, manipulation, or exploitation due to difficulties in interpreting social cues and intentions.
Over-engagement or Addiction: Some autistic children may develop intense interests in specific online activities or games. While these interests can be positive, excessive engagement may lead to challenges in managing screen time and can potentially interfere with other important activities. Though anybody can be addicted to their phone, autism and phone addiction can easily go hand-in-hand.
Difficulty Discerning Trustworthiness: Autistic children may struggle to discern the trustworthiness of online information or people. They may be more vulnerable to online scams, misinformation, or interactions with strangers who may not have their best interests in mind. This is especially dangerous for autistic children on social media. Autistic children may be more sensitive to the consequences of cyberbullying.
Sensory Overload: Online environments can be visually and auditorily stimulating, potentially leading to sensory overload for some autistic children. This overload may contribute to stress and anxiety.
Privacy Concerns: Autistic children might not fully understand the importance of keeping personal information private online. They may inadvertently share sensitive information, leading to privacy concerns.
Strategies for Autism Safety Online
To mitigate these risks and promote a positive online experience for autistic children, consider the following strategies to ensure autism safety:
Education and Communication: Provide clear and simple explanations about online safety, privacy, and appropriate online behavior. Use visual aids or social stories to reinforce these concepts.
Supervision and Monitoring: Regularly monitor your child's online activities and maintain open communication. Use parental controls and privacy settings to limit exposure to inappropriate content.
Establishing Boundaries: Set clear rules for screen time and online activities. Help your child understand when and how to use technology appropriately. You can use a parental control app like Safes to maintain boundaries and monitor your child's online activities easily. For example, with Safes, you can limit your child's screen time while also keeping track of their location in real-time and filter inappropriate websites on their device. These are just to name a few of the features provided by Safes.
Building Social Skills: Incorporate social skills training both online and offline to help your child navigate social interactions more effectively.
Encouraging Balanced Activities: Encourage a balance between online and offline activities, including socializing, physical activities, and other interests.
Creating a Safe Online Environment: Ensure that the websites, apps, and games your child uses are age-appropriate and safe. Consider using educational and therapeutic apps designed for children with autism. You can also use autism safety products.
Conclusion
In addressing the potential online risks for autistic children, practical strategies come to the forefront. From educating and supervising to setting boundaries, these steps empower parents and caregivers to ensure a safe online environment. One solution was using a parental control app like Safes which you can download right now on iOS and Android. Striking a balance between technology use and other activities, alongside a focus on social skills and age-appropriate content, forms the foundation for a positive online experience for children with autism.