In the modern age, filled with digital devices, the art of handwriting often gets neglected. However, despite the rise of technology, the benefits of handwriting continue to hold relevance, especially for children. The act of handwriting stimulates the brain, promoting cognitive development and fine motor skills. It also aids in memory retention and learning, making it an integral part of a child's education. So, follow us as we introduce the best handwriting practice for kids of all ages.
Some may argue that "Why is handwriting important in a world where we type words using our digital devices?" It could be true that in the future, writing with pen and paper may become obsolete; we have to wait and see. But for the time being, all the generations living today need to learn handwriting because there are many writing tasks that need to be done by pen and paper rather than typing. Besides, people tend to judge each other's handwriting. Poor handwriting may cause poor self-esteem in your child.
The Fundamentals of Handwriting Improvement: Understanding the Basics
Before initiating handwriting practice for kids, it is crucial to comprehend the basic elements that contribute to good handwriting. These include the formation and size of letters, the spacing between characters and words, the angle of the letters, and the pressure applied to the writing utensil.
The first step to improving children's handwriting is understanding their current level. That can be achieved by comparing their handwriting to others, seeking feedback from multiple sources, and consulting teachers for their insight. It is also essential to observe the child's posture and grip on the pencil, as these factors greatly influence handwriting quality.
Fun and Engaging Handwriting Activities: Making Practice Enjoyable
One of the best ways to develop handwriting skills in children is to make the process enjoyable. Here are ten engaging activities that can make handwriting practice for kids both fun and effective:
Letter Formation Activities
Encourage your child to practice writing letters or words in trays filled with foam, sand, or shaving cream. This sensory-based activity also enhances their visual-motor skills.
Even before children start using pencils, they can begin developing their handwriting skills. Preschoolers can learn about letter formation by using blocks or other toys to trace letter shapes.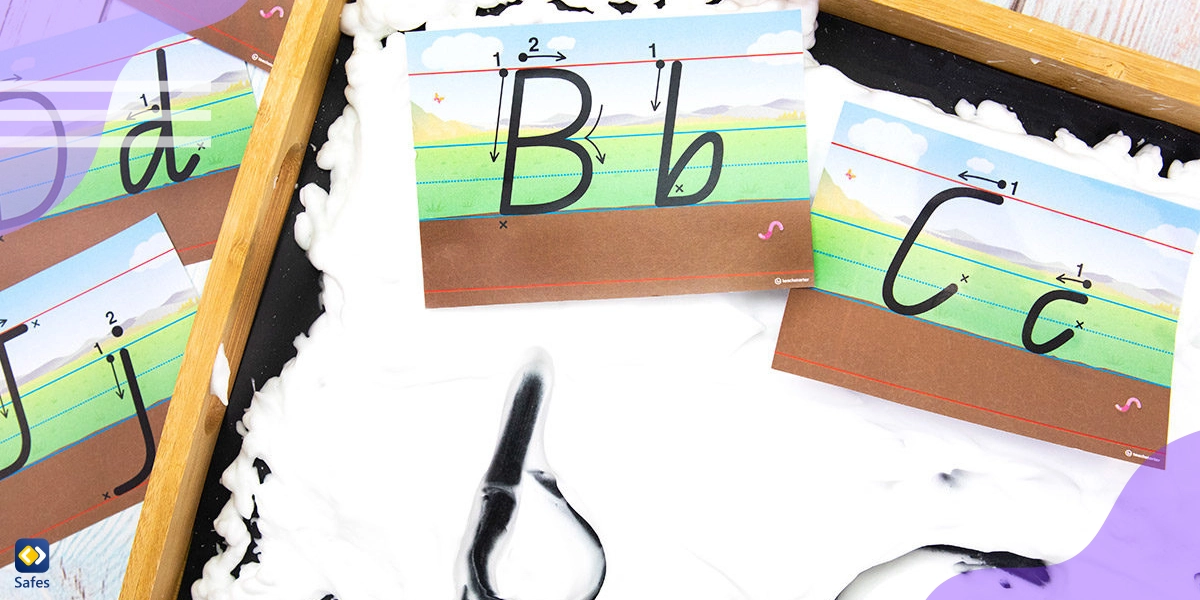 Write Postcard
Remember when we were children, we wrote letters and postcards to our friends and relatives? Our children shouldn't be deprived of the joy of opening a surprise letter or card. With messaging apps and emails, that may not sound necessary, but we still believe children can enjoy making a DIY postcard and writing some kind words to their friends and cousins. It's completing two goals with one action
Writing in a Journal
Keeping a diary is not only fabulous handwriting practice for older children but also a fantastic method to improve a child's creativity and writing skills. According to YoungWriters, writing a diary helps your child regulate and express their feelings, improves their problem-solving skills, and boosts their creativity while also helping them improve their spelling and grammar.
Cursive Practice Journal
A cursive handwriting journal allows children to practice writing isolated letters and using them in words/sentences. The journal also includes a checklist for self-assessment. You can turn cursive writing practice into a writing game for kids using a simple dice. The aim is to write as many correctly formed letters as possible in one minute, promoting both speed and accuracy.
Writing Wizard App
You can also use technology to help your child practice handwriting. The Writing Wizard app aids in the development of handwriting skills by allowing your child to practice letter formations and write letters correctly within words.
Download Writing Wizard on AppStore or Google Play.
Trace It, Try It App
Another app you can use for your children's handwriting practicing is Trace It, Try It. This interactive app helps children recognize the starting point of each letter and its correct formation, making it a useful tool for handwriting practice for kids.
Learn more about the Trace It, Try It app on their website: ThisReadingMama.Com
Rubber Band Grip Training
Sometimes children have poor handwriting because their hand grip is too weak. When doing homework, children need to be able to hold a pen or pencil with their fingers for an extended time. If you sense your child's fingers and grip needs improvement, you can encourage them to do simple and fun exercises with colorful rubber bands. Older children can use rubber grip balls.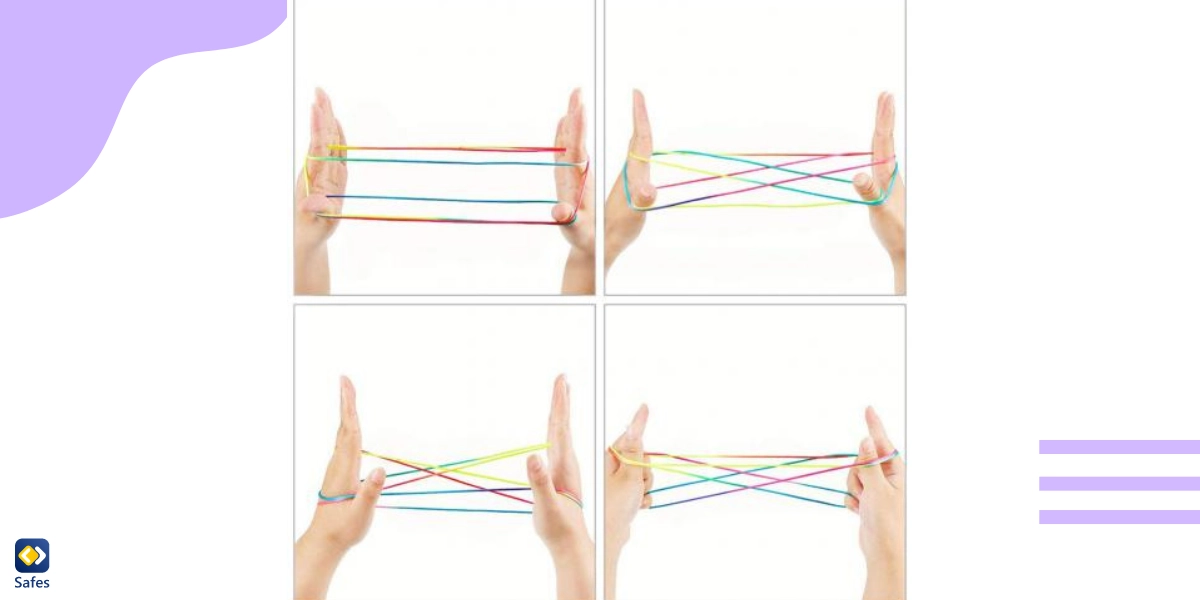 Game Using Pencil Grips
You can also get pencil grips for your child. They are made of rubber and attached to a pencil, making writing easier for children and improving their fingers' strength. Using these grips, you can then incorporate handwriting games like "Minute to Win It!" into handwriting practice for kids. This game helps improve your child's grip on the pencil and increases their writing endurance. To play Minute to Win It, give your child one minute to write a single letter or a word over and over as many times as they can.
Writing Tools and Ergonomics: Setting Up for Success
Handwriting skills can be greatly influenced by the writing tools used and the physical setup of the writing space. Choosing the right stationery and ensuring that the child is seated in the right posture should not be overlooked.
Select a pencil or pen that the child can hold comfortably, and make sure the paper they're writing on is of the right thickness and texture. A thick and short pencil is perfect for toddlers who have small hands and a less firm grip.
Also, remember that getting your child colorful and cute stationery can greatly motivate them to write more. So, make sure to supply your little one with exciting notebooks, pens, pencils, and markers.
The Role of Patience and Positive Reinforcement: Encouraging Progress
Handwriting is a complex skill that, contrary to popular belief, is not automatic. It requires a combination of cognitive, perceptual, and motor components.
Improving handwriting skills is a gradual process that requires patience and consistent practice. Positive reinforcement plays a significant role in maintaining a child's motivation and fostering their confidence. Celebrate their progress, no matter how small, and remind them that practice makes perfect.
The Benefit of Parental Control Apps
Digital gadgets have facilitated our lives and, in many ways, improved education. But as we explained at the beginning of this blog, children also need manual activities such as writing by hand. So, we shouldn't let gadgets take over our children's lives. One way to achieve that is through parental control apps like Safes.
By managing and limiting their exposure to digital gadgets, Safes can encourage your child to spend more time practicing their handwriting. The Safes app does not only control screen time but also ensures a safe online environment for children.

Download Safes on our website or from Google Play or AppStore. Using it, you can put parental controls on all devices and platforms; here's how:
Conclusion: How to Improve Your Child's Handwriting?
Improving children's handwriting is a process that requires time, patience, and consistent practice. Incorporate engaging activities, use the right tools, and create a comfortable writing environment to make handwriting practice for kids effective and enjoyable.
With dedication and perseverance, your child can develop neat and legible handwriting that will serve them well throughout their academic journey and beyond. So, let's pick up those pencils and embark on this exciting journey of handwriting improvement together!
Frequently Asked Questions (FAQs)
Here are answers to some of your most common questions about children's handwriting:
What causes poor handwriting in children?
Poor handwriting in children can be caused by various factors, including a lack of fine motor skills, incorrect grip on the writing instrument, weak hand muscles, and inadequate practice.
Can handwriting be improved?
Absolutely, handwriting can be improved with consistent practice, proper technique, and patience. Regular handwriting practice for kids, along with guidance and support, can significantly enhance their penmanship skills.
At what age can you improve your handwriting?
Handwriting can be improved at any age. However, it is easier to develop good handwriting habits during childhood when fine motor skills are still developing.
How can parental control apps help improve handwriting?
Parental control apps can limit screen time and encourage children to spend more time practicing their handwriting. By managing children's exposure to digital gadgets, these apps can aid in their handwriting development.