Finding the right seating position is essential for your physical health and comfort. When you sit in a chair for extended periods of time, you need to ensure you are in an ergonomic seating position. This is a position that is designed to reduce stress on your body and encourage good posture. In this blog post, we will discuss the benefits of an ergonomic seating position and give tips on how to achieve it. 
Health Benefits of Adopting an Ergonomic Seated Position
Before giving tips on how to adapt an ergonomic seating position, let's talk about its effects. There are benefits to adopting an ergonomic seating position, such as decreasing the risk of gaming injuries like gamer's thumb. Here are four benefits of improving your seating position. 
More Comfortable
At the end of the day, what matter more than long-term health for most people, is their comfort. That's why we do things that are comfortable yet unhealthy. Though adapting an ergonomic seating position might be quite difficult for some, once it turns into a habit, you'll see how much more comfortable you'll feel in the long-run. 
Better Posture
Bad posture isn't desirable and yet it isn't a fixed thing. Almost everyone can change their bad posture with some effort. Bad posture can lead to neck and back pain, and at later stages, it can become quite hard to reverse. According to research, explained by Amy Cuddy in a Ted Talk, good posture can even have a positive effect on one's mental health. 
Better Blood Circulation
An ergonomic seated position helps with blood circulation. This helps you avoid the negative effects of poor blood circulation such as the numbness of hands and feet. 
Greater Productivity
A bad seating position can slightly annoy a person even if they're used to it. This decreases your focus and makes it more tempting to change positions, stand up and walk around, and all in all, get less work done. An ergonomic seating position can save a lot of time, especially for those who work behind desks.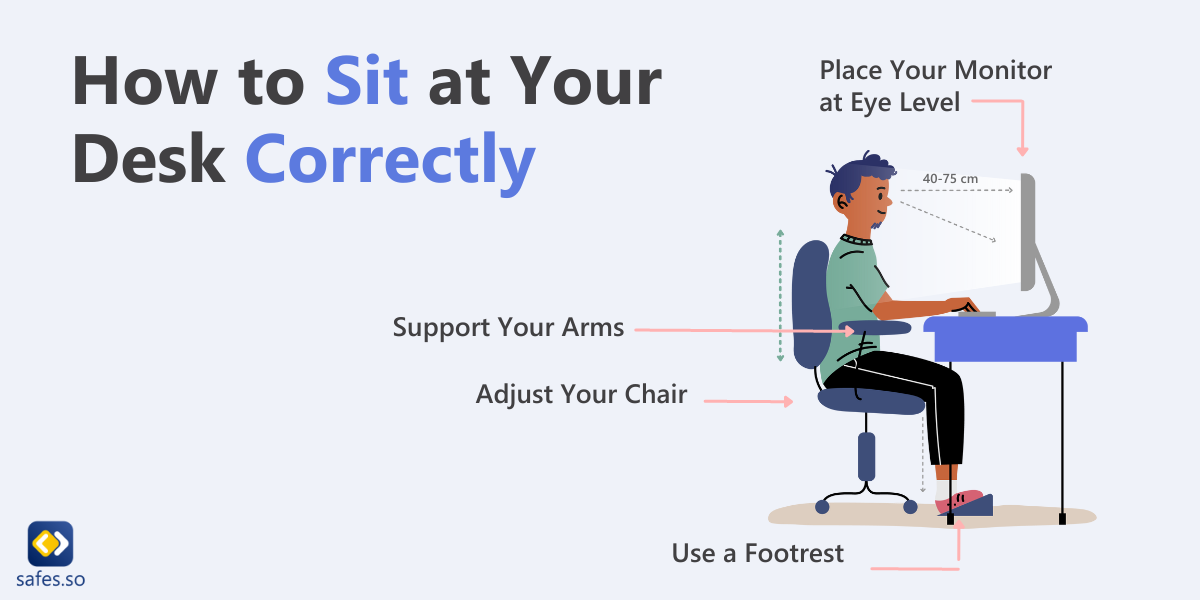 How to Maintain an Ergonomic Seating Position at a Desk
Now that we know how important an ergonomic seating position actually is, let's take a look at some tips on how to maintain it. 
Adjust Your Chair
You cannot maintain an ergonomic seating position with the wrong equipment. Choosing the right chair and adjusting it carefully is important. When adjusting your chair, keep these two pointers in mind: 
Your chair should be adjusted such that your feet rest flat on the floor

 

Your chair should be adjusted such that your knees are level with your hips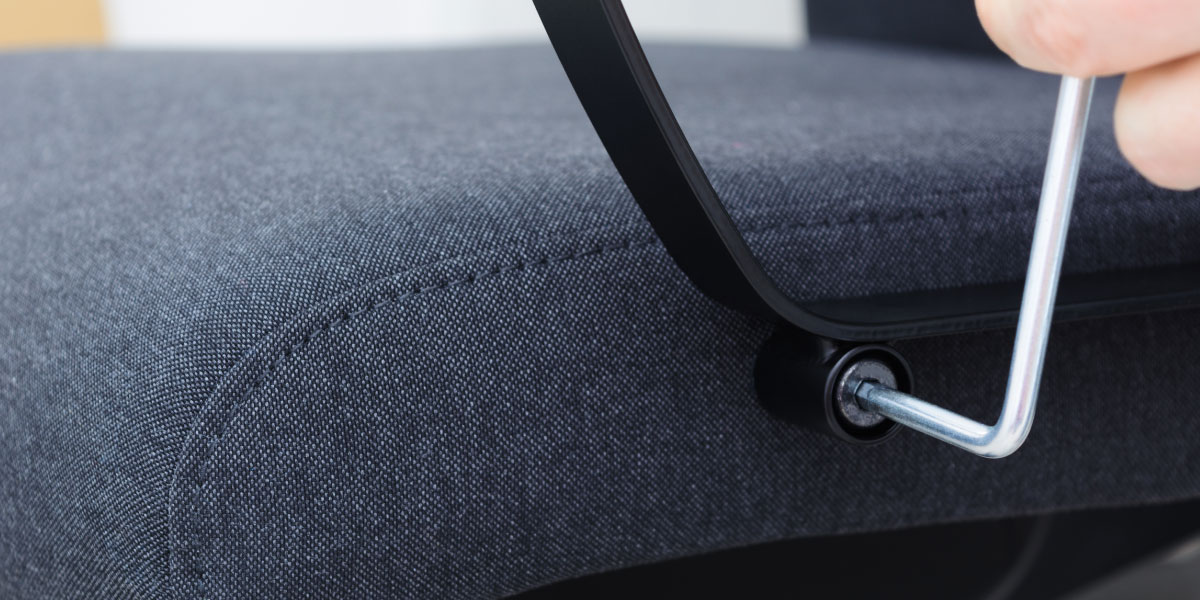 Use a Footrest
In case your chair isn't adjustable or your desk requires you to increase the height of your chair, try a footrest. With a footrest you have to adjust your chair such that you can anchor your feet on it. In case you don't have a footrest at hand, a stack of books or a smaller stool will do. Unless you're using a footrest, try not to store things under the desk you're using. 
Support Your Arms
Having an armrest helps maintain an ergonomic seating position. Armrests are important because they can ease muscle tension. This type of muscle tension increases when your arms have to be held in the air for long intervals. And such tension eventually leads to pain in the shoulders, neck, and back. 
Take Breaks
No matter the equipment and sitting style you adopt, it's important to take breaks from sitting. Apart from increasing your focus, walking around for a short while can help improve blood circulation.  One study, published in the American Journal of Physiology, found that standing up and moving approximately every 30 minutes can help control blood sugar levels, especially for those who sit most of the day. If you want to put parental controls on your computer for your kid to take a break, check out Windows parental controls (Or MacBook parental controls, we're not picking favorites).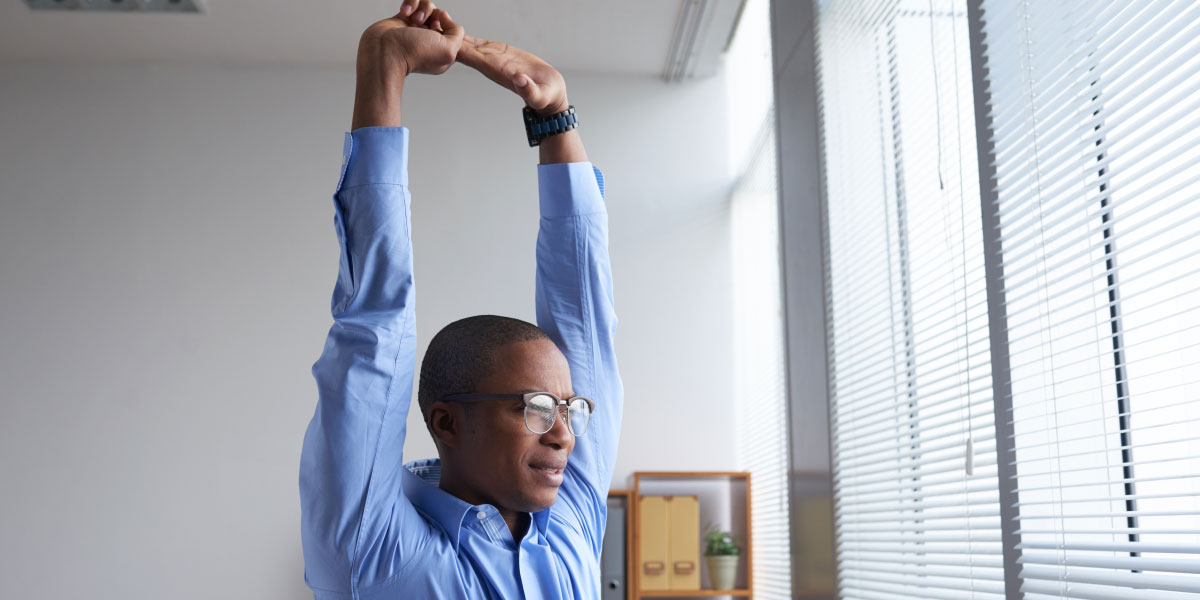 Place Your Monitor at Eye Level
If you're using a monitor, keep it an arm's length away. And the screen should be at eye level or slightly lower. It should be placed such that when you look at the middle of your screen, you're looking slightly downward. If you can, tilt the monitor back 10° to 20° degrees. 
Conclusion
Making sure that you or your child maintain an ergonomic seating position isn't easy. Luckily, with the help of Safes, you can make sure that your child takes breaks often, protecting your child from screen addictions. Safes is available both on Android and iOS. With a parental control app like Safes, you can make sure of your child's digital and practical wellbeing. For more information on Safes, be sure to check out our pricing page.