Besides more well-known streaming services such as Netflix, Hulu, and HBO being available, a lot of countries also have their own streaming services. Disney Plus has made an overarching app named Star to offer local and frequently watched movies and series internationally. Hotstar is one of Star's branches that offers a streaming service mainly in India. As a parent who wants to watch Bollywood series and movies, you might want to use this service without exposing your child to unsuitable content. Therefore, it would be good to learn how to put parental controls on Hotstar. 
It seems that countries obtain a noteworthy benefit from having their own streaming services. I was born and raised in the Netherlands and even in this relatively small country, with only 17 million inhabitants, there is an online streaming service named Videoland. This streaming service only contains original Dutch movies and series, and approximately 6% of the population has a subscription. Now with this in mind, imagine the number of users that can be added to a streaming service when Bollywood content is added to their collection. Bollywood has fans all over the world but is by far the most popular in India. 
It was a smart move by Disney Plus to create Hotstar. They created a streaming service that adds Bollywood (the second largest movie industry in the world), local movies and series to an already well-known content base and made it available for users in India (and the other countries that have access to Hotstar).
Summary  
Hotstar is a streaming service that combines Bollywood, well-known international movies and series with local content in order to create an extensive app. Hotstar is available in India, Indonesia, Malaysia, and Thailand. To prevent exposure to the adult content that Hotstar has, it is possible to set up parental controls in the app. In this blog post, I will help you through setting up parental controls in Hotstar to have a calm state of mind when your child is enjoying Hotstar as much as you do. 
What Is Hotstar?
Hotstar, also known as Disney Plus Hotstar is an Indian online video streaming platform owned by Novi Digital Entertainment Private Limited. This platform is operated by Disney Media and Entertainment Distribution, which are both divisions of The Walt Disney Company. 
Hotstar was first introduced as a streaming service carrying Disney Star's local networks including films, television series, live sports, and original programs. Content from third parties such as HBO and Showtime are featured as well. Disney Star is a brand name that is used in most international countries as a section of Disney Plus. Disney has purchased TV shows and movies to include in Star to attract a more mature audience. Star also offers local content from those countries, along with sports via ESPN. 
The Disney Plus Hotstar service also operates in Indonesia, Malaysia, and Thailand, where it combines the larger Disney Plus library with entertainment content licensed from local and third-party studios.  
Does Hotstar Have Parental Controls?
The short answer is yes, Hotstar does provide parental control features. Nevertheless, the options are a few and might not be very secure. Read on to see how to put parental controls on Hotstar. 
How to Activate Parental Controls on Hotstar
With the broad collection of local and international content Hotstar offers, protecting your child from adult content seems like a logical step to take. Disney Plus Hotstar offers two types of parental controls to protect your child from seeing unsuitable content. 
Profile PIN
By setting up a PIN when entering the Disney Plus Hotstar app, it is possible to add an extra layer of protection. With this PIN your child cannot easily access the app and the displayed content. In order to create a PIN: 
Click on the three lines at the top left of the screen.

 

Open your account, by clicking on your account name.

 

Click on Account Settings.

 

Click on Create Parental Lock.

 

Now you can create a PIN, and click on continue.

 

Confirm your PIN, by repeating the same 4 digits.

 
Kids Safe Mode
By creating a profile for your child and activating Kids Safe mode, an easy-to-navigate interface is created. This interface only features content suitable for viewers of all ages. This prevents your child from watching any unsuitable content. In order to activate this mode: 
Click on the three lines at the top left of the screen.

 

Enable the Kids Safe option in the menu, by clicking on the slider.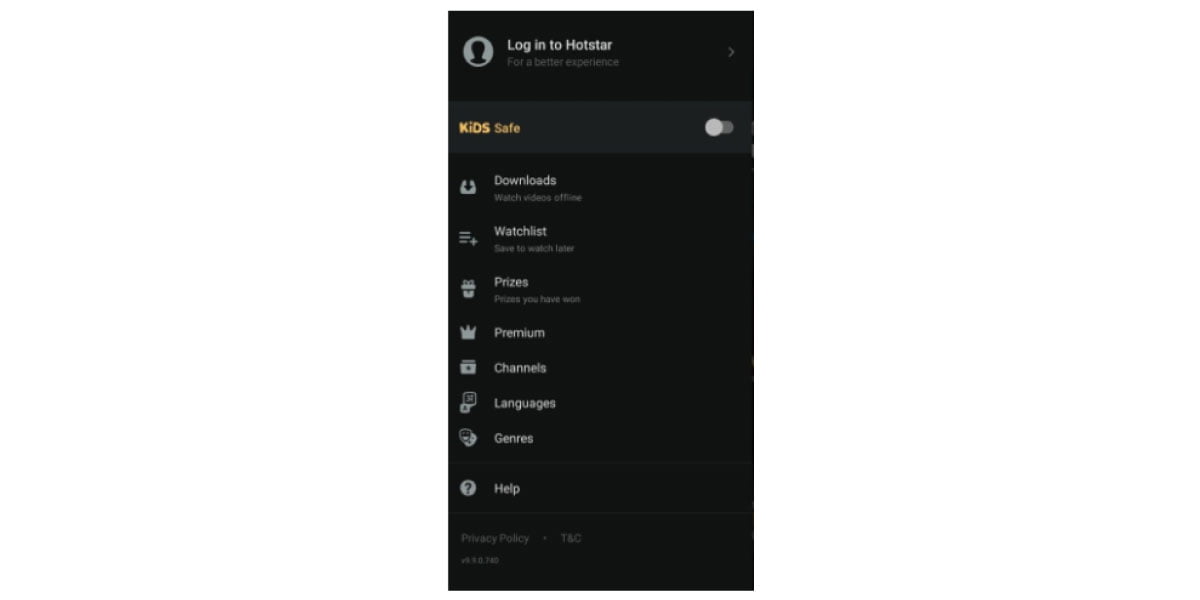 If you have any further questions regarding how to put parental controls on Hotstar, feel free to refer to the website. 
Parental Control with More Options
To conclude, with Hotstar's parental control you can add an extra step to make it a bit more difficult for your child to watch content that is not suitable for his or her age. If you want a more inclusive parental control system, Safes can be a better option. Safes offers a wide variety of services in order to protect your child in different ways on their electronic devices. With Safes, it is possible to: 
Set a certain screen schedule to protect children from excessive screen time.

 

Block applications based on parent's choice or age rating.

 

Manage content to set boundaries for content and communication accessibility on children's devices.

 
Does Hotstar have parental controls?
The short answer is yes. There are two ways via the app to set up parental controls: use a PIN to lock the complete app or turn on Kids Safe to activate a child-friendly interface. To have more extensive control, different parental control apps can be used to block the whole app as well. 
Why is the content on Hotstar's website hidden?
Disney Plus Hotstar is only available in India, Indonesia, Malaysia, and Thailand. If you are in one of these regions, and you are still not able to see the content, it means you are connected to a VPN, proxy, or "unblocking" service. When one of these services is used, your region information is hidden, because Hotstar's content library varies from region to region.
What is Disney Plus Hotstar?
A: Disney Plus Hotstar, also known as Hotstar, is a streaming platform that contains not only local Bollywood content but also international movies and series from more well-known services such as HBO and Showtime.