Hulu is totally blowing up as one of the best streaming services out there, with a ton of awesome shows and movies to choose from. It's practically a must-have for any family looking to watch some quality entertainment together. But hold up, not all the stuff on Hulu is kid-friendly, so you got to make sure you're keeping an eye on what your little one is watching. That's where Hulu parental controls come in handy. In this comprehensive guide, we'll walk you through the process of setting up Hulu parental controls, so you can have peace of mind while enjoying your favorite shows and movies.
Understanding Hulu Parental Controls
Hulu does not have a dedicated parental control feature, but parents can set up individual profiles for each user and adjust the account's age settings to control viewing. Age-based restrictions apply to mature content, with R-rated films or TV-MA shows being unavailable for children under 13.
You can create a child's profile by enabling the Kids feature or entering the child's birthdate and gender. For teen profiles, you need to enter their date of birth, and they can enjoy shows and movies on Hulu with mature content being unavailable.
You can also set up a pin number to prevent access to non-kid profiles on the account. You can create up to six profiles with customized streaming experiences based on age, gender, and interests. Device settings may also apply to parental controls.
Step-by-Step Guide: Setting Up Hulu Parental Controls
Setting up parental controls on Hulu is super easy. We've broken it up into these simple steps:
First of all, if you haven't already created a Hulu account, create one. You can either sign up on their website or download the app on your device (both Android and iOS are available).
After creating your account, it's time to set up profiles for each user (meaning your kid or kids). As we said before, you can make up to six profiles. You'd be able to customize each one based on age, gender, and interests.
To access parental control settings:
Log in to your Hulu account
Go to the "Account" tab
From there, click on "Profile & Parental Controls"
Then select the profile you want to customize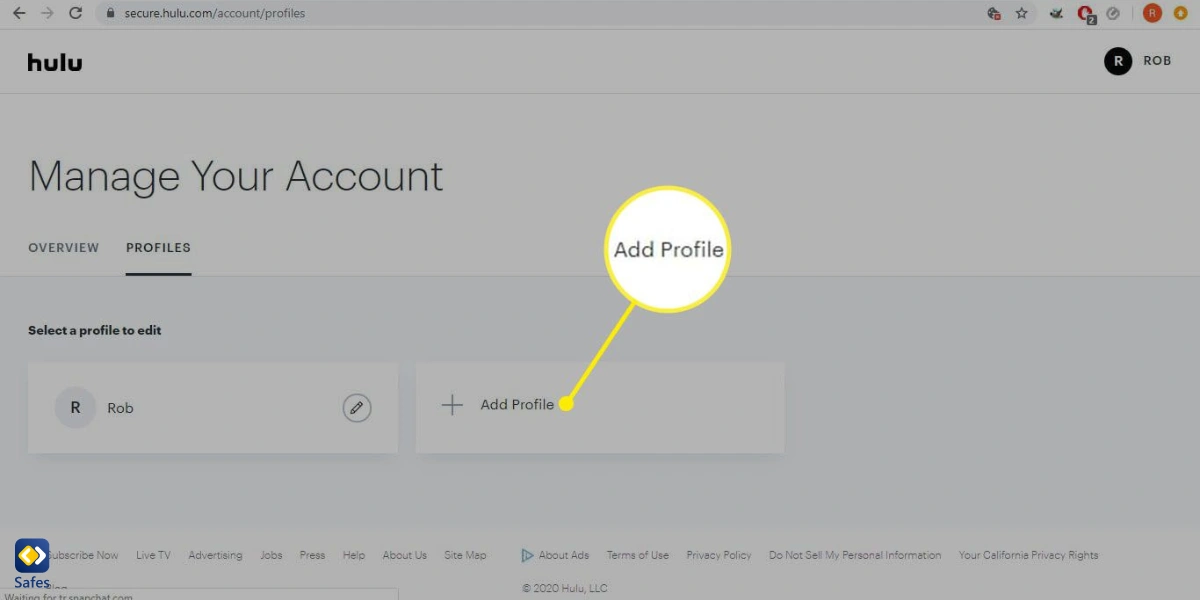 Here, you can adjust content restrictions based on age, choosing from options like "Little Kids," "Older Kids," "Teens," and "Adults." You can also customize content restrictions based on preferences, like blocking shows with violence or language.
It's good to enable PIN protection for mature content. Simply toggle the "Restrict R-rated movies and TV-MA shows" option. Then set a four-digit PIN that will be required to access this content.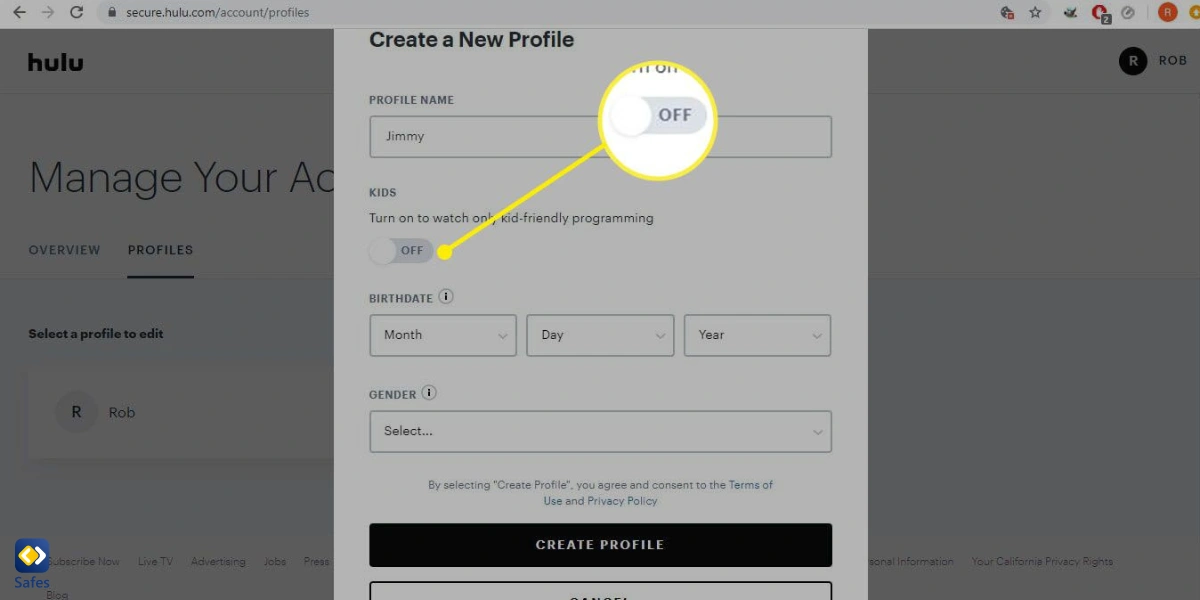 And that's it! With these simple steps, you can rest assured that your kids are only watching age-appropriate content on Hulu.
Additional Tips for Safe Streaming
You may want to monitor and review your child's viewing history on Hulu to make sure they're not watching something which is not appropriate for them. Doing this is easy-peasy. All you need to do is log in to your Hulu account and navigate to the "Watch History" section. From there, you can view a comprehensive list of all the content your child has watched on Hulu.
But if you want to take things up a notch, you can try using third-party parental control apps like Safes to monitor and control your child's access to platforms like Hulu. This app can help you set screen time limits and enforce content restrictions based on age and preferences. The good news is that Safes is Available on all devices using platforms like Android, iOS, Windows, and Mac. So, you can rest assured that your kid is safe from inappropriate content and excessive screen time on whatever device they use. Use the following links to learn about how to put parental control on different devices using Safes:

However, it's important to remember that technology can only do so much. Keeping an open and honest conversation with your kid about responsible media use is just as crucial. Teach them about the importance of balancing screen time with other activities and encourage them to ask questions and share their thoughts and feelings about the content they are consuming.
Troubleshooting and FAQs
Parents tend to have a few common issues and concerns related to Hulu and its parental control settings. Here we've listed some of them along with quick solutions and guidance:
"I don't know how to set up a Hulu account." No worries! Head to the Hulu website and click "Start Your Free Trial." Follow the prompts to create an account and select a subscription plan.
"My kids' profiles are mixed up and they're seeing inappropriate content." To fix this, go to the "Profiles" section of your account settings and make sure each child has their own profile with appropriate age and content restrictions.
"The parental control settings aren't working." Double-check that you have properly saved and applied your settings. If the issue persists, try logging out and logging back in, or contact Hulu support for further assistance.
"My child is still accessing mature content with the PIN protection enabled." Make sure you have set a strong PIN and that your child doesn't know it. If the issue persists, consider using a third-party parental control app like Safes to monitor and restrict your child's access to Hulu.
Remember, setting up parental controls is just one step in promoting responsible media consumption. It's also important to have open conversations with your kids about screen time, appropriate content, and online safety.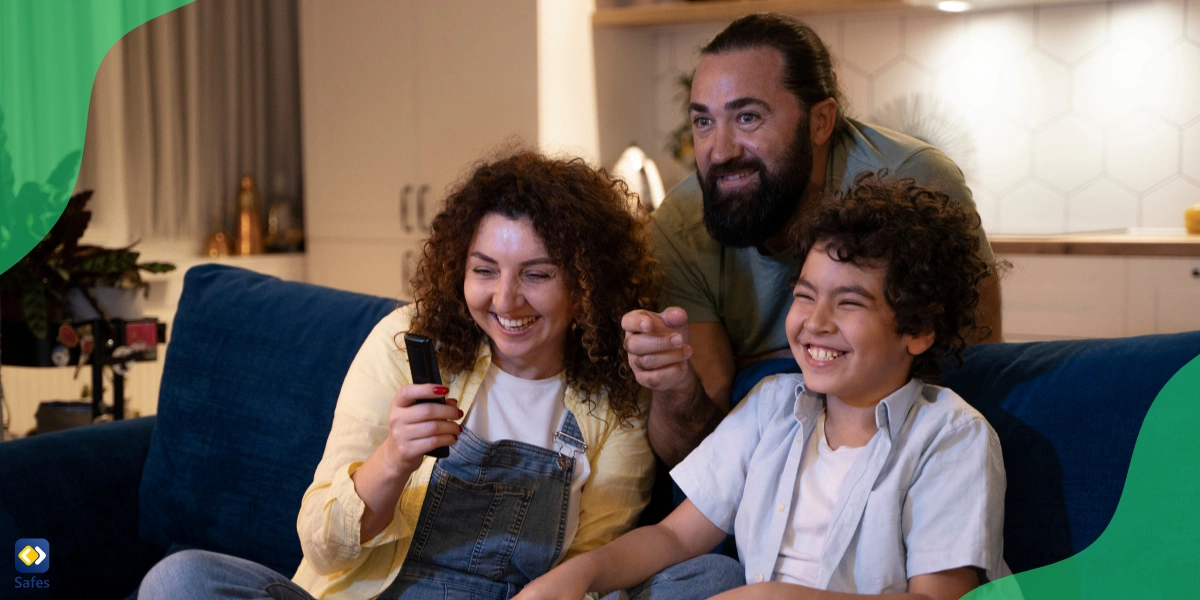 Resources for Further Support and Information
Hulu has a lot of pages on its website with information about using its services and setting up parental controls. It always helps to take a look at them. Here are some helpful links to Hulu's official support resources for parental controls that you may want to check out:
For additional sources on online safety and parental control guidance, we recommend checking out the following resources:
Common Sense Media: A website that offers parents age-appropriate ratings and reviews for movies, TV shows, books, and more. They also offer helpful tips and advice on how to manage your child's media consumption.
SafeSearchKids: A search engine designed specifically for kids that filters out explicit content and provides safe results.
National Online Safety: A UK-based organization that provides online safety guidance and resources for parents, educators, and children.
Hulu Parental Controls: Conclusion
To sum up, Hulu parental controls are an essential tool for parents to ensure that their children have a safe and enjoyable streaming experience. From setting up an account to fixing mixed-up profiles and troubleshooting issues with parental control settings, there are various ways to manage and prevent access to mature content. However, it's important to remember that technology is not foolproof, and having open conversations with kids about responsible media consumption is crucial.
Remember to check out Hulu's official support resources and other online safety and parental control guidance sources like Common Sense Media, SafeSearchKids, and National Online Safety for more information. With Hulu parental controls and responsible media consumption, you can make sure that your kid has a fun and safe time streaming.