Wearable technology has become a norm. Among different options, the Apple Watch has emerged as a popular choice for both adults and children due to its wide range of functions and sleek design. But many parents wonder, "Is the Apple Watch safe to wear?"
In this guide, we'll delve into the safety concerns and advantages of the Apple Watch, with a particular focus on its use by children. We'll explore the device's potential radiation emissions, health and wellness features, and how it can be integrated with parental control apps for a safer user experience.
Safety Concerns and Mitigation
Considering the popularity of Apple Watches among children, many parents have queries about their potential safety and health risks. For example, some parents are concerned about the Apple Watch radiation. So, we'll talk about some of the most common concerns that parents like you have in the following:
Radiation and EMF Emission
Exposure to Electromagnetic Field (EMF) radiation is one of the concerns about wearable devices like the Apple Watch. Like other wireless devices, the Apple Watch uses Bluetooth and Wi-Fi to connect to the internet and other devices, which produces some radiation.
However, according to a study published in the International Journal of Environmental Research and Public Health, the EMF levels emitted by the Apple Watch are much lower than the maximum levels recommended by international guidelines.
To further mitigate exposure, you can teach your child to disable unnecessary wireless connections and avoid wearing the watch while sleeping or during periods of inactivity.
Skin Sensitivity and Allergies
Some users have reported skin sensitivity or allergies due to the materials used in the Apple Watch's band or casing. Apple has addressed these concerns by providing a comprehensive guide on how to wear and take care of the Apple Watch to avoid potential skin issues.
Users with known allergies to certain materials can choose from various alternative bands made from different materials.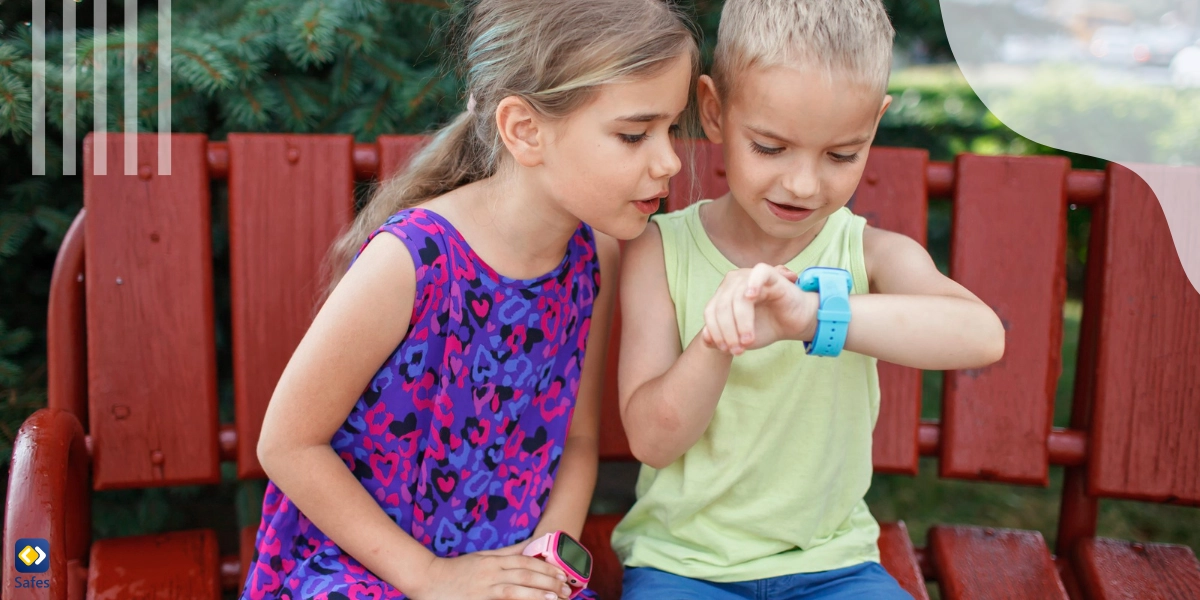 Strangulation Hazard
While the risk is low, there's a potential strangulation hazard if a young child were to wrap the watch's band around their neck. To mitigate this risk, parents should supervise younger children while wearing the watch and remove it during sleep or unsupervised periods.
Privacy and Data Security
The Apple Watch collects a wealth of personal data, from location information to health metrics, which raises valid concerns about data privacy and security. But Apple uses robust security measures to protect user data, including end-to-end encryption and strict policies for app developers.
You can further enhance your child's privacy by adjusting the watch's settings to limit data sharing and disabling unnecessary features.
Health and Wellness Features
In contrast to the safety concerns regarding using Apple Watches by children (which, as you can see, cause negligible harm or can be mitigated by parental involvement), they offer many health benefits. In the following, we'll discuss how an Apple Watch can actually contribute to your child's well-being:
Activity Tracking
One of the standout features of the Apple Watch is its ability to track physical activity. It can effectively measure steps taken, calories burned, and even swimming strokes, encouraging children to adopt a healthier, more active lifestyle.
Heart Rate Monitoring
The watch's heart rate monitor not only tracks heart rate during exercises but also alerts you about unusually high or low heart rates during inactivity. This can be a valuable tool for monitoring your child's heart health.
Fall Detection and Emergency SOS
The Apple Watch's fall detection feature can detect if a user has taken a hard fall, prompting them to alert emergency services. If the user doesn't respond within a specific timeframe, the watch will automatically call for help. This feature could be invaluable in an emergency situation involving a child.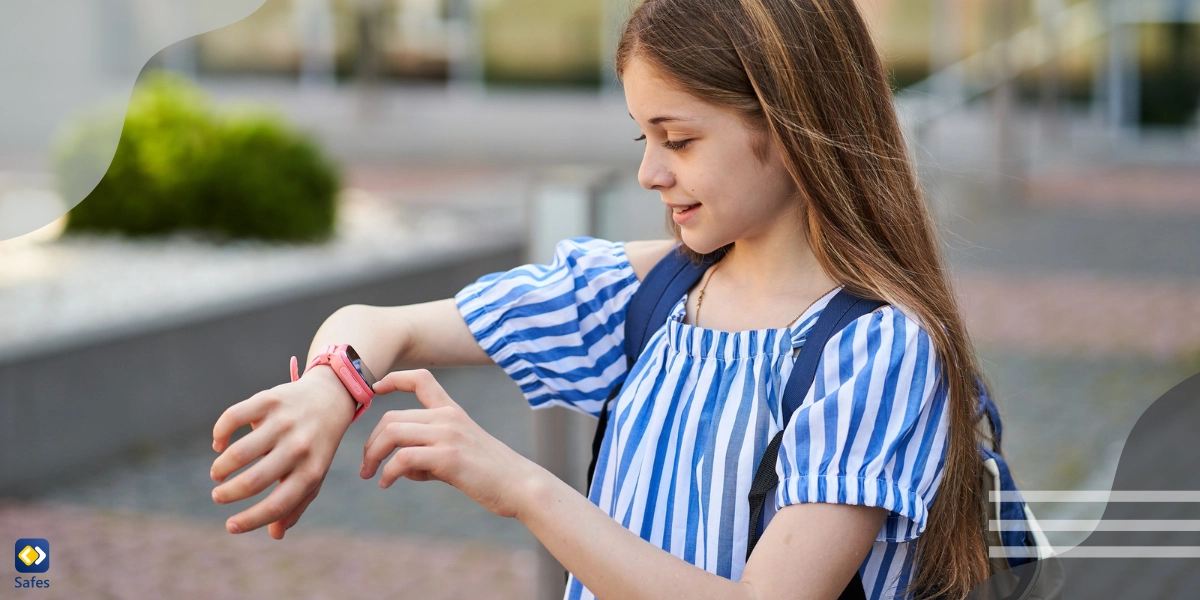 Parental Control App Integration
Apple Watches have built-in parental controls to help parents regulate how their children use their devices. For example, the Apple Watch comes with a screen time monitoring feature, not letting the user spend more than the allowed time at specific times of the day _say at night, before sleep.
Since these watches integrate well with other Apple products, such as iPhones, users can benefit from most of the parental controls and safety features developed specifically for Apple devices. But to further safeguard your child while they're using their Apple Watch (or iPhone or any other Apple product), you can integrate them with a third-party parental control app such as Safes.
Using Safes as a Complementary Digital Safety Solution
The Apple Watch's features can be further enhanced by integrating a parental control app like Safes. This app allows parents to manage screen time, block inappropriate content, and even track their child's location. Learn more about how Safes can complement Apple's features in this blog post: Parental Controls on iPhone & iPad: A Step-by-Step Guide

Safes works fine with all iOS, Android, Windows, and Mac devices. You can download it from App Store or Google Play. To learn how to use Safes to set parental controls on different platforms, use the following links:
Educating Children about Responsible Use
Despite the parental controls and safety features of the Apple Watch, it's still imperative to teach your child how to use their devices safely and responsibly. Reading 13 Online Etiquette Rules Every Parent Should Teach Their Child is a must for every parent. Make sure you teach these principles to your child.
Setting Family Rules and Guidelines
Online child safety also involves setting rules at home. To avoid the consequences of excessive screen time, you need to limit your child's daily screen time and provide alternative screen-less activities for them. Again, the Safes parental control app can be an efficient tool for managing your child's screen time at home.
Final Words: Is It Safe to Wear Apple Watch 24/7?
While there are legitimate concerns about the safety of wearing an Apple Watch, especially for children, you can mitigate many of these risks by teaching your child the proper usage and settings adjustment. Furthermore, when paired with the numerous health and safety features the watch offers, as well as the added security of a parental control app, the answer to the question, "Is Apple Watch safe to wear?" tends to lean towards a yes.
The decision ultimately comes down to individual needs and circumstances. You should weigh the pros and cons carefully and consider your child's age, maturity, and responsibility level. Regardless of the decision, educating your child about the responsible use of technology will always be critical in this digital age.
If you decide to introduce an Apple Watch into your child's life, consider enhancing its capabilities with the Safes parental control app. This tool can provide additional protection and control, ensuring that your child's digital experiences are safe and enriching.
Are Apple watches bad for health or bad for you? No, actually, with proper usage, understanding, and protective measures, the Apple Watch can be a beneficial tool in promoting a healthy, active, and safe lifestyle for your child.