In this tech-centric era, the security of our kids, both offline and online, is vital. A key ingredient in this security recipe involves establishing and handling emergency contacts on their mobile phones. These contacts act as lifeboats, providing swift help and support when the unexpected happens. Whether it's a health crisis, a dangerous scenario, or just a call for advice, possessing the appropriate emergency contacts can be a game-changer.
Selecting Appropriate Emergency Contacts
When selecting emergency contacts for your child's phone, choosing individuals who can be relied upon in times of need is essential. These contacts should be trustworthy, readily available, and capable of assisting. Here are a few factors to consider when selecting emergency contacts:
Parents or Guardians: The first and most crucial emergency contacts should be the child's parents or legal guardians.
Close Relatives: Other close relatives, such as grandparents, aunts, uncles, or older siblings, can also be reliable emergency contacts. Ensure these individuals know their role and are easily reachable when needed.
Neighborhood Contacts: Having a trusted neighbor or nearby friend listed as an emergency contact can be helpful. When parents or guardians are unreachable, these individuals can provide immediate assistance or act as temporary guardians.
Healthcare Providers: Include the contact information of the child's primary healthcare provider, pediatrician, and any specialists they may be seeing. This information is crucial in case of medical emergencies or the need for medical advice.
School or Daycare Contacts: If your child is attending school or daycare, having the contact information of their teachers or caregivers is essential. These individuals are familiar with your child and can provide valuable assistance during emergencies in their care.
Step-by-Step Guide to Setting Up Emergency Contacts on Android and iPhone
Setting up emergency contacts on your child's Android or iPhone is a straightforward process. Here's a step-by-step guide to help you through the process:
Setting Up Emergency Contacts on Android
Set up Android emergency contact by following these steps:
Open Contacts: Open the Contacts app on your Android device.
Select Contact: Choose the contact you want to designate as an emergency contact.
Edit Contact: Tap the contact's name or information to edit their details.
Add Emergency Label: Scroll down to the "Add another field" option and select it. Then, choose the "Emergency" option.
Enter Emergency Number: Enter the emergency contact's phone number in the designated field.
Save Contact: Save the contact by tapping the "Save" button.
Related Articles: 
Setting Up Emergency Contacts on iPhone
Here's how to set up emergency contact on iPhone:
Open Health App: Open the Health app on your iPhone.
Tap Medical ID: Tap on the "Medical ID" tab at the screen's bottom right corner.
Edit Medical ID: Tap on the "Edit" button at the screen's top right corner.
Add Emergency Contact: Scroll down to the "Emergency Contacts" section and tap the green "+" button to add a new contact.
Select Contact: Choose the contact you want to designate as an emergency contact from your existing contacts or add a new contact.
Assign Relationship: Assign a relationship to the emergency contact (e.g., parent, guardian, relative).
Save Medical ID: Tap "Done" to save the changes to your Medical ID.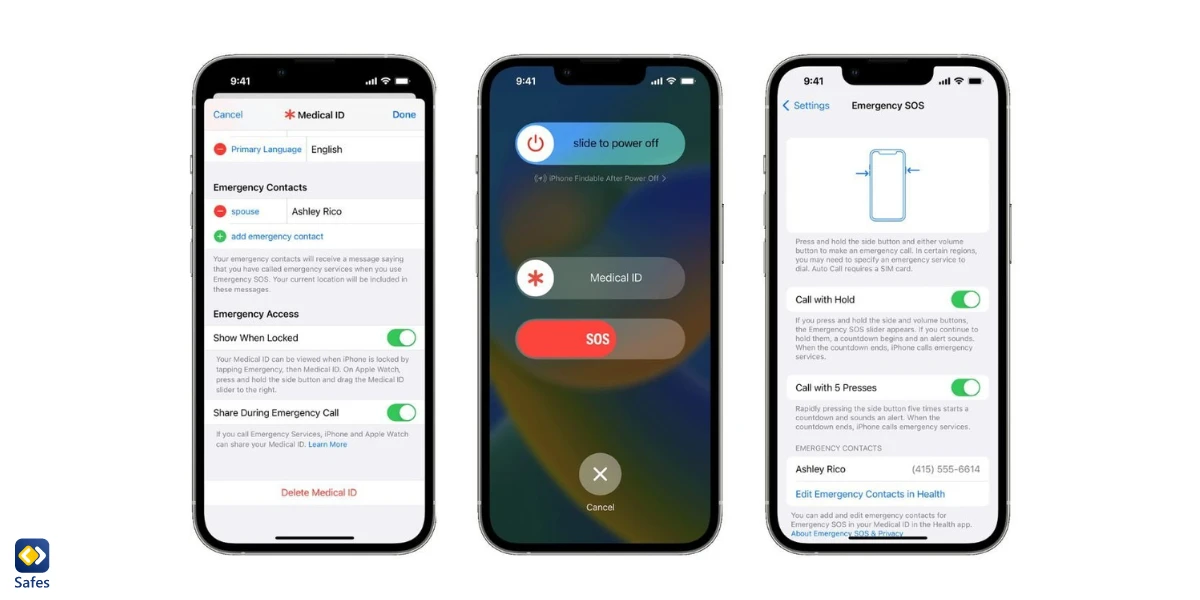 Related Articles: 
Using Parental Control Apps for Emergency Contact Management
Parental control apps can be invaluable tools for managing emergency contacts and ensuring your child's safety in the digital world. One such app is Safes, which provides comprehensive parental control features along with robust emergency contact management.
How Can You Use Safes for Emergency Contact?
Safes parental control app offers a range of features specifically designed to ensure your child's safety. Here's how you can use the Safes app for emergency contact management:
GPS Tracking: Safes provides real-time GPS tracking, allowing you to monitor your child's location at all times. In emergencies, you can quickly locate your child and help them.
Emergency Call Function: The Safes app includes an emergency call feature that enables your child to contact you or other designated emergency contacts with a single tap. This ensures immediate assistance during critical situations.
Emergency SMS Alerts: Safes can send emergency SMS alerts to notify you and other emergency contacts when your child requires assistance. This feature ensures that you are promptly informed of any urgent situations.
Emergency Contact Management: Safes allows you to easily set up and manage emergency contacts within the app. You can add, edit, and update contact information as needed, ensuring that the right individuals are readily accessible during emergencies.
You can install Safes on all Android, iOS, Windows, and Mac devices. If you're interested in learning how to put parental controls on each of these platforms using Safes, follow the links below:
Best Practices for Emergency Contact Setup
While setting up emergency contacts is crucial, it is equally important to follow best practices to ensure the effectiveness of these contacts. Here are a few recommendations to consider:
Regularly Update Contact Information: Keep your emergency contacts up to date by regularly reviewing and updating their information. Phone numbers, addresses, and other details may change over time, so it's essential to ensure accuracy.
Communicate with Emergency Contacts: Establish open lines of communication with your emergency contacts. Inform them of their role, provide any relevant information about your child's needs, and ensure they know how to reach you in case of emergencies.
Educate Your Child: Teach your child the importance of emergency contacts and how to use them. Make sure they understand when and how to reach out for help and provide them with the necessary information to do so.
Create an Emergency Plan: Develop an emergency plan with your child and emergency contacts. Discuss what to do in different scenarios, establish a communication protocol, and identify safe emergency meeting points or locations.
Frequently Asked Questions
We've gathered a compilation of queries and responses to shed more light on the topic we explored. Should you find yourself with additional inquiries, do reach out to us without any reservations. It's always a pleasure to assist you!
How to access emergency contacts on locked phones?
If you have entered your emergency contacts on your phone, you'd be able to call them even when your phone is locked. To do that, you only need to swipe up on your lock screen and select "Emergency call." There, you can also call public emergency numbers such as the police, medical emergency, and fire department.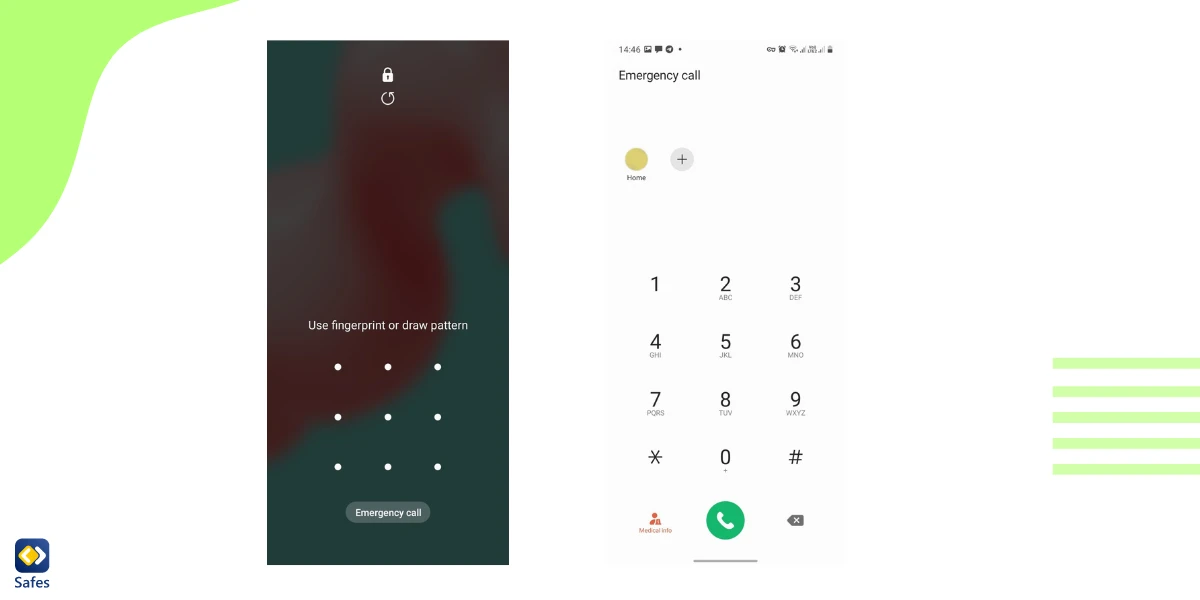 Is it possible to set up emergency contacts on my child's iPhone remotely?
No, you cannot set up emergency contacts on an iPhone remotely. The setup process requires physical access to the device.
Can I integrate Safes with other parental control apps?
Safes is a standalone parental control app that offers comprehensive features for managing your child's safety. While it may not integrate with other parental control apps, it provides a robust solution on its own.
How often should I update emergency contact information?
We at Safes strongly suggest giving your emergency contact details a good once-over at least every half-year. If there's a major shift in your contact's info, though, don't wait; make those changes right away. Your safety and peace of mind are our top priority!
Final Words on the Importance of Emergency Contact
Always keep in mind your little one's safety is an ongoing mission, and dependable emergency contacts are essential to that journey. By choosing the right contacts, configuring them on smartphones, and leveraging child safety apps like Safes, you're adding an additional shield of security and peace for your kid's well-being. Keep ahead of the game, stay enlightened, and ensure your emergency contact details are current.