Calculating BMI for kids is one of the ways to assess your child's health. BMI is not a definitive measure of health, but it can be an index providing valuable insights about your child's growth pattern and potential health risks. In the following, we'll talk about how to calculate and interpret your child's BMI and suggest strategies to build healthy habits in them. 
Calculating BMI for Kids?
BMI (Body Mass Index) can determine whether your child is: 
Underweight

 

At a healthy weight

 

Overweight

 

Obese

 
You can calculate your BMI by dividing your weight in kilograms by the square of your height in meters. However, this calculation becomes a little more complex for children and teenagers. 
Unlike adults, a child's BMI calculation considers their age and gender because as children grow, their body's proportion of fat to muscle changes, and it also differs between boys and girls. So, for children, it's not just about the raw BMI number but how it compares to other children of the same age and gender. It is often referred to as BMI-for-age or BMI percentile. 
A BMI calculator for children can quickly assess your child's BMI. However, while a BMI calculator can offer a general guideline, it should not replace regular check-ups and consultations with a healthcare professional. 
BMI Calculation Tools
Use the tool below to calculate BMI for ages 2 to 19. To calculate BMI for babies under 2, we suggest using the tool on the Omni Calculator website. 
Start by entering your child's age, weight, height, and sex. Then click the "Calculate" button to get a BMI percentile and a detailed healthy BMI chart for kids. The next step is to plot the percentile on the BMI chart. 
Understanding the BMI Chart for Kids
The BMI chart for children contains curves representing the 5th, 25th, 50th, 75th, 85th, 95th, and 97th percentiles. These curves help in understanding what percentile your child falls under. 
Underweight:

Below the 5th percentile

 

Healthy weight:

5th percentile to less than the 85th percentile

 

Overweight:

85th to less than the 95th percentile

 

Obese:

Equal to or greater than the 95th percentile

 
The Relevance and Limitations of BMI for Kids
BMI for kids serves as a screening tool to identify potential weight problems in children. Children who have a high BMI for their age and sex are more likely to have excessive body fat. Also, a high BMI could mean your child is at risk of health conditions such as heart disease, diabetes, and even some cancers later in life. 
Bear in mind that BMI has its limitations. One of its main drawbacks is that it doesn't differentiate between muscle and fat. It also doesn't consider the varying rates at which children grow. Some children may gain weight before they hit a growth spurt, temporarily raising their BMI. As a result, while BMI can be a good starting point, it should not be a diagnostic tool. When assessing your child's health, You must also consider factors like diet, physical activity, and family health history.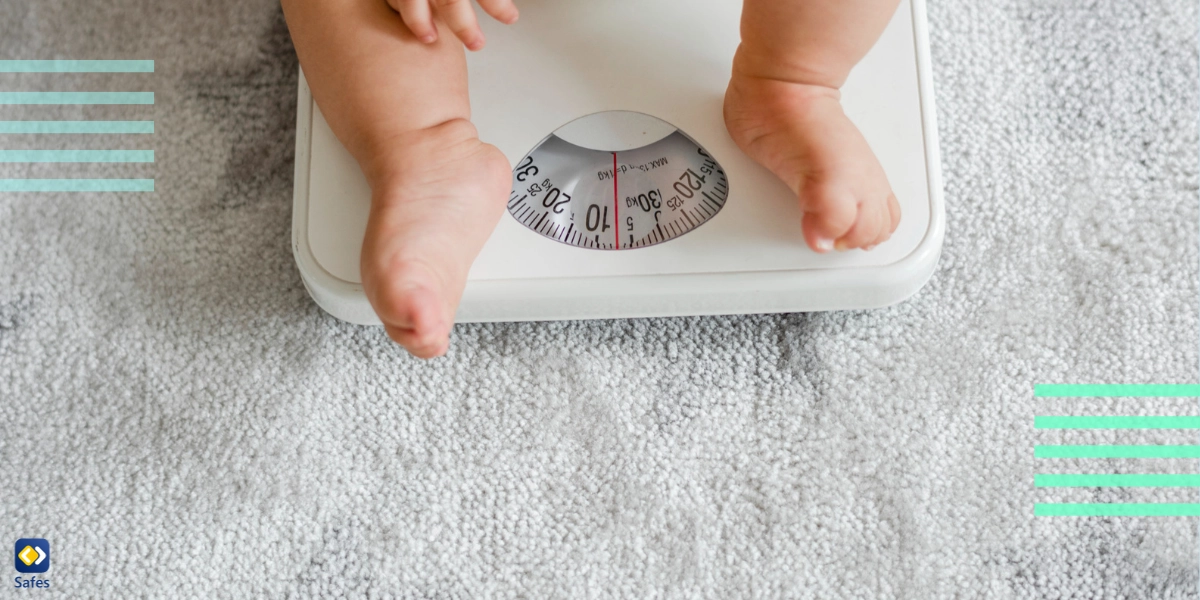 Addressing Weight Concerns
If your child's BMI falls outside the healthy range, you should approach the topic sensitively. 
Encourage open discussions about health and well-being

 

Avoid focusing solely on weight or body size

 

Promote

positive body i

mage and self-esteem

 

Ensure your child understands that everyone has different body shapes and sizes and that health, not appearance, matters

 
Promoting Healthy Habits
Assisting your child in preserving a healthy weight calls for nurturing positive habits early on. Let's explore some friendly advice: 
Healthy Eating: Make sure your child's diet is balanced with diverse proportions of fruits, vegetables, lean proteins, and whole grains. Try to keep their intake of sugar, salt, and unhealthy fats to a minimum. 
Physical Activity: Gently nudge your little one toward incorporating at least sixty minutes of physical exercise into your daily routine. It could be as varied as engaging in a sport, pedaling a bicycle, swaying to the rhythm of music, or playing in the park. 
Limit Screen Time: Set limits on the amount of time spent watching TV or playing video games. Encourage outdoor play and other non-screen activities. 
Enough Sleep: Ensure your child receives the suggested amount of sleep appropriate for their age. A restful night's sleep is crucial for their growth and well-being. 
Positive Environment: Create a positive environment at home where healthy habits are the norm. This includes having regular family meals, keeping healthy foods in the house, and being a role model with your own habits. 
The Role of Technology
Technology can play a constructive role in supporting healthy habits. Parental control apps like Safes can help monitor screen time, encourage physical activity, and even provide educational resources about nutrition. These digital tools can empower you to guide your child toward a healthier lifestyle while encouraging open communication and understanding. 
Download Safes from our website AppStore or Google Play and start your free or premium plan today. Also, make sure to read the pages linked below to learn about how to set parental controls on different platforms: 
Conclusion: BMI for Kids
Understanding BMI for kids is an essential part of monitoring their growth and development. However, it's just one comprehensive tool to ensure their overall health and well-being. By promoting balanced nutrition, regular physical activity, and a positive body image, we can set our children on a healthy and happy adulthood.