Skype is one of the most popular platforms for video and voice calls. It is also very popular among children. They use it to connect with friends and family or keep up with their classmates and teachers on their schoolwork. However, the question that might be lingering in your mind is, "Is Skype safe for our kids?" As parents, it's our responsibility to ensure our children's safety, especially when they're online. So, in this comprehensive guide, we'll talk about the safety of Skype and the importance of evaluating online platforms to ensure your kid is protected in the online world.
Privacy and Security Features of Skype
Skype has several privacy settings and options to help keep users safe. For instance, you can control who may contact you, block unwanted contacts, and choose who may see your online status. Also, Skype uses end-to-end encryption for messaging and calls, which means only the sender and recipient can read or hear what is being communicated. But these settings do not count as parental controls because your child can change them any time they want, and you can't protect these settings with a password.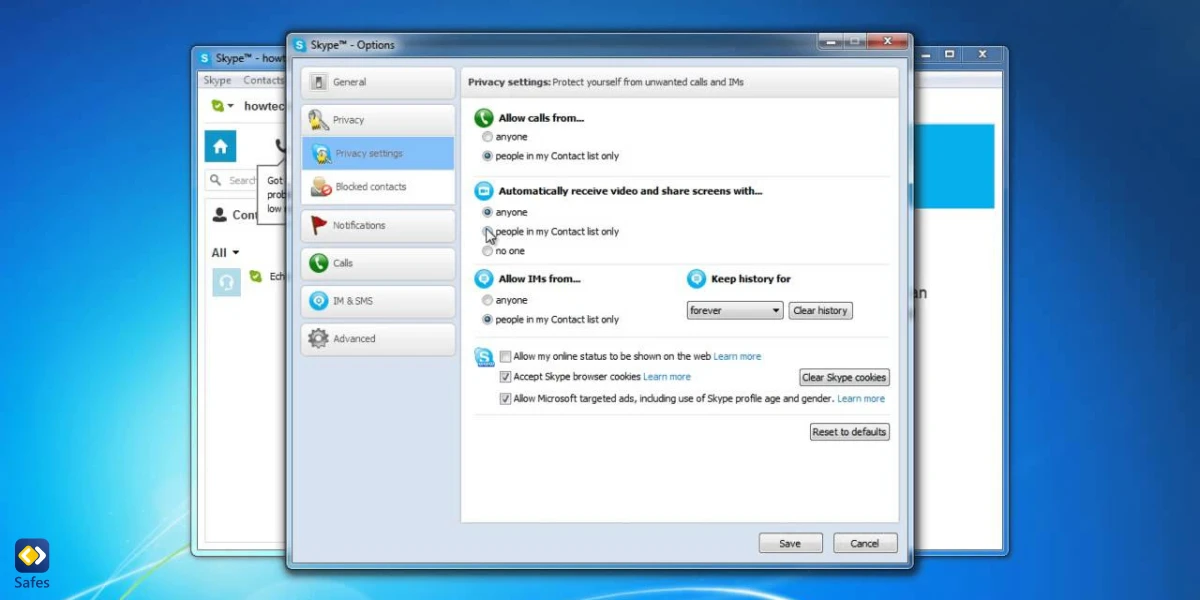 Risks and Challenges
Despite Skype's user privacy settings, there are still some safety concerns to be aware of, such as potential hacking and phishing attempts, cyberbullying and harassment prevention, stranger danger and online predators, and inappropriate content. In the following, we'll go into detail about these risks and challenges.
Hacking and Phishing Attempts
One way hackers can access your important personal data, such as your credit card details or your passwords, is through phishing attempts via scams. Scams are messages sent usually by strangers to lure you into divulging your critical information—also known as phishing. Scammers sometimes send messages for reasons other than stealing data. Sometimes they advertise fake products or trick you into giving them money for a service you'd never receive. If you wish to learn more about scams and how to protect yourself against them, read our blog post "Don't Get Scammed on Social Media: How to Keep Your Kids Safe."
Cyberbullying and Harassment
Cyberbullying and harassment are serious issues that can have long-lasting effects on a child's mental health. (Irene Kwan et al. 2020; Published by Mary Ann Liebert, Inc.) To prevent cyberbullying, you can talk to your child about online etiquette and encourage them to report any bullying incidents. It is also important to monitor your child's online activity and stay involved in their social media interactions.
Stranger Danger and Online Predators
People can easily contact each other on Skype using their Skype ID. You never know if a stranger with wrong intentions might contact your child. So, it's important to teach your kid about the potential dangers of the internet and to never disclose personal information or meet someone they have only met online.
Inappropriate Content
Inappropriate content can be found on websites, social media platforms, and even in messaging apps like Skype. People can send each other any picture or video they want, even explicit ones. So, it's also important to talk to your child about what types of content are inappropriate and why. Encouraging them to come to you with any concerns or questions they may have can also help prevent exposure to inappropriate content.
Parental Control and Monitoring Options
Going back to Skype's privacy and security options. You can use them to ward off some of the risks we mentioned earlier and keep your kid safe while they use Skype. You can set up Skype parental controls to restrict your child's access to certain features, such as video calls or file sharing. This feature also allows you to block certain contacts or only allow contacts that you have approved.
But again, let's remind you that these settings do not count as parental controls because the person who uses the Skype account (meaning your child) can change the settings anytime they want. It's important to be aware of the Skype age limit. Skype requires users to be at least 13 years old to create an account. But when they do make an account, it's their own responsibility to manage it. It's up to you as a parent to decide if your child is mature enough to use the platform responsibly. Make sure to have a conversation with them about appropriate behavior and usage guidelines.
Depending on your child's age and level of maturity, you may want to consider monitoring their Skype activity. While you can do that by checking your child's devices and account, perhaps a better solution is using parental control apps like Safes, which can help you monitor and control your child's internet and device use without needing to touch their devices. We'll tell you more about them later in this article.
How Do I Make Skype Safe for Kids?
If your kid is using Skype to stay in touch with friends, family, and classmates, you might wonder how to keep them safe while online. With the rise of cyberbullying, harassment, and inappropriate content, taking precautions to ensure your child's safety is essential. Here, we'll share some more tips on how to help your kid use Skype safely.
Establish communication guidelines: Establishing communication guidelines with your kid is essential for safe Skype usage. You should have an honest and open discussion with your child about what kind of conversations are appropriate for Skype and establish guidelines for when and how long your kid can use the app.
Have an open dialogue about online safety: Encouraging open dialogue about online protection is crucial for building trust between parents and children. You should encourage your kid to share their experiences on Skype, including any concerns or issues they encounter, which can help you identify potential problems and address them before they escalate.
Teach responsible online behavior: Teaching kids about responsible online behavior is another important aspect of safe Skype usage. You should educate your child on how to use Skype responsibly, such as not sharing personal information with strangers, not engaging in inappropriate conversations, and reporting any suspicious behavior to a trusted adult.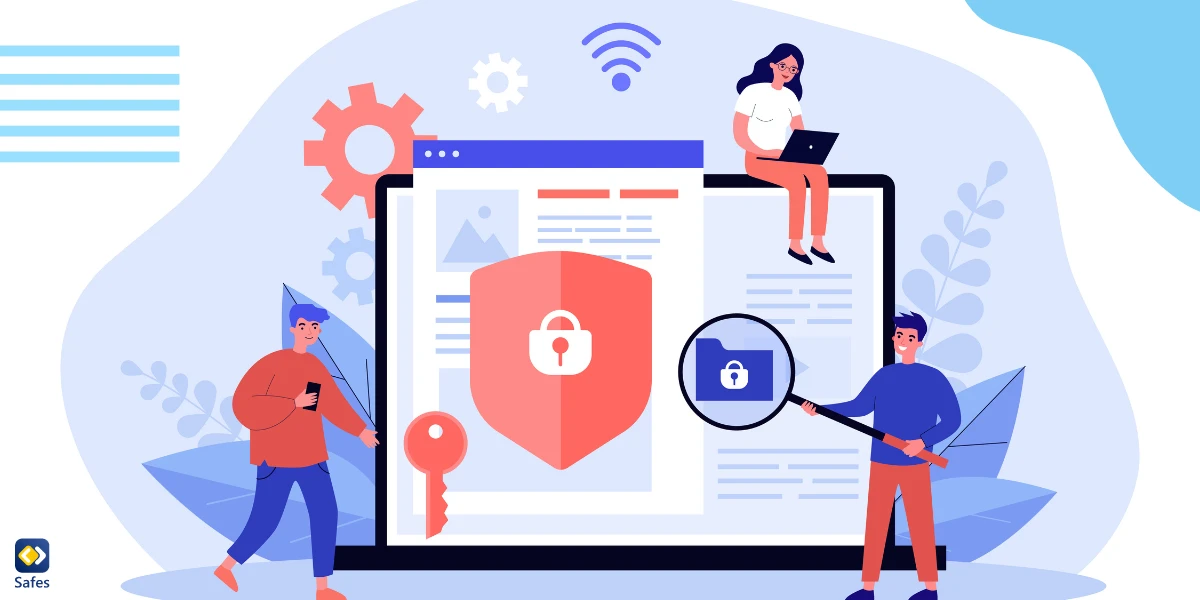 Alternatives and Additional Safety Measures
So, we've talked about establishing communication guidelines with kids and encouraging open dialogue about online safety. However, another excellent tip for keeping your little one safe on the internet is using alternative kid-friendly communication platforms. You can use a dedicated messaging app for children or set up a private family group on social media.
It's also essential to educate children about online safety beyond Skype, which means talking to them about responsible online behavior, like not sharing personal information or communicating with strangers online.
How Can Safes Protect Your Kid Against Inappropriate Apps?
If you want to keep your child safe while using technology, the Safes parental control app might be just what you need. This app can help protect your kid against inappropriate apps by blocking them on their Android, iOS, Windows, and Mac devices.
With Safes, you'll be alerted when your child tries to install a new app or visit an inappropriate website, so you can take action and protect them from potential harm. Safes also offers additional features to help keep your child safe, such as setting time limits and monitoring their online activity.
Give it a try and see how it can help you protect your kid online. Use the following links to learn how to put parental controls on different devices using Safes:
Conclusion: Is Skype Safe?
To put it in a nutshell, Skype is a fabulous app to keep your kid connected to friends and family, and even classmates and teachers for schoolwork. But, like many messaging apps out there, it comes with certain risks. You can help your kid avoid these risks by teaching them proper behavior on the internet and asking them to come to you anytime they stumble upon inappropriate or suspicious messages. Depending on your child's age and maturity, you may also need to monitor their activity on Skype and on the internet in general. If your kid is below 13 or you find Skype inappropriate for any reason, you can block it on your child's devices using the Safes parental control app. With Safes, you can also monitor and control the amount of time your child spends on different apps, including Skype.