SoundCloud, a renowned audio streaming platform, has captured the hearts of millions worldwide with its extensive music library and user-friendly interface. However, as parents, you might ask: is SoundCloud safe for my child? This guide aims to answer this question and provide an in-depth understanding of the platform, its potential risks, and how to establish safe listening habits for your child.
A Brief Introduction to SoundCloud
SoundCloud is a leading digital music service that lets users stream various audio content, including music, podcasts, and more. The platform is mainly known for its user-generated content, where aspiring musicians and podcasters can upload and share their work with the world.
User-generated Content: A Double-edged Sword
The beauty of SoundCloud lies in its diversity of content. However, this feature also presents potential risks. Since anyone can upload audio content, there's always a chance that your child may stumble upon inappropriate or offensive material.
Potential Risks on SoundCloud
You should understand the potential risks associated with SoundCloud to ensure your child's online safety. Here are a few areas of concern:
Explicit Content: Some tracks may contain explicit language or mature themes unsuitable for children.
Privacy Issues: The platform collects personal data, such as names and listening history, to enhance the user experience. However, they don't share it with third parties.
Security Risks: As with any online service, there's always a risk of malware or unauthorized access to personal data.
Safety Measures: Tips for Safe Listening Habits
To ensure your child's safety on SoundCloud, consider the following tips:
Monitor Content: Regularly check your child's listening history to ensure they're consuming age-appropriate content.
Teach Internet Safety: Discuss the importance of online safety, the risks of sharing personal information, and ways to protect themselves.
Review Privacy Settings: Go through the privacy settings with your child. Make sure they understand each option and its implications.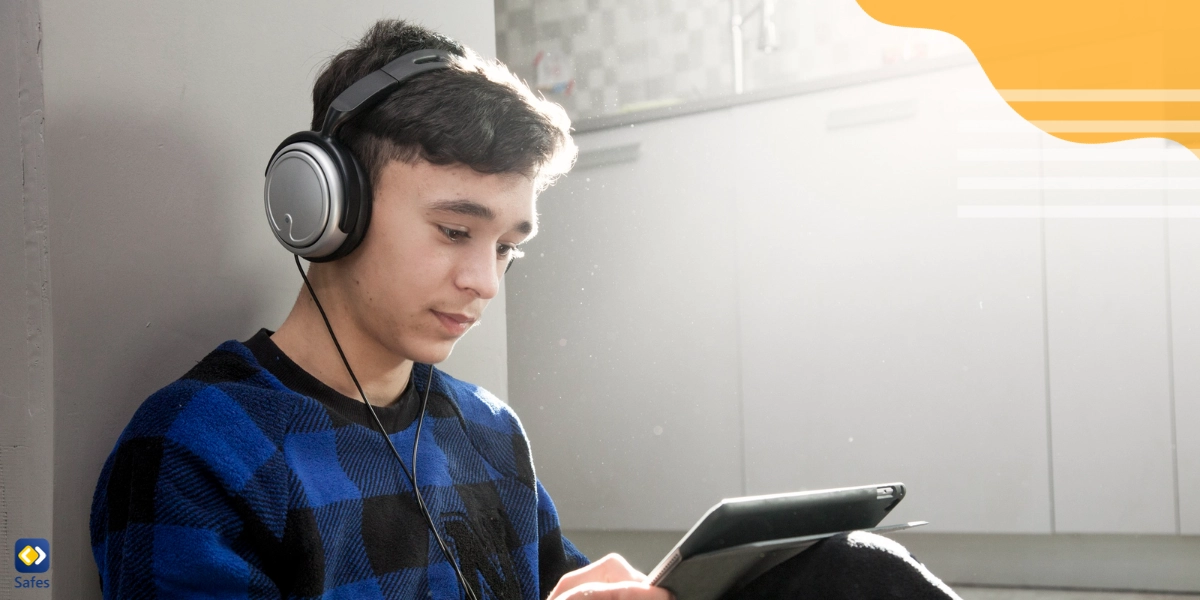 What Safety Options Does SoundCloud Offer?
SoundCloud offers various options to protect your child's safety and privacy while using their services. These options range from limiting underaged children accessing the platform to limiting interactions and protecting users' private data.
SoundCloud Age Limit and Parental Control Options
SoundCloud's Terms of Use state that users must be at least 13 years old. However, note that, like many other online platforms, SoundCloud has no procedure for verifying users' age. If you have a child who is younger than 13, you can make sure they don't have access to SoundCloud by installing a parental control app such as Safes on their devices. We'll discuss parental control apps later in this blog.
Privacy Settings on SoundCloud
SoundCloud provides users with various privacy settings. Users can decide who can see their activity, what information is visible on their profile, and whether they want to allow comments on their tracks.
Reporting and Blocking on SoundCloud
If your child encounters any inappropriate content or users, they can report it to SoundCloud directly. Blocking a user is also possible, preventing them from interacting with your child's content.
Parental Control with Safes App
The Safes parental control app offers a convenient solution for you to manage your child's digital usage. With Safes, you can set time limits, block certain apps, and even receive alerts about your child's online activity.
One of the ways you can use Safes is to restrict your child from accessing age-inappropriate or harmful apps and websites. For example, if your child is not 13 yet (or maybe they are, but still, you don't consider SoundCloud to be safe for them), you can block the SoundCloud app and website on all of their devices, including their phone, tablet, and computer using a single safety app: Safes!
If you're interested in trying Safes for your child's safety, feel free to download it from our website, Google Play, or App Store. Safes offers both free and paid platforms for all needs and budgets.
Final Verdict: Is SoundCloud Safe?
It's important to acknowledge the potential risks associated with SoundCloud, such as the risk of encountering explicit tracks, interaction with strangers, and privacy breaches. But it also offers a world of music and creativity for your child to explore. It's crucial to make sure your child is mature enough to use the platform and understands how to keep away from harmful content and safety risks. We suggest reading "13 Online Etiquette Rules Every Parent Should Teach Their Child," which presents you with all you need to teach your child to stay safe on any online platform. With your guidance and safety measures in place, your child can safely enjoy what SoundCloud has to offer.