In the modern day, online dating has become increasingly popular among adults. As a result, online dating apps, such as Tinder, have been created to make it easier for them to find their ideal partner over the internet. Even though adults have been the primary target audience of this app, teenagers have also been using it in recent years. This can raise concern among parents about the safety of Tinder. As a parent, it's important to ask yourself this question: "Is Tinder safe for teenagers?" In this Blog post, we'll try to answer your questions around Tinder's safety and raise awareness on its potential risks and dangers.
Understanding Tinder
Tinder is a location-based online dating app. Users are shown several random profile pictures and brief bios of potential matches based on which they can decide to connect or pass by swiping right or left. If both sides agree to connect, they will be redirected to a page where they can chat and decide to go on a date.
How old do you have to be to use Tinder? Tinder is intended for adults aged 18 and above and verifies users' age when an account is being created. However, its terms of service are not that hard to bypass. Teenagers can still make an account on Tinder by entering the wrong age. They can also sign up for the app using a false Facebook account, which can make it hard for Tinder to verify their age.
Although Tinder has been created to facilitate the dating process and match potential partners, it might not be the best option for children and teenagers. The simplest reason is that the child who's using Tinder might not be old enough to date in the first place. But this doesn't simply end here. By going on Tinder, children and teens may be at risk of exposure to explicit content, online predators, and cyberbullying. In addition, they may also be targeted by scams, such as fake profiles or fraudulent requests for money. Needless to say, being in such an adult atmosphere can entice them to engage in risky sexual behavior.
Safety Concerns
Let's be honest: lots of bad stuff can happen to a child who uses Tinder. The person on the other side of the app could be anybody, and there's no way to figure that out. Also, a teenager's mental capacity is not as developed as that of an adult; so, it's not that hard to imagine that they might make not-so-wise choices. A sexual predator may use a fake profile to gain their trust and lure them into dangerous situations, such as meeting in person or sharing personal information or explicit photos.
On the other hand, using Tinder can increase the risk of being exposed to inappropriate content, such as sexually charged texts or images. Not being yet ready to receive such information, they can become psychologically distressed and traumatized.
Another risk associated with teenagers using Tinder is cyberbullying. Users can easily send hurtful or threatening messages to them, leading to depression, anxiety, a negative self-image, and other mental health issues.
Age verification is a process that apps and websites use to confirm their users' age. This process is strict and hard-to-bypass in some apps. However, it's easy for tech-savvy teens to get around the age verification process on platforms like Tinder simply by lying about their age or using a fake Facebook account.
Parental Control Measures
There are several practical steps that parents can take to protect their children from accessing Tinder. It might seem like a no-brainer, but the first step is to have an open and honest conversation with your child. By having regular conversations with your child about why certain restrictions are being implemented instead of just enforcing them, children can understand the whole situation better. Therefore, the chances of them hiding things from you online decrease significantly, because they'll know that they can trust you.
The next step is to establish guidelines for online behavior. Be clear about what is and is not appropriate for your child when they're online. Let them know about these rules and the consequences of not respecting them. By educating them on digital citizenship, they will be able to navigate the digital world more safely. Read more on: Social Media Safety Tips for Students.
While all the communication and the talking may be the primary step toward online safety, it might not always be enough. You may need a stronger tool that can help you ensure your child is not engaging in risky online behavior. That's where parental control apps come in. By installing a parental control app – one like Safes to be more specific – you can monitor and manage your child's online activities, set restrictions on app downloads and usage, and block inappropriate content. You can also set restrictions for screen time and make sure that they're not constantly glued to their phones. Safes can be downloaded on both Android and iOS devices. Also, to get down to the nitty-gritty of using Safes on your personal computer, refer to our page Windows parental controls.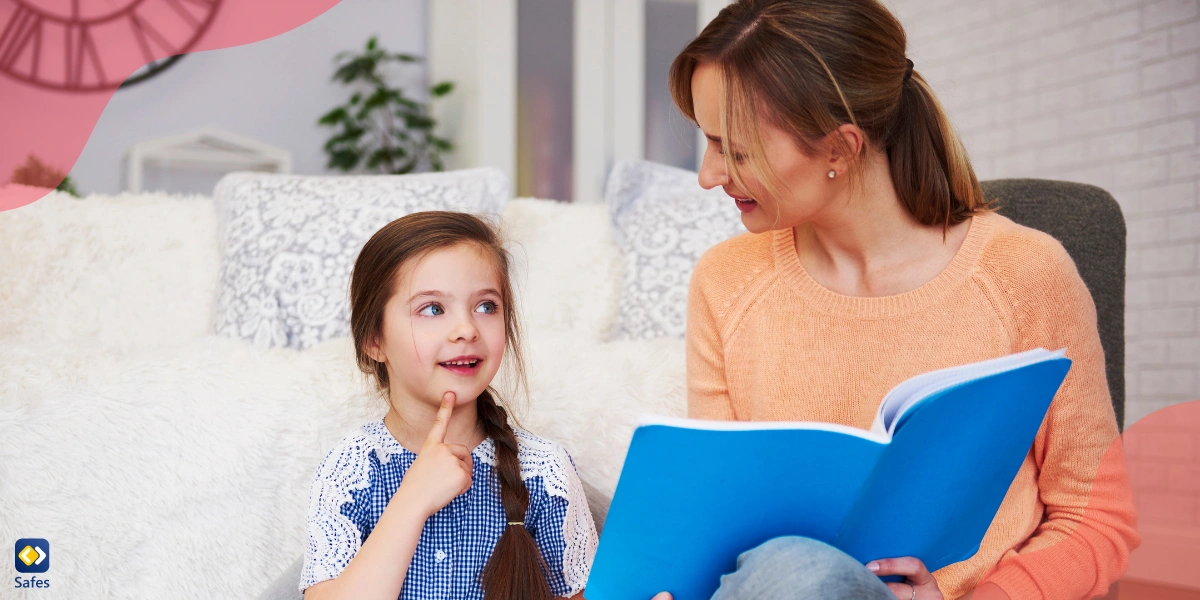 Educating Children and Teens
We've already said it in the previous section, but this can't be emphasized enough: Education is key to protecting children and teens from the many dangers of online dating! A child must learn how to protect their personal data on the internet and be cautious when communicating with strangers. Parents should also make them aware of the risks that are associated with online dating apps like Tinder. Don't hesitate to encourage them to ask any questions they might have and to seek guidance when needed.
There are many resources available to help parents educate their children about online safety. These resources include online safety guides, educational videos, websites, and books such as Once Upon a Time… Online. For more info, read Best Children's Books About Internet Safety.
Conclusion
To sum up, is Tinder for teenagers a good idea? Probably not. This online dating app can expose them to several dangers, such as scams, cyberbullying, and inappropriate content. To help keep teenagers away from signing up on Tinder, parents can take some steps to protect their children.  These steps include establishing clear guidelines for online behavior, educating children about online safety and the responsibilities that come with having an internet connection, and using parental control apps. By taking these steps, you can guarantee your child's safety on different online platforms.
In today's technology-driven world, it's important for parents to monitor their children's online activities. Taking proactive measures for protecting children can reduce the risks associated with dating apps like Tinder.
Remember that our children's safety should be our top priority. So don't hesitate to educate yourself with additional resources and seek support for navigating the digital landscape properly.