Although Tumblr has recently lost some popularity, it is still trendy among teens. However, after Tumblr announced it won't block mature content shared by users on this platform anymore, many parents wondered, "is Tumblr safe for kids?" Here we'll discuss what makes the Tumblr website stand out among social media and blogging platforms, why it is generally unsafe for kids, how parents can make it relatively safer for their children, and if there are safe blogging alternatives for kids.  
What Makes Tumblr Stand Out?
Tumblr is a fusion of a blogging platform such as WordPress or Blogger and social media such as Facebook or Instagram. What makes Tumblr stand in between these two platforms is allowing users to create lengthy posts containing all sorts of multimedia content that anyone on Tumblr can access. While Twitter and Instagram allow a maximum of 280 and 2200 characters, respectively, you can write as many as 500000 characters per post on Tumblr. Besides, unlike Blogger and WordPress, whose users don't have much interaction with each other and can only access each other's posts via search engines, Tumblr bloggers can follow each other's blogs and get new posts in their feeds or see thousands of posts through hashtags. 
People seem to use Tumblr with different intentions compared to how they use social media. While Twitter and Instagram users tend to share instant moments of their lives through quick posts and stories, Tumbler users tend to elaborate more on their posts, often sharing thoughts they have reflected upon for some time. 
Why Using Tumblr Is a Bad Idea for Kids
Tumblr restricts children under 13 from joining the platform in most countries. In the European Union and the UK, the restriction is stricter, not allowing kids under 16. There is a convincing reason for that: some content and activities on Tumblr are not suitable for young ones. 
Tumblr has gone through phases of applying strict and more lenient restrictions on content shared by users. However, in 2022, Tumblr announced that it wouldn't ban explicit content anymore, albeit it lets users filter topics they find inappropriate. Read part of their new policy published on their help centre: 
"While this type of content—including text, images, and videos that contain nudity, offensive language, sexual themes, or mature subject matter—is allowed on Tumblr, we also know it's not for everyone. So, posts that contain mature content must have a Community Label applied, and it is your responsibility to label your content appropriately." 
Unfortunately, despite Tumblr's options to block and label inappropriate content, there's no guarantee that your child won't receive explicit content. Below we'll explain more. 
Explicit Pictures & Videos
Even with the content filters on, children can easily stumble upon or look for sexually explicit content on the pornographic side of Tumblr. Although some erotic hashtags are blocked on Tumblr, it's still possible to uncover sources of sexually explicit posts by adding a variation to the hashtags. Sometimes hashtags which look harmless can convey foul meanings. 
Inappropriate Text
It's not just explicit pictures and videos; sometimes, inappropriate texts can harm kids too. Tumblr doesn't ban talking about mature subjects such as suicide or drug abuse. Sometimes people _often in despair_ share their experiences of depression or other psychological problems. Not only is reading such posts not recommended, but also the inconsiderate comments some people leave under these posts can give young minds wrong ideas. 
In a post we came across on Tumblr, the writer sounded extremely depressed and suggested abusing alcohol to soothe their pain. This is awful enough, but to make the problem worse, a user had left a comment not only not reprimanding abusing alcohol but also encouraging the writer to continue. This should ring a bell for us. Imagine your child posting a desperate post and receiving such harmful advice. 
Toxic Communities
Even though Tumblr can be a place to share ideas and make friends, there are also toxic communities that can make it an inappropriate experience. Think about communities that share misinformation, scam or assault other members, and only joined to offend and bully others on Tumblr. There are even people who share their stories about shoplifting on Tumblr. This sets a bad example and promotes inappropriate behavior. 
Privacy & Safety Risks
Tumblr borrows many social media features such as private messaging, commenting, and following. Moreover, users tend to share a lot of personal information on Tumblr. Therefore, children on Tumblr can suffer from some of the safety risks of social media activity. These risks include: 
Phishing

 

Hacking

 

Sexual Harassment

 

Grooming

 

Cyberbully

 

Stalking

 
Suggested Reading: 
Mental Health Risks
Again, for the similarities Tumblr has with social media, children are prone to suffer from mental health issues related to using social media. Here you have some of them: 
Receiving Judgments

 

Wrong Body Image

 

Wrong Life Concept

 

Consumerism

 

Stress & Anxiety

 
Suggested Reading: 
Screen Time Issues
Children tend to lose track of time when they have something entertaining to do. And entertainment never runs out on a platform like Tumblr. There are more than half a billion blogs on Tumblr. Imagine how many posts your child has access to. If left undisturbed, your child may spend hours surfing through Tumblr posts. 
That said, OSF Healthcare suggests a maximum of 2 hours of screen time for entertainment. Too much screen time can lead to serious health problems such as screen addiction, eating and sleeping disorders, and underperformance at school and the gym. Later in the following paragraphs, we will explain how to control children's screen time on Tumblr. 
Is It Possible to Make Tumblr Safe for Kids?
By reading this article so far, you may agree Tumblr isn't basically safe for kids. However, teens above 13 can join and use Tumblr freely in most countries. Now, this raises the question, "is Tumblr safe for teens over 13?" Without your supervision as their parents, perhaps not. But the good news is that there are many ways you can make Tumblr safe for kids. So, keep on reading to find out how. 
Talk About Tumblr's Risks With Your Child
If you have a teen at home who wishes to use Tumblr, the first thing you need to do for them is explain the safety and health risks that Tumblr may cause. If they know what dangers they are exposed to, they can protect themselves better. Older children tend to be more cooperative in managing their Internet use. 
Put Parental Controls on Your Child's Tumblr Account
There is such a thing as parental controls or safe mode on Tumblr. By activating it, Tumblr "will try its best" not to show explicit content to your child. It's ironic, but despite Tumblr's great effort, it's easy to get explicit results when you search through posts. In fact, with the parental controls on, we got results likes of which could only be found on notorious pornographic websites. But again, if you wish to use these options, here is how: 
Go to "Tumblr.com" and log in to your child's account

 

Click the "Account" icon (👤) on the top right corner of the screen

 

On the menu that opens, click "Settings"

 

Scroll down to "Content you see"

 
Here you have "Filtered Tags" and "Filtered Post Content"
A bar will appear by clicking the pencil icon next to each title. Use the first one to enter harmful hashtags you wish to remove from your child's searches. Use the second one to enter inappropriate phrases to be blocked. Posts containing these hashtags and phrases will not show in your child's search results. 
A bar will appear by clicking the pencil icon next to each title. Use the first one to enter harmful hashtags you wish to remove from your child's searches. Use the second one to enter inappropriate phrases to be blocked. Posts containing these hashtags and phrases will not show in your child's search results. 
Now, if you scroll down a little more, you get "Community labels". Here, Tumblr gives you options to control what posts your child can come across on Tumblr. You can show, blur, or hide posts with "Mature", "Drug and alcohol addiction", "Violence", and "Sexual themes". These options are by default set to "Hide"; however, if your child has meddled with them, make sure you set them back to "Hide".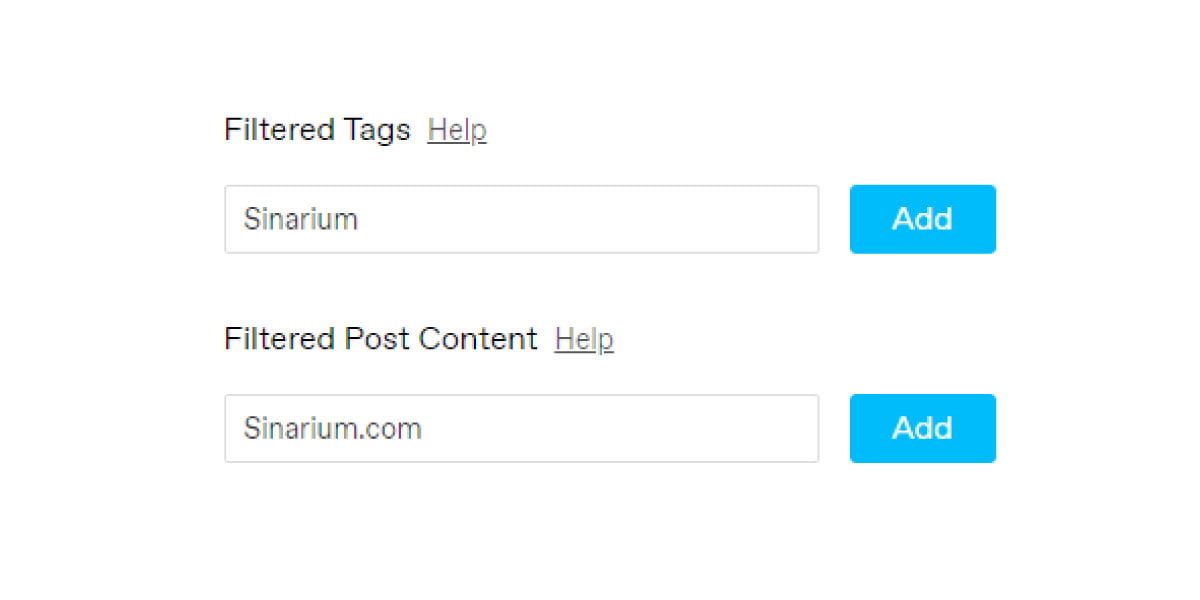 On the bottom, toggle "Hide additional potentially mature content" to fortify the safety measures. 
Teach Your Child to Report & Block Inappropriate Content
On Tumblr, users can block or report abusive users and content. By blocking users who send inappropriate messages, your child can avoid harmful content showing up in their message boxes. If your child isn't familiar with how to block or report users, teach them how. It's very straightforward; just click the three dots (…) button on the top left corner of each post. Then you can select "Block" or "Report". 
Ask Your Child to Report Unusual Activities to You
It is necessary to teach your child that if they're receiving repetitive, abusive messages from a user or different accounts, they must report them to you. Tell them that instead of reacting to cyberbullying or starting a conversation with the bullies, they should inform you so that you can take care of the issue. 
Suggested Reading: 
Monitor Your Child's Tumblr Activity
If your child is interested in having a blog on Tumblr, why not join the platform and follow their activities? By doing this, you can understand if they have risky behaviours online. For example, you'd know if they divulge too much personal information on their accounts or posts. 
Control Your Child's Tumblr Usage
And what if your child does have risky activity on Tumblr or is spending too much time on this platform? What if you concluded that Tumblr is indeed not a suitable area for your child? In this case, you should control your child's Tumblr use or, if needed, block their access to Tumblr. 
Of course, it's impossible to track how much time your child spends on Tumblr unless you use parental control apps such as Safes. Using Safes, you'll receive reports on how much time your child spends on each app daily, weekly, and monthly. If you believe they're spending too much time on the Tumblr app, you can then set a screen time limit for Tumblr or block it on all their devices. Moreover, to cut your child's access to Tumblr's web panel, you can block Tumblr.com using Safes. 
Is There a Safe Alternative for Tumblr?
Perhaps your child has talent in writing or content curating, but you're worried Tumblr is too unsafe for them. In that case, you can try these safe blogging platforms for kids: 
These kids safe blogging platforms have stricter privacy rules and activity moderation. Moreover, they're only visible to teachers and classmates. Teachers can supervise students' endeavors to build up their writing skills. 
Final Words: Is Tumblr Safe for Teens? 
Considering everything we discussed in this blog; we believe Tumblr is not generally safe for children. Although Tumblr allows children above 13 to use their services, we don't recommend letting even your teens use Tumblr unless you're sure about your child's maturity. As an alternative, we recommend safe blogging platforms for kids. 
We suggest using the Safes parental control app to stop your child from spending too much time on Tumblr or to cut their access to this platform entirely. If you wish to give Safes a try, feel free to download it and use a 14-day free trial with premium features without needing to enter your credit card information.