Public speaking can be a daunting task for many students. However, with proper guidance and practice, they can confidently rise above their fears and deliver compelling speeches. This article will provide public speaking tips for students, focusing on ways to reduce anxiety, structure speeches effectively, and improve delivery techniques.
Benefits of Public Speaking for Students
Mastering public speaking offers many advantages for students, including enhanced self-confidence, improved communication skills, and better critical thinking abilities. It can also help them stand out in class presentations, debates, and even job interviews in the future.
According to a study published in the International Journal of Management Education, students who engage in public speaking activities demonstrate higher academic performance and exhibit improved leadership skills.
Public speaking provides an excellent platform for students to showcase their talents and knowledge. Whether presenting a book report, participating in a debate, or delivering a speech on a passionate topic, public speaking allows students to share their insights and learnings with others.
Tips For Giving a Speech in Class
Like any skill, public speaking can also be taught and practiced. Use our speech tips for students to help your child give the best presentations in the classroom and prepare for success in life, work, and studies: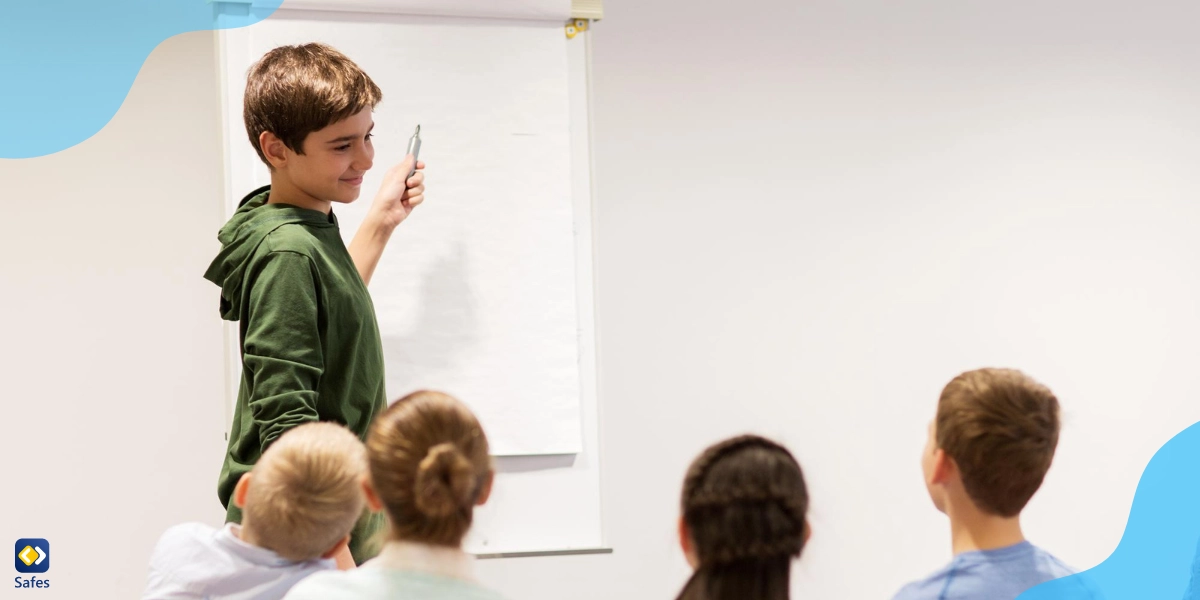 Set the Foundation for Effective Public Speaking
Developing public speaking skills begins with understanding the basics. These fundamentals include knowing the audience, picking a topic of interest, focusing on the main message, and engaging the audience right from the start.
Build Fundamental Public Speaking Skills
Once the basics are set, students can further their abilities through various public speaking techniques. These techniques involve refining body language, using facial expressions, controlling voice modulation, and more. Students can also learn to incorporate personal anecdotes or interesting facts to make their speeches more engaging.
Structure and Organize Speeches
An essential aspect of public speaking is the ability to structure and organize thoughts effectively. A well-structured speech should have:
A clear introduction
An engaging body
And a compelling conclusion
This structure helps the speaker stay on track and makes it easier for the audience to follow the speech.
Practice Makes Perfect
Perhaps the most crucial public speaking tip for students is to practice regularly. Regular practice helps students gain confidence, improve their delivery, and get comfortable with their speech content. They can practice in front of a mirror, record their speeches for self-evaluation, or even rehearse in front of family members to get constructive feedback.
Special Considerations for Different Age Groups
It's essential to remember that public speaking skills development should be age-appropriate. Younger students may benefit from starting with simple presentations or storytelling sessions, while older students can work on refining their speech structure, delivery techniques, and audience engagement strategies.
Measure and Monitor Progress
As with any skill, it's crucial to measure and monitor progress in public speaking. Teachers and parents can play a significant role in providing constructive feedback and encouraging continuous improvement. Celebrating small victories can also boost students' confidence and motivate them to keep improving.
Incorporating Technology and Parental Control Apps
Excessive screen time can result in poorly developed communication skills. Unfortunately, the spread of technology is the culprit for too much screen time. However, technology can also play an instrumental role in enhancing public speaking skills. Apps like Safes can be particularly useful. Safes is a parental control app that can help manage your child's screen time so that you can rest assured that they engage in face-to-face conversations that build their public speaking skills. It also allows you to monitor your child's online activities, ensuring they are accessing helpful and safe resources for their speech preparation.

Safes is available for phones, tablets, and computers. You can download it from our website or AppStore and Google Play. To learn how to put parental controls on different platforms using Safes, follow the resources below:
Conclusion: Public Speaking Tips for Students
Public speaking is a vital skill for students, offering numerous benefits beyond the classroom. By following these public speaking tips for students, young learners can overcome their fears, improve their communication skills, and build self-confidence. With regular practice, constructive feedback, and proper guidance, your child can master the art of public speaking and shine in their academic and professional lives.
Public speaking is a journey, not a destination. So, encourage your child to enjoy the process, learn from their experiences, and continuously strive to enhance their skills. In this digital era, where virtual presentations and online meetings are becoming the norm, developing public speaking skills is more critical than ever.