Graduating from preschool is a significant milestone in a child's life. It marks the conclusion of their first educational journey and the commencement of their next big adventure: Elementary school. As a parent or loved one, you may want to commemorate this special occasion with a thoughtful gift.
We've curated a list of unique and memorable gifts for graduating preschoolers that cater to all budgets. From personalized mementos to educational toys and books, these gift ideas are sure to delight your little graduates and prepare them for their upcoming educational journey.
Why Celebrate Preschool Graduation?
Preschool graduation is an important milestone in a child's life as it marks their first step into formal education. It's a celebration of the child's development and achievements, building a sense of accomplishment and boosting their confidence. Furthermore, it helps children understand the concept of transitions and prepares them for future academic progressions. For parents and teachers, it's an opportunity to acknowledge the growth and progress the child has made. Additionally, it cultivates a culture of appreciating and celebrating educational milestones, making learning more exciting for young minds.
Most kindergartens all over the world celebrate preschoolers' graduations. It's also a good idea to throw a graduation party at home and invite your child's friends and cousins. Make sure you decorate the house, prepare exciting food and snacks, and surprise your little ones with some of these fun and thrilling grad gifts for preschoolers.
Personalized Graduation Gifts
Personalized gifts add a special touch and make the receiver feel unique and valued. Here are a few custom-made graduation gift ideas for preschoolers:
Customized Teddy Bear
A customized teddy bear from Build-A-Bear is a heartwarming present. You can choose a bear that matches the child's favorite color and even add a T-shirt with an encouraging message like "Your future is bright." This gift is a cuddly reminder of their preschool graduation day that they can cherish for years to come.
Personalized Piggy Bank
A personalized piggy bank can be a great tool to teach your child about saving money. You can engrave their name on it, making it a unique and practical keepsake. It's a gift that combines aesthetics with education, making it a perfect graduation gift for preschoolers.
Relate Articles:
Educational and Fun Gifts
Gifts that combine fun and learning are always a hit with preschoolers. Here are some educational graduation gifts that will keep them entertained while enhancing their skills.
Smarty Pants 1st Grade Card Set
The Smarty Pants 1st Grade Card Set from Melissa & Doug is an excellent way to introduce your child to the elementary school curriculum in a fun way. The set includes a variety of activities like picture puzzles, mazes, and vocabulary builders, making learning a joyful experience.
Little Traveler Bingo
Little Traveler Bingo from Mudpuppy is an engaging game that introduces children to different landmarks, food, vehicles, and animals from around the world. It's a perfect table game for family time and a fun way to teach preschoolers about unique aspects of various cultures.
Books and Reading Gifts
Nurturing a love for reading from an early age can be one of the best gifts for graduating preschoolers. We have handpicked a couple of books that are perfect for this occasion.
'The Berenstain Bears Go to School'
'The Berenstain Bears Go to School' by Stan and Jan Berenstain is a thoughtful gift for preschoolers' graduation. This beautifully illustrated book introduces children to the concept of school, addresses common fears and uncertainties children may have about school, helps alleviate any first-day nerves, and celebrates all the exciting moments a schooler will experience.
'The Sky Is the Limit'
'The Sky Is the Limit: A Celebration of All the Things You Can Do' by Lisa Swerling and Ralph Lazar is a beautiful picture book that celebrates the endless possibilities of the future. It's a perfect bedtime story that inspires children to dream big.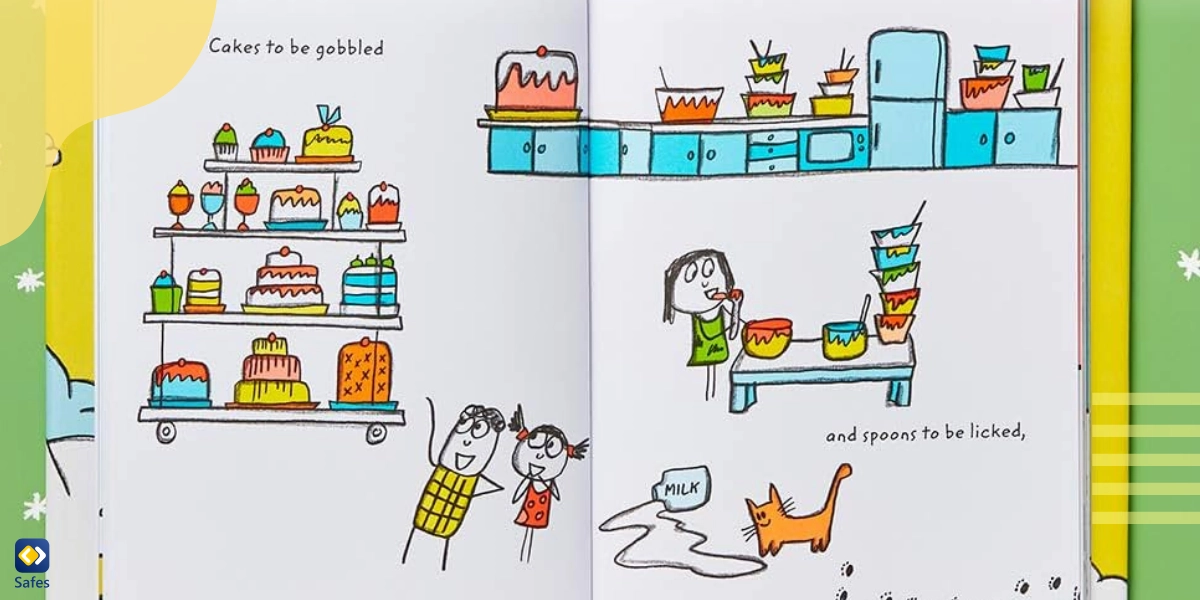 Art and Creativity Gifts
Art and creativity gifts can keep children engaged while stimulating their imagination and fine motor skills. Here are some artsy gift ideas for preschoolers' graduation:
Magic Drawing Board
The Magic Drawing Board from Kiko & GG offers a mess-free solution to nurture your child's artistic side. It's portable, reusable, and comes with different stamps to make shapes, making it an ideal gift for children who love to doodle.
Natural Play Dough Set
The Dough Project offers an all-natural, plant-based dough set that's perfect for tiny hands to mold into different shapes. The vibrant colors, derived from natural substances like turmeric and beetroot, make it a safe and attractive gift for little ones.
Keepsakes and Memory Gifts
Keepsake and memory gifts are great graduation gift ideas for preschoolers that help capture the precious moments of their preschool years.
School Memory Book
A school memory book is a wonderful keepsake that captures the beautiful memories of your child's school journey from preschool to 12th grade. The book can have spaces for photos and prompts to record special moments, making it a treasure for years to come.
Customized Graduation Photo Frame
A customized graduation photo frame is another sentimental keepsake. You can engrave your child's name and graduation year on it and insert their graduation picture. It's a timeless memory that your child will cherish forever.
Practical Gifts
Practical gifts are useful items that your preschooler will need as they transition to elementary school.
Backpack
A backpack with plenty of pockets, a matching reusable lunch bag, and a water bottle that is light enough for an elementary schooler is a practical and stylish gift that your child can use daily at school. Some kids' backpacks come with children's favorite cartoon characters. You can even get more creative and print customized pictures on the bag using print-on-demand services.
Lunchbox
A lunchbox is a practical and fun gift. They come in different colors and shapes, some with multiple different compartments for various types of food, and a leak-proof design, which makes lunchtime more organized and enjoyable.
Celebratory Gifts
Celebratory gifts are a fantastic way to congratulate your child on their achievement and make them feel special.
Graduation Cap and Gown
A graduation cap and gown can make your little one feel proud of their achievement. It's a fun way to celebrate their graduation and take memorable photos.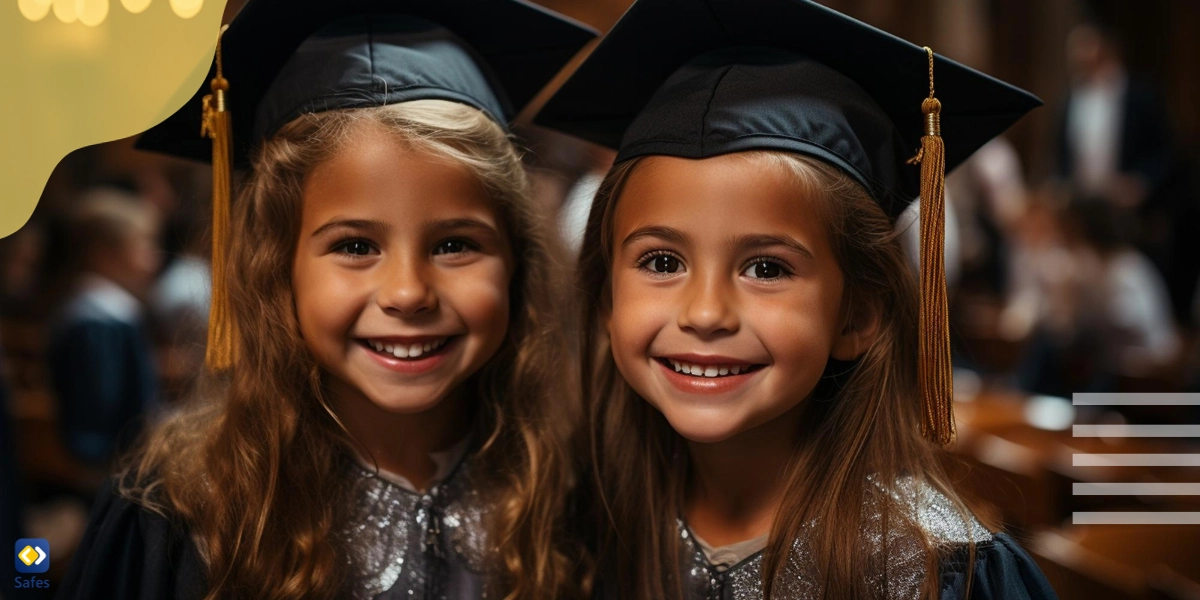 Graduation Party Supplies
Throwing a graduation party with themed party supplies can make your child's graduation day unforgettable. From balloons and banners to themed tableware, these party supplies can make the celebration extra special.
Budget-Friendly Gift Ideas
If you are looking for budget-friendly graduation gift ideas for preschoolers, here are a few options that won't break the bank:
Graduation Certificates
A graduation certificate is a cost-effective yet meaningful gift. You can design a personalized certificate with your child's name, the date, and a sweet message to congratulate them on their achievement.
Colorful Stationery Set
A colorful stationery set, complete with crayons, markers, and sketchbooks, can be an affordable yet practical gift that builds creativity. It's perfect for a preschooler transitioning to school, where they'll have plenty of opportunities to draw and color.
Introducing Safes Parental Control App
While gifting physical items is traditional, considering a digital gift like a parental control app can be a practical and forward-thinking idea. The Safes parental control app is designed to help parents protect their children from potential online risks. It allows you to monitor your child's online activities, block inappropriate content, and set screen time limits. As your child begins using digital devices more frequently at school, having Safes can give you peace of mind, knowing your child is safe while exploring the digital world.

You can download Safes from our website or Google Play and App Store. We offer a free plan for everyone, but for more inclusive protection, we suggest the paid plan, which is very affordable and comes with a free trial and money-back guarantee.
Make sure you check out these pages to learn about how to put parental controls on different platforms:
Wrap Up the Gifts for Graduating Preschoolers!
We hope this comprehensive guide helps you find the perfect graduation gift for preschool. Remember, the most meaningful gifts are those given with love and thoughtfulness. No matter what you choose, your little graduate will surely appreciate the gesture.