We all understand that efficient studying is crucial for academic success, but do we really know how to study efficiently? This guide is designed for parents to help their children enhance their study skills and develop good study habits to pave their way to success!
Why Efficient Studying is Crucial for Academic Success
Efficient studying doesn't just involve spending hours reading textbooks or memorizing facts. It's a systematic process that involves understanding, analyzing, and applying the learned information. When students study efficiently, they are able to:
The Impact of Effective Study Habits on Learning Outcomes
Effective study habits have a profound impact on a student's learning outcomes. When students develop good study habits, they are able to manage their time effectively, stay organized, maintain a positive attitude toward learning, and ultimately improve their academic performance.
Strategies for Efficient Studying
Here are some strategies to help students study more efficiently:
Stay Organized
Being organized can significantly improve your study efficiency. Keep your study materials, notes, and assignments in order and create a study schedule to manage your time effectively.
Attend Classes Regularly
Regular class attendance is crucial for understanding the course material. It allows you to participate in class discussions, ask questions, and get immediate feedback from your teachers.
Take Detailed Notes
Taking detailed notes during lectures can help you retain information better. It's a good practice to review and revise your notes regularly.
Ask Questions
Don't hesitate to ask questions if you don't understand something. Seeking clarification can help you grasp concepts better and prevent misunderstandings.
Test Yourself
Testing yourself is one of the most effective ways to enhance your recall and long-term memory. You can use flashcards or practice quizzes to test your knowledge.
Find a Study Buddy
Studying with a partner or joining a study group can make studying more interactive and enjoyable. It also provides opportunities for collaborative learning.
Teach!
What is the best way to learn? It's to teach what you have just learned. When you have to teach something, you should first review what you have learned. Reviewing, on its own, can help instill information in your mind. Moreover, you'd be able to teach an idea in simple language only when you have a deep understanding of it. So, in other words, when you're able to teach something to a study buddy, that's where you can be sure you know it thoroughly.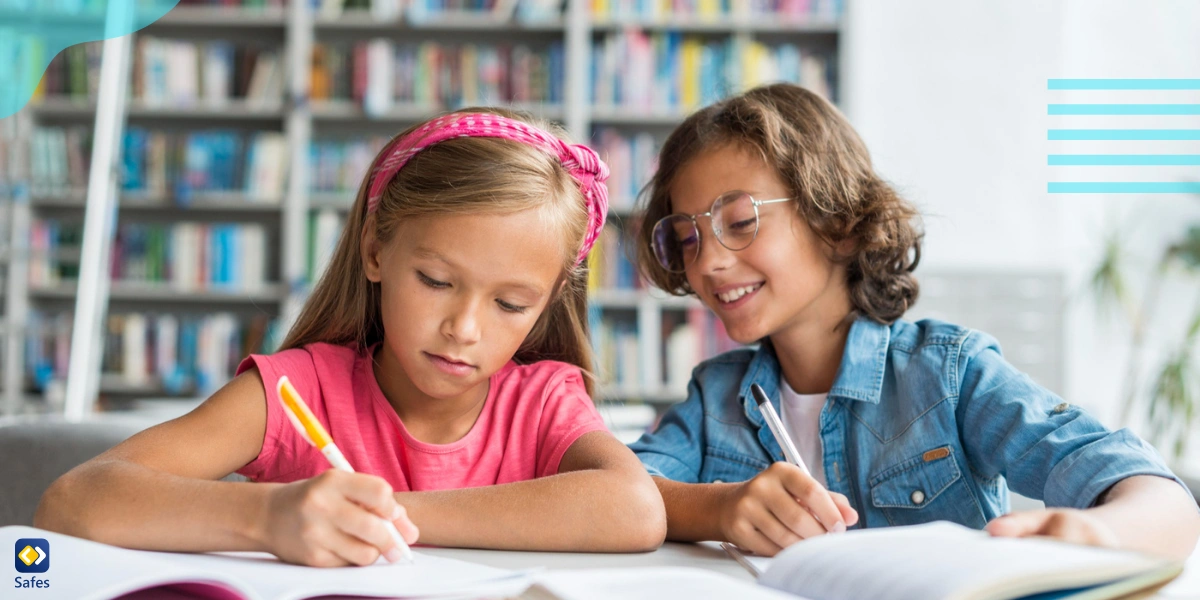 The Role of Parents in Supporting Study Habits
Parents play a vital role in shaping their children's study habits. They can:
Provide a quiet and distraction-free study space
Set a regular study schedule
Encourage their children to take breaks
Assist with homework and assignments
Monitor their children's progress
"Parents are the ultimate role models for children. Every word, movement and action has an effect. No other person or outside force has a greater influence on a child than the parent."

– Bob Keeshan (Creator of the children's television program Captain Kangaroo)
How Technology Supports Efficient Study
Technology has revolutionized the way we learn. Educational apps, online resources, digital tools, and parental control apps can enhance learning and make studying more efficient.
Educational Apps
Educational apps make learning fun and interactive. They offer a wide range of learning materials, including video tutorials, quizzes, flashcards, and more.
Online Resources
Online resources provide access to a vast amount of information. Students can use these resources to research, study, and enhance their knowledge.
Digital Tools
Digital tools like digital notebooks, organizers, and planners can help students stay organized and manage their time effectively.
Parental Control Apps
Parental control apps like Safes can help parents create a better study environment for their children. It allows you to eliminate digital distractions and limit screen time, ensuring that your child can focus on their studies.
With the Safes app, you can:
Block inappropriate content
Set screen time limits
Monitor online activities
Receive real-time alerts
Are you interested in trying Safes to protect your child from distractions and harmful content on their phone, tablet, or computer? You're welcome to download Safes from our websites. You can also find Safes on major app distribution platforms like Google Play and App Store.
How to Study Efficiently: Conclusion
Learning how to study efficiently is a skill that can be developed over time. By adopting good study habits and making effective use of technology, students can enhance their academic performance and achieve success. Remember, the key to efficient studying is not just about studying hard, but studying smart!