Instagram has become a favorite platform for teenagers to share and explore content. That makes it crucial for you as a parent to ensure your child's safety on this platform. One way to achieve that is by learning how to turn on 2-factor authentication on Instagram. In this blog, we'll offer you a step-by-step guide on how to turn on 2FA on your child's Instagram account and insights into common 2FA issues on Instagram.
Why Set Up Two-Factor Authentication on Instagram?
Two-factor authentication (2FA) adds a layer of security for online accounts. With 2FA, you'll need two types of identification before accessing your account.
Turning on two-factor authentication on Instagram adds extra protection to your child's account. Even if someone else knows their password, they won't be able to access their account without the second form of authentication.
Different Methods of 2FA on Instagram
Instagram offers three methods of 2FA:
Authentication app: You can download an app such as Duo Mobile or Google Authenticator to generate Instagram authentication codes.
Text message: Instagram can send a login code to your mobile number.
WhatsApp: After setting up the text message method, you can choose to receive two-factor authentication Instagram codes via WhatsApp.
How to Set Up 2FA on Instagram
Follow these steps to set up 2FA on your child's Instagram account:
Open the Instagram app on your child's device and log into their account if they're not already logged in
Tap their profile picture on the bottom right corner of the screen
Tap the three horizontal lines and then tap "Settings and privacy"
Tap "Accounts Center"
Tap "Password and security"
Tap "Two-factor authentication"
Choose the account you want to set up two-factor authentication for
Choose the security method you want to add and follow the on-screen instructions. Options available:
Authentication app
Text message (SMS)
WhatsApp
After you are done, your child will be prompted to get a 6-digit authentication code for Instagram using the three methods explained earlier when logging in.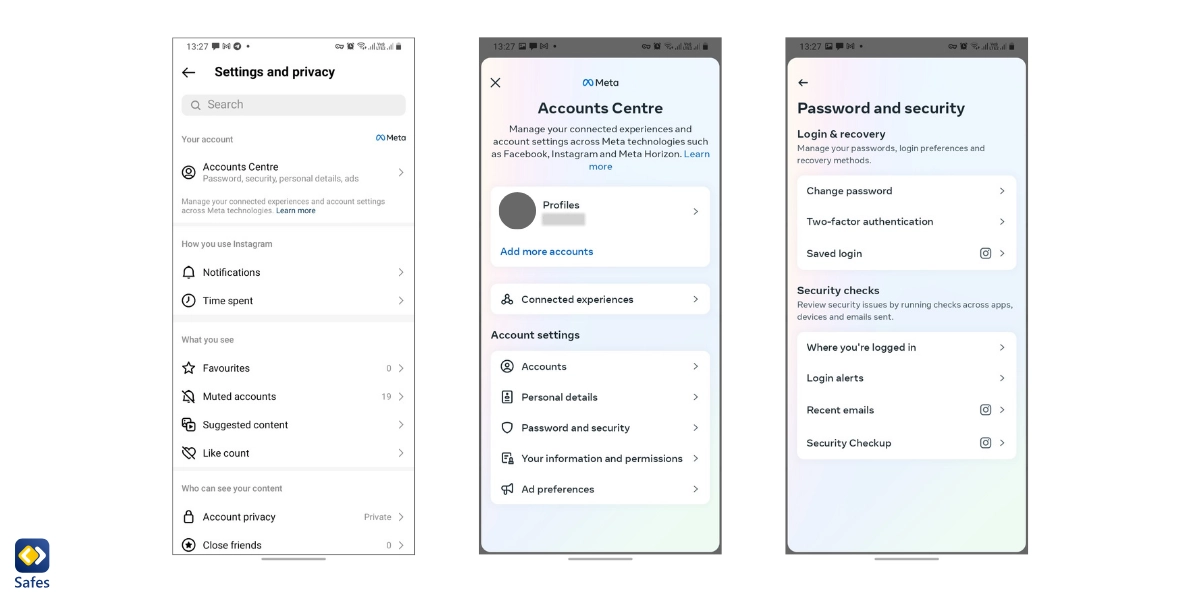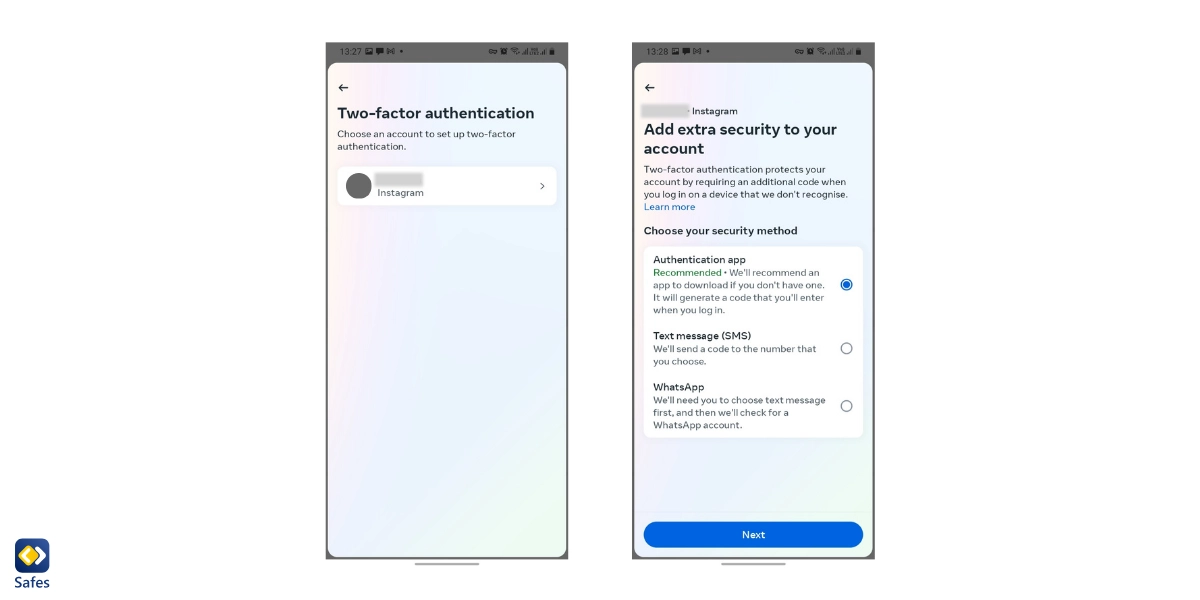 Troubleshooting 2FA on Instagram
At times, Instagram may fail to send SMS codes, which could be due to various reasons, such as:
A poor cellular connection
The phone being set to "Do Not Disturb" mode
Or Instagram's service being offline
If you're experiencing this issue, try clearing the Instagram app's cache or requesting the SMS code using a different device.
Also, it's best to set up multiple ways to receive the authentication code as a backup plan using the instructions in the previous sections of this blog.
Additional Security Measures on Instagram
After setting up 2FA, it's important to keep track of trusted devices and backup codes. A trusted device is any device that has been marked as safe by tapping "Trust this device." Tapping this on a public or shared device should be avoided. Backup codes come in handy when you're unable to access your primary security methods.
Other than setting up 2FA, there's a host of safety and security issues that you must teach your child to keep them safe on Instagram and Facebook, such as:
Not sharing personal or sensitive information with other users
Keeping their accounts private and limiting their interactions with strangers
Avoid sending or receiving content that can risk their character
Following crucial social media etiquette
In the following blogs on our website, we've discussed more ways to keep your child safe on social media. We highly suggest you read them:
Introducing the Safes Parental Control App
The Safes parental control app can be a great addition to ensure your child's safety on Instagram. It allows you to monitor their online activity and set restrictions when necessary. Safes, combined with Instagram's security measures, can create a safer online environment for your child.
Safes offers both free and paid plans for different needs and budgets. Feel free to download it from our website, App Store, or Google Play.
Conclusion: Instagram 2-factor Authentication
Learning how to turn on two-factor authentication on Instagram can significantly enhance your child's online safety. Combining it with a parental control app like Safes can ensure a safer and more controlled digital experience for your child.