Anime and manga have become more and more popular in recent years. Every day, there is that one anime that's being talked about inside every group of young people. To answer this increasing love of anime and manga, a wealth of resources has been provided on the internet, where anime fans can stream their favorite shows, find out about new series coming up, and just be in touch with anime fans' community. Crunchyroll is one of the leading streaming platforms where anime enthusiasts can do all of that.
The increasing popularity of Crunchyroll has raised concerns among parents about the safety of this streaming platform for children. In this blog post, we'll explain what exactly this platform is, whether it's safe for children, and provide some safety tips for parents.
Understanding Crunchyroll
Founded in 2006 by students at the University of California, Berkeley, Crunchyroll is an anime and manga streaming service that contains a wide selection of subtitled and dubbed anime shows and exclusive content named Crunchyroll Originals. It also offers several in-person events, such as the Crunchyroll Expo and Crunchyroll Anime Awards.
In addition to presenting different shows, Crunchyroll releases interviews with well-known figures in the anime world and up-and-coming directors and animators. It also provides users with a forum, where they can communicate and share ideas with each other. With more than 1,000 titles, 30,000 episodes of anime shows, and 120 million users, it's a vast and comprehensive platform for anime and manga fans.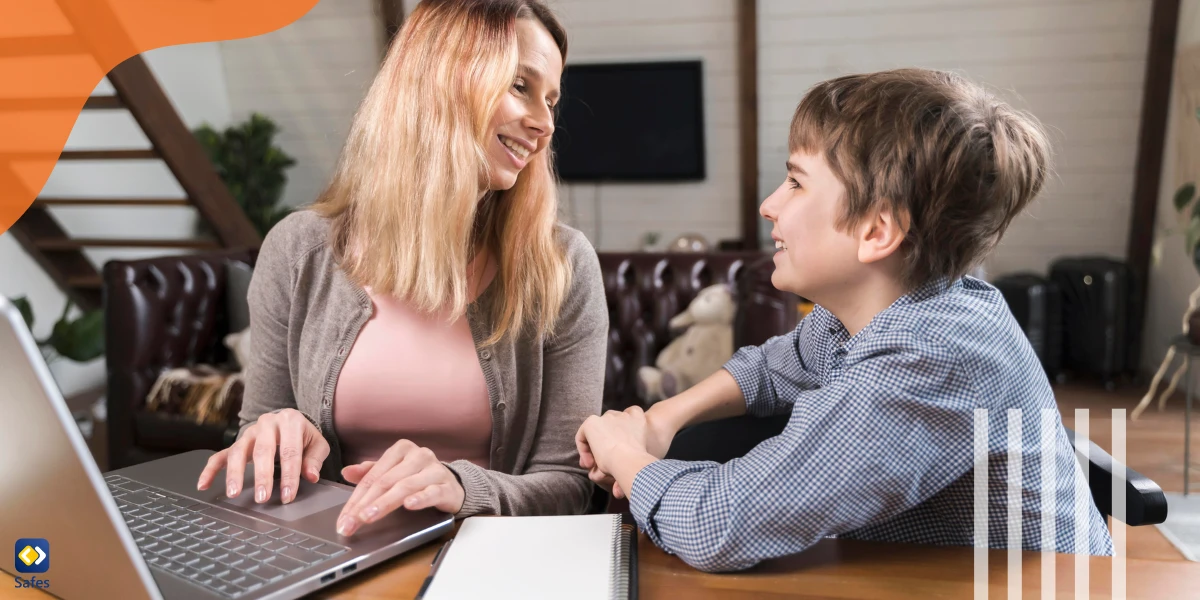 Is Crunchyroll Safe for Children?
The shows on Crunchyroll are diverse, ranging from child-friendly to mature. However, Crunchyroll doesn't offer an age rating system based on which you could decide whether a certain show is appropriate for your child or not. The only thing that the platform presents is a brief description of the show, and you'll have to go from there. This can make parents ask, "Is Crunchyroll appropriate for 11-year-olds" or "Is Crunchyroll appropriate for 13-year-olds?" Luckily, you can find everything you need to know about the show that your child loves with a quick Google search. You can also watch a few episodes of the show before allowing your child to watch it and decide for yourself.
Crunchyroll does however offer certain options for content security. For example, it requires that the users be 16 years old or above when making an account. The problem is that it doesn't have any verification process, and a simple email and password would suffice for making an account. Also, there is an option called 'Show Mature Content' in the settings. By turning it off, access to adult content will be restricted. However, this might not always include sexually suggestive content. On top of that, it can be easily toggled on by kids.
Additionally, there may be other risks associated with user interactions on the platform. Your child can see other people's reviews of different shows and have a conversation with them. This can increase risks of exposure to inappropriate language or explicit content. It's important for parents to monitor children's activities on Crunchyroll and make sure that they are safe online.
Parental Control Measures
Since Crunchyroll parental controls don't cover all the aspects of children's online safety, parents should take additional precautionary measures to ensure their cybersecurity. Parental control apps are a great choice when it comes to preventing potential risks online. Safes is a parental control app that gives you the option to put restrictions on your child's app usage. So, for instance, if you decide that your child is only allowed to use Crunchyroll when you're physically around to monitor what they're doing there, you can set specific periods of time during which access to Crunchyroll will be blocked. The amazing fact about Safes is that it can be installed on Android, iOS, Windows, and basically any device that you and your child might have.
Content is not the only concern a parent might have when it comes to Crunchyroll. A very common problem is the amount of time that a child spends on the platform, as screen addiction is an increasingly common issue these days. With Safes, you can also set time limits on your child's usage of the platform and make sure that your child won't be spending too much time there.
Another important precautionary step for parents is to educate their children on the risks associated with using streaming platforms like Crunchyroll. It's important to talk to them about digital safety, such as how to protect their personal information on the internet, as well as make them aware of sensitive subjects such as cyberbullying and scams. Digital citizenship is an important matter that should be taught to children.
Additional Safety Tips
In addition to setting up a parental control app to monitor children's online activities, parents can also take a few additional steps to make sure that the process will go as smoothly as possible. Make sure that you have regular discussions with your child about internet safety and responsible online behavior. Having regular conversations can guarantee that the communication door will always be open, and trust will be built between the two of you.
Also, being as clear as possible about what is expected from the child and what is deemed inappropriate can reduce any confusion and lead to better results. Make sure that the reason behind the established rules is explained clearly so that they know you want the best for them.
Conclusion
Is Crunchyroll trustworthy? Is it safe for children? Well, it can be! With millions of users all around the world, Crunchyroll has turned into an incredibly popular streaming platform for anime and manga. Giving fans of all ages access to a vast library of content, this streaming platform could be a double-edged sword. On the one hand, it can give your child access to their favorite anime and manga and be a good source of entertainment. On the other hand, it can expose them to adult content or lead to excessive screen time.
That's why parental involvement and supervision is of the utmost importance when using Crunchyroll. With the use of Safes parental control app, you can make sure that your child will enjoy Crunchyroll without compromising their safety.