Children's data privacy has become a significant concern for parents, educators, and policymakers alike. In this exciting age of the internet and ever-growing social media, it's natural to have some worries about privacy, especially for our little ones. So, let's take a friendly journey together into this critical topic. We'll talk about why it's crucial to safeguard your child's privacy online, understand the potential risks they could face, and discuss some helpful ways to keep these risks at bay.
What are Data Privacy Concerns?
Data privacy worries are all about the possible hazards and pitfalls tied to unapproved access, utilization, or sharing of personal details. These worries become even more significant with children. Given their innocent nature and limited grasp of the online world, they might unintentionally let out sensitive information. This can lead them to become an easy target for internet tricksters or get caught up in cyberbullying or identity theft.
Social Media and Privacy Concerns
Social media sites have woven themselves into the fabric of children's everyday lives. They serve as vibrant playgrounds for interaction, creativity, learning, and fun. But while they offer these wonderful benefits, it's also important to remember that they bring along certain privacy challenges that we should be mindful of. Personal information shared on these platforms can be exploited for harmful purposes, making it crucial for parents to understand these risks and educate their children about safe online behavior.
The Importance of Child Privacy
Ensuring your child's online privacy isn't merely about shielding them from potential cyber threats. It's also a loving way to secure their future. Information shared online can have long-term consequences. For instance, a seemingly innocent post or photo can affect their reputation, college admissions, or even job opportunities in the future. Teaching children about data privacy is thus a critical aspect of modern parenting.
Risks and Threats to Online Privacy
Understanding the potential risks and threats to your child's online privacy is the first step toward protecting them. Some common online hazards include:
Identity Theft: Children are attractive targets for identity thieves because of their clean credit history. It's important to know that someone could potentially use a child's social security number to open bank accounts, apply for loans, or even engage in activities that aren't quite above board. We need to be vigilant to protect their information as it's a key part of their identity.
Cyberbullying: Social media platforms, unfortunately, can sometimes become playgrounds for cyberbullying, where children may find themselves on the receiving end of unkind behavior from their friends or even unknown users.
Online Predators: It is important to note that predators may misuse social media and online gaming platforms as a means to form inappropriate relationships and exploit young ones.
Inappropriate Content: The internet is filled with inappropriate content for children, from explicit material to violent or hateful content.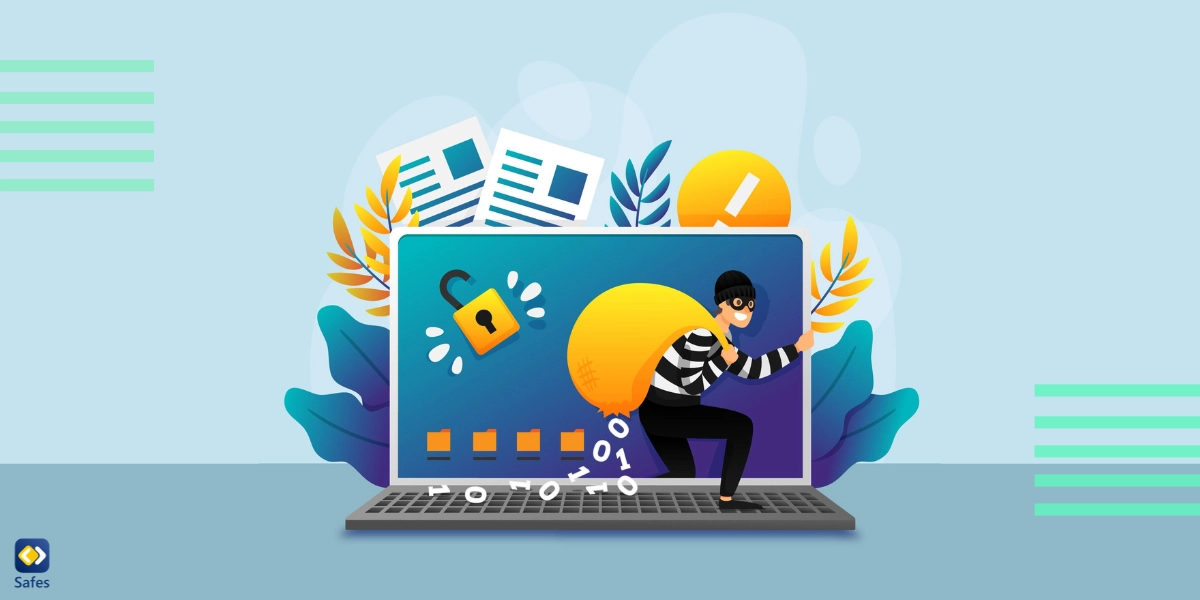 Mitigating Privacy Risks: What Can Parents Do?
You're the superhero in safeguarding your little one's digital world! Here are some friendly tips you can embrace:
Educate Your Child
Equip your child with an understanding of online security. Educate them on possible threats and how to identify and sidestep them. Stress the significance of refraining from revealing personal data on the internet and the repercussions that might follow if they do. It's essential to start teaching children about data privacy early on.
Set Up Privacy Settings
Almost all social media platforms provide settings that can limit who has access to your child's profile and posts. It's crucial to make certain that these settings are adjusted to offer the utmost level of privacy.
Monitor Online Activity
Please make sure to monitor your child's internet usage carefully. Be mindful of the websites they frequent, the applications they engage with, and the content they share on social media platforms.
Use Parental Control Tools
Parental control tools can help monitor and control your child's online activity. A tool like the Safes parental control app can block inappropriate content, limit screen time, and monitor online activity, helping keep your child safe on the internet.

With Safes, you can ensure your child enjoys the benefits of the digital world without compromising their safety or privacy. Feel free to download it from our website AppStore or Google Play. Also, make sure to read the resources linked below to learn about how to put parental controls on different platforms:
Child Privacy at School
Schools often use digital tools for learning, making it crucial for them to prioritize student data privacy. Parents should inquire about the school's data privacy policies and practices. Encourage your child to practice safe online behavior even at school.
If you are a teacher or school administrator, you may want to try Safes School at your educational center. Safes School, like Safes, helps monitor and manage children's access to all internet platforms, but only when they're at school. It also comes with features to keep track of students' attendance and their screen time while they're in class, plus many more features that can both protect your students and make the job of managing a school more effortless for you.

Get in touch to start your free trial today.
Conclusion: Children's Data Privacy Concerns
Ensuring your child's online privacy may seem overwhelming, but it's certainly achievable. By informing your child, keeping track of their online interactions, employing parental control software, and promoting secure online habits, you can significantly diminish the privacy threats they encounter on the internet.
Bear in mind the online world is a two-sided coin. It provides countless advantages yet also brings forward significant privacy issues. As guardians, it falls on us to make sure our children navigate the digital world securely and responsibly.