It has become increasingly essential to incorporate Science, Technology, Engineering, and Mathematics (STEM) education right from the early stages of learning. The relevance of STEM activities for kindergarten is often underappreciated. However, the reality is that these activities provide a strong foundation for young minds, equipping them with the necessary skills to navigate the future's demands. This article aims to shed light on the importance of STEM education in early childhood development and discuss the role of school administrators in promoting and implementing STEM activities for kindergarteners.
STEM Activity for Kindergarten: Why it Matters
STEM education in kindergarten is not just another layer to add to an already crowded curriculum. Instead, it fosters the development of crucial skills such as problem-solving, teamwork, and perseverance. Furthermore, it encourages young learners to be innovative and technologically fluent, which are increasingly important in our rapidly changing world.
STEM Activities and Early Childhood Development
Incorporating STEM activities in early learning can significantly enhance a child's cognitive development. Kindergarteners have an innate curiosity about their surroundings, making it the perfect time to introduce them to STEM concepts. Through hands-on learning, children actively participate in their learning process, improving understanding and retention of concepts.
Collaborative Learning and Interdisciplinary Connections
STEM activities often require students to work collaboratively, which can enhance their teamwork and communication skills. Moreover, these activities often integrate multiple subjects, providing an interdisciplinary learning experience for children.
Real-World Applications of STEM Concepts
The relevance of STEM activities extends beyond the classroom, as these concepts find applications in everyday life. For instance, the concept of floatation learned through a STEM activity for kindergarten can help children understand why boats float. Similarly, learning about the life cycle of plants through activities like planting a tree can help children appreciate nature's marvels.
Foundational Concepts and Skills in Kindergarten STEM Education
STEM education at the kindergarten level addresses several foundational concepts and skills, preparing students for future academic pursuits and careers.
Science Experiments
Science experiments form a significant part of STEM education. These experiments engage children in practical learning, allowing them to understand scientific concepts better. For instance, a simple experiment like the 'Melting Ice Experiment' can teach children about the change of states.
Technology and Digital Literacy
Technology plays a crucial role in enhancing STEM learning experiences for kindergarteners. Digital literacy and responsible technology use are fundamental skills in today's world. Integrating these concepts into early learning can significantly benefit kindergarteners.
Ensuring children's online safety is vital in educational centers that allow pupils to bring or use phones, tablets, and computers. Using digital monitoring tools such as Safes School, teachers and administrators can monitor and limit children's device use and internet use, creating a safe and healthy digital environment for them.
Engineering Concepts
Engineering concepts introduced at a young age can ignite a child's interest in designing and building. Simple activities like constructing basic shapes out of toothpicks and marshmallows can develop a child's engineering skills. You can integrate these concepts as STEM games for kindergarteners.
Mathematics in Action
Mathematics is an essential part of STEM education. Kindergarteners can learn to apply mathematical concepts in real-world scenarios through STEM activities. For instance, counting and sorting activities can help children understand numbers and their relationships.
Engaging STEM Activities for Kindergarteners
There are numerous interactive and engaging STEM activities suitable for kindergarteners. Here are a few examples:
Engineering with Marshmallow Shapes: This fun STEM activity introduces basic engineering concepts to young learners. Children can use marshmallows and toothpicks to construct various shapes and structures, fostering their creativity and problem-solving skills.
Cloud in a Jar: This simple experiment teaches children about states of matter, water cycle, and condensation. Using household ingredients like water and hairspray, children can observe the formation of clouds, facilitating a practical understanding of scientific concepts.
Make a Polymer or Slime: Mixing glue, water, baking soda, and contact lens solution can create a homemade slime. Playing with slime not only keeps children entertained but also improves their fine motor skills.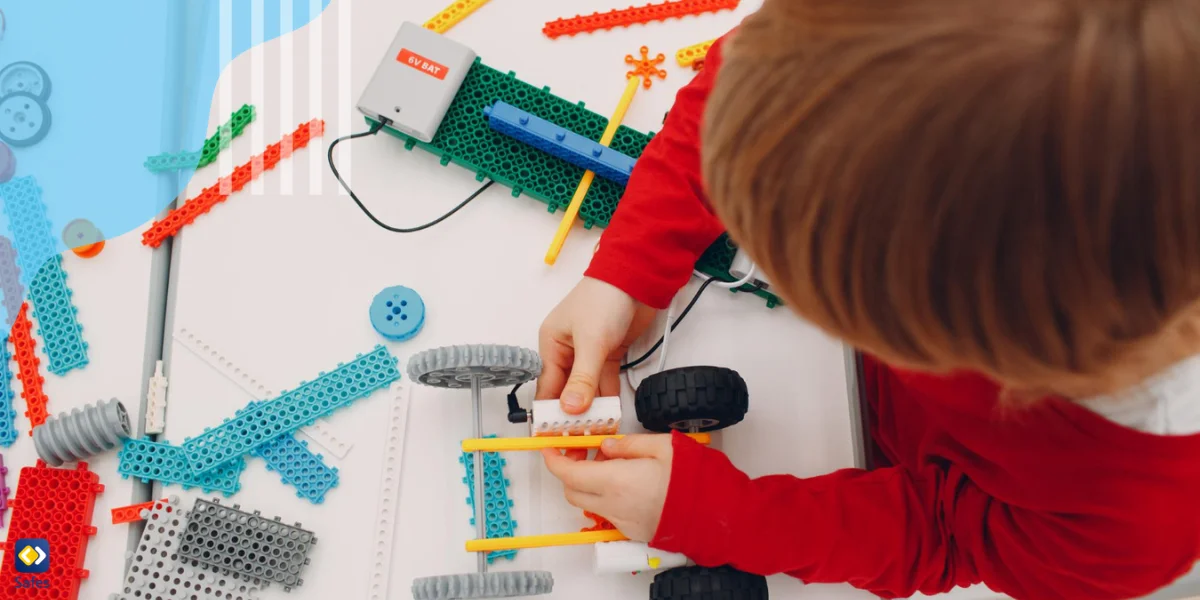 Creating a Supportive Environment for STEM Learning
Creating a supportive and inclusive environment for STEM learning in kindergarten is crucial. This involves equipping classrooms with appropriate materials and resources for STEM activities and ensuring that all children, regardless of their abilities, have equal opportunities to participate and learn.
The Role of School Administrators
School administrators are pivotal in promoting and implementing STEM activities for 3–5-year-olds. They are responsible for creating an environment conducive to STEM learning, providing teachers with the necessary resources, and ensuring that the curriculum aligns with national and regional STEM education standards.
Assessing Student Progress in STEM Activities
Assessing and measuring student progress in STEM activities is just as important as conducting the activities themselves. Teachers can use formative and summative assessment methods to track students' understanding and progress. For instance, observing students during activities, asking open-ended questions, and conducting quizzes are effective ways to assess learning.
Involving Parents and Community in STEM Education
Engaging parents and the local community in STEM education can greatly enhance learning experiences for kindergarteners. Schools can organize STEM events, workshops, and guest speaker programs to involve parents and community members. Such partnerships can provide valuable resources and support, making STEM education more effective and enjoyable for kindergarteners.
STEM Activities for Kindergarteners: Conclusion
Kindergarten's STEM activities are beneficial and crucial in preparing children for the future. STEM education equips young learners with the tools they need to succeed in a technology-driven world by fostering problem-solving skills, encouraging innovative thinking, and promoting digital literacy. Therefore, parents, teachers, and school administrators must recognize and promote the value of STEM education in early childhood development.
Kindergarten STEM books, such as Ada Twist, Scientist by Andrea Beaty, can be great resources to kickstart your child's journey into the world of STEM. For a fun STEM activity, check out Simple STEM Activities for a plethora of easy-to-do, screen-free activities. Remember, fostering a love for learning is the first step to raising successful, problem-solving individuals.