You open your eyes to your children's screams or the sound of a shattering vase in the living room. You rush to the kitchen to feed them and get them ready for school. You drop them off at school and run to work just to hear your boss mutter: "You're late again!". It's 1 p.m. and you're about to start a meeting when you get a call from your child's school telling you that they feel unwell, and that they need you to come get them. Now you have to cancel everything and leave under your boss's disapproving look; this could cost you your job. By the time you're lying in your bed at night, you only have one question in your head: "Is any of this worth it?"
Let's face it: Navigating life as a working parent is hard. Trying to do them both perfectly can lead to nothing but failure and eventually cause parenting stress and disappointment. If we want to be good parents while also keeping a calm state of mind, we need to know what to do about this problem. In this blog post, we'll talk about parenting stress and child behavior problems and how to deal with it.
Understanding Parenting Stress
So, what is parenting stress? If we want to explain it simply, it's the state of overwhelm that arises when you can't deal with your multiple parenting responsibilities. Wanting to be a better parent who tackles problems easily and not being able to do that can make you stressed and frustrated.
There are two types of parental stress: Acute and chronic. Acute parenting stress is temporary and often caused by one-time stressors. For example, your child getting sick and now you'll have to take care of them beside everything else. Chronic stressors, on the other hand, are long-lasting and due to the day-to-day conditions of a parent's life. For example, being a working parent.
Normally, this type of stress is caused by every parent's individual situation. But these are usually common contributors to the issue:
Demands of childcare/school
Financial pressures
Work-life imbalance
Relationship strains (divorce, co-parenting)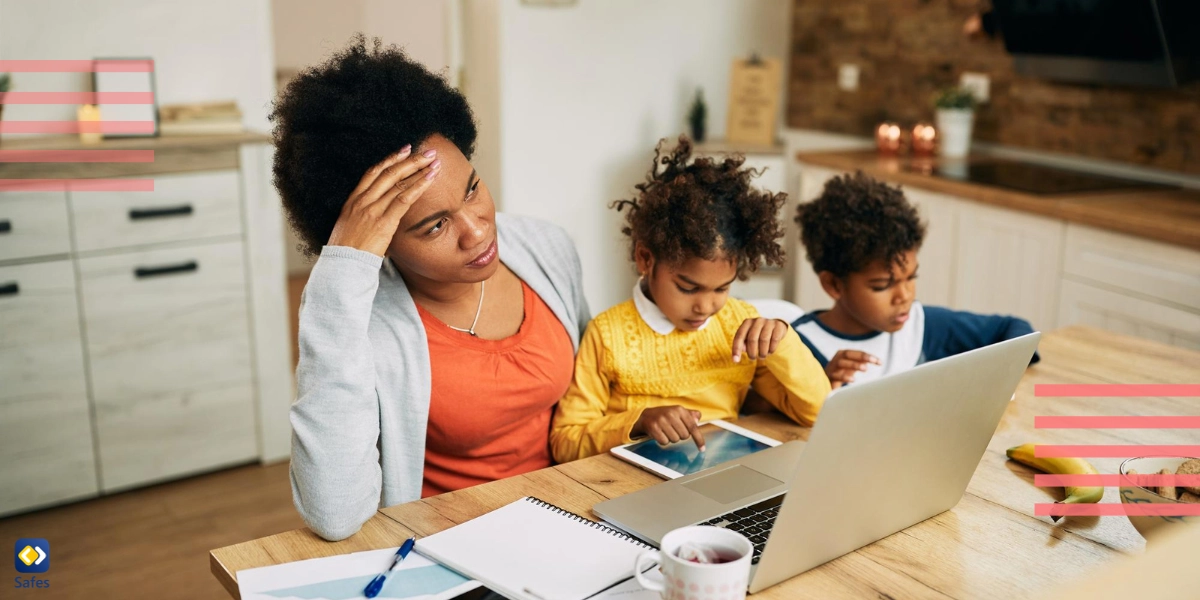 The Effects of Parenting Stress
At first glance, it might seem like parental stress is just a minor inconvenience for the parent. However, in some cases, there's more to the story. Let's see how the stress of parenting can affect not only parents, but also children.
On Parents
Like any other kind of stress, parenting-related stress can take a big toll on parents' overall health. According to the American Psychological Association, being constantly stressed out can affect your mental and physical health. These issues range anywhere from anxiety, depression, heart disease, heart attack, and so on. Scary, isn't it?
There's also more: The more stressed you are, the less you will be in the mood to maintain relationships in your life, because you'll be busy feeling overwhelmed and frustrated about your own problems. This relationship strain may seem okay at first; after all, you don't have time for all this drama. But your friends and family can offer great emotional support and feeling isolated is not going to help you solve your problems more easily.
On Children
The effects of parental stress on child development can be a bit more implicit. According to this article, we can definitely say that children's behavior is a predictor of parenting stress; but the link is more indirect the other way around: stressed parents are more likely to adopt an authoritarian and neglectful parenting style, which in turn can have adverse developmental, behavioral, and emotional impacts on children.
This situation can be perceived more simply. If stress affects a parent's emotional and physical well-being, how can they deal with a child – who can be a handful, by the way – in a calm and thoughtful manner? And children who grow up in a stressful environment, how can they develop properly?
Identifying Signs of Parenting Stress
Figuring out whether you're dealing with parenting stress requires that you take a look at yourself. Do you constantly find yourself saying "my kids stress me out"? Do you feel unwell and overloaded with responsibilities you don't seem to be able to fulfill? You'll know better than anybody else whether this is due to parenting stress or just a temporary low mood. However, if you're struggling with figuring that out, here are some of the most common symptoms stressed-out parents experience:
Irritability and mood swings
Constant fatigue
Anxiety or depression
Social withdrawal
If you want to know the magnitude of stress in your relationship with your child, try using the Parenting Stress Index. It's a tool that can be used by parents who have children under 12 years old and usually takes 30 minutes. This tool assesses the amount of stress that is present between a child and parent by analyzing different factors and can be a good indicator of parenting stress.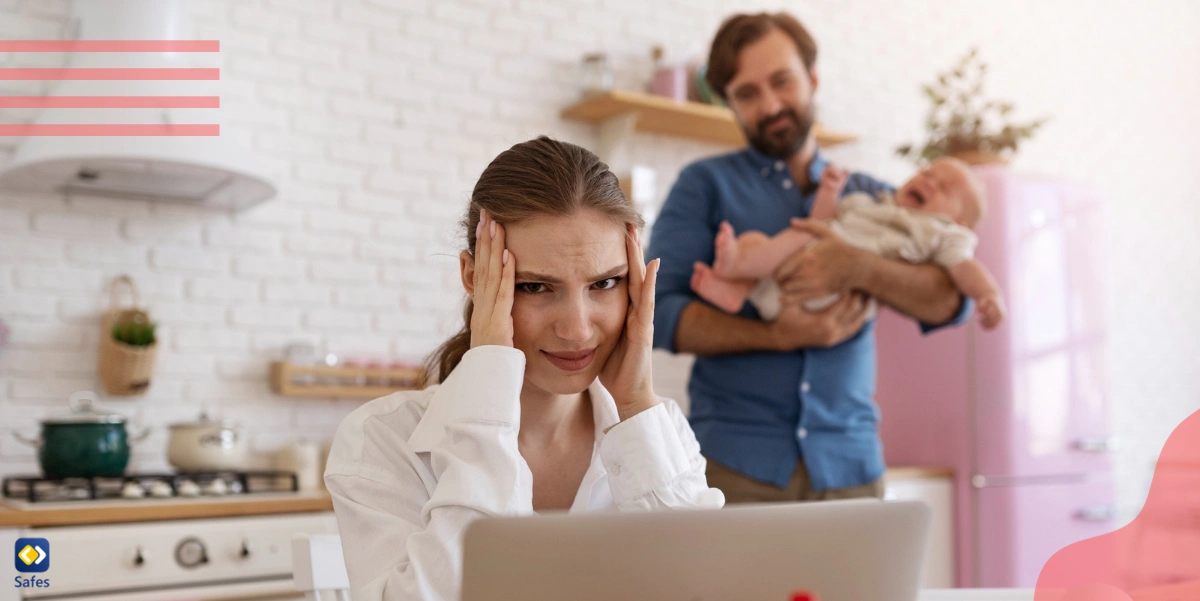 Coping Strategies
Trying to figure out how to get rid of parenting stress overnight can lead to more frustration. There is no quick fix for the stress that raising a child can inflict on parents; it can be hard and overwhelming to single-handedly manage the different aspects of your life after all. But there are some ways that can help you gradually control your stress and handle the situation better.
Prioritizing Self-Care
First, make sure that you prioritize self-care. Some parents feel guilty when they pay attention to themselves. But the truth is that there's nothing selfish about taking care of your well-being, since healthy and happy parents raise happy children. Be mindful of your sleep and what you eat. Plus, exercising has been shown to help with stress, so don't forget to exercise regularly.
Strengthening the Support System
Another thing that can help you cope with parenting stress is to strengthen the meaningful relationships in your life. A good friend, family member, or partner can take the burden off your shoulders by offering emotional support. Even having someone to listen to you vent when you're overwhelmed can help you blow off some steam and feel better. They can also be more helpful: maybe your mom can take care of your child for a day so that you can relax a bit.
If you feel like the parental stress scale that you're experiencing is larger than it could be resolved with the help of friends and family, consider seeking professional help. A psychologist can carefully evaluate your situation and offer a suitable recovery plan.
Time Management and Prioritization
Why do parents get stressed? Because there's too much to do and too little time to do it. And at some point, we've all hoped we'd get 48-hour days. But unfortunately, that's not possible and we must learn to adapt. Learning how to manage your time can be a good starter. Start by writing down all the things that you want to do today. Then, sort them out based on their priority. Give each task a time estimate and feel free to omit the ones that are not very important. A good rule of thumb is to make sure that a part of your list contains doing things that are fun and make you feel good.
Using Parental Control Apps
When it comes to parenting, the list of concerns is endless. Now that almost all children have a smartphone, their safety on the internet has turned into one of parents' top concerns. But there's something you can do to help you at least solve this one problem. If you constantly worry that your child is seeing inappropriate content online or talking to child predators, you can use a parental control app to help you put your mind at ease. One of the most efficient parental control apps out there is Safes. It lets you see who your child talks to, monitor what they search on the web, and even control their screen time on each app. Plus, you can track their location and make sure they're safe. You can download Safes on all operating systems, from Android to iOS and Windows.
Conclusion
Parenting is an uphill battle. This battle can be even harder if you also have to work (who doesn't?). Parenting stress is the result of all the worries and responsibilities that parents have but seem unable to do something about them. But we must learn to overcome the hardships to provide a happy environment for our children to thrive. Taking a moment to breathe and unwind, seeking support from loved ones, and learning to manage your time might seem ineffective. But remember, each small step makes a big difference in the end.