The Internet Watch Foundation (IWF) reported that 2021 was the worst year for sexual abuse online. Research has confirmed that 252,000 websites exist containing images or videos of children being sexually abused. Compared to approximately a decade ago, experts are finding fifteen times more sexual abuse content online. The chief executive of the charity noted that there are major improvements in detection technology and analysts to help uncover criminal material, yet online predators remain a growing problem. Now, let's go over some of the alarming statistics on online predators.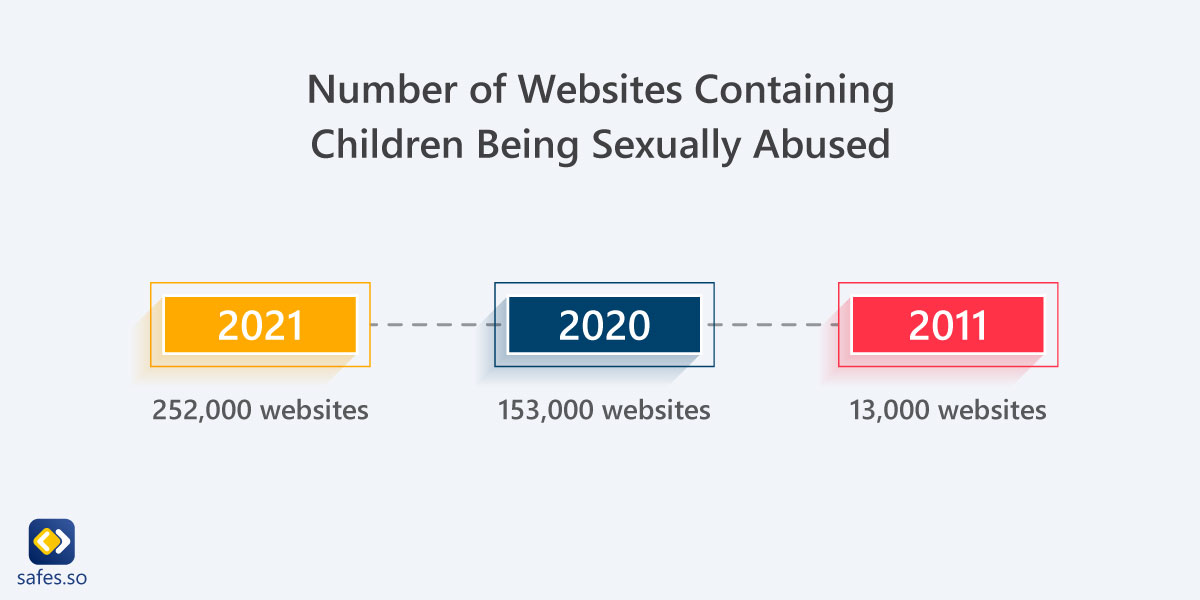 What Are Online Predators?
First, let me explain what predators are. According to the Cambridge dictionary, a predator is "someone who follows people to harm them or commit a crime against them." Now, an online predator is someone who tries to harm and harass people online, on the internet. Online predators sometimes send obscene material or have inappropriate requests of kids. Since the internet is an anonymous place, people can hide their identities or even pretend to be someone else. This can be a danger to children and teens who spend a lot of their time online. Therefore, your kids must be on guard whenever they're online. 
Online Predator Statistics
The latest online predator statistics of 2023 show that 500,000 predators are a daily threat to kids on the internet. And it doesn't stop there, children aged 12 to 15 are the main target of online predators. Other statistics worth mentioning are: 
Within a year, one in 25 children gets manipulated into physical contact.

 

The COVID-19 pandemic has contributed to a rise in online luring cases.

 

15 percent of parents know what their kids do online.

 

The most common goal of online predators is to receive images from children.

 

Over 80 percent of child sex crime starts on social media. 

 

82 percent of online predators are male.

 
The NSPCC (UK-based National Society for the Prevention of Cruelty to Children) compared data from 41 UK police forces. This data showed 6,156 recorded offense cases, revealing an annual increase of 2.5 percent in "sexual communication with a child and communicating indecently with a child" offenses in 2022. In the same 2022 online predator statistics: 
82 percent of the victims were female

 

Of 90 percent of all victims, the gender and age were identified 

 

39 percent of those were girls aged 12 to 15 years

 
In a 2021 annual report on "self-generated" child sexual abuse content, the Internet Watch Foundation (IWF) noted an exponential increase. In some cases, children are groomed, deceived, or extorted into producing and sharing sexual images or videos of themselves.  
The biggest category of victims were girls between 11 and 13 years old. This represents: 

 

59 percent of all reports, and 

 

81 percent of self-generated content 

 

From 2020 to 2021 there was a 168 percent increase in web pages displaying self-generated content.

 
Possible Cause of Online Harassment
You might have noticed that children are becoming more dependent on the internet, not only to socialize but also for school. Therefore, they get exposed more to social media, and thus to online predators and groomers. |As a result, according to the same annual report mentioned above: 
40 percent of 9- to 14-year-old children have reported chatting online with strangers.

 

53 percent of the participating children have given their phone number to a stranger

 

 11 percent of them have met with a stranger. 

 
All in all, most internet predators were unknown to their victims. From the remaining part, the majority were identified as family members.

 
Solutions to Online Harassment
In a state of panic and fear, there are a lot of things you can do to help your child. Think about safety control settings on your computer or obtain more information on what apps kids should not have. Another way of protecting your child is using a parental control app, like Safes. Safes makes parental monitoring easier because it offers web filtering and daily reports. Safes offers features such as: 
Content management:

This helps parents monitor and set boundaries for content and communication accessible on children's devices. It reports on voice calls and text messages, app installations, social media usage, suspicious photos, and alarming words.

 

Location tracking:

This feature shows children's live location and logs their movement. You will get notified when your child checks in or out of specific locations.

 
Detailed activity reports:

Parents get informed about their children's device and internet usage patterns and the content they consume.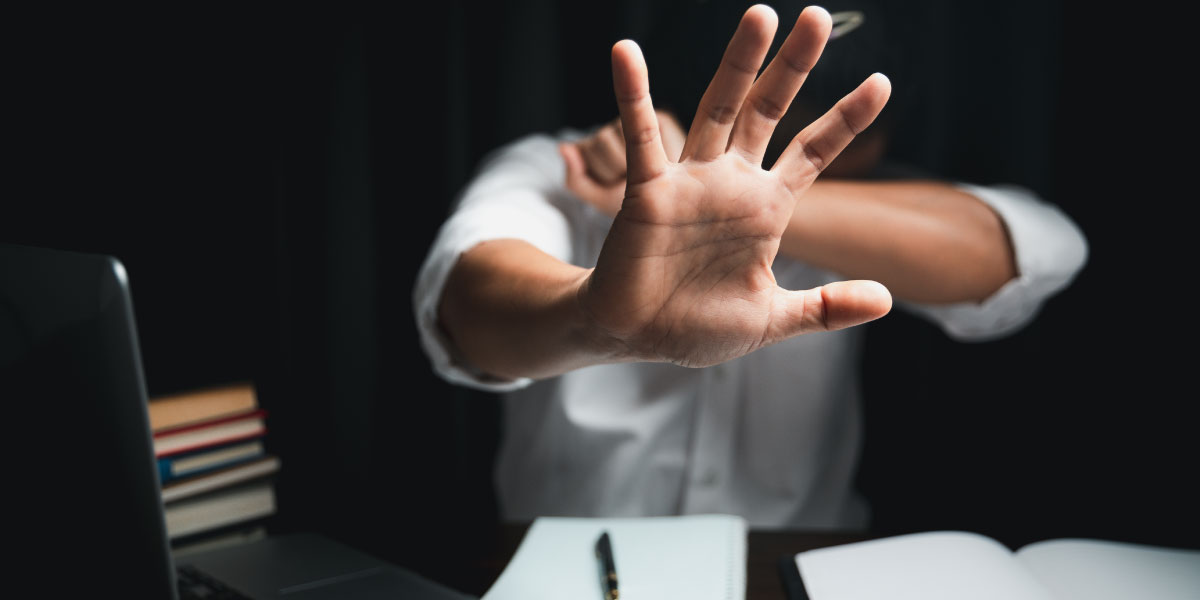 Internet Offender Grooming Methods
Predators have different goals; the most common aim is to engage children in role-play or sexual conversations. The second largest intent is asking children for sexually explicit images, followed by creating a sense of trust with the victim. In the infographic below all of the researched grooming methods are displayed. This can help you to identify what measures are needed to be taken to help your child.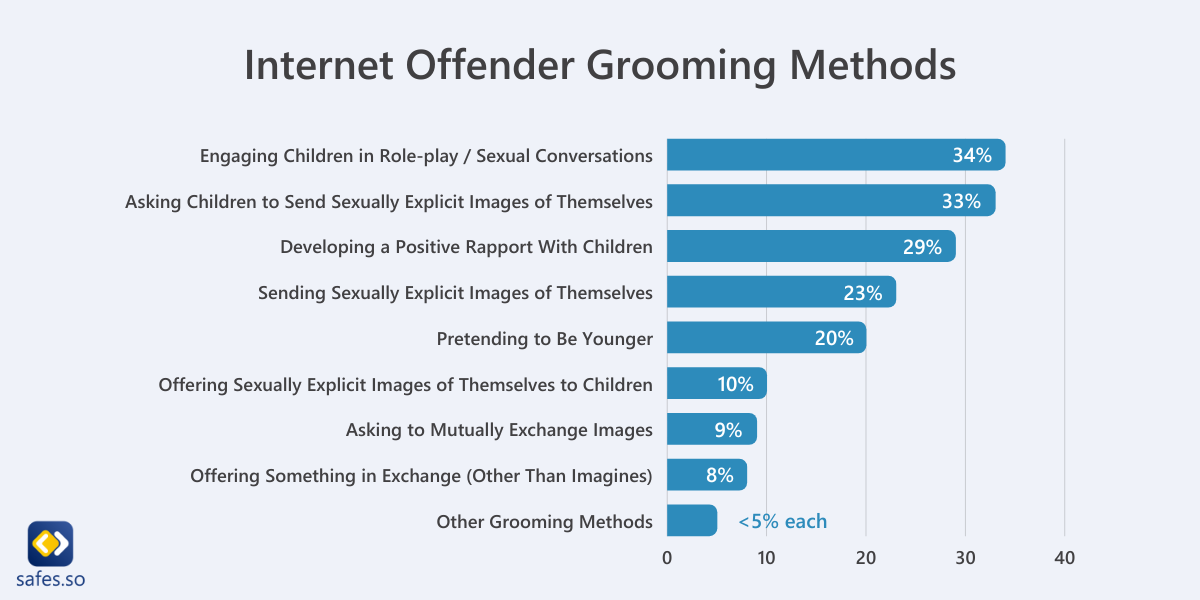 Conclusion 
In short, the stats show the alarming reality of online predators. The statistics of the last three years have been especially horrifying with the increase in internet and social media availability for teenagers combined with the COVID-19 lockdowns. Keep in mind that online predators are not the only negative side of the internet. So, it's important to teach social media responsibility to teenagers to try and prevent unwanted consequences.